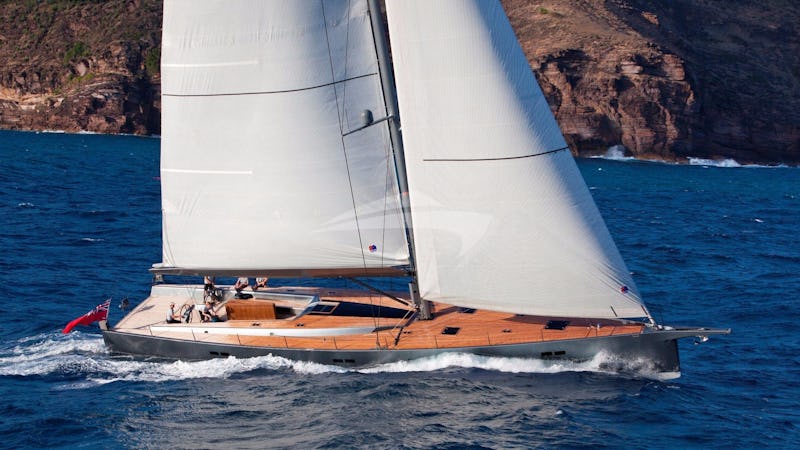 Specs Features Diving Crew Profile Layout Photos Similar Yachts Inquire NEW Charter Search »
YACHT INTRODUCTION
AEGIR, the 82 feet Maxi-Yacht built by Carbon Ocean, is a comfortable and luxurious cruiser capable of transforming into a weapon on the race track. She is a state of the art success in her category, having achieved both of her goals in the Caribbean and the Mediterranean, and having twice won the Rolex Maxi Yacht Cup in her class (2012 and 2013).
Winner of the International Superyacht Society Design Award, Boat of the Year 2011, AEGIR is available for both cruising and racing charter, ready to make an impact in both worlds, and leave you with unforgettable memories!
The aim of her design is to maximise the pleasure of sailing. She has flush decks and an aft steering position, meaning that in every wind condition, whether in light wind where she excels thanks to her powerful sail plan and high tech Carbon construction, or whether when the wind picks up, and she takes off !
Racing : AEGIR is fully equipped with North Sails 3DL wardrobe, Spinnakers and Code 0 on the huge bowsprit, racing boom. 
Fully diet for maximum weight gains and performances, AEGIR becomes a highly competitive racing yacht for the Giraglia Rolex Cup, Maxi Yacht Cup, the Loro Piana, Copa del Rey and the Superyacht circuit!
Please enquire for a personalised quotation.
SPECIFICATIONS
Length 82ft 4in (25.1m)
Beam 19ft 0in (5.8m)
Draft 14ft 9in (4.5m)
Sleeps 7 Guests
Cabins 3
Crew Captain Romain Mouchel, Chef and 1 crew
Year Built 2010 / Refit 2015
Cruising Speed 9.5kts
Max Speed Not available Stabilisers None
Engines 1x 180hp Yanmar

Builder Carbon Ocean Yachts
Designer Rogers Yacht Design
Flag United Kingdom of Great Britain and Northern Ireland
VAT Registered No
US Duty Paid No
APPROXIMATE WEEKLY RATE
High USD $32,517 | Low USD $27,436
FEATURES & AMENITIES
TV master cabin, TV saloon, Wi-Fi, 10ft/3.3m Williams, Tube - towable, Wakeboard, Fishing gear - light, Water maker
ACCOMMODATIONS
Sleeps 7 In 3 Cabins
DIVING EQUIPMENT
YACHT CREW
Captain: Romain Mouchel (27)
Previous yachts
Romain had been onboard SY AEGIR since 2012, he joined as the mate before
stepping up as Captain in 2013.
Sail and work experience
3 years on the offshore classe Mini circuit on the proto 759 and proto 346 as well
as regattas, onboard SY ODIN in 2015. Romain speaks French, English and Spanish
and has clocked more than 30 000 sea miles, a lot of them coming in single handed
offshore regattas and in regattas onboard AEGIR.
Cruised Waters
Romain has cruised extensively the Western and Eastern Med and also spent a fair
amount of time in the Caribbean Sea and the Atlantic Ocean.
Job description
Romain is responsible for navigation, safety, the overall running and financial
management of the vessel, crew and guests. He ensures the safe and efficient
operation of the yacht at all times, including compliance with all safety procedures
and regulations. He takes care of adhering to flag regulations, port state and local
laws and regulations, and manages the crew to ensure adherence to, and a full
understanding of, the vessel's policies. He provides daily leadership for the crew
and encourages teamwork, individual growth and personal attention by delegating
duties and supervising all crew tasks.
Education , Licenses & Certificates
• BSc in Marine Studies (Ocean Yachting) at Plymouth University
• RYA/MCA Yachtmaster Offshore Commercially endorsed
• STCW Training
• STCW Proficiency in First Aid, Advanced firefighting and advanced sea survival.
Hobbies
Romain's dream is to race single-handedly around the world. He is extremely active
and spends the biggest part of his free time doing sports, from road cycling to
kite surfing and diving.
Chef: Kim Le
Catering Work experience
Between 2012 and 2014 Kim has worked in various Holistic Health & Spiritual
Centres (around the world) – Teaching 5 rhythms dance, and working either within
the kitchen or in the garden. In 2015 she worked in Baile en el Aire, Alpuharra's
as a Vegan Chef (who specializes in Raw food and chocolates) and gardener at
Holistic retreat and permaculture farm. Recently she has worked at Moinas Velhos
where she prepared juices for a detox retreat centre, taught Qigong, and offered
Reiki treatments for the clients. She speaks fluent English, semi-fluent Chinese
and French
Job description
In charge of the galley and is responsible for all guests and crew meals, assuring
a rich variety of food. Estimates food needs, reviews inventory assuring adequate
supplies are available, sticking to budget and guests' expectations. Carries out
food service activities in order to have meals prepared at scheduled times and
makes sure she complies with health regulations. Thanks to her/his creativity,
she/he develops new recipes and ways of serving food in order to satisfy different
guests' wishes.
Education , Licenses & Certificates
• Sep 2000 – June 2004 Nottingham Trent University
• BA (Hons) Interior Architecture and Design – First class honours
• 1998 – 1999 Yale College - BTEC Foundation Studies in Art and Design – Varios
certificados
First Mate: Julien le Duff (35)
Previous yachts
Julien has been working as skipper on cruising yachts from 45 to 55 feet from 2015
to 2016 before joining Aegir as First Mate in 2017.
Sail and work experience
Julien has been has been working as a sailing instructor when at University. He
then move to the city life and worked as IT software developer and afterwards as
manager in catering in Paris and London.
Over the last 3 years he has clocked 20 000 NM cruising and delivering yachts,
including an Atlantic crossing.
Julien speaks French, English and is currently learning Spanish
Cruised Waters
Brittany, English Channel, Mediterranean Sea, Andaman Sea, BVI and Sea of Abaco
Job description
Julien has the expertise required to stand in for Captain in his absence, acting as
second in command. He assists the Captain during navigation and participates in
all on-deck operations, respecting guest's activities. He has extensive knowledge of
sailing yachts maintenance and is responsible for the running of deck equipment
and machinery.
Education , Licenses & Certificates
• A level Scientific: BTEC Higher National Diploma in Physical and Chemistry
Measurement, Bachelor of Science in Numeric Imaging Engineering
• RYA/MCA Yachtmaster Offshore Commercially Endorsed
• MCA STCW Training (including First Aid, Fire fighting and sea survival)
• MCA AEC (Approved Engine Course)
• RYA Cruising Instructor
• RYA Powerboat Level 2
• Windsurf Instructor
YACHT LAYOUT
YACHT PHOTOS