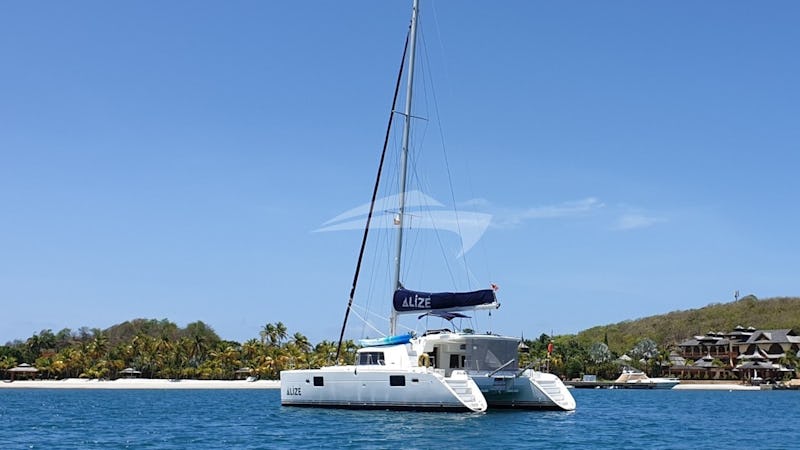 Specs Features Diving Crew Profile Menu Layout Photos Testimonials Similar Yachts Inquire NEW Charter Search »
YACHT INTRODUCTION
Catamaran ALIZÉ is your best choice for tailor-made, memorable, all inclusive, Caribbean,  US Virgin Islands and BVI, crewed charter yacht family sailing vacations; honeymoons, holidays,  anniversaries, romantic getaways and share-sail trips  with friends.
Catamaran ALIZÉ: Modern, large, spacious, comfortable, bright and airy Lagoon 440 sailing Catamaran. Completely refitted in late 2019. Equipped with four fully air-conditioned queen cabins with en suite baths and showers. Also equipped with flybridge, forward cockpit, new generator, solar panels and large capacity water maker to give you a trouble free, stable, fast and comfortable Caribbean island hopping experience. A new large, fast, powerful dinghy  for adventure and exploring and, of course, lots of water toys for fun,  entertainment, comfort and relaxation at anchor
SPECIFICATIONS
Length 44ft 0in (13.4m)
Beam 25ft 3in (7.7m)
Draft 4ft 3in (1.3m)
Sleeps 6 Guests
Cabins 3
Crew Captain Carlos Andrade & Chef
Year Built 2005 / Refit 2020
Cruising Speed 6kts
Max Speed 10kts
Stabilisers None
Engines 2x Yanmar at 50hp each

Builder Lagoon
Designer VPLP
Flag British Virgin Islands
VAT Registered No
US Duty Paid Yes
APPROXIMATE WEEKLY RATE
High USD $13,200 | Low USD $8,000
FEATURES & AMENITIES
Bluray library, Cell phone, Indoor audio system, Media movie server, MP3 music server, Outdoor audio system, Printer, TV saloon, Wi-Fi, 12ft/3.7m Zar 25hp, Beach games, Board games, Floating mats, Kayak, Kneeboard, Paddleboard, Skurfer, Swimming noodles, Tube - towable, Wakeboard, Water skis - adult, BBQ, Coffee machine, Deck shower, Fishing gear - light, Hammocks, Ice maker, Owner operator, Special diets, Sun cushions, Swim platform, Water maker
ACCOMMODATIONS
Sleeps 6 In 3 Cabins
Catamaran ALIZE is equipped with three equally comfortable guest cabins with queen beds, en-suite bathrooms and ample closets. A large and luminous salon, aft cockpit, forward cockpit and flybridge, provide several options for chilling out during navigation or at anchor; in the shade or in the sun. Your preference. Always pampered by a professional crew Team comprised of Captain and Chef.
DIVING EQUIPMENT
Not Insured, Diving by arrangement, Snorkelling gear, Underwater still camera
YACHT CREW
Captain: Carlos Andrade
Carlos and Maribel are a professional, multilingual Captain/Eng. and Chef/Mate team with many years of experience operating large power and sail yachts worldwide. From 2012 to 2017 they were the owners/operators of the very successful and highly rated BVI crewed charter catamaran: Sea Chateau. Now they are the proud owners/operators of another large and comfortable sailing catamaran: ALIZÉ. Carlos was born in Michigan and grew up in Maryland sailing and fishing the waters of the Chesapeake. He holds an International Master of Yachts 200 ton. Ocean license and is also trained in marine firefighting, diesel mechanics, radar, radio communications and first aid. He is very conscious about your safety and the safety and maintenance of his vessel. His hobbies include, from being an avid sport fisherman to a passionate photographer and classic rock and jazz music enthusiast. Some of his guests also affirm that his mojitos are the best in the islands. Try them!
Chef Mate: Maribel Ramirez
Besides being a professional Architect, Maribel is STCW certified, holds an RYA power boat level II license and is also a professionally trained Chef, graduated from the Gaga Culinary Institute under the guidance of French Master Chef Laureant Cantineaux and is also trained in Silver Service. Three years spent in Tuscany, Italy while supervising the construction of a Benetti 120 ft. mega yacht and her recent travels to Sicily, Sardinia and Croatia, have also given Maribel the opportunity of learning the traditional Mediterranean cooking techniques, native ingredients and well kept family secrets, all of which compliment her Spanish and Latin/Caribbean heritage to provide you with an exciting, delicious and beautifully presented culinary experience in every meal. With their experience, charm and passion for excellence; Carlos and Maribel will surely make your Caribbean sailing vacation the experience of a life time.
YACHT MENU
From the Galley of catamaran ALIZÉ

All of our meals are prepared with the emphasis on fresh.
We take advantage of the ocean's bounty, the favorable spice trade, and check in with the 'coconut telegraph' to find the freshest ingredients for your dining pleasure. Your individual custom menu might include some of the following Caribbean culinary delights aboard ALIZÉ. We guarantee you won't go hungry.
Sunday's start out with eggs benedict smothered with homemade hollandaise sauce accompanied with seasonal fruit and freshly squeezed orange juice or a refreshing mimosa.
Monday's marvel is grilled jumbo prawns with pineapple salsa, and a spinach, pine nut and avocado salad topped by and orange/sherry vinaigrette.
Tuesday's treats tease the taste buds with homemade breakfast pastries in the morning, and the day ends with a traditional barbecue, grilling up either the fresh-caught fish of the day, or a fine cut of meat imported from the States. And of course, a delightful bottle of red or white wine would be just the right thing to complete the evening's experience.
Wednesday's unveil a spectacular lunchtime lobster thermidor salad, imminently satisfying and keeping with the theme, may encourage an afternoon's snorkel.
Thursday's offer happy hour and appetizers after an island excursion complete with your choice of tropical drinks or Red Stripe beer, and an array of canapés, crudités, cheeses and dips. As Caribbean music wafts through the balmy air, the sun, seas and dinner is served al fresco on the bridge deck.
Friday's feature has an Asian flair, with tempura fondue and hibachi skewers of a variety of fish, meats and vegetables.
Saturday's sensation is waking up to the aroma of baking as it permeates the boat. It's up to you to decide: is it bread, pastries, or cookies? As you walk into the galley, you might see the Chef stirring her mouth watering fudge. The day's labors could possibly become the evening's garlic bread, or tomorrow's French toast.
Above summary is just a sampling to get your juices flowing.
Custom menus and dishes are welcomed upon request.
We also cater to special diets of all kinds. Please let us know in advance.
Breakfast
Breakfast is served with fruit juices, coffee, and a variety of teas. And if you really want to start your day off right, Bloody Mary's and Mimosas are also available.
Cinnamon Vanilla French Toast: Vanilla cinnamon French toast accompanied with powdered sugar, syrup, berries, and bacon.
Egg Scramble: Scrambled together with fresh seasonal veggies and melted cheese served with toast and local jams.
Captain's Egg Burrito: Over easy egg with sour cream, cheese, onions, tomatoes, and salsa (egg can be served to your liking upon request).
Eggel: Bagel toasted then topped with cream cheese, onions, tomatoes, a poached egg, and salsa.
Tropical fruit platter: Served with yogurt, an assortment of cereals, fresh baked muffins, and local jams.
Appetizers:
Ahi Nachos: Wonton chips topped with mango salsa, and Ahi tuna. Bruschetta: Fresh tomatoes tossed with red onions, basil, olive oil, and balsamic vinegar served with crispy baguette slices.
Crab Cakes:Served on top a bed of lettuce then drizzled with a creamy, spicy sauce.
Smoked Gouda and Sun-Dried Tomato Quesadillas: Tortillas filled with smoked gouda, onions, and sun-dried tomatoes.
Shrimp Tacos:Mini shrimp tacos with cabbage and tomatoes then drizzled with sour cream sauce.
Cheese Platter: Accompanied with olive tapenade and crackers.
Homemade Guacamole and Salsa with Chips.
Lunch Main Courses

Caesar Salad Wrap: Tortilla stuffed with romaine lettuce, chicken, parmesan cheese and homemade Caesar dressing.
Fish Tacos: Fish of the day on top a flour tortilla, black beans, sour cream, tomatoes, onions, and jalapeños.
Deli Sandwiches: Choice of meat and cheese with all the fixin's on homemade ciabatta bread.
Pasta salad: Tossed in a light vinaigrette dressing with fresh veggies and chicken.
Turkey Cobb Salad: With bacon, romaine lettuce, blue cheese, tomatoes, onions, and choice of dressing.
Hot dogs: Served with Meme's famous coleslaw and all the fixin's.
Shrimp Louie Salad: Shrimp served atop shaved eggs, avocado, tomatoes, and crisp romaine lettuce.

Dinner Main Courses

Teriyaki and Brown Sugar Glazed Pork: Accompanied with rice and beans and homemade mango salsa.
Salmon Salad: Served on top of a deliciously fresh salad with raisins, avocado, tomatoes, roasted red bell peppers, onions, blue cheese, and almonds tossed with raspberry balsamic vinaigrette.
Kebabs: Chicken and shrimp kebabs with fresh veggies served over white rice.
Lobster: Served with drawn butter, roasted veggies, and red pepper risotto. Chicken Stir-fry: Stir-fried with fresh veggies served over white rice.
Fish Tostado: Fish of the day served over black beans, cabbage, and topped with pineapple salsa.
Jambalaya Pasta: With andouille sausage, shrimp, and a spicy Cajun marinara sauce.
Shrimp Scampi: Sautéed with butter and garlic then tossed with linguini pasta. Rib-eye Steak: Barbecued steak lightly seasoned and served with garlic mashed potatoes and sautéed veggies.
Seared Scallops: Served with parmesan risotto and roasted veggies.

Desserts

Apple Crisp • Brownies a la mode • Strawberry Shortcake • Key Lime Pie • Cheesecake
YACHT LAYOUT
YACHT TESTIMONIALS
Reviews - What have Caros and Mirabel's past guests said -

Carlos and Maribel, thank you again for another wonderful week! Everything aboard was just wonderful and of course, both of you are the best. Great food, great adventures and best of all great memories.
This is our second trip with you, but it won't be the last!. Until next time.
Chad, Donna, Graham, Bryce, Brooks and Grace.
__________________________________________________________________
Carlos and Maribel, thanks again for another family vacation. The girls will be taking about Maribel's cooking none stop until we comeback! They also had a great time testing the new tube. The sea turtle in Christmas Cove was amazing! Another unforgettable family vacation!
The Colmans: Gerard, Susan, Heather, Lizzie and Helena
__________________________________________________________________
Carlos and Maribel, this was the perfect first experience in the BVI your knowledge of the islands hospitality and the amazing cuisine complemented the beautiful views and the amazing waters. We look forward to being able to share this experience again in the future with more friends and family. Cheers and many thanks.
Michael and Jenny Corr
__________________________________________________________________
Carlos and Maribel, thank you so much for best vacation ever!! Love every minute (from the unbelievable meals, to all the perfect places to explore on land and see, and our attention to all our needs!. We loved stumbling into the Poker Rum!!. 
We will never forget our week onboard your beautiful boat touring this most beautiful spot on planet Earth!! Happy Sailing.
Linda, Ann, Colleen, Nancy.
__________________________________________________________________
Captain Carlos and Chef Maribel, The ultimate family vacation! We never were board! The fishing, watersports, the sailing, the relaxation, the Caribbean Showers and the amazing food were a few of our highlights ! Your attention to detail from planning the perfect itinerary to the special touches and constant attention you gave us, was spectacular.
Pelose family
__________________________________________________________________
Thank you for giving our family such great memories and a trip of a life time! You are both amazing people and we will miss you...until we're back again . Carlos, your expertise on where to go for our specific family, our safety, and always impeccable timing was amazing. Maribel, wow!... we can't say enough about all the wonderful meals. You are not only very talented but you are such a sweetheart as well.
Having four teenagers, we really needed this family time together. Thank you for all the time and effort you both put in to making it so special for us. You both went above and beyond! ♥
John, Andrea, Layton, Trevor, Brennen and Hollynn Schleich
__________________________________________________________________

YACHT PHOTOS