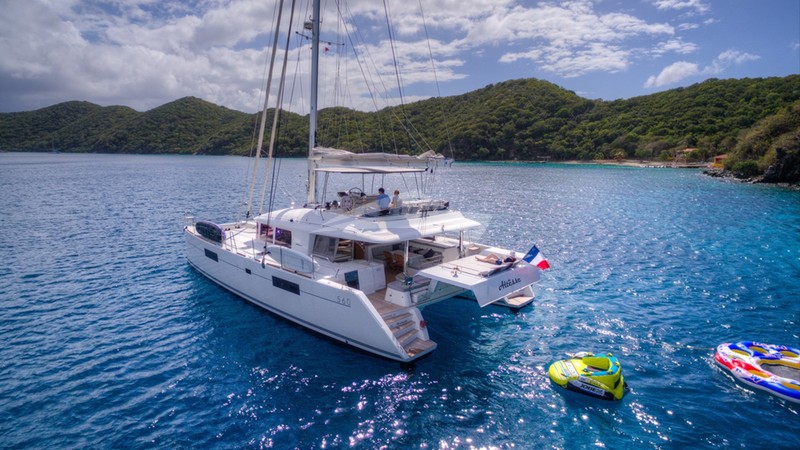 Specs Features Diving Crew Profile Menu Layout Photos Testimonials Similar Yachts Inquire NEW Charter Search »
YACHT INTRODUCTION
Altesse is a beautiful 2013 Lagoon 560, able to accommodate 8 guests in 4 queen size cabins, or 3 queen cabins and a fun bunk room for kids. Lagoon 560s are widely acknowledged as the best charter boats on the market, due to their bright and spacious cabins, beautiful internal relaxation areas and wide range of comfortable lounging and dining spaces. 
But Altesse is even better. In 2015 she went through a full refit to specifically enhance the experience for charter guests, through additions such as full dining capability on the flybridge, enhancements to the interior to give her a sophisticated European twist and a custom built 'champagne deck' which extends the cockpit and offers a unique and hugely popular additional relaxation and jumping area. She also has a brand new 70HP dinghy, inclusive diving for up to five guests, all new water toys (including an 8 man floating island), new linen, crockery and furnishings throughout reflecting the refined taste of the French owner, not to mention a wine cellar including a range of superior French organic wine. So whether you want activity and exhilaration, or rest and relaxation, Altesse and her award winning crew, who have been chartering in the BVI for 5 years, will ensure that you get everything you wished for and more.
SPECIFICATIONS
Length 56ft 1in (17.1m)
Beam 30ft 10in (9.4m)
Draft 4ft 11in (1.5m)
Sleeps 8 Guests
Cabins 4
Crew Captain Stefan Hübbe & Chef
Year Built 2013
Cruising Speed 9kts
Max Speed 12kts
Stabilisers None
Engines Not know

Builder Lagoon
Designer VPLP
Flag France
VAT Registered No
US Duty Paid No
APPROXIMATE WEEKLY RATE
High USD $32,500 | Low USD $23,000
FEATURES & AMENITIES
DVD player saloon, Indoor audio system, iPod dock, TV all cabins, TV saloon, Wi-Fi, 14ft / 4.30m 70hp RIB, Inflatable floating island, Kayak, Kneeboard, Paddleboards multiple, Tube - towable, Wakeboard, Water skis - adult, Water skis - child, BBQ, Deck shower, Fishing gear - light, Hammocks, Ice maker, Sun cushions, Swim platform, Water maker
ACCOMMODATIONS
Sleeps 8 In 4 Cabins
Altesse offers 4 queen-bed ensuite guest suites -or- 3 queen-bed guest suites and an ensuite Upper & Lower singles cabin, much loved by kids
Dining table on Flybridge
BBQ off the aft cockpit
Custom built "champagne deck" - large multi-person sunbed to rear of cockpit

DIVING EQUIPMENT
Insured, Crew certified, Diving if accompanied, Diving if certified, Snorkelling gear, 4 Tanks, 4 BCs, Master,
Altesse offers 2 complimentary dives for up to 4 guests including all equipment (but not wetsuits) in a week long charter.
YACHT CREW
Captain: Stefan Hübbe (46)
Chloe and Stefan have lived, cruised and worked together for over 10 years. They have sailed over 45,000 nm between them on their own yachts (including the Pacific, Indian Ocean, Red Sea and Mediterranean) and have hosted charters on 43-50ft monohulls and catamarans in the Caribbean and Latin America.
Stefan was born in Berlin, Germany, and developed a love of the wind and sea as a teenager, sailing his first dingy at the age of 16. He got his masters in Mechanical Engineering and has worked for Daimler-Benz, Procter & Gamble, GM and Connex; which lead him to a career in managing specialist multimillion dollar engineering projects in Australia - the only piece of land he considers home. His first love was always the ocean, however, so he decided to return to Europe the slow way; on his own yacht over the Pacific Ocean, getting as far as Bali before meeting Chloe, which changed his life's path forever.
Stefan continued sailing with Chloe over the Indian Ocean, Red Sea and the Mediterranean to the Canary Islands, where he decided it was time for a new project so started designing and building luxurious houseboats in Berlin. He loved the business but missed the ocean, so 13 houseboats later, Chloe and Stefan bought yet another sailing yacht to cruise the Caribbean.
In his free time, Stefan is a bit of a merman: spear fisher, free diver, kite surfer, surfer, windsurfer...and guitarist.
Chef & 1st Mate: Chloe Chand (39)
Chloe was born in London, England and had a professional career in project management before developing an aversion to chairs and retrained to become a teacher, working for various charities and universities. Her passion in education and anthropology led her to Bali in 2007, where she met Stefan and initially came aboard his yacht as crew... after 10 years and 18,000nm together, she has finally been promoted to first mate.
Chloe's extensive travels have inspired her international cuisine, which favours fresh, healthy, rainbow-colored and seriously flavorful recipes. Italian, Spanish and Greek food is at the forefront of her culinary repertoire, as well as more exotic influences from South East Asia, India and Morocco.
Chloe's lifetime dedication to yoga practice has led her to getting certified in teaching Ashtanga yoga. In her free time she can be found practicing yoga, playing the guitar, island-hopping on the SUP or freediving.
Stefan and Chloe are looking forward to welcoming your clients aboard the luxury, custom-built ALTESSE.
YACHT MENU
Chloe Chand's Sample Menu

Breakfast
Eggs Benedict: Parma ham and poached eggs on an English muffin
Eggs Royale: Smoked salmon, poached eggs and spinach with hollandaise sauce on an English muffin
French toast: Bourbon and peach French toast
Bagel: Caramelized apple and camembert toasted bagel with walnuts (vegetarian)
Vegan tops: Almond butter and banana open tops with cranberries
Lunch
Paella de mariscos: Spanish seafood paella with saffron rice and a side summer salad
Gyros: Greek lemon and oregano pork souvlaki with homemade tzatziki and Greek salad
Fajitas: Mexican-spiced mahi, chicken or vegetables with salsa, sour cream and guacamole (vegetarian)
Charcuterie platter: French-style cured meat and cheese platter accompanied by chutneys, pate, olives, artichokes and French bread
Rainbow salad: Colourful salad with cherry tomatoes, roasted butternut squash, chickpeas, yellow peppers, spinach, cucumber, red cabbage and other fresh salad leaves, accompanied with hallumi fries or sweet chilli chicken
Canopes and starters
Baked figs stuffed with goats cheese and Parma ham, sprinkled with fresh mint
Garlic pan-fried shrimps with cubed mango bites
Lebanese: Baba ganouj, lime and coriander hummus with warm pita bread
Italian: Courgette involtini with ricotta, prosciutto and fresh basil
French: Baked brie with cranberry confiture
Main
Caribbean mahi / grouper: Macadamia and coconut crusted oven-baked fillet with a pineapple salsa on a bed of wild rice
Tuscan chicken: Creamy spinach and parmesan cheese sauce served on a bed of tagiatelle
Sicilian pork tenderloin: Slow-cooked pork tenderloin in a marsala wine and mushroom sauce, served with garlic and parmesan mashed potatoes
Oriental salmon: Chinese five-spice, honey and orange salmon fillet with ginger, pak choi and sugar snap noodles
Moroccan chicken: Chicken and apricot tagine served with almond and raisin couscous
French steak: Steak fillet with blue cheese (or peppercorn) sauce with dauphinoise potatoes and rocket or watercress salad
Dessert: 
Rum panna cotta with a pomegranate glaze
Polvito: Canary Islands desert with dulce de leche (caramel), meringue, biscuits and cream
White chocolate and raspberry cheesecake
Passion fruit whipped cream
Chocolate avocado mousse
YACHT LAYOUT
YACHT TESTIMONIALS
Mid May, 2018, guests on ALTESSE wrote:
We've had plenty of "Sarahnades" and "Richslaps" this week, which is exactly what keeps us coming back!  We've seen gorgeous reefs, amazing animals, beautiful islands and miles and miles of turquoise waters.  But the feature that will bring us back next year, after all this amazement, is the crew: Sarah and Rich.  They made us feel simultaneously adventurous and at home.  We will only sail with them and we will follow wherever they go!  And if Sarah made a delivery food service, we would definitely subscribe!
We are ready for next year!
Wendy, Mark, Steffie, Ross, Lent, Sandi, Ashley and Eddie.  Texas
Late April, 2018, guests on catamaran ALTESSE wrote:

There are vacations you embark upon with good friends and there are those vacations where you make new friends.  In the last seven days we have been shown some truly beautiful places, we've been treated to some insanely delicious meals and we now have two great friends in Richard and Sarah.  Thank you for the hospitality, the kindness, the abundance of ice and, most importantly, not giving Simos a loaded staple gun!
Hugs and Love 
Greg and Beth, Greg and Laurie, Teresa and Cheetha
April guests on catamaran ALTESSE wrote:
Thank you for the holiday of a lifetime. So many special moments and memories. I will never forget the moment we were surprised with bubbles at the Baths. Such delicious food - I will definitely take away some ideas, but am sure I won't ever be able to match up to your standards in the kids eyes!
Thank you for being so wonderful win the kids, your humour and intuitive way with them really made the trip. Thank you!!!
Love from Alex, Katie, Archie, Poppy and Oliver
Connecticut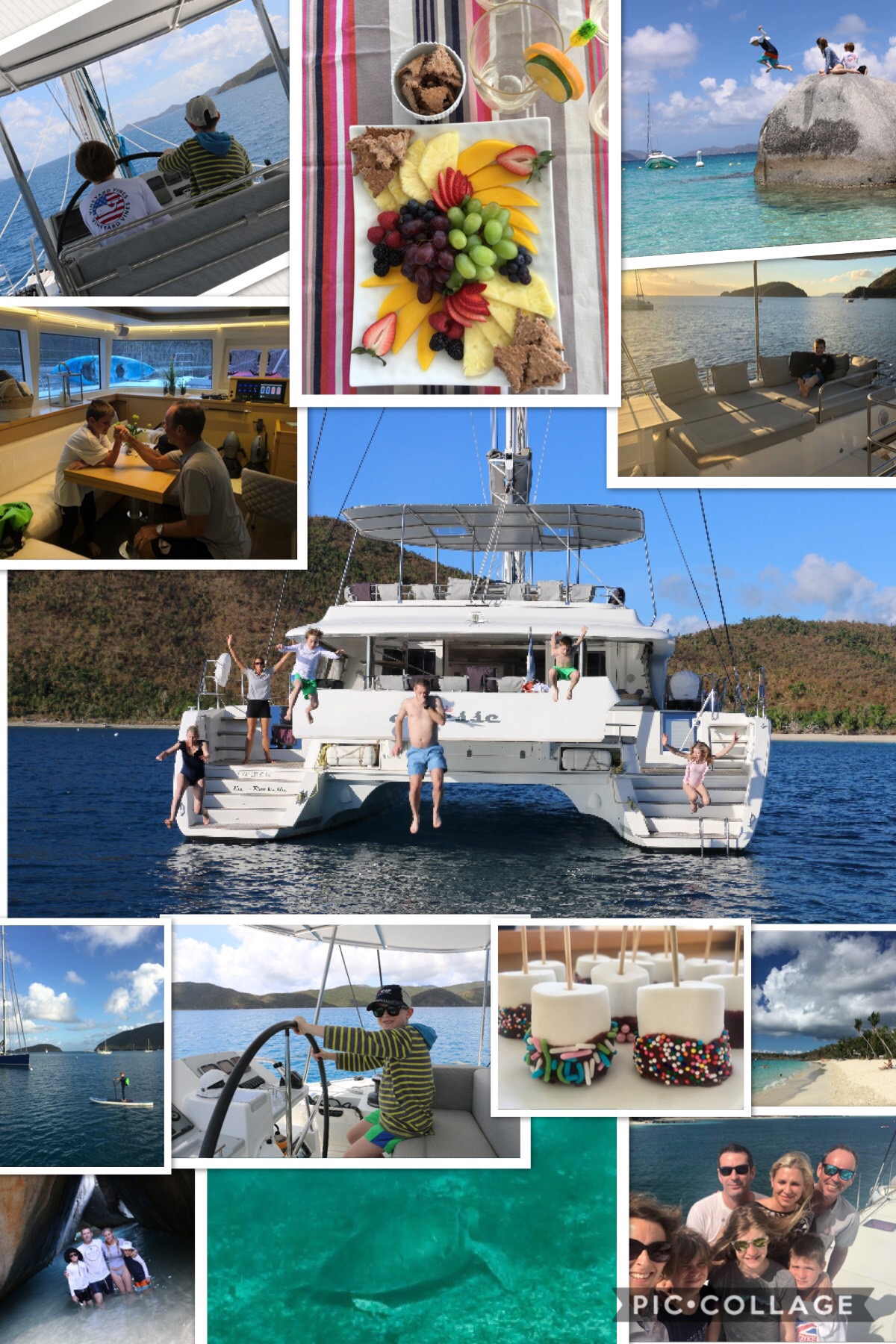 Late March, 2018, guests aboard ALTESSE wrote:
Richard and Sarah,
To bring our best friends and family to the BVI for my 60th was a dream event and you have surpassed my highest expectations on every level!  The perfect itinerary, gourmet food and expert guidance along the way, were all superlative.
Thanks for calmly managing the logistics between boats and helping introduce newcomers to these amazing islands.  And for making sure that our three teenagers had a brilliant time every day.
You are both professional and fun - the perfect hosts for the BVI. Deep gratitude from all of us.  See you again very soon!
Tom, Lois, Andrew, William and Ella.  
Colorado
January, 2018 guests aboard catamaran ALTESSE said:
One of the most amazing trips we have all had together.  We all travel together several times a year and this trip far exceeded our expectations.  The food Sarah made was five star dining at its best.  Richard was always there to deliver all our needs from drinks to water sports.  Their attention to detail was superb.  We are already talking and planning a return visit to see all the spots that Sarah and Richard spoke about, but that we couldn't fit in on this trip.  Cheers to Sarah and Richard and the AMAZING Altesse!!
Paul, Mary-Ellen, Bill and Ginny
Florida and New York, January 2018
Guests aboard ALTESSE in July, 2017, said:
Thank you for such an amazing trip!  It was incredible from the start to the finish, and it was a treat to get to know you and Rich along the way.  Just to echo Wistar, you all just worked so hard to make the trip perfect, yet kept it so fun and relaxed, and made it all seem effortless.  I hope we have the chance to all do it again!
We got home and walked through our front door at five o'clock yesterday, and Alex turned to me and pointed out in a sad voice that it was captain's cocktail hour.  I did have a beer, but it was not even close to the same as being on Altesse 😢.
Leon, Liz, Wistar, Karen, Alex, Taylor and Stewart, Virginia
Guests aboard ALTESSE in June, 2017, said:

Nothing we could write would do this trip justice.  Sarah and Richard went above and beyond to set this trip apart from others.  Between the gourmet food, snorkeling, water sports, paddle board races and, our favorite, Captain's Cocktail Hour, we truly could not have asked for more.  There is no better way to visit the BVI than with Sarah and Rich on Altesse.  Thank your everything!
Love
Steve, Stephen, Anna and Noah, Florida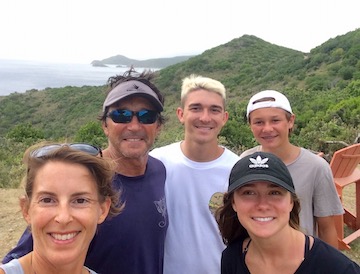 Guests aboard ALTESSE with Richard and Sarah in early June, 2017, said: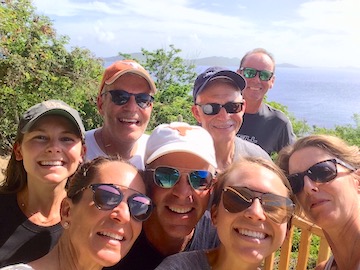 We cannot express enough how truly special our trip was on the Altesse. You worked so hard to give us such an exquisite vacation and it was exactly that! Our meals were beautifully prepared and our days were planned to perfection! Going through our pictures, we couldn't believe how much we did and yet it was so relaxing. We rather miss having our morning update and hearing about the adventures on your run. It's always a concern when you repeat a trip and try to create magic a second time. This trip was such a different experience and we dearly loved every second of our time with you and Rich.
Jeff has already spoken at length to one of his dear friends about getting a group together for another trip on the Altesse! We are ready to sail again as soon as we can make it work for everyone's schedule!  
We will be in touch:))
Grace, Jeff, Caroline and Georgia. Kansas
Charter guests from the "Show Me" state said of their week aboard catamaran ALTESSE:
Thank you Sarah and Richard for being the most wonderful hosts for our week on Altesse. The experience far exceeded our expectations and we had a perfect week exploring the BVI. Our first trip and Sarah and Richard provided great recommendations for our group. A mix of snorkeling, diving, paddle boarding, kayaking, exploring, eating and drinking. And speaking of eating - every meal provided by Sarah was an experience. From the presentation to the variety and taste of the food, it was too notch. We were pampered and spoiled in every way. Trip of a lifetime and we will definitely be back to explore more of the BVI with Sarah and Richard. We will miss the BVI and Altesse - we will be back!
Lynne and Diane, St. Charles, Missouri, April '17

Guests aboard catamaran ALTESSE in February, 2017, said:
This trip was a trip of a lifetime! I never dreamed how spectacular it would be. Your attention to detail and hospitality can't be beat! The food was amazing and the boat was impeccable! Thank you so much for celebrating our 40th Birthdays. Thank you for such Ana amazing week it was beyond my expectations. Everyone should experience this at a least once in their life. Thank you, thank you!
Sarah, Fort Worth, Texas
Absolutely amazing week aboard Altesse. Fabulous boat!!! The best catamaran in the islands. Staff were phenomenal! Captain Richard answer all our 700 questions and Sarah's food was top notch. Gourmet meals three times a day, each one better than the last. Had an amazing trip. Already planning our next adventure aboard. Thank you.
Kelli and Randy, Fort Worth Texas
What an amazing trip! Altesse is beautiful and makes great use of space. We loved all the outdoor seating. Richard and Sarah took care of all our needs and have wonderful stories to tell. Richard is a great captain and Sarah is an amazing chef. Every meal was a delight. We would love to sail on Altesse again.
Troy and Nicole, Fort Worth, Texas
We had an amazing week on Altesse. We are very grateful for the hospitality, the genneker sailing, the Dolphins, amazing meals, wake-boarding, paddle-boarding, kayaking, hiking and overall wonderful vacation. Thank you Sarah and Richard.
Stephen and Sheri, Fort Worth, Texas

New Years week guests aboard ALTESSE said:
Charter was awesome and the trip was great! Great yacht for 6-8 people and our crew was simply amazing! All the water toys were included and the BVIs are amazing. Rich & Sarah could not have been more professional! They were great and handled our every request. I would highly recommend Rich & Sarah. They worked hard 24/7 to ensure our satisfaction. Sarah prepared the meals perfectly – food was well balanced and great selection.
Peter Laport

Guests aboard ALTESSE with Richard & Sarah in early December, 2016, said: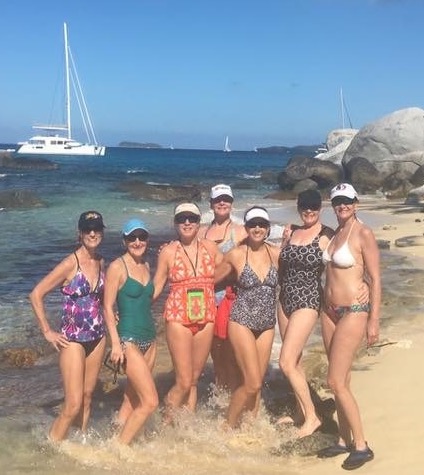 Dear Sarah and Rich,
There are many good yacht captains and many good chefs, hosts and 'first mates' in this world, but you two - individually and as a team - are extraordinary. Your passion for excellence, in all aspects of this trips as evident and your love of the 'sunny VI' even more so. Thank you for your attention to every detail, your anticipation and planning of all the food, activities, entertainment and whims. You made my trip here truly a 'trip of a lifetime'. Keep smiling, keep laughing and keep following your dreams
Billy's Babes trip of a lifetime (at right)

Guests aboard ALTESSE in mid-November, 2016 had this to say:
Sarah and Rich,
Thanks for a truly extraordinary and memorable week. We couldn't have conceived of a more perfect vacation/50th birthday and anniversary celebration with our dearest friends. You two are the perfect team - a phenomenal marriage of grace, energy and exceptional capability. From Sarah's 5 star cookery; Captains cocktail hour and itinerary to Richard's handling of the yacht; dive mastery; and your combined tour guiding, there simply aren't enough superlatives to capture all the perfect moments. Your home - Altesse - stands by herself: gorgeous and enormous, and your neighborhood - the BVI - what a match! It was a pleasure and a privilege to get to know you and share the week. You guys are awesome and no doubt our paths will cross again!
Jeannie and Darrell, Co and Michael, Stacey and Sean and Jennifer and Drew
Late October, 2016, guests on Altesse wrote: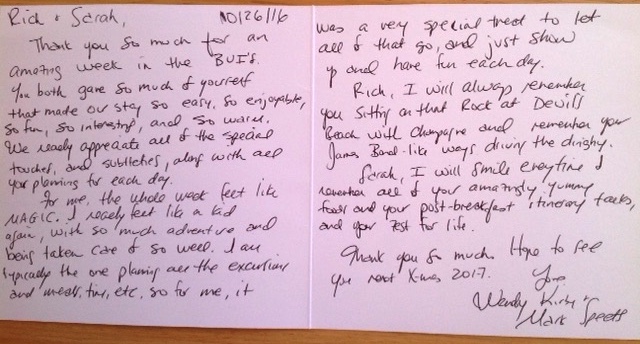 Guests with Richard and Sarah on ALTESSE in early June, 2016, say:
Dear Sarah and Rich,
This boat is like the presidential suite at the world's finest hotel. The food similar to a 5 star restaurant, it's every single meal exceeding all of our expectations. The planning of the itinerary and the sailing felt like we were guided by locals who knew the greatest treasures of the land. But we have learned that the best and most special part of life are the people you meet along the way. Sarah and Rich, you are special, kind, generous, professional, outgoing knowledgeable and willing to go the extra mile. This trip was fabulous, but extra-special as we were so fortunate to spend our time with the two of you. 
 See you next year!
Peter, Mark, Diane, Carly, Jack and Hannah, June 2016
YACHT PHOTOS