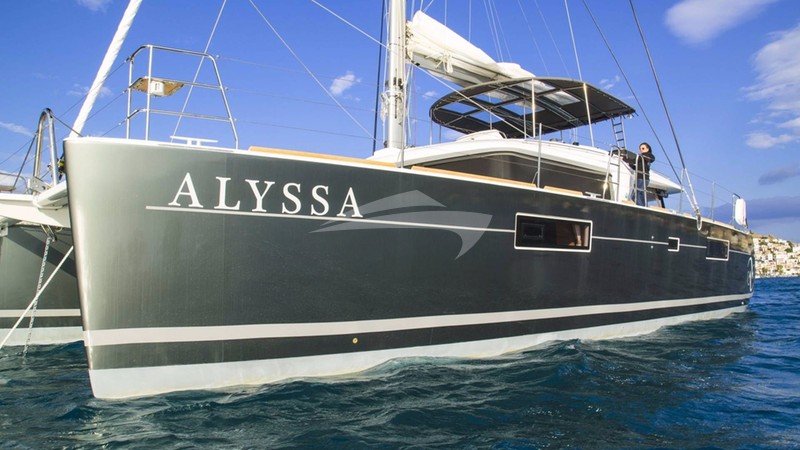 Specs Features Diving Crew Profile Menu Layout Photos Testimonials Similar Yachts Inquire NEW Charter Search »
YACHT INTRODUCTION
Alyssa is a Lagoon 560 S2, built in 2016, she is an extremely spacious catamaran, with 16.96 m (55.6 ft) Length and 9.45 m (31 ft) wide, providing high quality comfort and safety for its guests. If you are about to start your vacation in Greece, through sailing from one Island to the next and at same time want to be able to relax comfortably and enjoy your time, without having to lift your finger, ALYSSA will fulfil your every wish.
The moment you arrive at the berth, prior to embarkation, you will know you made the right choice. Alyssa is built on the highest level of today's industrial standards and it provides you with plenty of space to move around anywhere on the boat and with 5 cabins to accommodate up to 10 charter guests in 4 Queen Size cabins and one twin cabin with bunk beds, all cabins with their own audio and visual entertainment systems and private bathroom facilities.
The seating areas either on the aft deck, which is very spacious and comfortable and provides the perfect atmosphere for breakfast, lunch or dinner, either the extremely beautiful upper deck, which is ideal for enjoying a glass of champagne, whilst sailing or a cocktail during the breath-taking sunset, or even on the foredeck, gazing at the horizon, will be a memorable experience for sure
SPECIFICATIONS
Length 55ft 9in (17m)
Beam 30ft 10in (9.4m)
Draft 4ft 11in (1.5m)
Sleeps 10 Guests
Cabins 5
Crew Captain Tihomir Petkov, Chef and 1 crew
Year Built 2016
Cruising Speed 10kts
Max Speed 10kts
Stabilisers None
Engines Diesel 2 X 100HP Yanmar

Builder Lagoon
Designer Not know
Flag Greece
VAT Registered No
US Duty Paid No
APPROXIMATE WEEKLY RATE
High USD $26,691 | Low USD $22,602
FEATURES & AMENITIES
Bluray player all cabins, MP3 music server, Outdoor audio system, Satellite TV, Wi-Fi, 14ft / 4.30m 50hp Oceanic, Assorted water toys, Paddleboard, Tube - towable, Wakeboard, Water skis - adult, Water skis - child, BBQ, Book library, Coffee machine, Deck shower, Sun cushions, Swim platform, Water maker
ACCOMMODATIONS
Sleeps 10 In 5 Cabins
DIVING EQUIPMENT
Not Insured, Diving by arrangement, Snorkelling gear
YACHT CREW
Captain: Tihomir Petkov
Captain Tihomir Petkov
Tihomir is a gental captain - his calm personality and winning smile make everyone feel at home from the first second you meet him. Tihomir has been sailing all his life on charter and private yachts. His background also includes electrician and yacht maintenance. He has a Yacht Master diploma for up to 24m (80 Ft). Tihomir's experience on the sea is outstanding and his knowledge of every little secluded bay, marina, harbour and island will make your trip even more delightful. The Captain's friendly character allows a harmonious understanding, which is the basis of a comfortable and successful vacation on board a yacht. Most of all though he is wonderful with children.
Chef: Anna Kravchuk
Anna was born in Russia in 1978 and is living in Greece for several years. She speaks English, Russian and Greek and has a wonderful personality. After obtaining the diploma for Physical Education and Sports, she focused on her admiration of the sea, completing the Greek motorboat license up to 24m and the offshore sailing certificate of competence.
Anna worked on several sailing yachts as hostess and especially as a cook, as which she is highly competent. Her previous experience as a chef in a well-known fish tavern surely has brought justice to the highly compliments she receives from her guests. Her skills and inspiration in the kitchen have matched her devotion to cleanliness and tidiness, performing as a former Cleaning crew director for Clean and care.
She has warm and welcoming character, while when she is not working she prefers Mountain skiing, cooking, reading, biking and hiking
Stewart: Veronika Kusakova
Veronika has an outstanding character and a very professional attitude. She has been working as a Hostess and Co-skipper since 2007 and is highly experienced in crewed charters. She will look after you at all times, so that you can have the best vacations during your stay on the Yacht. Veronika is outspoken friendly, with a great smile and a cheerful mood.
She speaks fluent English, Greek, Czech, Slovak and a bit of Polish, Russian and Croatian. She also has a Lifeguard Certificate. Other than that she owns a BA Honours Degree in Business Administration and in the winter she works as a Ski instructor.
YACHT MENU
                                                                                                            ALYSSA
                                                                                          Anna Kravchuk - Sample Menu
Yoghurt marmalade, Philadelphia cheese, honey
Ham, cheese, croissant warm (fresh baked)
Whole grain bread, white bread, stick bread
Fresh pressed orange juice
Plate with seasonal fruits, eggs omelet (on demand) pan cakes
Variety of cheeses (smoked metsovone cheese, goat cheese with honey, yellow graviera cheese with chili
(Watermelon, vodka, honey)
Stuffed chicken rollo (Philadelphia cheese, plum, bacon)
Roasted marinated vegetables (carrots, zucchini, aubergine, green pepper, mushrooms, mini pomodori)
Stuffed baked red peperoni (ham, mushrooms, yellow cheeses)
Cannelloni with spinach (mascarpone cheese, parmegiano, bacon, béchamel)
Green salad with various fresh tomato, nuts, fig + dressing (mustard, honey, lemon juice, extra pure native olive oil)
Prosciutto with sugar melon- cocktail!
Stuffed calamari baked in the oven (peperoni, pomodori, feta cheese)
Green salad (varius fresh baby pomodori, pine fruit, sun dried tomato, smoked metsovone cheese in mini cubes + dressing)
Mini pastourma rollos (ham with fenugreek, yellow cheese, tomato, and florina pepperoni)
Skiufichto (handmade pasta, with mushroom variety from the wood, milk cream, cheese)
Green salad (chaloumi Cyprian white cheese roasted, mini pomodori with dressing balsamic cream)
Vol-au-vent with Roquefort, ham salami- cocktail!
Roasted salmon fillet and rosemary
Potato salad (pickle capers)
Stuffed artichokes with bacon and Roquefort
Baked goat in the oven with lemonsauce
Red beetroot salad (mushrooms, garlic, nuts, balsamic, olive oil)
Tomato (capers, crithmum maritimum)
Smoked salmon (mouthful rose)
Yoghourt dressing with dill and croutons-cocktail
Mussel with rice and saffron
Green salad with shrimp cocktail sauce
Vaul-au-vent (bacon, mushroom, smoked cheese)
Schnitzel pork or calf (in small pieces with Chinese marinade)
Green salad (nuts, sun dried tomato, fresh onions, and fresh mozzarella)
Smoked trout (mayonnaise, onion, dill) on toast-cocktail
Baked chicken legs marinated with saffron rice
Green salad (crouton, roasted bacon, Parmegiana grated + Caesar sauce dressing)
Aubergine roasted (feta cheese garlic, parsley, balsamic dressing)
Pasta (lobster or schrimps)
Razzo salad with baby pomodori, sesame-dressing (honey, balsamic cream, olive oil)
Puff pastry rollo with spinach, cheese and nuts-cocktail!
Smoked salmon tart soufflé!
Tomato-motsarella-fresh basilikum (olive oil, balsamic cream)
Calf with sofrito sauce (garlic, parsley) and rice
Green salad (razzo, prosciutto, baby pomodore-dressing-lemon, honey, Dijon mustard, olive oil)
Prosciutto bread with sticks, spicy chilli cheese- cocktail!
Stuffed wine leaves with rice and meat with egg, lemon sauce
Spring rolls with Chinese sweet sour pineapple sauce
Potato salad (potato, tomato, carrots, zucchini, pickle, capers, onion, parsley)
Sou with lemon cream and chocolate dressing
Perro Salado (White tequila, fresh grape fruit juice)
Zigolo (Campari, Aperol, Limoncello, fresh lemon juice, orange juice, soda water
YACHT LAYOUT
YACHT TESTIMONIALS
                                                                                                              2017 
August 2017

Captain Tisho:  You are FANTASTIC to Thank you for staying cool AND "No problem" even when the weather was not very good in the Cyclades.Thank you for your patience!! 😊
Anna: Sweet Dobra Anishka <3 You are a wonderful chef! We love your food and your kindness thank you for taking care of every detail and being our mom on the boat!
Alex: Thank you for being so nice and smiling all the time!Thank you for translating and sharing your knowledge with us, Mr. Google. 😊
Thank you for these wonderful 2 weeks! We will miss you.!
YOU WERE THE BEST AND WE ENJOYED EVERY SECOND! WE HOPE TO SEE YOU AGAIN AND SAIL WITH YOU IN NEW PLACES….SORRY FOR YOUR LOST PHONE..!

Alami Family (Paris)
THANK YOU!
July 2017
Crazy Cajuns 2017

I could have never ever asked for a different or better experience in Greece because this was the BEST!

Thank you TinaTurner! Forever non-stop all day all night,
Rachel Redd
Fantastic experience from start to finish excellent Crew.!
Matt Redd, Lake Charles, Louisiana (6/7/2017) :) 
July 2017

Best Boat Forever

Many, many thanks, Mr. Ceco (you….you….are the best.! ThanksAnna (You are the best chef in the world). Many thanks to Tisho (the sea wolf, who don't know fear) Thank you, Veronica, (beautiful girl who can do everything).
Thanks a lot! We love you!
Vania, Jeny, Creti. Nikol, Gery, Valery, Niki. (17/7/2017 Mykonos)
June 2017
Greece 2017
Thank you so much for an unforgettable5 day. I had so much fun with this Crew in such a beautiful location.
Lots of love,
Olivia
Thank you for such an amazing time.! The food, the dancing, everything was amazing.
Love
Annie
Thank you so much for making our trip to Greece so incredible.! Everything about the experience was absolutely amazing: the boat the fun activities, THE FOOD (Anna seriously you are my idol), but especially the crew..!! you guys made our experience unforgettable😊
Welcome to the Mattimore fam <3
Kate

I could have never asked for a different crew boat or experience.
Tina Tur
Thank you for the most amazing 5 days.! We are so incredibly grateful to the best crew even.! Dream team. Visit us in San Francisco😊
Non-stop FUN! I had so much fun exploring the Islands with you. We love Greece! Thank you so much.!
The Mattimore Family
Thank you for making an unforgettable week every more special. We really enjoyed everything, but especially the crew! (and of course, the fun, the food, the Fix water, the wakeboarding)!
Thomas
June 2017
Great captain (Tisho)! Excellent service (Veronika + Anna) Thank you, Guys! We will be back!
Deli+Vesko+Kalia.!
A POEM FOR ALYSSA WITH LOVE
We landed in Greece at the end of June
Waiting to board the Alyssa soon
The weather was stifling at 105
Wonder how long we would stay alive
We boarded the boat that was so very dreamy
Hopefully, soon we could stop being so steamy
Veronika met us at the pier
While Anna and Tim were waiting with beer
We set sail for the islands of Cyclades
Little did we know how much Tim would guide us
Santorini was our goal
Little did we know it would take a toll
The waves were cashing at zo feet high
At this point, I was thinking "why did not we fly"
Chris was holding a plastic bag
Mark had her head wrapped in a rag
After 10grueling hours we finally arrived
Sweaty and smelly but at least we survived
Captain Tim was cool as the waters raised
Never once did we see him phased
Despite the rough sea and aching tummy
Veronika always had a smile
Willing to go the extra mile
The crew danced to "Simply the Best"
This crew truly is a step above the rest
As we return to Athens to say our goodbyes
We wish the crew nothing but smooth sailing and ever blue skies!
Marianne, Chris, Brianna, Mihol, Andrei Terpylak
May 2017
Amazing time onboard

Lovely places to visit
Yacht luxury
Superb food
Superstarsvacation
A level crew service
See you soon, Alyssa.!
Petko, Connie, Svetoslava, Stefan.
                                                                                                                   2016
July 2016

Our 3rdboat trip. The first one in Greece. The best. A super crew, a super boat, many beautiful places! We're blessed to have the opportunity to make such a beautiful journey with wonderful people! Many, many thanks to a perfect crew. We were so happy to be here!
Thank you very much for the amazing trip. It was fantastic!! Everything was perfect!
Charlotte
It was fantastic! Thank you so much! See you next year! …And the food was super nice!!
Madeleine
A journey is best measured in friends rather than miles!
Sophie – Delphine
From Belgium with Love!
It was fantastic! See you again next year!
Caroline
July 2016
Many, many thanks for a splendid trip. Wonderful boat, wonderful islands, and wonderful Captain & Crew. You could not ask for better.
We will always remember this with fond &loving memories.
Love & best wishes from the Americans/ Scottish/ Cypriot/ German/Greek
Bruce, Anna, Alexa & Lauren & from the Anglo/ Brits/ Cypriots/ Greek
Leo, Nina, and Hara
P.S.: we all have to go on a fasting diet.
Thank you to Vessi, Tim, and Vassili for the wonderful trip.
Lots of love
Hara
July 2016
Your hospitality was simply AWESOME!!!Hopefully, we meet again one day.
Leo
Thank you for an amazing trip! These memories will last forever!!

Lauren
Thank you for an unbelievable vacation. Vessi –your food was delicious!

Anna, Alexa & Bruce
June 2016
On board the Yacht Alyssa, how we will miss her, 10 days just to chillax, unwind and rest. With gentle winds and turquoise sea.

There is no better place to be hooked after a crew that is the best!!
James, Jo, Edward, Tommy, Tegen, Julian, Milla, Sam, Rupert, Jack                                                                                
YACHT PHOTOS