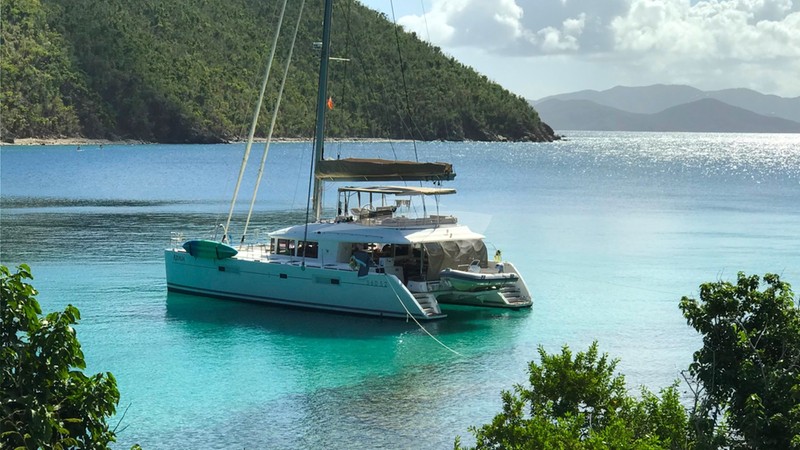 Specs Features Diving Crew Profile Menu Layout Photos Testimonials Similar Yachts Inquire NEW Charter Search »
YACHT INTRODUCTION
AZULIA II, The Premier Caribbean Sailing Yacht Charter. Imagine a fully crewed and catered luxury dream vacation on Azulia, a 2015 Lagoon 560 S2 catamaran. Experience the tranquility and beauty of the Virgin Islands while wrapped in the elegance and prestige of the finest sailing multihull in the Caribbean. Azulia is available for charter bookings now. Be among the first to cruise on the Lagoon 560 S2.
Experience the unspoiled beauty and quality sailing of the Virgin Islands on Azulia II, a premium, fully-equipped Lagoon catamaran available for charter. Excursions depart from the any port in the British Virgin Islands, US Virgin Islands or from eastern Puerto Rico. Explore the beautiful Caribbean while enjoying delectable galley treats aboard beautiful Azulia. With design advancements that improve both the sailing and the comfort, Azulia is among the finest yacht charters that the Virgin Islands can offer.
Azulia II accommodates up to 8 guests in 4 elegant queen guest suites, each with its own ensuite head and shower. Cabins are beautifully appointed with luxury bedding and linens. She is air-conditioned throughout with individual controls in each cabin. Crew quarters are separate bunk beds, with own head and shower (Crew may switch cabins if 2 bunk beds are desired instead of queen (usually for small children)).
SPECIFICATIONS
Length 56ft 1in (17.1m)
Beam 30ft 10in (9.4m)
Draft 4ft 11in (1.5m)
Sleeps 8 Guests
Cabins 4
Crew Captain Graham Coffee & Chef
Year Built 2015
Cruising Speed 8.7kts
Max Speed Not available Stabilisers None
Engines 2x 110hp

Builder Lagoon
Designer Van Peteghem - Lauriot Prevost
Flag United States
VAT Registered No
US Duty Paid Yes
APPROXIMATE WEEKLY RATE
High USD $33,000 | Low USD $22,500
FEATURES & AMENITIES
Bluray library, DVD library, Games console, Indoor audio system, iPod dock, TV master cabin, TV saloon, Wi-Fi, 14ft / 4.30m 50hp RIB, Beach games, Board games, Floating mats, Kayaks multiple, Kneeboard, Paddleboards multiple, Swimming noodles, Tube - towable, BBQ, Deck shower, Fishing gear - light, Special diets, Swim platform
ACCOMMODATIONS
Sleeps 8 In 4 Cabins
Azulia 2 accommodates up to 8 guests in 4 queen guest suites, each with its own ensuite head and show.  She is air-conditioned throughout.  Crew quarters are separate, with own head and shower.
Crew may switch cabins if 2 bunk beds are desired instead of queen (usually for small children)
Amenities on Azulia 2 include: Removable sunshades (3) , onboard Wifi , high thread count luxury bedding

DIVING EQUIPMENT
Not Insured, Diving by arrangement, Snorkelling gear, Underwater scooter, Underwater still camera
YACHT CREW
Captain: Graham Coffee
Graham is a lifelong sailor, growing up sailing with his parents on several different cruising yachts. His sailing experience is long and diverse, in addition to cruising sailboats and luxury catamarans he has also sailed, and raced, Hobie cats, sailing dinghies, iceboats and sand sailors. Graham is also an experienced scuba diver, avid windsurfer and enjoyable guitar player.
Chef / First mate: Pamella
Pam is a Florida native, enjoying many types of powerboat water-sports since childhood, including skiing, snorkelling, surfing and fishing. Raised with the influence of Southern Hospitality, Pam has made cooking a hobby since her teen years and especially enjoys using fresh local ingredients in her meals. After sailing with a friend, Pam took sailing classes in 1999 and has been hooked ever since.
YACHT MENU
All charter menus are custom tailored to meet guests' preferences.

DailyContinental Breakfast
Variety of Fresh Fruit
Ham, Bacon or Sausage
Fresh Baked Biscuits, Croissants, Breads, or Muffins
Yogurt, Granola and a variety of Cereals
Breakfast cooked to order:
Fruit Pancakes, Waffles or French Toast
Eggs or Omelettes of Your Choice
Beverage Selections are Assorted Juices, Milk, Coffee & Tea
Lunch
Sesame Ginger Crusted Seared Tuna On a Bed of Mixed Greens & Ginger Sesame Vinaigrette
Mahi-Mahi Tacos With Slaw andLime Cilantro Aoli
Mediterranean Chicken Quinoa Salad With Warm Bread & Herb Butter
Grilled Jerk Chicken Wraps With Pineapple Jalapeno Slaw
Pan-Seared Crab Cakes With Mango Chutney and Pasta Salad
Warm Herbed Goat Cheese Over Grilled Vegetables on a bed of fresh Mixed Gteens
Grilled Hamburgers With Homemade Potato Salad
All lunches served with Fresh Fruit & Beverage Selection.
Hors d'Oeuvres 
Caribbean Fish Ceviche with Warm Tortilla Chips
Pirate Rum-Spiced Wings and Guava BBQ Dip
Variety of Veggies, Cheeses & Gourmet Cracker Platter
Coconut Crab Shooters with Plantain Chips
Beef Tenderloin Crostini with Horseradish Crème
Dinner
All Entrees Served with Bread and Garden Salad or Delicious Soup
Wine Pairing to Compliment Your Meal
Black Angus Rib Eye Steak topped with Cabernet Butter Sauce with Twice Baked Potatoes & Sautéed Fresh Vegetables
Caribbean Beef & Pineapple Kabobs. Chunks of Marinated Sirloin, fresh Pineapple, Sweet Peppers and Purple Onions Grilled and served over a bed of Island Rice.
Espresso Rubbed Baby Back Ribs with Spicy Jamaican Potato Salad and Calypso Slaw
Garlic-Infused Pork Tenderloin Medallionsin a Mushroom Marcella Gravy served with Garlic Mashed Potatoes and Roasted Broccolini 
Grilled Mahi-Mahi – Mahi Fillet lightly brushed with Mango Jalapeno sauce, served with Roasted Sweet Potatoes and Lightly Steamed Summer Squash
Citrus Seared Tuna with a Wasabi Drizzle served with Jasmine Rice and Seared Baby Bok Choy.
Drunken Lobster -  Local Spiny Lobster Tail poached in a garlic wine sauce, served with Creamy Seafood Risotto.
Gingered Grouper en Papillote over Lemon-Coconut Rice with a splash of West Indian Pumpkin Puree
Shrimp and Scallops alla Pink Vodka Sauce served over a bed of Linguine with fresh shaved Parmesan
Grilled Guava BBQ Chicken Breast with a medley of Caribbean Root Vegetables and Sautéed Vegetables.
Chicken in a Creamy Garlic Alfredo Sauce over Linguini surrounded by a Veggie Medley 
Desserts
CaribbeanRum Cake with Dark Chocolate Sauce
TropicalBrownies topped with Vanilla Ice Cream
FreshMango Sorbet
PineappleUpside Down Cake
KeyLime Mousse and Citrus Cookies
PiñaColada Cake
DrunkenPineapple over Coconut Ice Cream
Please inform us of any food preferences or allergies
YACHT LAYOUT
YACHT TESTIMONIALS
A family group aboard AZULIA 2 for New Years 2018/2019 said: 
Our trip exceeded our expectations in every way. Graham and Pam were wonderful. Pam is a talented chef and we thoroughly enjoyed each of our meals. Our family of eight, four parents and four "children", ages 18-20, were ALL impressed! Visiting the virgin islands via catamaran was breathtaking... scenery, snorkeling, private beaches, island hopping, lobster dinner on the beach...
Stacy L., Texas

Guests aboard AZULIA 2 in mid July, 2018, wrote:
1. Was the crew friendly and accommodating? 
Outstanding, gracious,knowledgeble, very professional
2. Was the yacht comfortable and clean? 
Perfect - 5 star hotel rating
3. Was the yacht well ventilated? 
Yes
4. Was the food good and well presented? 
Maybe not Michelin but pretty darn close. Breakfast, lunch, dinner - all fantastic
5. Did you like the area you sailed? 
I have sailed these waters before and was worried that the great experience could not be duplicated for a group of my very special friends. Pam and Graham did a great job recreating the magic and fun of my earlier excursions. My friends all say it was a trip never to be forgotton.
5 for 5 across the board!
Late June, 2018, guests aboard catamaran AZULIA 2 wrote:
Skipper: 5/5
Comments
Graham was a great skipper, very knowledgeable and friendly
Rest of the crew: 5/5
Comments
Pam is a terrific chef and produced numerous beautiful meals.
How would you qualify the yacht (comfort, features, general maintenance, etc): 5/5
Comments
Very comfortable yacht, well maintained and very roomy
How would you qualify the itinerary: 5/5
Comments
Graham and Pam put together a great itinerary that covered all the highlights of the BVI
How would you qualify the sports and leisure activities/equipment on board: 5/5
Comments
Lots of good toys on board
How would you qualify the food and drinks: 5/5
Comments
Terrific meals and drinks. Pam is the best cook ever !
How would you qualify the entire experience of your trip: 5/5
Comments
A terrific family experience.
February, 2018, guests aboard catamaran AZULIA 2 said:
Fantastic, exceptional experience. So glad we chose the Azulia!
Would love to do it again soon!
Pam & Graham went above and beyond. They made sure we were well fed, comfortable, made fabulous drinks, and were very attentive to all of us! We enjoyed having them join us for fun evenings on the boat and for dinner one evening on shore and the Pirate Happy Hour another night. They were so good about getting us in & out of the dingy (which wasn't always an easy task)! Seal Team 6!
Pam's food was 5 star! We had to ask her to cut back on lunch because we were being so well fed! We were not disappointed in food, wine & drinks at all. They did pay close attention to our preferences and had all of our favorite types of drinks too!
Boat was spotless & in excellent condition. Our beds were very comfortable and we had plenty of different spaces on the boat to hang out. The fly bridge was a favorite card playing spot for the guys, our entertainment area in the evenings & great spot to all relax and hang out while we sailed. It was a great shady spot and we could go out front when we wanted sun. So many areas to hang out. It was fun to watch Graham/Pam sail to our next destination with their commentary of where we were and what we were seeing as we cruised along.
There was something new and fun each day and down time in between to relax.
What we liked the least was leaving!!
The experience was even better than we hoped for. It was a trip of a lifetime and we would love to go with Graham & Pam on the Azulia again!
Mid-August charter guests on catamaran AZULIA 2 said:
⭐⭐⭐⭐⭐
Graham is the best!!!!
I think I am in love with Pam!!!!!
Best trip I have ever taken. And I love to travel!
Early April, 2017, guests on AZULIA 2 said:
Graham was awesome and did a great job of captaining the boat while keeping our family entertained! Graham was always willing to do what ever was needed to make sure we were satisfied. The kids thoroughly enjoyed tubing and knee boarding whileGraham drove the boat. There was nothing more that Graham could have done to make our trip more enjoyable.
Pam was absolutely fantastic as well. She prepared some of the best meals that we have had and catered to our every need. She also was a great guide and pointed out thebest snorkeling spots in all of the islands that we visited. We hope to get some of Pam's recipes!
The Azulia 2 is an amazing boat that is pristine. The space on the boat is incredible and everyone on our trip always felt comfortable and had plenty of room to relax. The beds in the staterooms were awesome! I am trying to find the same mattress for my home!
We had a great itinerary recommended by Pam and Graham. We felt like we saw and did everything that we wanted to do while in the BVIs. There is plenty to do for everyone. My son and I loved the fishing! Almost caught a tarpon!
This was one of the best vacations that our family has ever taken! We can't wait to do it again.
Clay Tiedeman
Early February, 2017 guests on AZULIA 2 said:
Dear Pamela and Graham,
Now that we are home again and have time to remember and reflect on our week with you on Azulia from 4th - 11th February, I just wanted to contact you to thank you both for your wonderful help in the total enjoyment of our week. John and I loved everything about the boat and the care you gave us.
The meals are memorable, delicious and varied and wonderful to have such fresh and imaginative salads everyday, when at sea! We loved the quiet bays, the snorkelling and swimming everyday, it did us both a lot of good and we are so pleased to have had such a great opportunity on your lovely boat.
Your care and kindness when my blood testing kit died, it helped me relax and I have an appointment with my diabetic nurse next week to sort it out properly. Thank you for organising the lovely lobster supper and Champagne to welcome John to his 78th year!
All in all it was a superb week thank you and love from Anne and John.

AND...
Pam & Graham
I thought that I must send you our thanks for the great time we had with you last week. We arrived home yesterday to a very dreary England not much like the BVI although it is quite spring like today!! You both looked after us all in a terrific and unobtrusive way which is just what we all wanted. I have personally never been sailing before and done so little which at first seemed very strange but soon got used to it. Very many thanks to you both and Azulia which we all loved.
All the best for what ever the future holds for you both. 
Stephen & Rachel

Guests from February, 2016, aboard AZULIA 2 said:
Skipper:    5 out of 5
Comments    Excellent
Rest of the crew:   5 out of 5
Comments    Excellent
How would you qualify the yacht (comfort, features, general maintenance,etc)  5 out of 5
Comments    Awesome
How would you qualify the itinerary   5 out of 5
Comments     Fantastic
How would you qualify the sports and leisure activities/equipment on board   5 out of 5
How would you qualify the food and drinks  5 out of 5
Comments   Pam=Fabulous Chef
How would you qualify the entire experience of your trip    5 out of 5
Graham and Pam made this one hell of a trip of which we will book again. Huge thanks to our broker for turning us on to the lovely Azulia.
Chuck Shoals, Florida
Guests aboard AZULIA 2 in mid-January, 2017, said:
CREWED CHARTER BOAT REVIEW
Name: Paul Holler
Yacht: AZULIA II with Graham & Pam Coffee
Charter Dates: 1/07/2017  to 01/14/2017
Area Cruised: Virgin Islands
Overall Rating: 5 (5 being the highest 0 being the lowest)
We hope your charter livedup to your expectations. We would love to know some of your impressions aboutyour yachting vacation. Please answer the following questions and add anycomments you may have.
1. Was the crew friendly and accommodating? 
Absolutely, We were looking for a balance of having the crew mingle with us and have our privatemoments. Pam and Graham did that perfectly They were friendly, accommodating,attentive and caring.
2. Was the yacht comfortable and clean? 
Yes. Everything we hopedand more. Spacious and clean. The flying bridge was a great place for apps and reading and sleeping.
3. Was the yacht well ventilated? 
Yes. The A/C was great andwas turned on typically in the evenings and overnight.
4. Was the food goodand well presented? 
Yes. Everything was delicious and done to perfection, presentation was photo worthy (and we did take pics). Just the right amount of food. Beverages were abundant. If we ran out of something or didn't have it, it would magically appear.
5. Did you like the area you sailed? 
Yes. Graham and Pam selected the itinerary based on our preferences and then modified it slightly to accommodate for weather/swells to ensure we had the best time possible
8. Additional comments on your charter?
Everything was perfect I tell everyone what a great time we had and that this was the best… vacation... EVER- I would and do recommend this vacation and crew to everyone.
Pam and Graham were the perfect crew. They gave us the perfect amount of time for ourselves and the correct time to mingle with us. They were extremely caring. We made memories that will last for a life time. We can not express our thanks and our appreciation enough. When I first read the reviews as I was selecting a yacht and crew I had difficulty believing the glowing remarks, but now I am a believer.
9. When do you plan to charter next? 
God willing... next year
YACHT PHOTOS