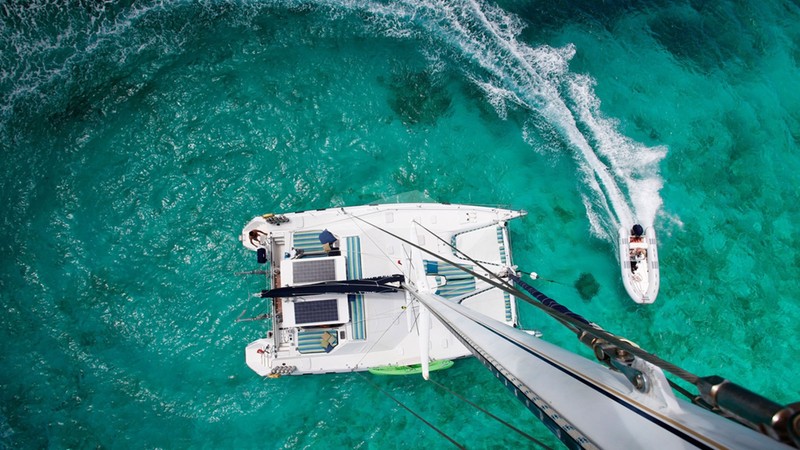 Specs Features Diving Crew Profile Menu Layout Photos Testimonials Similar Yachts Inquire NEW Charter Search »
YACHT INTRODUCTION
Sailing on Catamaran Belline II is like a magic carpet ride...
"On a cloud of sound
Any place it goes is right
Goes far, flies near, to the stars away from here... " 
(Steppenwolf)
Her two hulls give space... speed and stability
Leave your stress, traffic jams, gotta-do's, hafta-do's and if you wish even your cell/mobile/wifi/keepintouch-devices behind and experience the richness of a lonely island, a quiet bay, a deserted beach on the fully equipped yacht.
Diving... off the yacht and into crystal clear, warm waters, blending into the world of stunning underwater playgrounds, showing the fish your big grin.
Enjoy the unspoiled beauty of the most fascinating reefs still alive in the world today. Or even blow the first bubbles under water with your own PADI dive instructor.
During your sailing cruise you can enjoy all the on-board toys and top your vacation experience with our wakeboard, double seated kayak, fishing rods, aquanaut and much more activities tomake your sailing holidays a great success!
We love eating, so we love food - and we love to cook!  We are devoted to enjoying preparing new and different meals as well as the classic, traditional dishes. You will see how we can surprise you.
Belline II is perfect for a sailing vacation with both, friends and family. It's Sun and Fun. Who knows, maybe soon you are sitting on deck with a cold drink in your hand! (and a big grin!)!!!
SPECIFICATIONS
Length 47ft 11in (14.6m)
Beam 26ft 11in (8.2m)
Draft 4ft 11in (1.5m)
Sleeps 8 Guests
Cabins 4
Crew Captain Arlette Wyss & Chef
Year Built 1991
Cruising Speed 7kts
Max Speed 9.7kts
Stabilisers None
Engines 2x Yanmar 50 HP

Builder Privilege Yard
Designer Jeantot
Flag United Kingdom
VAT Registered No
US Duty Paid No
APPROXIMATE WEEKLY RATE
High USD $18,150 | Low USD $11,500
FEATURES & AMENITIES
CD library, Cell phone, DVD library, DVD player saloon, Indoor audio system, iPod dock, 13ft / 4.00m 60hp Caribe, Beach games, Board games, Kayak, Mono ski, Tube - towable, Wakeboard, Water skis - adult, BBQ, Book library, Deck shower, Fishing gear - light, Hammocks, Special diets, Swim platform
ACCOMMODATIONS
Sleeps 8 In 4 Cabins
BELLINE II can accommodate 8 guests in 4 cabins.
The master cabin has a queen size bed, shower and manual head.
Another 3 cabins have a queen size bed, shower and manual head.
BELLINE II is fully air conditioned throughout.
Crew has a separate companionway, heads and shower.
DIVING EQUIPMENT
Insured, Crew can instruct, Diving if certified, Snorkelling gear, 1 Compressor, 10 Tanks, 8 BCs, 8 Regulators, Master, Diving: $45 per dive per person 
Courses: available: 
Resort Course: $150
Open Water Referral Cert: $280
YACHT CREW
Captain: Arlette Wyss (25)
Arlette Wyss – A Swiss Nature Child, accomplished Captain and passionate Dive Instructor, Arlette's fun loving persona will guide & inspire you to unwind, explore & connect with the Caribbean
The innate love for nature began in her small hometown in the beautiful Swiss hills. At the age of 9 Arlette (25), had focused herself on her first passion, horses. This inspired her to become a certified horse trainer by the age of 20, specializing in a variety of equestrian disciplines. Meanwhile she traveled, working in Nevada as a cowgirl and compounding that passion in Brazil as a "gauchera" on a "facenda". While travelling she traversed the Amazon, hiked through Iceland & New Zealand, slept under the stars in the Sahara Desert and explored Greenland on a sailing expedition.
Yet nothing can beat the beautiful Caribbean and life on the water. Just a small child, she went sailing for the first time on Belline II with her family. Impressing on her so strongly to return again and again. More so to dream of a life in the Caribbean on this wonderful catamaran. The last 5.5 years on Belline II she has gained significant yachting experience, a Yacht Master license, a 50ft RIB license and VHF certification.
Arlette expanded her passion for the ocean by becoming a professional PADI Dive Instructor. She's always happy to take you on a dive around the most stunning reefs of the Caribbean or even blow the first bubbles with you! All this outdoor fun and excitement can build quite the appetite. So Arlette's previous experience in hospitality had her achieve a Swiss certification in professional bartending, presentation and service of drinks and snacks. A skill greatly adding to the chef's cooking and the enjoyment of guests. Above all her happy face and smile are always there, even in moments when it's hectic, and quick thinking and action are required. She is now comfortable running all boat duties, and enjoys keeping all water sports activities safe and fun.
Arlette has been dreaming and thinking of a new future with Belline, a direction of Adventure and Sports charters. A direction she strongly feels she can offer even more value in being the adventurous and sporty spirit she herself is. Adding that she has lately become addicted to Kite Surfing the direction became even more clear, to begin sharing this new love with guests as well.
So get ready to take part in an experience of the authentic Caribbean on the beautiful Belline II. Unwinding, dining and getting your adrenaline going when you so desire, be it sailing, kayaking, diving, kiting or a fun ride on the dinghy.
1st Mate: Jean-Pierre Greaux (33)
JP Joined BELLINE 2 early in the year and has added a bit of local flair to the yacht, being born and raised on the island of Saint Martin. Growing up on or near the ocean, JP is a fun Loving, hospitality oriented person who loves cooking Caribbean dishes for new and exciting dining experiences. An avid fisherman, he loves catching and harvesting fresh ocean creatures to throw in the pots. We are very excited to have him on board and he has gotten rave reviews from guests on charters that he and Arlette have already done.
YACHT MENU
Sit down and relax, you are about to embark a journey throughout the worlds finest gourmet teasers... Read our Testimonials for more tantalizing and savory memories of our previous and returning guests!
If I could marry your food, I would …
Cole Quigley, PA, Belline ll New Years Charter 2007/8
 

---

 

Breakfast
Fresh Local Fruits
Swiss Muesli with Honey Roasted Cereals
Banana Blueberry Pancakes, homemade rum syrup and crisp bacon
Veggie & goat cheese Frittata with Canadian bacon
Almond crusted vanilla french toast

Sausage links-Scrambled eggs

Omelets to order with cinnamon raisin bread and fresh fruit
Fresh Local Bread, Croissant's & Baguette
Coffee, Coffee, Coffee…and Variety of all Kinds of Teas

​
Lunch
Blackened Caribbean Shrimp Caesar Salad with homemade garlic bread
Hamburger In Paradise, do it yourself
BBQ Surprise & Potato Salad
Rasta Pasta
Tacos all you can eat with Home Made Tequila Beef and all-you-can-drink Margaritas
Spicy West Indian Chicken Roti with fried plantains and side salad
Creole Flying Fish on a Bed of Garden Salad
Chicken Satay with a  Vegetable Rice Salad
Greek Vegetable Wrap with homemade hummus and fresh gazpacho soup
French style crepes with ham, swiss/turkey and brie, served with a tossed spinach salad

 

Appetizers

Fresh Cut Vegetables with fresh and Homemade Dips
Garlic & Herbs Spiced Bruschette with fresh Tomatos & Basil
Nachos with Homemade Guacamole
Seasoned Dip with Roasted Pita Bread
Quiches and Baked Brie

Smoked Salmon, cream cheese and capers, on crunchy toast
Grilled bacon wrapped scallops
Greek Trio of homemade hummus, olive tapanade & feta herb dip served with toasted pita triangles

​
Fish & Seafood​
Salmon Grilled with an Olive Tapenade
Spicy Jerk Shimp served over island curried veggies and coconut ginger rice-Lime

Honey glazed Salmon with wild rice and a warm black bean and corn salad
Orange ginger MahiMahi, fresh tropical avocado mango salsa, served over rice pilaf and pepper-lime broccoli

Garlic shrimp on a cherry tomato vodka sauce over angelhair pasta with garlic bread & a dinner salad

Lightly pan fried tilapia with a tomato dill beurre blanc sauce, served over couscous with crispy snow peas

​
Meat & Poultry
Fillet Belline II on a Rosmarine Infused Reduced Red Wine Sauce
Stuffed pork tenderloin with a blackened tomato cream sauce, rosemary roasted potatoes , and sauteed fresh veggies
Steak with a warm vegetable compote, garlic parmesean mashed potatoes and grilled vegetable kebabs
Prosciutto and herb cheese stuffed chicken with a terragon cream sauce served with risotto and sauteed asparagus spears
Glazed Local Ham Shoulder, Stuffed with Pineapple, Peppers, Garlic & Herbs
Crispy Baked Cornish Hen, Stuffed with Local Herbs & Limes
Island Style Pineapple Chicken with Ginger & Chili
Belline's Famous Glazed & Juicy Turkey,  Stuffed with Pears and Onions

​
Sides Dishes
Focaccia with Rosemary, Fresh Pepper & Sea Salt
Oven Roasted Potatoes with Island Herbs & Fresh Rosemary
Salted Potato in Butter and Fresh Chives
Tagliatelle Italiana
Fresh Sauteed Vegetables
Grandma's Glazed Parsley Carrots
Belline's most famous Mashed Potatoes

​
Desserts
Tangy keylime pie-Cheesecake with raspberry mango sauce

Homemade chocolate mocha mousse

Tropical fruit crisp with vanilla ice cream-Bananas Foster

Homemade Rum Cake and rum raisin ice cream-Mangoes and cream served with ginger snaps and fresh nutmeg

Bread pudding from scratch with a cafe rum sauce
Chocolate Mousse
Island Rum Cake
Tiramisu

​
Drinks
Strawberry – Banana  Daiquiris,
Bushwhacker Piña – Strawberry – Banana Coladas
Margarita's (also known as Killeritas !)
… and…
BELLINIS

 
      You are here because you have just found the best Luxury Yacht Charter Catamaran, the Belline ll.
YACHT LAYOUT
YACHT TESTIMONIALS
The final charter of the season, August, 2018, aboard catamaran BELLINE 2 with Arlette and JP, the guests wrote:
"Niki's Birthday Trip!!!"
Dear Arlette & JP, Thank you for the trip of a lifetime! You both took such great care of our group and made our celebration truly incredible. You showed us around to so many amazing sights in the BVI including the Baths tour, Soggy Dollar and Willy T's, which were the highlights! And you cooking was incredible JP! We can't thank you enough for taking such love and passion in the Belline experience. We all loved it! 
Niki & Ken Peters
Mark & Penny
Arlette & JP,
Besides being safe, experienced and strong captain, you were both the most warm and loving hosts to us all. We had a wonderful week and curated a mesmerizing adventure through the British Virgin Islands. Helping us try new things, see new things, and taste new things. Dallas, Texas awaits your visit. XOXOXO!
Kristy & Brian Jacoby
What an experience!
We had an amazing time on your boat and at all the destinations we went to. We loved the food as much as anything, especially the dutch pancakes and the raclette. Marvilloso!!
Craig & Meagan
Ed and Bonnie's 50th Wedding Aniversary Trip, June, 2018...

This was a trip of a lifetime and we couldn't of had a better crew to sail,
 cook and celebrate a wonderful marriage as well as a family.
 Each day was a new and exciting adventure that couldn't have turned out any better.
 Popop got to sail trough a storm with Arlette, Jacob and Karson got to winch and use their manpower trough the 
storm, dad got to catch moorings.
 Thank you for all the memories this week and becoming a part of our big happy family.
 Belline's crew made this tandem vacation possbile because of their valiant efforts to dinghy all of us from boat to boat!
Best of wishes in your new adventures,
 
The Elles and Edema Clans
We spent a week with our family of 12 on a tandem charter celebrating our 50th wedding anniversary. We were the lucky ones who were aboard Belline II. The boat is absolutely beautiful and very clean. It is very spacious and it accommodated not only the 6 of us that were staying on Belline II but the other 6 that came over and partied with us all the time. Captain Arlette is the best captain you could possibly have. She is very qualified and probably one of the nicest people you will ever meet. We were somewhere beautiful and fun every night. JP our cook and much more presented us with delicious breakfast, lunch and dinners everyday always with a smile on his face. And he makes wonderful cocktails and believe me we kept him busy. Arlette and JP made our trip the best vacation we have ever had. We have adopted both of them into our family. So if you are looking to charter a catamaran look no further. If you have already chartered Belline II get ready to be entertained, eat delicious food and have the time of your life. 
Thank you Arlette and JP for making our 50th anniversary something we will always cherish!
Ed and Bonnie Elles

Mid April, 2018, guests aboard BELLINE 2 wrote:

-Kayaking with the kids
-The Baths
-Scuba Diving
-Snorkeling
-Driving the boat
-Finding whelks
-Sleeping on deck
-Swimming
-Shell hunting
-Tomatoes
Thank you!
Ilana
Thank you Arlette & J-P!
Thank you for taking me on one of the best boat trips of my life and thanks for letting me drive the boat. And thank you for the awesome food, also going snorkeling with me.
Cruz
This has been an amazing experience, one of a lifetime. You guy shave been the best captains. These last 5 days have been a load of memories for all of us, especially the kids. Thank you for taking care of us like chiefs.
Olivier
Best week with my family that I can remember. The kids had a blast and it was very relaxing for me. Thanks Arlette and J-P! Thank you both so much. We truly hope you come our way and we will take care of YOU!
MeiLin

Guests from March, 2018, on BELLINE 2 wrote:

Thank you Arlette & J-P for this wonderful journey, full of adventure and great food!All the best to you and hope to see you in Argentina! 
Love,
Estela, Felipe & Juli.
Thank you for a wonderful vacation and being so great with the kids!! Safe travels,
Tommy.

April 2018 guests on catamaran BELLINE 2 wrote:

This was soooo much fun! We snorkeled, scuba dived, kayaked. Thank you for everything!
Elise
Thank you guys for this awesome sailing adventure. I loved the Baths with all the large boulders and caves. Thank you for the amazing food. I enjoyed going to town with you J-P, and enjoyed pulling the prank the rest of the boat. Thank you Arlette for teaching us to how to scuba dive.Thomas.
Dear Arlette,
Thank you for captaining us through the BVI. It was very fun. I really want to say a special thank you for teaching me to wakeboard. You taught me how to sail and I want to thank you for that. Thank you for scuba instructions and taking us to the Baths.
Dear J-P,
Thank you for cooking some of the best food I ever had. I had so much fun doing the prank on the dinghy, I will never forget that awesome prank. You always make me laugh. Thank you for showing me how to put the anchor down.
Jacques.

New Years week, 2016/2017 guests said:
Arlette + Walti
Thank you for changing our perspective and our lives for the week whole! 
See you next time
BrianWe had the most Amazing trip and look forward to the next time. Cheers to healt and happiness in the new year!
Love AlisonI love my visit,
Love Adison
The Nolens & Smiths from Charlotte, NC

Thanksgiving week guests on Belline 2 said:

Arlette + Walti
We thouroughly enjoyed our vacation aboard the Belline, we had a wonderful trip.
Thank you for:- 
The welcoming champagne toast. 
The thanksgiving turkey
John's birthday dinner + cake.
Helping complete our PADI SCUBA certifications
Saving George's life by punching him in the stomach
Thanks for being such an amazing SCUBA instructor and making us feel comfortable diving the dives.
Willy T's, Soggy $ + Foxy's
Losing Belline 3 times in backgammon was... and winning her back 4 times
Sharing your life stories... and those of your family... Eddie, Ross, Jeff, Roger...
Awesome food
Sleeping under the milky way
Looking forward to our next Belline trip!


If I had one word to describe our experience it would be wow! The islands, the underwater adventures and we can't forget the weather! However, it was your energy, positivity and openness that mad this trip of a lifetime complete! We will never cherish our time with you both aboard the Belline II and hope that you two will enjoy some of our memories.
 There will also be those memories that will remain a little soggy. From the many shots aboard the drunken Willie T's, to the naked in 3.2 painkillers at Soggy Dollar bar. We cannot thank you enough. May our paths cross again, either in in the Caribbean islands or in Rhode Island!


Cheers!
John, Denise, George, Jenni, Dri, Karina, Hamilton and Brooklyn

Late Summer, 2016 guests on Belline said:
Dear Arlette and Walti, 
Thank you for the great vacation. We all had the best experience of our life. The boat was perfect for our family. We liked the layout of the boat. It was open and spacious and easy to get around. From our first meal to our last meal everything was amazing. The BBQ on the beach was very special. It was great to go were no one was around. We loved swimming around in the ocean and had fun with the inner-tube and aquanaut. The scuba diving was amazing and we got to see so many cool fish and coral, especially the lion fish. There was so much to see on shore as well, our favorite spots including Union Island and mainland Grenada. We were surprised with the amount of rain around Grenada and the Grenadines but we loved the warm wet weather. Some of our favorite memories were snorkeling in the Tobago cays with the turtels, riding the tube and eating dinner on Union Island. 
Again, the vacation was amazing and you two were outstanding hosts.

David, Ethan, Lee and Isabel.

Guests in the Grenadines for late July, 2016, said:
Lieber Walti, Arlette & Flo, 
Scho zum 2. mal hemmer uf de guete Belline wunderschöni Ferie dörfe erlebe!
Das mal simmer vo Martinique us bis da abe uf Grenada gseglet und au wenns chli anderst isch als d'BVI hets eus allne mega guet gfalle.
D'Highlights vo de 1. Wuche sind definitiv die grosse Teller gsi wo mer (bzw. zum glück au de Walti) versenkt hend. D'Flo mit de Jungs uf dem Kajak nahzzieh und die legendäri und unvergesslichi wanderig (4h statt 1.5h wo mer denkt hend)
Au i de 2. Wuche hemmer unvergesslichi Moment wie s'sushi esse, s'nachtschnorchle oder de usflug a eisem leider scho leste tag zu de seven sisters waterfalls dörfe erläbe.
Mier sind 2 wuche lang mit erstklassigem esse verwöhnt worde, hend viell vo eu dörfe lerne und sind immer wieder mal nöch bide iheimische gsi, was sicher alli interessant funde hend.


Mier hend unglaublich viell spass gha & danket eu allne für die unvergässliche Ferie!
We wish all of you only the best! 

Schühle's und Walder's

Summer, 2016 guests in the Grenadines said:
WE DID IT!

Gracias, Danke, Mercie Beaucuep!


To Walti, Arlette + Flo2 Wochen konnten wir (3 Kinder + 6 Erwachsene) Die Karibik, Kulinarische Köstlichkeiten, Outdoor - sleeping, Sonne, Regengüsse, Lachen, Schreien, Drinken, Tauchen, Rauchen ud eure (Gast-) Freundschaft Geniessen!

Fränzi, Aisha, Melanie, Joshua, Mike, Daniela, Oscar und Philip war auch dabei!

May, 2016 guests on Belline said:
Nach einer erlebnisreichen Anreise sind wir in Guadeloupe glücklich gelandet. Wir wurden von Walti mit einem breiten Lachen von herzen erwartet. Ein langer und abwechslungsreicher Segelturn von Guadeloupe bis Grenada nimmt heute leider seinen Abschluss. 
IN den drei Wochen war alles dabei: Hohe Wellen, Wind mit bis zu 36 knoten, Seekrankheit mit => Kotzen auf Back und Steuerbord, ging es vorwärts mit gehissten Segeln bis die Genua zerriss und Walti mich auf den Masten hissen lies. Auf Komando von Arlette lies ich die besgte Leine los und war damit sofort arbeitslos. Marcello und Walti mussten es dann regeln damit wir weiter konnten segeln. Kulinarisch wurden wir mit Menüs aus allen Ländern verwöhnt. Wein, Drinks und Rum genossen wir nur im Mass und hatten trozdem immer unseren Spass!!
Die Reise ist zu Ende, wir genossen es auf der Belline II von Anfang bis zu Ende. 
Herzlichen dank an das ganze Team!


Marcello, Patricia, Cornelia, Sven, Jimmy und Ann

April, 2016 guests in the BVI said:
An absolutly incredible trip filled with so much adventure and laughter. It's hard to beat a weeks worth of pricate beaches, amazing food and a wonderful crew! ARlette and Walter gave us a blissful week in paradise, we could not have asked for a better crew. Every place we went to became over favorite place, it's too hard to choose just one place. I don't think any vacation after this will be as amazing as this. It was so easy to just fall into beat life it will be hard to go back to our old life. 
We wish you all safe travels and great weather on Belline II.


The Shrim family
 (Dimonte)

Phil, Claudia, Sarah, Ashley
Thank you for a trip of a lifetime, Walti and Arlette!

The places you took us to were absolutely amazing... all Paradise! We also loved getting to know both of you and hearing about all of your adventures. We could not have asked for a better crew and truly appreciate your incredible hospitality. I have a feeling this was only the first of many more travels on Belline II. Safe travels to you and we'll se you soon! 
Love, 
The Stillson Family

Terri, Mike, Hannah & Ashley 
I will never forget about this amazing vacation spent on the Belline II. From private beaches to great food and funny shrimtalks at night, no vacation will ever compare to this. Every beach and island we went to were so amazing... and when I thought it couldn't get Better, it did!
save travels and we'll see you soon! 
Hannah Stillson (shrimp)
This has been the best trip ever! I loved very island that we went to. I hope that we can spend many more vacations on the Belline II
Thank you guys so much

Ashley Stillson
*In Forest Gump Voice*


Does anyone want some shrimp? We got spicy shrimp, sweet shrimp, sour shrimp, bitter shrimp, peanut butter shrim, pineapple shrimp, all kinds of shrimp you can imagine! Just we got no Tomatoes because tomatoes aren't healty! We also got Mexican, Italian, sushi, Hambuger. candy, chips cookies...
allt the food you can imagine! we don't make nothing with tomatoes though. No ketchup, no tomato sauce. But we got pesto and alfredo sauce! My shrimp are the freshest shrimp you can get bc they come from the ocean! What i do to find my shrimp is simply snorkel for them and put them in my shrimp bucket! Shrimp is my speciality. However, that's not the only seafood I sell. I also got clams, oysters, crab, lobster and every fish that lives in the ocean... Just NO TOMATOES!
But in the end, everything's just a shrimp. You're a shrimp, I'm a shrimp, everyone's a Shrimp! Belline II is even a shrimp.
 We want to sell as much shrimp as we can, so we mad a song and a dance move.

" Now watch me shrimp, now watch me shrimp shrimp. "Now watch me shrimp shrimp, now watch e shrimp shrimp.
Now i'll be right over with your shrimp. That was the sweet shrimp you said you wanted? Shine a light and ill come find you on my innertube and bucket of delicius shrimp"
Hannah and the Ashley's
Walti + Arlette


When we first set sail, you told me this was not a cruise but adventure. The word "adventure" does describe our experience. While i am thinking of our incredible voyage, I am feeling tears of happyness. The Belline II has became a home for us, and the crew will always be part of our family.
This week we have expanded so much, and I have seen that less is really more. It is that simple. Things that have made this the absolut best. I have seen my teenager daughters have been kids again. The family has growen together. 
I cannot thank you both enough! 
you truly are the Best! 

Love 
Mike Stillson
March, 2016 guests on BELLiNE 2 said:
Walti and Arlette,


Safe, fun, adventerous, good food, music, joy, color, nature, sun, shells, sea + Booze!
A Family adventure like no other!
Thank you sincerly Arlette and Walti for a trip of a lifetime.
We wish you sunshine, calm seas and a HERB GARDEN!
We hope our paths will cross again!


Love the McNally Family

Guests aboard BELLINE 2 in February, 2016, said:
Dear Walti and Arlette
This trip is always the greatest. It makes other vacations not worth taking! Thank you for being such incredible hosts and wonderful friends to us! We love coming and hate to leave. We will be back for more fun in the sun soon!


Much Love and thanks!

Michelle, Ian, Tum, Lynn, Bill, Stacy, Sarah and Martin
Quotes from the Boat:

"Hi, I'm Shellkat maby you've heard of me? I'm a 1 person party"

"It's monday and we allready lost all of our stuff!"

"I need a couple of strong guys to help me... you should ask Stacy!"


"Boom goes the dynamite!"

"Bill just pulled the plug on the super Bowl! What 's he doing back on shore anyway? Tell him we have mashed potatoes!"

"I would like to officially name this island shut up Stacy Island"

"Murder Island is scary but it has great sandwiches!"

"See Walti, I told you it's possible to spend 500$ at Willy T's!"

"I

 know you need it to sail, but can we keep this map as a souvenir?"
Best boat song = Son of a Bitch, give me a Drink!


Thanks for all the great memories!


p.s. If you fiend my other flipfloppy, I'll be back to collect it in 2018, 
Stacy
Thanksgiving week "threepeats" in 2015 said:
Our 3rd trip to the BVI has been the best! wonderful water, amazing snorkling and diving. and even better that it was all shared with family! Thanksgiving truely was execptional and so much appriciated! The Belline proud to be a mighty ship and a wonderful experience. Thank you Walti and Arlette 
the O'Conners

YACHT PHOTOS