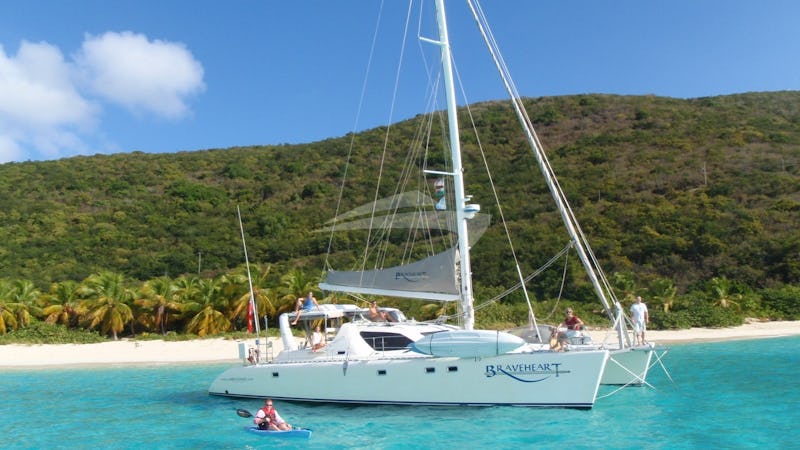 Specs Features Diving Crew Profile Menu Layout Photos Video Testimonials Similar Yachts Inquire NEW Charter Search »
YACHT INTRODUCTION
BRAVEHEART...
The Vacation of a lifetime begins here.
SPECIFICATIONS
Length 58ft 1in (17.7m)
Beam 28ft 10in (8.8m)
Draft 5ft 7in (1.7m)
Sleeps 9 Guests
Cabins 5
Crew Captain Ted Egan & Chef
Year Built 2000 / Refit 2016
Cruising Speed 8.6kts
Max Speed 11.9kts
Stabilisers None
Engines 2 x 55 HP Volvos

Builder Fourcats
Designer Simonis
Flag Not know
VAT Registered No
US Duty Paid Yes
APPROXIMATE WEEKLY RATE
High USD $26,975 | Low USD $20,000
FEATURES & AMENITIES
Cell phone, Indoor audio system, iPod dock, Media movie server, MP3 music server, Outdoor audio system, Printer, Streaming online media, TV all cabins, TV saloon, Wi-Fi, 15ft / 4.60m 60hp AB, Beach games, Board games, Floating mats, Inflatable floating island, Kayaks multiple, Mono ski, Paddleboards multiple, Swimming noodles, Tube - towable, Wakeboard, Water skis - adult, Water slide, BBQ, Beach umbrella, Book library, Deck shower, Fishing gear - light, Hammocks, Ice maker, Special diets, Sun cushions, Sun loungers, Swim platform, Water maker
ACCOMMODATIONS
Sleeps 9 In 5 Cabins
Sleeps 9 In 4.5 Cabins
BRAVEHEART can accommodate 9 guests in 4.5 cabins.
The 4 cabins have a queen sized bed, shower and separate head.
They are all 4 equal in accommodation.
Another single bed is located in the port hallway w/ privacy curtain.
This bunk uses the shower and head starboard midships.
BRAVEHEART is fully air conditioned through out w/ individual controls
in each cabin. (A/C all night: $75/night [unless of course the crew feels the A/C should on])
Each cabin has separate head from shower, (making it a dry head),
electric toilets and individual 15" flat screen, tv/dvd player.
Crew has a separate double cabin w/ separate head and shower.
Sun Awning, Board Games, Foredeck & Cockpit speakers, iPod dock, and the ever important Blender! 2 new beach umbrellas and 4 beach chairs, and 2 new bean bag deck chairs.
BRAVEHEART features all the modern conveniences, autopilot, marine communications station, radar, GPS, windspeed and depth indicators, watermaker, 2 icemakers, 4000 watts of inverter power, a 15Kw generator, hot & clod deck shower, and spinnaker
Children - Minimum age: 4 years old (ie: no diapers please)
DIVING EQUIPMENT
Insured, Crew can instruct, Crew certified, Diving if accompanied, Diving if certified, Snorkelling gear, 1 Compressor, 15 Tanks, 10 BCs, 8 Regulators, PADI Dive Instructors,
Diving for certified divers is included for 12 to 14 dives during the week.  Guests rent or bring BCs and regs ($150/person rental for the week)

Dive Instruction is available:
Resort courses are $150 per person, and $75 each for additional dives.
Open Water referral certifications are $350 per person extra
Open Water without referral certifications are $500 plus the costs of e-learning materials.
Advanced Diver course: $350 per person extra

NOTE: Windward Islands may require fees to shore-based dive

YACHT CREW
Captain: Ted Egan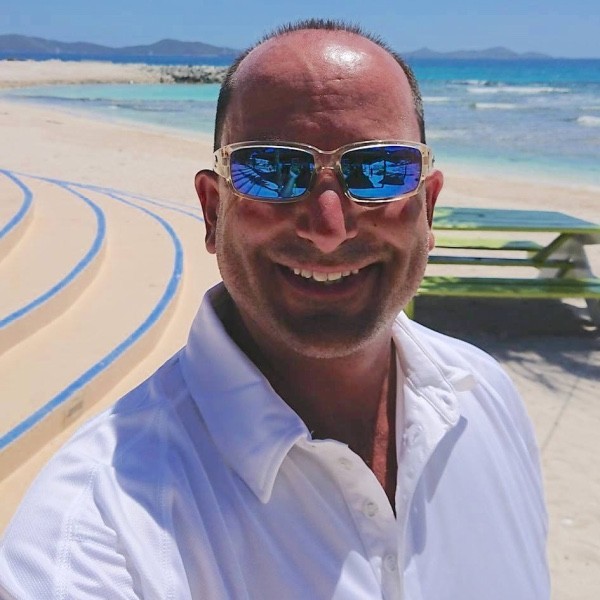 Capt. Ted grew up in chilly Chicago, on the blustery shores of Lake Michigan, but left for the sunny climes of South Florida for school. This was followed by 25 years in the heart of American viticulture, the Napa Valley. There, Ted was involved in making and marketing wine worldwide. Eventually fate lead Ted to the sailing capital of Newport, and he has since pursued his love of yachting and the water. The BVI fell onto Ted's navigational chart 4 years ago and he has been providing a bespoke experience to his charter guests ever since. His intimate knowledge of the islands allows for a one of a kind island adventure.
Chef Mate: Maya
Chef Maya started her career on a traditional wooden schooner in Key West, Florida, and sailing in Maine during the summer. She lived in Rome, where she studied culinary arts and traveled throughout Europe. Combining her love of travel, sailing and cooking her experience has been over a decade on a variety of vessels, from dive boats to mega yachts. With a passion for cooking and love for adventure and meeting new people, it has been an exciting career.
YACHT MENU
A sampler from the galley of Braveheart
Breakfast Ideas:
Homemade Belgian waffles served with fresh cream and seasonal berries
Eggs Benedict your way (classic, royal or Florentine)
Homemade blueberry pancakes with warm maple syrup
Omelets and eggs to order served with fresh homemade salsa
Breakfasts are enjoyed with juices, fruit platter, bacon or sausages, fresh-baked banana bread, cereals, freshly brewed coffee, and a selection of teas
Lunch Ideas:
Fresh melon fig prosciutto and goat cheese salad
Seared yin yang tuna served with a bulgur wheat salad
Cheeseburgers in paradise served with a side of french fries and salad
Authentic tacos with a flair
Norwegian salmon quiche served with a sundried tomato salad
Sticky ribs served with southern-style potato salad and fresh coleslaw
Lunches will be served with freshly baked bread (baguettes, focaccia or similar) served with either butter or olive oil and balsamic vinegar)
Appetizer accompanied with cocktails
Crumbed jalapeños stuffed with crispy bacon and cream cheese, served with a sweet chili sauce
Blackened coconut shrimp served with a rum and pineapple reduction
Caramelized onion and brie tartlets
Conch ceviche served with a variety of homemade crostini
Fresh catch sushi platters
Wild mushroom risotto and mozzarella arancini served with a spicy salsa
All appetizers are served with "Cocktail of the Day " (Painkillers, Bushwackers, Passion Fruit Martinis, Baileys Banana Coladas, Mango Margaritas, fresh-fruit daiquiris) and selection of wines
Dinner Entree
Rolled sole and salmon served with a dill sauce, couscous, and roasted vegetables  
Spicy pork tenderloin served with a side of green salad, roasted honey glazed sweet potato, and apple
Sweet and spicy grilled mahi-mahi served with a traditional Caribbean experience of sides (coconut rice, plantains, black bean salad, and local sautéed vegetables)
A taste of Thai with our spicy vegetable and noodle stir fry served with a peanut butter sauce
Seasonally stuffed chicken roulade served with wild rice and a green salad
Oven-roasted ginger rosemary rack of lamb served with a butternut mash, sugar snaps, and a red wine reduction
Mediterranean arrabbiata pasta served with bacon-flavored shrimp
Dinner served with specially-paired choice of wines
Dessert
Lavender and white chocolate crème brulee 
Traditional pavlova served with summer fruits
Passion fruit moose served with a sliver of rum fudge pie
Ferrero Rocher ice cream cookie served with fresh berries, a dollop of honey cream and toasted almonds
Molten lava cake served with a vanilla bean ice cream
Baileys chocolate cheese cake
Enjoy your dessert with liqueurs and coffee
Children's Sample Menu
Homemade Pizza
Mini, honey-glazed ribs
Chicken kebabs
Spaghetti and meatballs
Grilled cheese
Lasagna
Sticky BBQ, chicken wings
Yogurt smoothies
Fruit kebabs with toffee sauce
Melted chocolate marshmallows
Homemade cookies
Fruit bites
Menu is an example only please.  Individual charter menus are customized based on the collective preferences of the charter party.
YACHT LAYOUT
YACHT TESTIMONIALS
Mid-April, 2019, guests on BRAVEHEART wrote:

When you arrived, your first impression of the yacht was: 
We were excited to be there and happy to finally be there.  The yacht was clean and inviting.
Please describe your Captain (professional/outgoing/friendly etc.)
Kieran was all of the above plus more. He had great ideas and was very knowledgeable.

Please describe your chef (professional/outgoing/friendly etc.)
Michelle was also all of the above plus more.  She created wonderful dishes and was very aware of our daughter's gluten intolerance
Please describe your meals (presentation, quality, quantity)
All were delicious.  We had more then enough and it was always served with a wonderful presentation.
============================
Reviews for Keiran and Michelle, the Summer Season, 2018, crew aboard Catamaran BRAVEHEART
Crew Review
I spent 7 days with Kieran and Michelle cruising the BVI. They were such welcoming people! I remember them helping us board the boat from the dingy and being beyond helpful. Throughout the week they made very tasty cocktails, delectable food, and joined in on our 11 person group conversations. Kieran captained the boat from time to time and was a wonderful navigator. Additionally, they were incredible dive leaders- taking 3 of our group members down for the first time. Everyone enjoyed the diving with them so much! I would HIGHLY recommend them for a charter as I know they take such great care of their guests. By the end of the week, we felt like family and long friends. 
-Danielle (St Paul, MN)
============================
Jerry & Dawn your hospitality, humor, and thoughtfulness has made this a trip of a lifetime. We hope that we are abe to join you again in the future. God bless you and thank you for sharing our piece of heaven on earth !    New Year trip 2014
 
As always a delightful trip. Love you guys.  November 2014

Wonderful time, GREAT diving, great food Unforgetable vacation.   August 2014

This was a life changing adventure. Absolutely fantatic. Everything was above expectations.    July 2014.  

Braveheart is like a five star hotel on water. Brilliant time. Definately one to do again, Dream holiday. Caters for all needs.
UK June 2014.

Captain Jerry and Dawn were utterly delightful hosts. Jerry is a very experienced Captain, familiar with the area lore and an excellent sailor. Dawn is an accomplished cook, an excellent compliment to Jerry as crew and also a knowledgeable resource for this adventure. They turned themselves inside out to meet the needs of the 8 adults traveling in this party. There were plenty of activities, beautiful scenery, great snorkeling, diving and the sailing was totally wonderful. The group that comprised our party are world travelers and have been to every continent, stayed in hotels and resorts all over the world. Everyone raved about this trip. 

You are both awesome Capt Jerry & Dawn are definately in the " FUN ZONE". Thanks so much for good food and amazing bushwackers!!

Our 3rd trip. This was one of the BEST.

Amazing experience AGAIN !!! Thank you Dawn & Jerry  June 2014

The best vacation we ever had!  Snorkeling, diving, sailing, water skiing, wakeboarding, spectacular food. Service impeccable... GREAT accommodation. Jerry + Dawn + Braveheart = Perfect combination. We'll be back. April  2014

Thank you for an amazing vacation. You did a great job keeping those from age 8 to late 70's happy and entertained. Love the night dive on the rhone.    March 2014.

We had an amazing family trip. We will never forget we began 2014 on the roofop of Braveheart. Thanks so much for the wonderful days, the diving, snorkeling, fishing, WONDEREFUL food cooked by Dawn whom we named Tinkerbell since she is making everything so perfect wherever she goes. Captain Jerry was awesome too!! Perfect vacation Thanks for everything. New Year 2013 from Mexico.

The best place to get diver certified, Beautiful, outstanding snorkelling, great food thank you. December 2013

Kids learned to dive. Great drinks & superb food. Thanks for a great trip.   July 2013

Best crew sad to leave. Dawn & Jerry gave our family the best memories ! We loved seeing the stingrays and learning to paddle board. The food was amazing too. July 2013

Excellent food and diving. It will be hard to equal Thank you

Thanks for taking us on some great dives, food was fabulous too. April 2013
 
As ALWAYS - WONDERFUL. Thanks for accommodating our dietary quirks.   April 2013

I had so much fun on this trip I would come back. Thank you.   Aged 6   March 2013

Miss Dawn is the best cook ever and Captain Jerry is very funny thank you.         Aged 12     March 2013

BEST VACATION EVER !  Jerry & Dawn you made " MoM's Gone Wild " feel like a family.

Thank you for your thoughtful excellent hospitality. Because of your expertise and care we all had " a trip of a lifetime"  Jan 2013
 
Dear Dawn and Jerry,
Thank you very much for feeding us such wonderful food and bringing us to such amazing beaches ,we all enjoyed this trip very much! After all these days we have become good friends and loved to listen to all your sailing stories... we hope to see you in our part of town(Both Miami and New York) sometime soon... Thank you for keeping us safe, it was wonderful.
With Love Michelle, Ursula, Rick , 
Charter Dates:  February 25 - March 3, 2012   Area Cruised:  Virgin Islands

We hope your charter lived up to your expectations.  We would love to know some of your impressions about your yachting vacation.  Please answer the following questions and add any comments you may have.

1.  Was the crew friendly and accommodating?
Extremely friendly, warm. gracious  and inviting.  They could not have done any more to accomodate our needs throughout our trip.

2.  Was the yacht comfortable and clean?
The yacht was pristine, the bunks and bath clean and spacious.

3.  Was the yacht well ventilated?
Very well ventilated.  We were very comfortable throughout the day and night.

4.  Was the food good and well presented?
Beautifully prepared and presented.  A wide variety of seasonal fruits, vegtables, fish, beef, port.  Dawn is an amazing hostess.

5.  Did you like the area you sailed?
Loved the island hopping. Peter Island, Salt Island, The Dogs, Virgin Gorda, The Baths were special and fun to see.  Tortola was a disappointment and the Marina  Cay Hotel was ghastly and we would never recommend anyone stay there.
7.  May we post this review on our website?
Yes

8.  Additional comments on your charter?
Captain Jerry and Dawn were utterly delightful hosts. Jerry is a very experiences captain, familiar with the area lore and an excellent sailor. Dawn is an accomplished cook, an excellent complement to Jerry as the crew and also a knowledgeable resource for this adventure.  They turned themselves inside out to meet the needs of the 8 adults traveling in this party.  There were plenty of activities, beautiful scenery, great snorkeling, diving and the sailing was totally wonderful.The group that comprised our party are world travelers and have been to every continent, stayed in hotels and resorts all over the world. Everyone raved about this trip.
VIDEO
YACHT PHOTOS