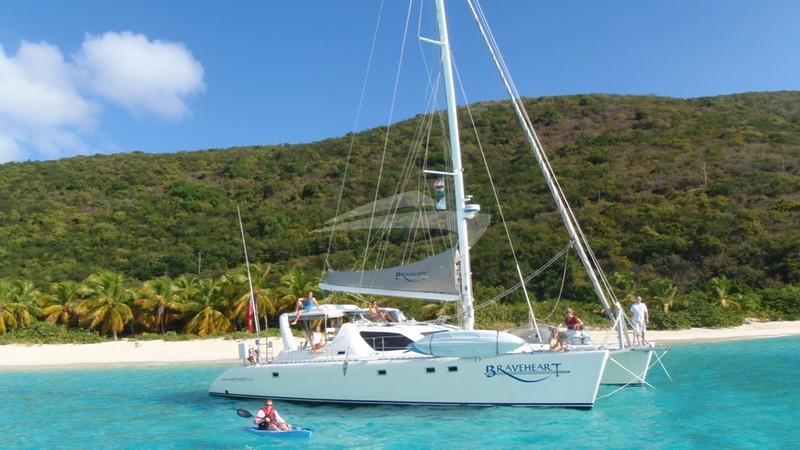 Specs Features Diving Crew Profile Menu Layout Photos Video Testimonials Similar Yachts Inquire NEW Charter Search »
YACHT INTRODUCTION
BRAVEHEART...
The Vacation of a lifetime begins here.
SPECIFICATIONS
Length 58ft 1in (17.7m)
Beam 28ft 10in (8.8m)
Draft 5ft 7in (1.7m)
Sleeps 9 Guests
Cabins 5
Crew Captain Kieran Bown & Chef
Year Built 2000 / Refit 2016
Cruising Speed 8.6kts
Max Speed 11.9kts
Stabilisers None
Engines 2 x 55 HP Volvos

Builder Fourcats
Designer Simonis
Flag Virgin Islands (British)
VAT Registered No
US Duty Paid No
APPROXIMATE WEEKLY RATE
High USD $26,975 | Low USD $20,000
FEATURES & AMENITIES
Cell phone, Indoor audio system, iPod dock, Media movie server, MP3 music server, Outdoor audio system, Printer, Streaming online media, TV all cabins, TV saloon, Wi-Fi, 15ft / 4.60m 60hp AB, Beach games, Board games, Floating mats, Inflatable floating island, Kayaks multiple, Mono ski, Paddleboards multiple, Swimming noodles, Tube - towable, Wakeboard, Water skis - adult, Water slide, BBQ, Beach umbrella, Book library, Deck shower, Fishing gear - light, Hammocks, Ice maker, Special diets, Sun cushions, Sun loungers, Swim platform, Water maker
ACCOMMODATIONS
Sleeps 9 In 5 Cabins
Sleeps 9 In 4.5 Cabins
BRAVEHEART can accommodate 9 guests in 4.5 cabins.
The 4 cabins have a queen sized bed, shower and separate head.
They are all 4 equal in accommodation.
Another single bed is located in the port hallway w/ privacy curtain.
This bunk uses the shower and head starboard midships.
BRAVEHEART is fully air conditioned through out w/ individual controls
in each cabin. (A/C all night: $75/night [unless of course the crew feels the A/C should on])
Each cabin has separate head from shower, (making it a dry head),
electric toilets and individual 15" flat screen, tv/dvd player.
Crew has a separate double cabin w/ separate head and shower.
Sun Awning, Board Games, Foredeck & Cockpit speakers, iPod dock, and the ever important Blender! 2 new beach umbrellas and 4 beach chairs, and 2 new bean bag deck chairs.
BRAVEHEART features all the modern conveniences, autopilot, marine communications station, radar, GPS, windspeed and depth indicators, watermaker, 2 icemakers, 4000 watts of inverter power, a 15Kw generator, hot & clod deck shower, and spinnaker
Children - Minimum age: 4 years old (ie: no diapers please)
DIVING EQUIPMENT
Insured, Crew can instruct, Crew certified, Diving if accompanied, Diving if certified, Snorkelling gear, 1 Compressor, 15 Tanks, 10 BCs, 8 Regulators, PADI Dive Instructors,
Diving for certified divers is included for 12 to 14 dives during the week.  Guests rent or bring BCs and regs ($150/person rental for the week)

Dive Instruction is available:
Resort courses are $150 per person, and $75 each for additional dives.
Open Water referral certifications are $350 per person extra
Open Water without referral certifications are $500 plus the costs of e-learning materials.
Advanced Diver course: $350 per person extra

NOTE: Windward Islands may require fees to shore-based dive

YACHT CREW
Captain: Kieran Bown (28)
Kieran is originally from the UK. He holds an RYA Yachmaster Offshore 200 ton license and is a PADI Dive Instructor. His experience comes from previous jobs worldwide working as a dive instructor in many 5 Star resorts and live aboard dive vessels. Starting from a young age, Kieran sailed, kayaked and dived throughout Europe growing his passion for the ocean as well as learning valuable skills key to the successful running of sailing and dive charters. Running conservation camps in Fiji also taught Kieran the importance of a balanced marine ecosystem and he is happy to share with you his knowledge of corals, fish and other marine life.
Kieran & Michelle began working together in Mexico as Dive Instructors & underwater photographers. A great relationship was forged and they have continued to work successfully together in a variety of roles. Conducting a research project in the Turks & Caicos on humpback whales which resulted in record breaking encounters and unbelievable new data collected again showcased their talent. Once the whales left the Turks and Caicos, Kieran & Michelle decided to head south and begin a new adventure in the British Virgin Islands.
Chef & Mate: Michelle Preciado (27)
Michelle is an ocean girl coming from Puerto Vallarta, Mexico. A place where her passion for the ocean and underwater life grew throughout her upbringing. She is an RYA Day Skipper and a PADI Dive Instructor. Working in 5 Star resorts in Puerto Vallarta as a dive instructor and photographer has allowed Michelle to follow her dreams of working by the ocean whilst working in the service industry. Michelle has also studied at the Ashburton Cooking School in Devon, UK to fine turn her culinary skills allowing her to provide you with the best quality food imaginable. She is delighted to bring to your table her international flare gathered from the many experiences she has had abroad and at home.
After several years of working on large cats in the BVI, Kieran and Michelle have settled into the lifestyle, falling in love with the islands and making themselves at home. They are now very excited to welcome you onboard Braveheart and share all of their favorite dishes, dive spots, anchorages, hikes, beaches, and bars helping you make it the trip of a lifetime.
YACHT MENU

A Sampler from the Galley of Chef Michelle


Breakfasts
Eggs Benedict & Creamy Hollandaise Sauce
Blueberry Pancakes drizzled in Maple Syrup
Spinach & Feta Quiche served with a Crispy Bacon
Omelettes to Order served with Breakfast Sausages
Banana Cinnamon Waffles
Breakfast Crepes with fresh fruit and cream cheese filling
Kahlua-Soaked French Toast accompanied by Breakfast Sausages
All Breakfasts are accompanied by Freshly Made Banana Bread, Fruit Platter, Bacon or Sausages
Lunch
Cheese burgers in Paradise, homemade burgers on the grill with fresh buns and side of fries and green salad.
Fajitas - A Selection of Grilled Meat, Fish & Chicken accompanied with a traditional Mexican selection of  "make your own" Fajitas. Tortillas, Frijoles & Pico de Gallo.
Blackened Shrimp Caesar Salad with Homemade CaesarDressing & HomemadeFocaccia Bread
Steak and Chicken Kebabs, Greek Salad and Homemade Tzatziki
Caribbean Chicken Salad served with Fresh Bread 
Seared Mahi Mahi with Zesty Basil Butter and Fragrant Rice
A Selection of Spanish Tapas - (Ceviche, Albondigas, Crispy Goat Cheese Salad, Chorizo)
Canapés
Arrancini
Wild mushroom risotto balls stuffed with mozzarella cheese, breaded, fried, drizzled with balsamic reduction and truffle oil
Chorizo and Prawn Skewers with Aioli
Vine Cherry Tomatoes filled with Peppered Goats Cheese & Basil
Sushi Sampler Plate
Shrimp Tempura with Rum Dipping Sauce
Pork and vegetable spring rolls with sweet chilli dipping sauce
All Canapés a reserved with Cocktail of the day and a selection of wines.
Dinner
Braised breast of lamb, boulangere potatoes, green beans and grilled corurgettes.
Red Snapper with a grilled Veracruz Salsa accompanied with brown rice
Prosciutto and Brie Stuffed Chicken Breast with Cranberry Sauce
Filet Mignon with Crumbled Bleu Cheese, Sautéed Spinach, Roasted Balsamic Rosemary Potatoes & Cabernet Wine Reduction
Pan seared Ahi tuna sesame-crusted over wild rice and drizzled with wasabi mayo and teriyaki glaze with acrisp wonton cracker and nori salad garnish
Salmon with lemon and herb butter, served with steamed green beans and parmesan garlic roasted asparagus
Grilled Jerk chicken,  served with roasted vegetables and cous cous
Desserts
Chocolate fondant pudding
Eclairs, Profiteroles, Raspberry Sorbet.
Panna cotta with glazed figs ina tuille basket.
Cheesecake
Creme brûlée
Key lime pie
Flamed bananas with vanilla ice cream
Chocolate mousse with orange zest
YACHT LAYOUT
YACHT TESTIMONIALS
Mid-April, 2019, guests on BRAVEHEART wrote:

When you arrived, your first impression of the yacht was: 
We were excited to be there and happy to finally be there.  The yacht was clean and inviting.
Please describe your Captain (professional/outgoing/friendly etc.)
Kieran was all of the above plus more. He had great ideas and was very knowledgeable.

Please describe your chef (professional/outgoing/friendly etc.)
Michelle was also all of the above plus more.  She created wonderful dishes and was very aware of our daughter's gluten intolerance
Please describe your meals (presentation, quality, quantity)
All were delicious.  We had more then enough and it was always served with a wonderful presentation.
============================
Reviews for Keiran and Michelle, the Summer Season, 2018, crew aboard Catamaran BRAVEHEART
Crew Review
I spent 7 days with Kieran and Michelle cruising the BVI. They were such welcoming people! I remember them helping us board the boat from the dingy and being beyond helpful. Throughout the week they made very tasty cocktails, delectable food, and joined in on our 11 person group conversations. Kieran captained the boat from time to time and was a wonderful navigator. Additionally, they were incredible dive leaders- taking 3 of our group members down for the first time. Everyone enjoyed the diving with them so much! I would HIGHLY recommend them for a charter as I know they take such great care of their guests. By the end of the week, we felt like family and long friends. 
-Danielle (St Paul, MN)
============================
Jerry & Dawn your hospitality, humor, and thoughtfulness has made this a trip of a lifetime. We hope that we are abe to join you again in the future. God bless you and thank you for sharing our piece of heaven on earth !    New Year trip 2014
 
As always a delightful trip. Love you guys.  November 2014

Wonderful time, GREAT diving, great food Unforgetable vacation.   August 2014

This was a life changing adventure. Absolutely fantatic. Everything was above expectations.    July 2014.  

Braveheart is like a five star hotel on water. Brilliant time. Definately one to do again, Dream holiday. Caters for all needs.
UK June 2014.

Captain Jerry and Dawn were utterly delightful hosts. Jerry is a very experienced Captain, familiar with the area lore and an excellent sailor. Dawn is an accomplished cook, an excellent compliment to Jerry as crew and also a knowledgeable resource for this adventure. They turned themselves inside out to meet the needs of the 8 adults traveling in this party. There were plenty of activities, beautiful scenery, great snorkeling, diving and the sailing was totally wonderful. The group that comprised our party are world travelers and have been to every continent, stayed in hotels and resorts all over the world. Everyone raved about this trip. 

You are both awesome Capt Jerry & Dawn are definately in the " FUN ZONE". Thanks so much for good food and amazing bushwackers!!

Our 3rd trip. This was one of the BEST.

Amazing experience AGAIN !!! Thank you Dawn & Jerry  June 2014

The best vacation we ever had!  Snorkeling, diving, sailing, water skiing, wakeboarding, spectacular food. Service impeccable... GREAT accommodation. Jerry + Dawn + Braveheart = Perfect combination. We'll be back. April  2014

Thank you for an amazing vacation. You did a great job keeping those from age 8 to late 70's happy and entertained. Love the night dive on the rhone.    March 2014.

We had an amazing family trip. We will never forget we began 2014 on the roofop of Braveheart. Thanks so much for the wonderful days, the diving, snorkeling, fishing, WONDEREFUL food cooked by Dawn whom we named Tinkerbell since she is making everything so perfect wherever she goes. Captain Jerry was awesome too!! Perfect vacation Thanks for everything. New Year 2013 from Mexico.

The best place to get diver certified, Beautiful, outstanding snorkelling, great food thank you. December 2013

Kids learned to dive. Great drinks & superb food. Thanks for a great trip.   July 2013

Best crew sad to leave. Dawn & Jerry gave our family the best memories ! We loved seeing the stingrays and learning to paddle board. The food was amazing too. July 2013

Excellent food and diving. It will be hard to equal Thank you

Thanks for taking us on some great dives, food was fabulous too. April 2013
 
As ALWAYS - WONDERFUL. Thanks for accommodating our dietary quirks.   April 2013

I had so much fun on this trip I would come back. Thank you.   Aged 6   March 2013

Miss Dawn is the best cook ever and Captain Jerry is very funny thank you.         Aged 12     March 2013

BEST VACATION EVER !  Jerry & Dawn you made " MoM's Gone Wild " feel like a family.

Thank you for your thoughtful excellent hospitality. Because of your expertise and care we all had " a trip of a lifetime"  Jan 2013
 
Dear Dawn and Jerry,
Thank you very much for feeding us such wonderful food and bringing us to such amazing beaches ,we all enjoyed this trip very much! After all these days we have become good friends and loved to listen to all your sailing stories... we hope to see you in our part of town(Both Miami and New York) sometime soon... Thank you for keeping us safe, it was wonderful.
With Love Michelle, Ursula, Rick , 
Charter Dates:  February 25 - March 3, 2012   Area Cruised:  Virgin Islands

We hope your charter lived up to your expectations.  We would love to know some of your impressions about your yachting vacation.  Please answer the following questions and add any comments you may have.

1.  Was the crew friendly and accommodating?
Extremely friendly, warm. gracious  and inviting.  They could not have done any more to accomodate our needs throughout our trip.

2.  Was the yacht comfortable and clean?
The yacht was pristine, the bunks and bath clean and spacious.

3.  Was the yacht well ventilated?
Very well ventilated.  We were very comfortable throughout the day and night.

4.  Was the food good and well presented?
Beautifully prepared and presented.  A wide variety of seasonal fruits, vegtables, fish, beef, port.  Dawn is an amazing hostess.

5.  Did you like the area you sailed?
Loved the island hopping. Peter Island, Salt Island, The Dogs, Virgin Gorda, The Baths were special and fun to see.  Tortola was a disappointment and the Marina  Cay Hotel was ghastly and we would never recommend anyone stay there.
7.  May we post this review on our website?
Yes

8.  Additional comments on your charter?
Captain Jerry and Dawn were utterly delightful hosts. Jerry is a very experiences captain, familiar with the area lore and an excellent sailor. Dawn is an accomplished cook, an excellent complement to Jerry as the crew and also a knowledgeable resource for this adventure.  They turned themselves inside out to meet the needs of the 8 adults traveling in this party.  There were plenty of activities, beautiful scenery, great snorkeling, diving and the sailing was totally wonderful.The group that comprised our party are world travelers and have been to every continent, stayed in hotels and resorts all over the world. Everyone raved about this trip.
VIDEO
YACHT PHOTOS