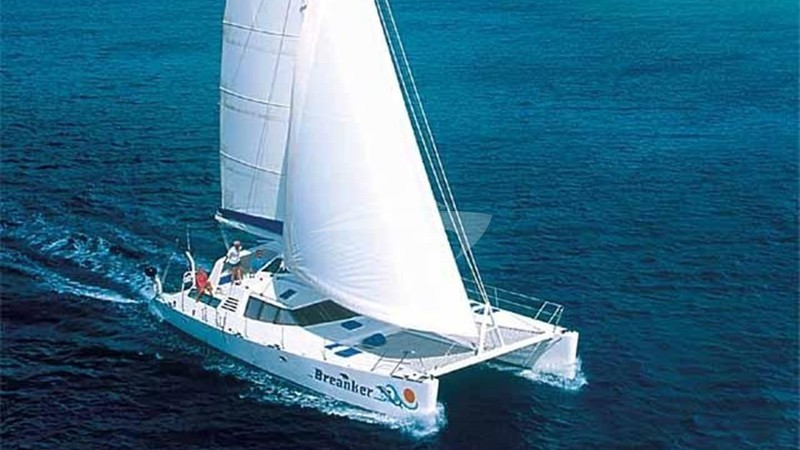 Specs Features Diving Crew Profile Layout Photos Video Testimonials Similar Yachts Inquire NEW Charter Search »
YACHT INTRODUCTION
Your Yacht has been specifically designed and custom built exclusively for your comfort on charter.
Your Hosts have set the standards for experience, skill and professionalism. Once aboard you'll find an enthusiasm for fun that will capture your days.
Your Vacation will be tailored to your dreams. It will be the vacation of a lifetime, unless you are lucky enough to come back again next season!
SPECIFICATIONS
Length 55ft 1in (16.8m)
Beam 27ft 11in (8.5m)
Draft 3ft 11in (1.2m)
Sleeps 8 Guests
Cabins 4
Crew Captain Kristian Soendergaard & Chef
Year Built 1991 / Refit 2018
Cruising Speed 9.7kts
Max Speed 11.9kts
Stabilisers None
Engines Diesel

Builder ETA Yachts
Designer Alex Simonis
Flag Virgin Islands (British)
VAT Registered No
US Duty Paid No
APPROXIMATE WEEKLY RATE
High USD $21,450 | Low USD $16,500
FEATURES & AMENITIES
CD library, Cell phone, DVD library, DVD player all cabins, DVD player saloon, Indoor audio system, TV all cabins, Wi-Fi, 13ft / 4.20m 40hp Inflatable, Board games, Floating Mats, Kayaks multiple, Mono ski, Swimming noodles, Tube - towable, Wakeboard, Water skis - adult, BBQ, Deck shower, Fishing gear - light, Special diets, Sun cushions, Swim platform
ACCOMMODATIONS
Sleeps 8 In 4 Cabins
BREANKER can accommodate 8 guests in 4 cabins. The Master cabin has a queen size bed, shower and toilet. 2 Guest cabins have a queen size bed, bath/tub, shower and toilet. A Guest cabin has a queen size bed, shower and toilet. BREANKER is fully air conditioned through out (there is a small additional fee for A/C all-night). Crew has a separate companionway, heads and shower.
DIVING EQUIPMENT
Not Insured, Crew certified, Diving if certified, Snorkelling gear, 12 Tanks, 8 BCs, 8 Regulators, Diving for up to 6 guests is included. Gear rental is $150/diver/week.
YACHT CREW
Captain: Kristian Soendergaard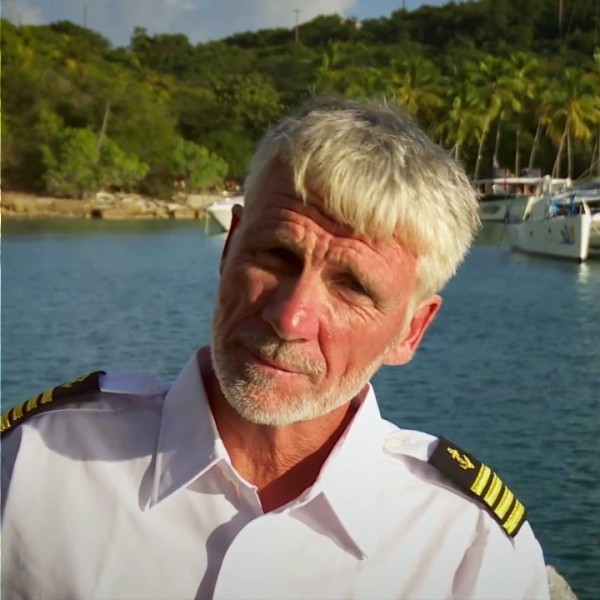 Kristian is by all rights a master shipwright, having operated his own yacht repair and wood working shop for years, though his education led him to fine arts, especially in art weaving. Kristian also has a passion for water sports, especially diving, and he is happy to share the fascinating marine life of the Caribbean with guests. Marianne and Kristian look forward to making your cruise aboard Breanker the most relaxing and enjoyable vacation ever.
Chef / First mate: Marianne Rasmussen
Marianne holds an International Yacht Master 3rd Degree license, and Kristian holds an International Yacht Master 1st degree license. Marianne also has a university degree in education, and is a master of the art of canvas work and upholstery, having owned her own canvas and sail loft for a number of years. Her father was a chef, and Marianne was brought up close at hand and instilled with a love of cooking and a keen interest in fine cuisine. Their extensive travels have only served to broaden Marianne's culinary horizons and gourmet options, creating mouth-watering delights for the many guests she has welcomed aboard for the past many years.
YACHT LAYOUT
YACHT TESTIMONIALS
Valentine's week, 2019, guests aboard catamaran BREANKER wrote:
WOW! What a wonderful trip! Such great hosts: The sights were perfect, the food and thoughtful service were perfect! Hate to leave – we will be back! Thank you so much Marianne and Kristian.
Paige and Rob
Thank you for sharing your wonderful boat with us! An idyllic way to experience the Islands we wont forget. See you again!
Kyle
Thanks for making each day a wonderful combination of fun, excitement, relaxation and luxury!
Clarissa
Thank you for a fabulous trip! The waters always perfect and we always found the best harbors thanks to you!
Thomas
What a fabulous week we've had cruising the BVI on Breanker with you, Kristian and Marianne! So many new beautiful new spots, exciting outings and always your relaxed and experience and guidance on what to do each day. We felt truly spoiled by the delicious and beautiful meals and service too! So great meeting you both – thank you!
Diana and Dave
Charter guests from the week before Christmas, 2018, wrote:
Well…what can I say… This trip has been absolutely amazing! The food, fantastic. This boat…. Amazing and the company have been incredible! Ask for a painkiller and you get the best we had on this trip! We can't wait to come back. Thank you for everything! This trip has been more that we could have imagined!
Alex and Ginny
What a fabulous trip! A fantastic boat, crew, and the best food I have had in a long time and Kristian makes better painkillers than any bar in the BVI.
Becky and Curry
Your patience is matched only by your hospitality. Thank you for making us feel like more than family. We cannot possibly thank you enough.
David and Margaret
A wonderful trip all the way around. Marianne and Kristian are welcoming and helpful. The food is great and the anchorages are gorgeous. We will definitely be back with others.
Beth
November, 2018 - A 60th Birthday Celebration week aboard catamaran BREANKER
A week of pampering on Breanker with amazing friends, old and new.
Many thanks to Kristian and Marianne for new memories. Your attention to detail and our every need was seamless. Your hospitality is second to none.
The food – always made with an extra special touch of love – delicious and tasteful and beautifully presented. The expert guidance and knowledge of the area meant we experienced the common and uncommon.
The comfortable staterooms and appointments carefully attended with decretive ease. I understand how they are respected as seasoned charter hosts – experience matters!
Thank you till next time,
Cheers Joan

What an awesome week! You spoiled us! We had it all, wind, rain, sunshine and lots of fun and relaxation! The food was amazing and the drinks superb!
You do a fantastic job on Breanker! Thank you!
"Well behaved women rarely make history"
Jacquelyne

Many memories created aboard Breanker. Thank you for making my 60th Birthday a success.
Always remember:
Love many
Trust few
Always paddle your own canoe!
Tina

For my first time in the Caribbean I am totally spoiled. This has been one of the best vacations I have ever had. Your hosting is awesome – the food – the staterooms – Breanker and all your wonderful stories have been delightful. I can only hope that I will be back again before too long.
Thank you for everything.
Galen

Late April, 2018, guests on catamaran BREANKER wrote:
Marianne and Kristian. 
Thank you for a fabulous week. We enjoyed being with you both on your lovely boat, and loved the beautiful destinations you took us too. The food was spectacular, and thank you for attending to our every whim in such a gracious manner. We greatly appreciate the dolphin show you put on for us! We hope to see you again soon.
Rachel, May, Paul and Andree. 
Mid-April, 2018, guests aboard BREANKER, wrote:
Marianne and Kristian, 
Thank you for an amazing week with you! We loved every destination and experience, especially with your special insights! The only way to experience these islands! And thank you for making us all feel very much at home with you. Thank you for all the delicious meals – and new ones for the kids! LOVED THE SAILING! We loved our lesson on the Danish culture and our conversations on world travel! The destinations were fabulous – swimming with a 6' nurse shark today was new for our family Jthank you for spoiling us in every way!!!
Kevin and Laura
Thank you for a great trip! I appreciate that you took us tubing frequently. The food was great (especially the pancakes). I had a lot of fun sailing and exploring the islands!
Nicolas, 15 years
Thank you for a great trip and thank you for taking us tubing. The food was great especially the pancakes, tuna, salmon and Key lime pie. I had a fun time sailing and exploring the island and water. Please visit us in NC.
Mange tak, Ana, 12 years

Easter week 2018 guests on BREANKER said:
Kristian and Marianne – What a delightful surprise to encounter the two of you! From day one, you welcomed us in to your life, treated us with the outmost care, tolerated all our fobies and idiosyncrasies with patience and kindness, and made us all feel like family.  
You showed us how the islands have changed from the hurricanes and at the same time and at the same time showed us the human side of a natural disaster, as well as economic, botanical, geographical and oceanographic effects. What an education! More people needs to come down here, not to exploit, but to understand how we can all do our part as human beings helping human beings.
All I can say about the food is YUM!! The garlic dipping sauce, pancakes the size of your head, beautiful salads and mysterious smoothies – WOW! Every meal was a treat! Most of all you feel like family to me, and I thank you so much for that.
Much love and we will all be seeing you soon.
Tusind tak! Calli
This trip was amazing I loved everything about it. I loved seeing the sea turtles and dolphins. I especially want to thank Kristian and Marianne for making this trip what it is. Without you I would not know what to do. You brought this trip to life.
Tusind tak, Gage 12 years old.
AHH this trip was nothing short of AMAZING! Yup and I meant it. Fucking amazing! And it feels good to say the "A" word! Thank you both for being you! So genuine, so sweet, so real so comfortable and easy to love. You made this trip feel like home…But better, HA! I know we will keep in touch, Marianne, I will be in contact on Face Book with pictures and smiley faces! You guys are such special people. I won't forget you and hold a very special spot in my heart and memory. (Kristian, you make fantastic drinks!)
Xoxo! I will miss you. Hope to see you in person again!
Love Ya! Leslie
Kristian and Marianne, Thank you for allowing us in to your home. What an incredible trip with the best hosts. I loved all the stops and the islands in between lively and remote – it was so much fun to spend the week with such seasoned professionals. I really appreciated the food, thank you for preparing such melting delicious meals. I hope we can cross paths again someday.
Much love Amy
Marianne and Kristian – I knew that spending time island hopping would be an incredible experience. But I did not even consider what a difference the crew would make. I had planned surrendering myself to the rhythm of the water, the tempo and the island life, but you two made the experience of fully letting go transformational. Because you know the area so well and are tapped into the energy, every place you took us and every time we arrived, were perfect. I absolutely trusted having your directions and guidance. You have the ocean, the wind and boat in your bones and that makes you the perfect hosts – not just of your home but also of the entire experience. I was truly taken to another place – I can't thank you enough for inviting us in and taking us there.
Your good friend, Neil
March, 2018 guests on catamaran BREANKER, 4 time repeats, said:
Well…Another voyage another great time with family and our extended Danish family. So difficult to express all the reasons that we come back, just happy that we do!
Be well with favorable seas till we cast off again.
Cheers! 
Richard
Thank you so much for another vacation on the Breanker. As always the sites were beautiful, the food was delicious and the hosts were wonderful. Life on the Breanker is always perfect.
Thank you again, 
Kamran
Another time and still the same charm. Can't wait to hear how Kia likes Copenhagen and Møn. Always a pleasure talking to you and Kristian.
Love, 
Cyrus
#4 but we have so much fun each time it seams like#50 J Our time with you guys is always incredible – we will keep coming back year after year! And hopefully we will see you in Denmark too!!
Carrie
I could not figure these guys and had to come back to check them out. Well; they are nice, hospitable, caring and in summery as good as mama's milk. Full enlightment came after fourth trip. Don't miss an exceptional time in paradise with angels Marianne and Kristian.
Houshang
We love you both and the Breanker! Always thankful for you kindness and attention. Always in our best memories.
Espanta
I love talking to and spending time with both of you and you always know the best places to go. You guys make every trip special, thank you!
Kian
A February, 2018, family group aboard BREANKER said:
Marianne and Kristian. 
Thank you for being so kind to my children and teaching them so much. We felt like we were onboard with our own family. We couldn't ask for anything more. This was the most perfect kind of holidays. You are both so kind and considerate… If we had to do it over we wouldn't change a thing. I might come back for a few lessons in the galley – unless of course we can talk you in to a visit to Canada 
J
Until next time, we wish you smooth sailing. Mange tak!! Tusind tak!!
Love, The Kenney's
Kristian and Marianne,
Making the complexities of sailing the USVI and BVI look absolutely effortless and simple. Your sailing skills and experience kept our families safe and well taken care off. The travel, locations and the total experience were made only more amazing by your wonderful personalities. All week we felt like we were sailing with our family. We can't wait to find you in Denmark!! 
With outmost appreciation…
Fair winds and following seas, The Gallagher's – Gene, Amy and David
David's toast:
Everyone! I have something to say; To Kristian and Marianne, Thank you for everything you do to us. Thank you for changing my mind about food!!
David Gallagher, 6 years.
This was one of my best VKs (vacations) I have ever had. If I could do it again I would. "Tak" you very much for an amazing holiday.
Love Mac, 11 years
Mid-February, 2018, guests aboard BREANKER said:
Marianne and Kristian. 
Thank you for another wonderful week of beautiful sites, laughter, catching up and wonderful food. Your hospitality and attention to detail to create an outstanding experience. Although the islands are damaged there is resilience and welcoming at all the places we visited. The water is beautiful and beaches are still paradise. This is still our happy place 
J
. We already look forward to seeing you again. Thanks so much for an outstanding trip.
Much love and hugs, Jenny and Mary-Jo
Kristian and Marianne. Thank you for a truly amazing week in paradise. You were the perfect hosts and always making sure our bellies were full and our drinks cold. Marianne, your meals were all incredible, I don't know if I can pick a favorite but the ahi tuna was up there! Everyone on the islands was so welcoming. Jost Van Dyke and Norman island was my favorites - I can't wait to come back and visit again.
Love, Tawnya
Marianne and Kristian. This is our second time on Breanker and we had a blast! We were so glad that Breanker survived the 2017 hurricanes. The ocean is still blue and the people are so welcoming. Thank you both for a wonderful stay aboard Breanker. You are both amazing and made our stay so comfortable. Thanks for the fabulous food and great sailing. We WILL be back!
Karlyn and Mary
P.S. We hope that you will do a Breanker cookbook!!
Marianne and Kristian. Thank you, thank you, thank you!!! I have been hearing about your charters from friends for a few years and was so exited to be able to finally experience sailing with you for myself. I had high expectations for a fun time, great views, amazing food and the best company…. You exceeded ALL of my expectations! It is obvious you both work very hard and have a large amount of passion for everything you do. The attention to details, organization and planning is amazing. Full bellies, yummy drinks and the most fun I've ever had on a trip, are all thanks to you two. Thank you for sharing this part of your life with us and just know I will be back again!!!
Stephanie
Thank you so much for an awesome week!! We were so impressed with how you found beautiful bays to snorkel even though we came post hurricanes! We were happy to place our trust in the experience with Kristian and Marianne! The food, the sailing, the scenery and conversation were all outstanding! Can't wait to come back!
BREANKER ROCKS!!!
Sharon and Renee
Early February, 2018, charterers on BREANKER said:
We had a blast, the best food, drink and company. Thank you for making this trip to the BVI's the best possible. May the wind continue to be at your back and the sun on your faces.
Love Ya! Jubal
Kristian and Marianne. Thank you for a memorable week in the lovely BVI's. Food and service was fantastic.
Steve
To Mr. K and Mrs. M.
Thank you for being an amazing couple, caretakers and now new friends. You have shown me a new wonderful world and moreover I have enjoyed each and every second of the experience. Thanks for expanding and blessing my world.
Cheers to the next trip, Jessica.
Late January, 2018, charterers aboard BREANKER, said:
Kristian and Marianne,
Sheryl and I were invited on a charter cruise with our friends. Little did we realize we were just being invited to spend a week with friends we hadn't met yet… in their beautiful home with amazing food and drinks and wonderful stories. The trip was no pressure, no demands, as if we were old friends getting together for a week. We were guest instead of customers. And we intend to come back to see our old new found friends. Two people we were meant to meet. 
Good friends have good friends… and now you are our good friends as well. And by the way, thanks for letting us sign the book.
Thanks you for all you do and all our love, Sheryl and Ed.
I was lucky enough to know Cheryl and Don Wegner, and even luckier that they invited me along on one of their awesome adventures! I instantly felt welcome in your home and found the accommodations to be beyond my expectations. I was VERY well feed, VERY well attended too – and I wanted for nothing. Your expertise with the BVI's made me feel safe. It was the best vacation I have been on! Thank you for taking me on this great adventure.
Xoxo Margy
Kristian and Marianne. This is our 4th time aboard, and we never get tired of you! Again your amazing hospitality, sailing skills and great food made for another wonderful BVI trip. Now we add to the list of compliments, your survivor skills. Winds tore both the awnings – and out comes the sewing machine to fix them! WOW – you're prepared for anything! And I have to mention how impressed we were that you two can sew together – quite the teamwork! 
Till next time – xoxo Cheryl and Don
Wow!  Is that a record? 25-times (!!!) charter guests on catamaran BREANKER with Kristian and Marianne in January, 2018, said:
Dear Kristian and Marianne. 
These past two weeks has flown by. It is hard to believe that we have been on 25 charters with you guys since January 2000 aboard Casador. Keith Berger really summed up well why we keep coming back – Breanker is a great boat, you guys do a great job with such ease. It is a privilege to call you "friends". Thank you for being our home base since our home in St. John was severely damaged by hurricane Irma. We have been able to get a lot accomplice in a short time.
We are thankful that Breanker survived both Irma and Maria and is in such a good shape. We really enjoyed our time onboard and look forward to # 26! 
May the rest of your season be blessed!!
Much love 
Martin and Jodie
AND...
Marianne and Kristian. 
Thank you for such a beautiful week. To be with you on Mart and Jodie's 25th trip with you was special. As I look back on the week a few things come to mind…. There is a way to know someone by simply watching what they do. In this past week it has been a work of art to watch you both. You are amazing craftsmen in all the parts in your work and service: Economy of motion and grace with the boat, exquisite dishes on the table, attentiveness to the smallest of details in every way. That kind of pride in your craft is beautiful to see and a real part of the joy in the trip. But then there is the ease of friendship and laughter with you that makes the trip unforgettable!
Thank you so much for letting us into the stories of your life on boats and the glimpses into your home in Denmark. We have rarely felt more "at home" with people we just met. But thank you for a beautiful week. Breanker is a beautiful boat and you both are a grace to the islands.
Thanks again,
Keith and Page
25 times on charter with Kristian and Marianne - This calls for champagne!
Late April, 2017 guests on BREANKER said:
Marianne and Kristian, 
I truly don't know where to begin; To try and share my thoughts and feelings abut this past week would take me "pages"! Without a doubt this is OUR BEST FAMILY VACATION EVER! From the beautiful boat to the incredible harbors, snorkeling adventures, boat jumping, tubing, family swimming and so much more – it was all over the top! And what can I say about our meals…. your cooking was FANTASTIC! You both did everything possible to make our family experience onboard the Breanker truly special – and it was! I have never had so much fun and relaxed so much all at the same time. As I stand above – I can go on pages…. Tarpon, sea turtles, pirate show, Honeymoon Bay, sunsets, bubbly pool, kayaking and trail hiking!! Please understand that as I write this and reflect on our week, literally have tears in my eyes thinking about all the wonderful family memories that we made here. Jack, Phillip, Ashley and I will cherish this experience forever. It was also a true pleasure to get to know you and Kristian. Thank you for the hospitality and new friendship forayed… Good luck with your Denmark project and I wish you safe travel home!We will defiantly be back for another Breanker adventure! Thank you again for this incredible experience. 
God Bless, With love,
John, Ashley, Jack – 10 and Phillip – 7
My highlight was snorkeling; I had so much fun at Buck Island with the sea turtles. JackI enjoyed snorkeling at Peter Island. 
Love, Phillip

Early April, 2017, guests aboard BREANKER said:
Marianne and Kristian,
I started this trip at a 0 out of 10. I was terrified of the ocean and apparently had a large seasickness that I did not know of. I couldn't look at an ocean swell without being scared and my heart beating fast. The first morning when I woke up and threw up for 30 min. off the side of the boat really solidified to me that I shouldn't be on the water. However, all I needed was a day and you guys made me feel so at home, (ocean included). Somehow with your guidance, and calm, cool collectiveness, I was able to ease my way into the ocean and overcome (not all the way) my fears. I saw dolphins, swam with turtles, heard "shark" and got out of the water (Thank Good), and so much more. The food was incredible and the company of you guys was so much better. Wish you nothing but the best!
Xoxo Kelly – (the girl that was scared of the ocean) 
Marianne and Kristian, 
Thank you so much for our second charter experience. We loved the USVI way better and this was the perfect week away. Thank you for you hospitality and for keeping our bellies full. As always the food was amazing. I feel this trip was extra special given all the animals we got to see – sea turtles, an octopus, a sand shark etc. The jumping stingray was also amazing! Since our sister and brother in law missed the trip due to their Breanker baby, we will be back again soon! Have a safe travel to Denmark and enjoy your time off with your family! Wishing you all the love and happiness.
Joe and Lauren 
Kristian and Marianne, 
Lighting does strike twice! This our second trip with you and again the adventure was one to remember. I especially appreciate the way I can share with you what our family likes to do and you then take us to the place where that vision becomes reality. Private beaches, coral reefs, hiking trails, visiting old plantation ruins, and spending a night listening to live music in a cozy island bay bar! More happy days to you both.
Dan and Linda

Guests aboard catamaran BREANKER in mid-March said:
Dear Kristian and Marianne, 
Dave and I would like to thank you for your graciousness this week – we loved spending the time on Breanker with you both as our hosts. It's difficult to have four couples with different needs and expectations, but you managed to make it all seem seamless and to make each couple feel completely spoiled. And as special as this past week has been, with so many fun and different moorings, I think that the one thing we will treasure most is meeting the two of you and getting to know you. We wish you the best in the future adventures and truly hope to be able to spend more time with you on Breanker again!
Hugs to you both, 
Dave and Susan
Kristian and Marianne
WOW what a wonderful week! We greatly appreciate your hospitality, flexibility and unfailing good humor this week. The food was marvelous, the boat and the amenities perfect – you just made it seem so easy. THANK YOU for a perfect week and we look forward to joining you here on Breanker again in the future. In the meantime we will follow you on the net and wish you safe travels and fair weather. Thank you again for everything.
Brian and Heather.
Dear Marianne and Kristian, 
The two of you have given us a trip of a lifetime.I say, as we won't be back! But we WILL! Your command of your boat, incredible service and fine dining has given us a wonderful experience. We are so grateful! Being boat people, we understand the work and concern you have to have to run a week with us charter folk. We were able to relax – 100% confidence in you both. Some thing new for us for sure. You both have been so genuine – we love you and welcome you in to our family! We know for a fact that we will continue to be in touch. Our lives are now intertwined. So…. until we meet again…. Stay healthy and strong! Keep eating your healthy food and drinking water!
Love to you both, 
Ted and CJ
Dear Marianne and Kristian, 
AMAZING – AMAZING – AMAZING!
We had such a wonderful time on board your beautiful boat. It was a trip of a lifetime. We loved all the wonderful food and great wine. You both are so wonderful and you made us feel so much at home. We will follow you on FB. Let's keep in touch and we will be back again. Thanks for all the great memories. We love you both.
P.S. Come and visit us in Destin. We would love to have you both. We will take you out on our boat.
Larry and Beverly.

Early March, 2017 first-timer charter guests from Minnesota, Florida and Alaska on catamaran BREANKER said:
We can't say enough to express the wonderful hospitality, culinary and sailing expertise! Of Marianne and Kristian - They keep such a clean boat and clearly they are so organized with their years of chartering. We felt so pampered with food, drink, dinghy-shuttle and tour guiding by these lovely warm people. I can only hope that we might be able to come again on a charter with Kristian and Marianne. Oh, and it was so fun for snorkeling! We loved the Bath and the Dogs Isle for this the best.If you EVER decide to enjoy seeing Minnesota in the summertime – we would LOVE to host you - In fact, we would include some boat time of the St. Croix River too! I hope we keep in touch for a very long time.
P.S. I hope they do not have a bouncer who will force/through us off the boat! 
Cyndi and Steve
Today is our final day in our precious 7 days!
We had a wonderful time exploring the islands and swimming in the beautiful blue water. Before we came we thought we knew about the treasures here in the USVI and BVI… We thought is was the brightly colored fish, amazing beaches and the crystal clear water. It turns out the real treasure was the friendship we now have with Marianne and Kris. We will cherish our time spend with them and look forward to our return trips. Thank you 100,000 times.
Chris and Helen
Kristian and Marianne, 
Thank you so much for a wonderful week! This was our first time on a sailing charter and the experience has been fantastic! As a matter of fact – this was our first trip – big trip – as a couple and we didn't break up! We will be talking about all of our adventures, the beautiful sights we got to see, the fantastic food Marianne prepared for EVERY meal, the comfort of Breanker, our knowledgeable captains and all of the wonderful memories we made with our friends. Thank you so much for all your hospitality and sharing so much information about your selves and the BVI and USVI! It has been a vacation of a lifetime!
Steven and Mary
3rd time repeats said:
Kristian and Marianne this was our third charter on the Breanker and we had an absolutely fabulous time. Kristian and Marianne are the most welcoming and enjoyable hosts – we would not ever consider chartering with anyone else. They always go out of their way to make sure that their charter guests have a wonderful time. Marianne's cooking is spectacular and the meals are healthy too! Although this is only our third charter it feels like we have known Kristian and Marianne for 10 years. We had such fun every night laughing until our stomachs hurt. The trip was pure joy for us. We are so relaxed and happy that we do not want to leave the boat. We will most definitely charter with them again. Thank you both for making our trip so enjoyable and memorable.P.S. Also I meant to mention that Kristian and Marianne keep Breanker in such good condition. The boat is always immaculate.WOO HOO! We want to do 10 days next time!
David and Cindy

Late January, 2017 guests aboard BREANKER said:
Dear Kristian and Marianne.
This was our introduction to catamaran sailing and WOW was it great. From the wonderful food to the beautiful sites, it was our greatest relaxing vacation we have ever taken. You two made the experience all the more special with wonderful Happy Hour drinks and snacks. But perhaps the best part of the trip were your warm hearts and great stories. You made this vacation personal, relaxing and most of all fun! Thank you again for helping us renew friendships, make new friends, eat fabulous food in beautiful locations and experience life in the BVI. You have made this experience truly great.
Love, Dave and Tonya 
Kristian and Marianne. 
Thank you for a wonderful week! It was so relaxing! The bays were the most beautiful. The very best part of this trip were both of you! We loved every moment we got to spend with you. Your stories were fun and very entertaining! Thanks for making us feel like a part of your family. We are already planning to come back in 2019! See you soon!
Steve and Karie 
Holy cow! Where do I begin! We will begin with the crew. You two are nothing short of amazing. You work together so well that we can't really tell which one of you are in charge! J The food and wonderful company really did make the trip complete….because the place is the most beautiful on earth. A trip like this has always been a dream of ours and we were not disappointed. We (as you know) are now figuring out how we can get back here. We hope you will continue to charter forever, because now we have discovered sailing – we do not want to do it with anyone else!!
W/love Ron and Liz

23rd Charter! WOW! Guests aboard catamaran BREANKER for their 23rd charter with Marianne and Kristian said...
Dear Kristian and Marianne, 
Well, on our 23rd trip now you are still introducing us to "firsts". The overnight in Honeymoon Bay with the world-class musicians on Water Island was fantastic. It's very rare (unheard off) to go to Carnegie Hall in shorts and flip-plops! And then to Maho Bay on St. John to Marina Cay to Leverick. Thank you for joining us at Hog Heaven – what a view! Then to Anegada – thank you for spending the afternoon at Loblolly Beach, gorgeous, especially watching the breakers on the reef. Back on Breanker for snacks and adult beverages – I still can't believe that sunset – incredible!! Have you ever seen the ocean that still? 30 feet of water and we could see the starfish on the ocean floor. Long smooth ride to Green spit Friday, another first with the wind mostly from the northwest. Then our last night on board anchored in front of the Bee Line. Okay, so I've written too much. It was a great trip! Oh, and the food, as always, was gourmet. Hope to be with you guys again soon!
Love 
Martin and Jodie
P.S. I forgot to mention the lobster dinner with you guys at Anegada Reef Hotel – It was wonderful! Thanks again.

New Years celebrants on catamaran BREANKER said of their week aboard:
Dear Kristian and Marianne. 
This was the BEST trip! Everything about it was perfect – the food, the places we visited and the company! I can't wait for the next trip down here to do more exploring.
Love 
Melinda
Kristian and Marianne. 
Thank you for the best vacation ever! It was so relaxing and everything you did added to how amazing it was. Hopefully we will see you again.
Love 
Schuyler
Happy New Year! 
This was a wonderful treat to meet you, enjoy your knowledge and hospitality and welcome 2017 with you at the Bitter End Yacht Club. Thank you for a terrific introduction to the BVI's. We look forward to our next trip!
Rick
Thank you for a fabulous week. Breanker is so comfortable and well-kept, your pride in your boat is evident! We appreciated your local knowledge and perfect suggestions for our itinerary. The meals astounded us every time – so delicious, great variety and where did you store all the food that kept on appearing? Your calm gracious demeanor and hospitality was the biggest highlight. You made us feel at home and took the best care of us. Thank you for an incredibly memorable vacation. We will be back!
Betsy
Thank you for such a fun and relaxing vacation! The food was perfect and the rum punch was hard to beat. You are the perfect host and hostess.
Lee
Dear Kristian and Marianne.
I cannot begin to thank you for the most amazing experience. I never thought that I could be brave enough to sail for a whole week. You made this week so incredible amazing for me! The food was so incredible, and all of our destinations were stunning. You two are so wonderful and I will never forget you. Thank You! I can't wait to sail with you again.
Liesl
Thank you guys for the best trip ever. I love you and this boat and the BVI's and wish you were my grand parents. We will be back. Hadley
Kristian and Marianne. 
Thank you for the most amazing trip! It would not have been the same without guys! I hope we will be back to see you soon!!
Xoxo Isabelle

3rd timers aboard catamaran BREANKER for Christmas week, 2016, said:
We are all so happy to share Christmas with you. Our kids have the best memories from each time on your boat.  Such a great Christmas! We decided that our best trips are on the Breanker! Looking forward to our next trip!
Carrie
I'm privileged to say I've had 3 trips of a lifetime in only my so far short one. Thanks for making each time better than the last .
Much love, 
Cyrus 
Every time our family come to stay with you guys we have a great time. I am so glad that me and my family was able to have the pleasure of spending another vacation with you. I look forward to when I will see you again.
Kian
I love being on your boat during the cold months back home. The food is always amazing – I can't wait to come back.
Kamran
The 3rd time out on the Breanker. My family and I enjoyed hospitality of Marianne and Kristian. They are charming, accommodating and very knowledgeable. For us, the best Caribe experience is on Breanker – We will be back – Thank you Marianne and Kristian for another wonderful trip in Paradise.
Houshang

6-time repeat guests aboard catamaran BREANKER wrote:
Kristian and Marianne, spending a week on Breanker is like coming home for us! I don't even remember how many times we have been here but you just can't get rid of us. As always, this week was fantastic – even though we got in troubles for leaving our portholes open – (on the sail back from Anegada). Next time we promise to keep ALL our stars!
Bill and Dee 
2-time repeats -
Dearest Kristian and Marianne. 
Thank you again for your wonderful hospitality. We enjoyed our second time around even more than the first – and we weren't sure that was even possible – food was incredible – and thank you for introducing us to Little harbor – a new favorite! We hope to be back sooner than later…
Dean and Terrie – the only ones left with 5 stars – xxo! 
Kristian and Marianne thank you for giving us a wonderful vacation. The food was the best ever!! We loved all the places we saw, the ones we saw before and all the new ones. This was a trip of a lifetime for us. Good luck and we hope to see you again.
Jack and Patti 
3rd timers -Kristian and Marianne – Boarding Breanker and seeing you two again was like arriving at my "home away from home". Your gracious hospitality, cooking and sailing skills are unsurpassed! Loved the sail to Anegada and snorkeling at little harbor. Many thanks to you for a wonderful vacation!
Sheryl and Don
Five-time repeat guests aboard catamaran BREANKER in late March and early April, 2016, said:
Marianne and Kristian. 
Once again you have outdone yourselves in making our trip enjoyable. We feel like you are part of our extended family now! Each of our five trips with Kristian and Marianne has been spectacular – great folks, food, scenery and company. Our family trip was enjoyed by all. Little harbor has the very best snorkeling and is Marianne's favorite spot. Riley exceeded on the paddleboard and John made a valiant effort. All agreed that White Bay was the best beach in BVI. We have remained friends over the years and value our relationship with Kristian and Marianne.
Harold and Julie
Dear Kristian and Marianne, thank you for a wonderful week at sea. The views were incredible as well as the boat. This was a very unique experience for Riley and I. You made us feel very welcome and at ease. The food was awesome and I enjoyed trying out new things! We will keep up with you on Facebook.
Donna and Riley, John and Jennifer.
Multiple repeat guests aboard BREANKER - January 28,2016 – 16 YEARS!!!! – 20 TRIPS?
Well, Kris and Marianne, we made it back!! One of these times we actually have to count the number of trips we have made with ya'll. It's been 16 years now since our first and quiet a few times we have been lucky enough to be with you more than once a season!As always, the time this year was amazing! Laid back for us this time – no snorkel or swim trips which was just what we needed!Getting us to our favorite anchorages in time for cocktails, lobster dinner at Anegada Reef, special time with you both on Cow Wreck beach, Anegada, Marina Cay, Peter Island, lunch at The Top Of The Bath – all new wonderful memories to add to our own list.Time on Breanker is always so special – the hospitality, the food – amazing – always SO GOOD, comforts of home and we are always still so pampered and cared for!We truly love you guys and hope to add to our memory and many more times on Breanker!! If not once more this season, hopefully next!!Thank you again for ALL you do and for always making us feel so special!!
Much love Martin and Jodie

Guests aboard BREANKER in late October, 2015
This has been the best 40 years anniversary trip I could have asked for andd surprised Steve with. Andrew was so right, "Best crew you can get". Thank you for a wonderful time and that very special Champagne to end the trip. I look forward to my Christmas card this December and every one after. One day we will be back and hopefully you and Kristian will still be here and not retired! Best trip ever! Thank you so much. 
Giselle 
May you never lie, steal or drink
If you lie, lie in the arms of the one you love.
If you cheat, cheat death.
If you steal, steal way from bad company.
And if you must drink, then drink with us because we are your friends. 
Being in BVI is a blessing for Giselle and I. A trip of a lifetime that words can't explain how I feel while I am here. Each day is a special memory and because we were able to enjoy the BVI with our children, I wish they were here. I am very grateful for all you have done for us on our trip. This trip is in honor of our 40th Anniversary so we will be back in 40 years
Steve and Giselle 
Repeat guests aboard BREANKER, after a 12 year hiatus!
Back again after 12 years!
Thank you for another perfect sail in BVI. You out did yourselves again!! Thank You.
Donna and Phil

Thank you for one of the best adventures we have taken. This trip was more than we ever expected. You two are beautiful people. Thank you!
Rebecca

WOW what a great week! Perfect weather, perfect p[laces to explore and most of all perfect company with Marianne and Kristian – What a wonderful journey!!
Earl

What a great week – Breanker is beautiful and a wonderful boat and introduced us to the BVI sailing so comfortably. But the "big win" Was Marianne and Kristian's hospitality and friendship. Looking forward to the next trip!
Laurie 
Guests aboard cat BREANKER for their 14th charter with Kristian & Marianne -
(March, 2015)
Kristian and Marianne – 14th YEAR!!!
Hey guys, thanks again for another great trip. We are sad to leave after only three days but such is life. We will let you know as soon as we can about a trip in May. 
Love Martin and Jodie
3-9-14
Marianne and Kristian, thanks for providing a fabulous and wonderful week in our very first visit to the Virgin Islands (and The Caribbean)! Fantastic food and drink – morning, noon and night! Accommodations are very comfortable. LOVE the rum!
Here's to our brother, the pelican.
His beak will hold more than his belly can.
He holds more in his beak
Than he eats in a week
And I don't know how the hell' can
Michael Bean, The Pirate
Thanks Marianne and Kris.
Great relaxation, sun and water and wonderful memories.
Jim and Kip
Thank you both so much for taking such great care of us, especially me, during my sickness. The food was outstanding; Curt will speak of that forever.
We were treated like royalty!
This morning over looking the bays where we spent the nights were spetacular.
As every one comments, the food was very special. I have absolutely no reservation of recommending this trip to anyone wanting to visit BVI. FANTASTIC TRIP!
Curt and Ann
We sailed the ocean
6 days and 5 nights
BVI for to see
Sea life, rum and the sights
Our captain and cook took care of us so well
That we all gain some weight
And our waistline so swell
You two are the Best
To show us around
Indulge in our wishes
Experiences we found
So this is our thank you
Remembering the sand
You're our friends forever
Kristian and Marianne!
Judy and John
VIDEO
YACHT PHOTOS