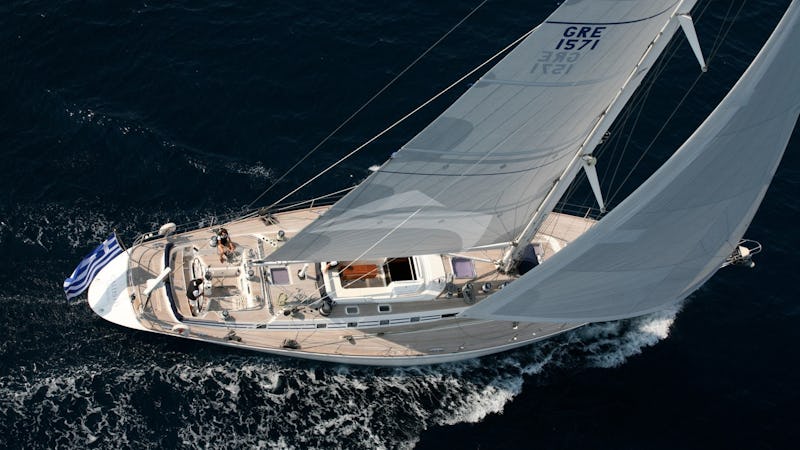 Specs Features Diving Crew Profile Menu Layout Photos Testimonials Similar Yachts Inquire NEW Charter Search »
YACHT INTRODUCTION
Built by Nautor, the world's premier yacht manufacturer, Callistό is a Swan 80´ maxi yacht, a true expression of sophisticated and elegant luxury lifestyle. Capable of delivering a thrilling sailing experience with luxurious comfort, she is crewed to the highest standard, offering her guests a marvelous cruise coupled with a unique culinary experience.
SPECIFICATIONS
Length 80ft 1in (24.4m)
Beam 19ft 8in (6m)
Draft 11ft 6in (3.51m)
Sleeps 6 Guests
Cabins 3
Crew Captain Mike Gouveris, Chef and 2 crew
Year Built 1995 / Refit 2011
Cruising Speed 9kts
Max Speed 10kts
Stabilisers None
Engines 1x 225hp Perkins

Builder Nautor's Swan
Designer Not know
Flag Greece
VAT Registered Yes
US Duty Paid No
APPROXIMATE WEEKLY RATE
High USD $26,098 | Low USD $21,175
FEATURES & AMENITIES
CD library, Cinema, DVD library, DVD player saloon, Local TV, Wi-Fi, 12ft/3.8m RIB 40hp, Beach games, Board games, Tube - towable, Wakeboard, Water skis - adult, Fishing gear - light
ACCOMMODATIONS
Sleeps 6 In 3 Cabins
Captain , Chef and Deckhand accommodated at separate compartment with ensuite head and shower below forward.
Hostess accommodated in pullman cabin with ensuite head and shower

DIVING EQUIPMENT
YACHT CREW
Captain: Mike Gouveris (33)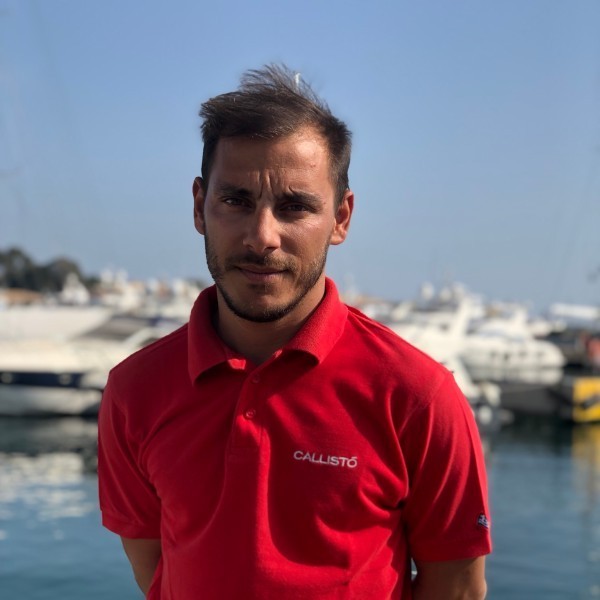 Mike Gouveris, Captain(b. 1987, Athens)
Captain Mike Gouveris was born in Athens on June 12, 1987. For the past 10 years he has worked as a skipper in various monohull and catamaran sailing yachts and he has also spent 10 months as an Apprentice Officer in a 180000 DTW Bulk carrier, cape size ship in south, north Atlantic and north Pacific oceans during 2010. Moreover, he has been enthusiastically involved in yacht deliveries from France to Greece.Mike is a graduate of computer and network engineer College (2008) and an alumnus of the Captains Merchant Marine Academy of Greece. He is a graduate of OTE P.S.C offshore sailing school, as well as a graduate of Marine National School of life saving and firefighting procedure and equipment. He also holds diving diploma. Although sailing is his great passion, Mike also enjoys photography, video and directing. His impressive sailing experience around the bays and the small islands of the Greek Archipelago, his fine manners and his sense of humor are just a few of his charismas.
Stewardess: Konstantina Samara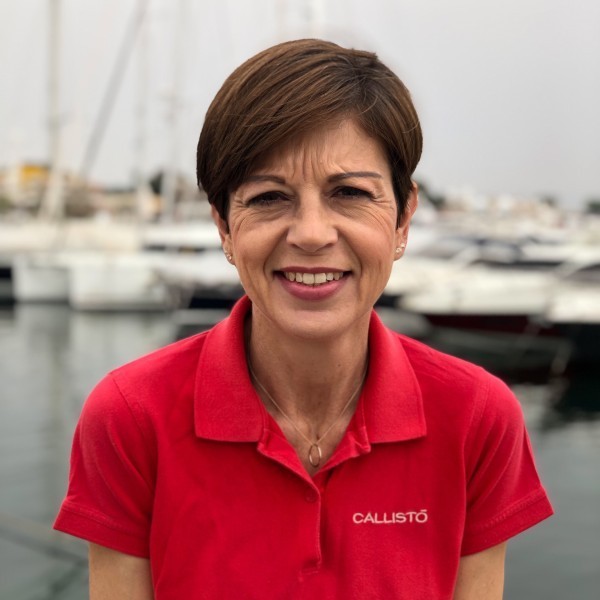 Konstantina Samara, (b. 1968, Athens)
Konstantina has served on board S/Y Mediterranean Sea and Dimitra K as Chef's Assistant. She has been working onboard Callisto' since her launch. She speaks fluent English.
In her free time she enjoys reading and seeing as much of the world as possible.
Sailor: Nikos Arvanitopoulos (25)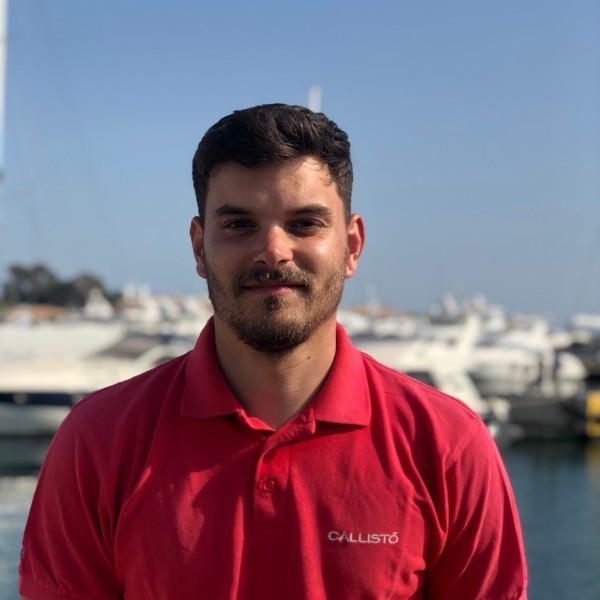 Nikos Arvanitopoulos, Sailor.
(b.1995 Athens)
Nikos was born in 1995 and has been involved in the yachting industry since 2017 when he started looking after the maintenance of a private yacht in the shipyard. The next season, he started working as a deckhand on a commercial yacht and have sailed both in the Aegean and the Ionian Sea. Holding an Open seas and speedboat's license along with his degree as PLS Engineer makes him an asset for Callisto's already exceptional crew. Nikos speaks English and Greek.
Chef: Myran Yaghjian
Super Yacht custom made furniture designer and Interior designer for 15 years, owner of his own furniture construction factory, awarded with the International Gold Star for Quality .Graduated 'Le Monde' Institute of Hotel and Tourism Studies in Athens as a Professional Food Production Chef . He speaks fluently English, French and Armenian . Worked in Paris and Dijon, with some of the best known Chefs, in Michelin star awarded restaurants.
Since 2013 his is working as a Chef in Private Yachts. Always passionate and eager to improve his skills recently he finished his studies in Molecular Cuisine .
Mihran is married and has two children, a son and a daughter. He is a certified PADI Open Water Diver. Enjoys fishing, sailing and playing football.
YACHT MENU
Breakfast
Coffee, Tea, Smoothies and Fresh Juice
Greek Cheese and Cold Cut Platter
Greek Pies, Toasts
Pan Cakes, Crepes, Eggy Bread, Cakes, Croissants
Omelets, Scrambled Eggs, Sunny Side-up Eggs
Fruit Salad
Appetizers
Traditional Greek "Meze" Platter
Crackers and Dips
Canapés, Crostini, Bruschetta
Stuffed Phyllo Triangles and Rolls
Mini Pizza
Verrines (Variety of appetizers served in a glass )
Main Dishes
Greek Specialties
Veal Fillets with Mushrooms and Pepper Sauce
Osso Bucco with Mushed Potatoes
Beef Bourguignon with Linguine and Julienne of Carrots
Pork Fillets stuffed with Dried Apricots and Prunes served with Vegetable mille feuille and Sweet Red Wine Sauce
Pork Medallion with Carrot Puree, Apples, Parmesan Tuilles with Mustard and Honey Sauce
Grilled Chicken with Crispy Eggplants, Prosciutto and Mozzarella
Grilled Fresh Fish with Steamed or Grilled Vegetables
Fish Fillet Papillote with Carrots, Zucchini and Potatoes flavored with rosemary and lemon
Pasta and Risotto
Lobster or Shrimp Spaghetti
Paella with Shrimp, Calamari and Mussels
Octopus Risotto with Sumac
Orzo and Lobster flavored with saffron
Fried Calamari with Black Rice and Sweet Red Peppers
Salads
Green Salad with Avocado and Passion Fruit Sauce
Beet Root Salad with Roquette, Goat Cheese and Honey Vinaigrette
Tabbouleh Salad with Salmon and Lime
Lettuce Salad with Cherry Tomatoes, Sweet Yellow Peppers and Fried Halloumi Cheese
Green Salad with Pomegranate and Green Apple
Cabbage Salad with Orange, Walnuts and Yogurt Sauce
Traditional Greek Salads
Deserts
Mascarpone Cream Mille Feuille with Strawberries and Almont
Panna Cotta with Caramelized Apricots and Chocolate Drops
Oreo Cheese Cake
Yogurt Mousse with Kadayif and Figs
Chocolate Mousse with Kiwi and Meringue
Fruit Tartelettes
Crème Brule
Chocolate Soufflé with Ice Cream
Cream Catalan 
YACHT LAYOUT
YACHT TESTIMONIALS
Guest Comments 2016
29/05-05/06/2016
Just as we expected, time flew by here on Callisto! Memoriesmere made, comical moments were shared, and of course beautiful sights wereseen. However none of the above  wouldhave been as impactful if it weren't for our incredible crew-Dina, Argi &Miran & Dimitrious. Upon arriving to the boat on our first day, we had aslight mishap on the way over, delaying us by just a few minutes (let's justsay one to a many bottles of wine were drinker the previous night). Regardlessof the fact that we showed up in bit of a hotness, the crew greeted us withsmiling faces and welcoming arms-we knew instantly the next week on Callistowas going to be unlike anything we 've ever experienced.  Needless to say, as we near the final days,the trip absolutely surpassed expectations.
A HUGE THANK YOU to an amazing crew, a wonderful boat, abeautiful group of islands, and a loving family!
IN ONE WORD WE SUMMANGE THIS TRIP AS AMAZING!!!
Captain Argi : The yacht ran like clockwork, each island.Anchorage seemed prettier than the prior! Your expertise, local knowledge andseamanship made for a perfect week!
Admiral Dina! Your hospitality and graciousness made us feelright at home! We never felt so pampered as we did all week!
Chef Mihran : The food was absolutely incredible! Once wetasted your fabulous cuisine we decided to eat all meals on board. Norestaurant could match your masterpieces it was all very decadent!
Super Dimitri : Your agility and assistance ensured we allwere safe, happy and secure. We especially liked your rock-climbing in securingthe boat!
TO ALL : This was a trip of a lifetime! Many memories weremade and will forever be with us.  Thankyou for making it incredibly special!!!  xoxoxo
09-23/06/2016
And again Callisto!!! Thank you Tina, Argiris, Mihran andDimitris. For marvelous two weeks here again with you on board!
02-10/07/2016
For an unforgettable holiday…Captain Argi for always makingus feel safe and suggesting the most pristine, secluded places, anticipatingour desires in an explanation of beauty! Konstantina-the perfect host! Frommorning to night and from the first day to the last, always glowing with agreat smile. Her reassuring hugs always made us feel at home!
Miran-A great cuisine floating in the Cyclades! MakingGioulia eat fish has always been a challenge, yet your talent has made her andeveryone else super happy!
Dimitris-A careful and smiling presence, always available tosatisfy our needs, to the prior of taking tomorrow on a dinghy adventure in themiddle of the sea to find reception to make an important can!
Four great individualities, one outstanding team! Thank youfor the lovely times spent together….
See you next year with more Malibu on the beach!
30/07-08/08/2016
An unforgettable travel around Greece coast! A marvelousweek, sailing and warm. Fabulous sea with the Captain open a mirror ofmagnificent water. Sunshine over day as a daily miracle. The cooker, Frenchspoking so smiley and clever, making of each meal a new surprise. Constantinealways ready to help with such a pretty smile. Dimitris ready to prepareeverything we asked for. Thank you for this special holidays spent with you,sailing, sunburning!
 16-23/08/2016
Dear all,
Thank you for the love you put in your work that nourish ourdays.
PS. Chef Miran, thank you for having the kindness to be opento another food experience and to accomplish it with talent!
27/08-10/09/2016
Zippity do dah
Zippity yea
Callisto in sight
Hip Hip Houray!
Plenty of sunshine coming our way,
Hoping for winds drafts,
For sailing each day.
Argiris at the helm,
It's true, it's factual,
He calculate the actual.
Zippity do dah
Zippity yea
Ionian sea coves,
For swimming each day.
Miran in his kitchen,
It's true, it's yummy,
Every taste to feel our tummies.
Zippity do dah
Zippity yea
Plenty of laugher
Plenty of joy!
Dimitris at the ready,
It's true, it's factual
A dingy step must be intentional!
Zippity do dah
Zippity yea
Rains come along
To interrupt play.
Ithaca's harbor
Welcomed us back
Happy to be there
Safety to share.
Dina is ever ready
It's true, it's factual
''Everything all right?''
Is actual!!!
Zippity do doh
Zippity yea
Tomorrow will go away.
Pictures and memories we take of our stay.
Thanks to you all, Hipster Hooray!
What adventures through islands, the memories will carry usuntil the next moments in Callisto! Many thanks to Argiris, Mirhan, Dimitrisand Dina for taking care of us and all our journey!
14-18/09/2016
These four days on Callisto passed like the most beautifuldream….Your warmth, discretion, skills and professionalism make us feel intouch with the sea around us and with ourselves and each other.
Konstantina, Argiris, Mirhan and Dimitris you guys harmonizeand play together like Rolling Stones at their best…
We hope to be back on Callisto one day…someday soon…
27/09-04/10/2016
Dear Tina, deat Argiris, Mirhan and Dimitris,
Thank you again for beautiful days on board of Callisto!Could not have been beter!
September-October 2015
Despite our plans to return in 2016 we were lucky to make it earlier for another week here on "Callisto". Many thanks Argiris, Dina, Mihran and George for the wonderful time here again with you on board. Looking forward to next June. Take care, Karl and Christoph


 August 2015
Great boat, great Captain, great Crew, great islands, great sea. My sons politely made me notice I ALWAYS write the same comment since 2010. But what can I do? I mean it: great boat, great Captain, great Crew, great islands, great sea! Efxaristo poli! –Domenico

 



Thanks again for the beautiful holiday, hope to see you next year. (one Frappe please!) –Enrico


 July-August 2015
Referring to 21/9/2014
Not only we came back but we came for 48 nights and we covered 40 islands!!! We are still not finished. We are coming back in September. We are still talking to the Crew and they are still talking to us! No need to say we love Callisto and Argiris, Dina, Miran and George! –Love, Mr. Ali and Eleni

 


To be continued…

 



As Ali and Andreas' "extras" (+3) over the last week, we wanted to say a quick thank you too!! Thank you for showing us 10 of your stunning Cyclades islands, feeding us with incredible food and always smiling. A truly relaxing and memorable holiday! Love, the Malpas Family xxx


 June 2015
We came back to the Ionian after many years of not sailing here in Greek waters.

 


The boats is one thing but without the professional captain and all crew we would not have such a wonderful experience of our life here on board.

 


Callisto with Argiris the always foreseeing leader, Mirhan the every-day inspiring chef, George the master of technics and sails and Konstantina the heart of it all.
It's a dream!

 


Next year again,

 


Thank you all, Karl


 May 2015
We thought we already had the ultimate experience of Greece and the Greek Islands having spent four whole summers cruising Greek isles on our own private yacht which was based here in 1984-5 and then again in 2002-3 before we sailed her from Greece to New Zealand for the second time. The last ten days have been a whole new and very pleasant experience. Being spoiled on board Callisto is something new and exciting for us. The gorgeous means, perfectly matched wine and the service we have enjoyed is not often found on any yacht anywhere, and the dedication, professionalism and commitment of the Callisto Crew is very unique. Argiris is a dedicated sailor but also the perfect team leader. Nothing is ever a problem on his yacht of which he is the perfect master.

 


"whatever you like to do –let me know" is what we hear him say most often. We have enjoyed exchanging ideas with him. If there is any wind he will fill the sails up and if we just want to relax and swim we do not in any way feel opposed. He has taken us to his special anchorages and advised us on sights ashore not to be missed. We have very much enjoyed the wonderful spirit on their yacht.

 


We had to come back to Greece once more and we will have to return again to these waters –preferably on Callisto.

 


The team of S/Y Cecilie salutes the team of S/Y Callisto
Per, Linda, Karsten, Marrianne.


 September 2014
The Nautor (Swan) is a world renowned boat for quality and excellence. However without a professional crew is nothing.
On Callisto you get both superb boat and superb crew. We will be back :).
Thank you for making our week with you super relaxing and enjoyable.
Ali & Andrea


 August 2014
Dea Argi, Dina, Miran and Laz,
We have been on board Callisto for the second year in a row, this time for 12 days. Yet again you have surpassed all our expectations. Your patience and energy with Erin Max and Isla was commendable! Thanks for the wakeboarding, donut, rides, swinging off the boat, water skiing, this allowed Mum and Dad to relax and enjoy the new sunbeds! We got to try riding mopeds, scuba diving and cliff jumping. You entertained us from morning till night. Max loved the electric skateboard. Thanks for taking us sailing around some beautiful islands you really know the best places to go! Miran your delicious food was very much enjoyed.
We hope to see you all again for a third year!
Lots & Lots & Lots of Love,
Isla, Erin, Max, Jason & Tracey


 August 2014
Ευχαριστούμε πολύ για το υπέροχο ταξίδι.
Επτά ημέρες πάνω στο Callisto….Οι τέσσερις μας όλη η οικογένεια περάσαμε για άλλη μία φορά υπέροχες μέρες και νύχτες (8-14 Αυγούστου 2014) .
Οι διαδρομές μας μοναδικές πλούσιες σε εμπειρίες, χαλαρώσαμε πάρα πολύ φορτώσαμε τις εμπειρίες μας έτοιμοι για τον χειμώνα…
Ο Αργύρης όπως πάντα είναι ένας μοναδικός καπετάνιος πάντα με ένα χαμόγελο έμπειρος και ευέλικτος. Ο Μυράν <<μας πάχυνε>> με τα υπέροχα φαγητά του.
Ο Λάζαρος top of the notch. H Κωνσταντίνα μας φρόντισε και μας παραχαΐδεψε!!!
Να είστε όλοι καλά!!Να είμαστε όλοι καλά πάντα έτσι να ξαναέρθουμε! Διότι θα ξαναέρθουμε!!!

Με πολύ αγάπη

 


Οικογένεια Μεγάλου


 August 2014
Thank you thank you!
11 days and nights aboard Callisto. The measure of a good holiday must be the sadness in anticipation of departure and boy we are miserable to leave.
Argyris you have been quite spectacular, wonderful. Searching art divine light blue water chasing wasps, humoring the

 

, planning itineraries, adapting to weather. The reality is that you know your guests. You know them well you know what they want and you anticipate their needs and their wishes. You are a marvel.
Constantina- We are so very grateful to you for all your hard work. Nothing is too much trouble for you and your energy is outstanding. Your sense of humor and willingness to attend to the smallest detail is so appreciated.
Miran - We have loved all you have prepared for us. The fantastic salads the halloumi grilled the shrimp the pasta the beef (perfectly cooked) the moussaka and of course all our hugely requested grilled fish and abundant vegetables! The best fruit plates and omelets in the Aegean too.Lazaree(!) - Thanks so much to you for all your work done for us.Scampering from rock to rock to find us a solid place.Fred loved his waterskiing being very proud to hear he is only the second to get up!
The Greek islands are beyond belief and like a good estate agent you save the best ( Symi ) for last! Top of the hit parade must be Rinia and Arki too, but departing the madness of Mykonos was also a particular pleasure.
A huge huge thank you from the family Chambers.
PS. And apologies to Argyris for our very poor pronunciation of your lovely name!


 July 2014
Περάσαμε μια όμορφη εβδομάδα με το Callisto στα Δωδεκάνησα. Ήταν ευχάριστη εμπειρία τόσο για εμάς όσο και για τα κορίτσια (και τις φίλες τους).Όμως η διαμονή μας στο Callisto δεν θα ήταν ξεχωριστή χωρίς την παρουσία, την φροντίδα και την φιλοξενία του πληρώματος.Όλη η θετική ενέργεια και μοναδική αύρα που αποπνέει η παραμονή στο Callisto οφείλεται αποκλειστικά στο έμψυχο υλικό του σκάφους.Στον Αργύρη στον Λάζαρο στην Κωνσταντίνα και φυσικά στον Μιράν.Σας ευχαριστούμε πολύ για όσα κάνατε για εμάς και για την συνεχή προσπάθεια σας να περάσουμε όμορφα! Τα καταφέρατε…!!!! Καλά ταξίδια….
Λάμπρος – Δέσποινα

 


Καλλιρρόη και Ελένη


 July 2014
We have spent the most wonderful family time in this great sailing boat, and that was thanks to its incredible crew. His great captain Argiris who made us felt really secure and showed us wonderful places and islands. His great sailor who was always ready and prepared to take us in the dinghy and had a lot of fun with him in the tubes. We had the most delicious food in the world prepared my Miram, EVERYTHING WAS GREAT!!! But nothing would be possible by the excellent organization and dedication of the great Dina, she was always more than good with us!!!!
Thanks you all for giving your best always with a great smile as if you were in vacations like us. We are going to miss you A LOT! Hope we see you again for another great adventure in this light blue Greek seas!
We wish you the best!
THANKS! THANKS! THANKS!
From Argentina
Javier Santos Jose Mary


 June 2014
Nothing could be finer than to be in the Aegean in the morning.
Nothing could be sweeter, than a trip that's a repeater on Callisto.
When the day is dawning calm and oh so clear, we know we'll be hearing from our Dina dear.
When the Captain is ready to set sails a loft Lazaros will scamper filling his command!
Nothing could be finer than to pull into a harbor in the evening.
Nothing compares to a meal made by Mihran after swimming.
If i could be sailing for only a day when the Captain asks me here is what i would say:
Nothing could be finer than to be abroad Callisto in the morning !
All right? All right!
Ohla Kalado? Ohla Kalado!
Frank


 2001
May 19th, 2001

 


The Callisto and her wonderful Crew showed us a wonderful week…we were shown a Greece we did not know existed. It was all perfect… the boat, the crew, the food, the places, the sea. Our first trip to Greece will be hard to beat… but, we'll be back to

 


try! Thank you for a week we will not soon forget.
J. and G. M.
(Portland, Oregon, USA)


June 18th, 2001

 


We had five wonderful days on board the Callisto. In particular we enjoyed the decent and perfect service of the crew, the flexibility of the captain – whenever we wanted to change something – and of course the wonderful places we've been to.
Thank you very much to the captain and his crew!
We will come back!
L. M.

 









 2003
Early June 2003
Callisto is by far the most beautiful and well kept boat we have ever been on (and we have shown enthusiasms). We have been pampered every day and have loved every minute of it. This trip will stay in our memories forever.
T. S.

June 2003
We've had many great vacation but none has matched the sensations of wind and sea and meals extraordinary a boat so beautiful and hospitality so bountiful…So, YASOU
and EFHARISTO to our captain and the crew of Callisto! Thanks so much from the

 


R.-M. (New York)

September 6th to 14th, 2003
Dear Callisto Crew,

 


A more superb crew there could not be!

 


You have made a dream come true.
B. and A. B.
Geneve and New York






 2005
11-23. August 2005

 


Our first time in Greece and it has been unforgettable!
We were lucky to meet our captain, a wonderful and very patient skipper; our cook the sweetest person, who spoiled us with her great cuisine; our hostess, who always had a smile for us and great ideas to entertain our "teens". All the islands we visited were beautiful and friendly. Fortunately there are many more of them, so the promise is that we will be back!! Thank you for the great time you gave us!


 2005
Dear Crew,

 


This year was amazing. It is rare to have so much fun, pleasure and good food.
To you captain, you are one of the best of the world, I'm sure and I felt safe in your hands – so thanks.
To our hostess, you are a very funny person, who brings life on the ship and I enjoyed it more than you can imagine.
To the greatest of chef, you are the best ever I will never ever forget the taste of your

 


food! So in the end - thanks all of you and I will never forget one of you!!N. & S.


 2006
August 2006
As promised we are back!! You can say we are repeaters. And happily so!
We had a great time again – had wonderful swims, visited beautiful places…
This year we were blessed with strong wind and quite hard sea.

 


What a pleasure! Safely our captain drove us through it' and let us have a wonderful time. Everything was perfect and the promise is still the same:
We will be back! Yours very truly affectionated Italian friends
M., M., G., B.
PS: Through your kindness we learned to love your beautiful country, no words to thank you!! 


 2007
July, 8, 2007
Dear Crew!!!
Than you very much for the unforgettable time that you gave us with Callisto!
This one week that we've have spent with was fantastic and we would never forget it.
We really hope to see you soon again.
There are no words to thank you and to express all our feelings we had during this amazing trip. Warm regards
O., V. V.
With love from Kiev, Ukraine

To Callisto's Crew,

 


Wow, where to start! What an amazing week it has been, from swimming in the clearest waters in the world, aboard the most beautiful yacht I ever seen, eating, eating and kindness that is rare to find in this world. Thank you all!
G.


June 2011
To The Crew
Did not know what to expect but you took it over The Top. What an amazing experience – you all worked so hard to make this sailing trip perfect. I couldn't have asked for better service. The yacht was superb, food way beyond expectation (tried to kidnap the chef). We'll truly remember the crew and sailing the Greek Isles for many years!
Karen and Paul - USA
To everyone that took care of our every need while on Callisto everything you did for us, cooking for us taught us was beyond perfection. Most of all your friendly smiles and words make this a perfect (beyond perfect) vacation for Joyce and myself.
Thank you so very much
Stephen & Joyce – USA

If you are a guest reading this before your trip you are in for an amazing experience , beyond all expectations. To the Crew: We planned with excitement and looked forward to this new experience. You have exceeded all our dreams with your impeccable service and charming personalities. Thank you x 10 for this spectacular trip.
Alison & Norman - USA


 July 2011
Although few days, I want to leave my gratitude and admiration for the excellence of the crew – Argiris, Yiannis, Costas and wonderful Costantina -Αργύρης, Γιάννης, Κώστας, Κωνσταντίνα – and the excellence of sailing and cooking they are skillfully able to offer. Mr. Takis also, was perfect in attention and advice,

 


Beni, Renato

 



Due to this unbelievable team every desire of ours and every inspiration of ours was coming true. Our vacation in our beloved Callisto was once again dreamy!
Thanks to..
Our captain (for all the beautiful places we've been to)
Our chef (for the unusual tastes)
Konstantina (who was taking great care not only the daughters but also the mother)
And Kostas (for every last minute SOS he was always with us expressing genuine concern).
K. 


 August - September 2011
August 2011
I had so much fun this year, swimming and going around with the dinghy. The place that I most enjoyed was Milos for the caves with very nice water. Thank you very much for everything .
Marco – Italy

August 2011
Best holiday, best boat, best food, best crew, best weather
Domenico - Italy

 



August 2011
Everything was perfect but the things I like the most were the swims, creps and the games at fifa II with Argyris.
Enrico – Italy

 



YACHT PHOTOS