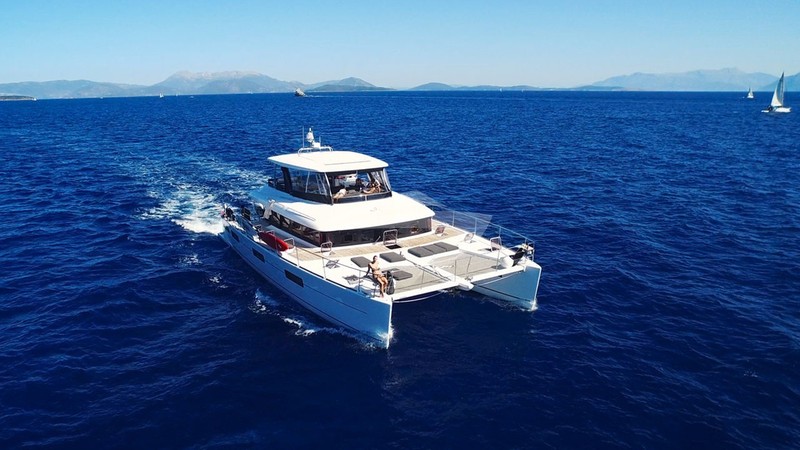 Specs Features Diving Crew Profile Menu Layout Photos Testimonials Similar Yachts Inquire NEW Charter Search »
YACHT INTRODUCTION
https://youtu.be/J3-Q1XKPmZg
SPECIFICATIONS
Length 64ft 0in (19.5m)
Beam 32ft 10in (10m)
Draft 3ft 7in (1.1m)
Sleeps 8 Guests
Cabins 4
Crew Captain Jiorgos KOURTELIS, Chef and 1 crew
Year Built 2015
Cruising Speed 12kts
Max Speed 16kts
Stabilisers None
Engines 2 X 300 Hp Volvo V drive

Builder Lagoon
Designer VPLP and Nauta Design
Flag Malta
VAT Registered Yes
US Duty Paid No
APPROXIMATE WEEKLY RATE
High USD $40,000 | Low USD $27,000
FEATURES & AMENITIES
Bluray library, Bluray player all cabins, Cell phone, Cinema, DVD player master cabin, DVD player saloon, Games console, Indoor audio system, iPod dock, Media movie server, MP3 music server, Outdoor audio system, Satellite TV, Streaming online media, TV master cabin, TV saloon, Wi-Fi, 15ft / 4.60m 60hp Tender, Beach games, Kayak, Paddleboard, Tube - towable, Wakeboard, Water skis - adult, BBQ, Book library, Coffee machine, Deck shower, Fishing gear - light, Ice maker, Sun cushions, Sun loungers, Swim platform, Water maker
ACCOMMODATIONS
Sleeps 8 In 4 Cabins
Jiorgos Kourtelis
DIVING EQUIPMENT
YACHT CREW
Captain: Jiorgos KOURTELIS
CAPTAIN: Jiorgos KOURTELIS
Greek
English fluent
Jiorgos began his sailing career when he was only 9 years old racing lasers, optimists and 4.70s.
He became a skipper when he was around 19 years old. Since then, he has sailed extensively the Mediterranean Sea, the Bahamas, Caribbean, the west coast of Africa, Pacific coast of Central America, and has crossed the Atlantic Ocean 12 times.
In 2001, he was decorated with the first- class medal of Honor by the Minister of Merchant Marine for his assisting role in the rescue mission of the passengers of the ferry boat Samina.
Today he is an extremely well-experienced sailing and motor Yacht captain, you may remember him sailing with his wife Kertin on Anassa, the Sunreef Catamaran charter yacht.
He is very adaptable, easy-going and sociable and will make your sailing vacation the trip of your life time with his adventure stories and his helpful attitude! He loves water sports, flying ultra-light airplanes and building wooden models.
Deck-hand: Stelios CHRISTODOULAKIS (40)
Stelios CHRISTODOULAKIS
Stelios was born in Athens. He studied motor engineering and has worked in the automotive industry until the age of 29.
Paralel to that he was spending his free time sailing and kite surfing.
Turning 30 he dicided to follow his passion for the sea and become a professional crew member.
He is right hand and skipper Dimitris and takes care that all system onboard Cute Little Cat function properly.
Chef - Hostess: Janey BRYANT
Chef-HOSTESS: Janey BRYANT
South African
STCW10
Health & Safety course / City & Guilds, Food Plating course / Rouxbe Culinary school
English fluent
Janey is a person who has grown up with a love for cooking.
She has developed a passion for making healthy, tasty food and sharing it with others. She is a naturally organized, neat person, which transcends into her working ethic.
She had a stable career in hospitality throughout her life and having just completed her first season on a sailboat in Croatia, she can say that it was her most successful achievement in her career and she enjoyed every moment of it.
Moving forward aboard CUTE LITTLE CAT she can excel in sharing her passion for cooking for guests.
YACHT MENU
​
SAMPLE MENU by Janey BRYANT



BREAKFAST
Breakfast is served with your choice of tea, coffee, juices and fresh fruit.
Bloody Mary's and Mimosas on request!
Boiled Eggs, Benedict, Shakshuka, Acai bowl, English breakfast,
Toasts selection, Seasonal fruit platter, Exotic mushroom frittata




LUNCH
A refreshing selection of cold beers, wine, soft drinks, water or cocktails will be served with lunch.
Grilled chicken salad served on a bed of couscous, tomatoes, cucumber, and feta drizzled
with a honey mustard dressing, a hearty helping of home made Tzaziki and a fresh slice of lemon.
Catch of the day served with muscles in a creamy white wine garlic sauce, grilled prawns, fried calamari,
white bait and a side of Mediterranean rice. Optional fresh Caprese salad.
Gourmet beef burgers served with Camembert, tomatoes, herbs and mushroom sauce. Sweet potato fried.

 

Grilled salmon served on a bed of warm Greek styled quinoa, drizzled with a ginger, honey and soy reduction.
Stuffed tomatoes filled with pesto couscous, topped with mozzarella, pine nuts and basil, and balsamic reduction.
Bell pepper stir-fry served in a ginger/teriyaki sauce with a grilled chicken breast and toasted sesame seeds.


APPETIZER
Pulled chicken quesadillas
Catch of the day sushi platter
Caramelized onion and Brie bruschetta
Health cracker selection.
Cucumber wheels
DINNER
Enjoy your meal with a glass of wine, water, a cocktail or a beverage of your choice.
Roast cauliflower and chickpea curry served with fluffy basmati rice, topped with sour cream and coriander.
Creamy langoustine penne served with roast Mediterranean vegetables, topped with fresh basil and Parmesan.
Exotic mushroom risotto served with char grilled chicken pieces, crispy bacon and tender stem broccoli stalks.
Barbeque sirloin steak served with steamed vegetables, pepper sauce and creamy garlic cauliflower mash.
Moroccan lamb chops served with crispy roast baby potatoes and creamed spinach and butternut.
Creamy coconut chicken thighs slow cooked and roasted in a garlic/chili sauce, served white rice and spinach.
DESSERT
Deconstructed cheesecake served on crushed Oreo biscuits and berry coulis, served with kiwi and lemon zest.
Upside down cake with a moist Nutella center, topped with espresso icing, a Raphaella coconut ball and mint.
Pancake stack served with maple syrup, cinnamon and sugar, lemon and Nutella.
Homemade peanut butter ice cream served with crushed graham crackers and fresh bananas and mint.
Chocolate dipped strawberries with whipped coconut cream and pistachio nut shavings.
COCKTAIL JUGS
Berry crush: Frozen berries, Gin, Brown sugar, soda water.
Watermelon and lemon infusion: Peach slices, Vodka, Tonic water and fresh basil.
Pineapple punch: Vodka, soda water and fresh mint.


 






YACHT LAYOUT
YACHT TESTIMONIALS
Charter on March 17 - 23, 2019 in the Virgin Islands / Amercican family of 6
We had such a blast. i know this trip we will remember for ever! The crew is uncredible and we are fortunate to enjoy this trip with them.
Thanks again,
M, R, R & P.
I can't wait to see you all and go to Greece. Thank you for having fun with me.
P
Charter on March 8-16, 2019 in the Virgin Islands / American party of 6
Dear Jiorgos, Janey and Stelios,
We had such a great time on Cute Little Cat.
It was a blast going around the BVI'S with you, snorkeling, diving and wake boarding.
Thank you for such a memorable trip!
T, A, M & C
Charter December 29 - January 5, 2019  in the Virgin Islands / American group of 8

The most memorable trip! We are so grateful for the crew and accommodations...Every meal was wonderful... such attention to detail. We met so many wonderful and amazing people. We will be back to the BVI'S
B, D.
Best crew we have ever had. Treated us like royalty, helpful and fun. We want another week! until next time, 
J & J
Max and I were landing in Tortola with no idea on now or who to call! We were in the blind for a second when out of nowhere. Hero Jiorgos was standing outside the airport with our names on a sign!! Stelios waited for us to arrive and gave us a warm welcome that tasted our whole week. 
If we needed something, there they were. So attentive, so much hospitality, so much comfort.
On top of that, Nick our Chef was absolutely incredible. Every meal was savory and just incredible. This was one of the most wonderful vacations we have ever had. Jumping in the water, snorekling, drinks etc... These two made this wonderful. 
We will most certainly cross paths again. 
Thank you for the best new Years Eve.
Enjoy Greece!
With love, M, D
The best crew! We felt at home on this amazing boat. Every single need was met with joy. We had a fabulous time... We would love to come back... something tells me we will.
Thanks for everything. First class all the way.
Love, M & J
Charter December 21-28, 2018 in the Virgin Islands / American family of 6

My family and I feel very blessed to have met you both and to have shared this most amazing journey together.
You are both such special individuals. You have made this family vacation one that none of us will ever forget! It has been transforming for each of us. We so appreciate your sharing your love of the sea and all the beauty it has to offer as well as your appreciation for the simpler, more important things in life. Audrey too expressed how rejjuvenated she feels and how much more confident she is after this week.
Stelios with his gentle encourgaement and direction made her feel that she could accomplish many things she never would have otherwise. And, of course the delicious food!
Jiorgos, each one of us really enjoyed your stories and adventures and we also want to thank you for taking the time to take a real interest to get to know each one of us individually.
We will miss you both very much.
you have become a part of our extended family forever.
We klook forward to seeing you in Greece!
J. T
Awesome

Absolutely INCREDIBLE experience! I couldn't have had a better time, and the guys made it a breeze.
T.

Had one of the most amazing experiences in my life. The most wonderful trip I've ever had. Stelios and JIorgos have mad such an impact on my family and I. I'm so graftful for evrything they taught me and all the stories I heard. I can't tell you how much it means to us!
A.

This trip was incredible. It was a much escape from the city. Jiorgos and Stelios made everything great and truly made the trip a most wonderful experience.
All love,
Q.

Charter September 9 - 15, 2017 / Hydra - Mykonos / Party of 6
We  had an absolutely lovely charter onboard CUTE LITLE CAT.
The yacht was fantastic, and that Captain Dimitri and his crew were wonderful. 
If they have the possibility, they would love to come back again next year to do it all again.
THANK YOU for making it such a great charter.
YACHT PHOTOS