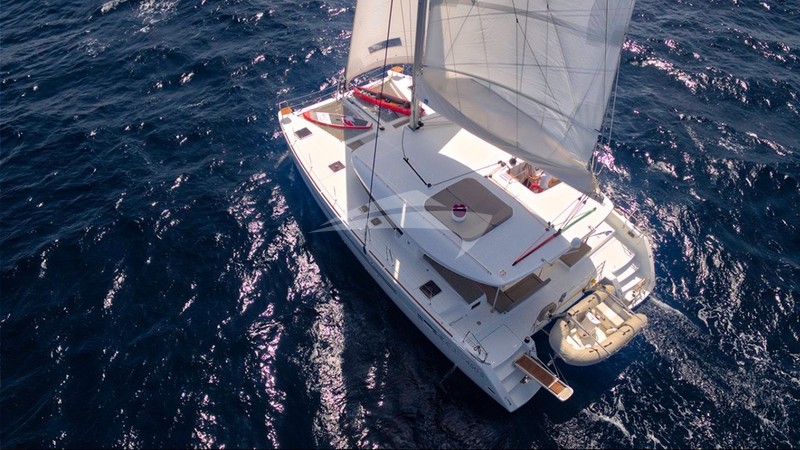 Specs Features Diving Crew Profile Menu Layout Photos Testimonials Similar Yachts Inquire NEW Charter Search »
YACHT INTRODUCTION
Replacing a catamaran that has come to be seen as a benchmark is no easy task. But the VPLParchitects, in partnership with Lagoon and the celebrated Nauta Design studio, have been brilliantly successful in creating the Lagoon 450.
The brand new catamaran DANIELA II, built in 2016, is the unique sailing boat that will transform your vacation into an extraordinary experience, cherished and treasured in your memories long after this voyage is completed.
This beautiful catamaran, which can accommodate up to 8 guests in 4 very spacious and illuminated Queen size cabins, all with private bathroom facilities, has all the comforts, in order to make you feel relaxed and spoiled.
Relaxed, because of the inviting leisure atmosphere, you are going to feel the moment you step on board and the multiple choices you have to stretch your legs all around the boat.
Spoiled, because once you had your first meal, with the culinary delicacies your Chef is going to create especially for you with vast varietyof Mediterranean flavors, and the highly attentive service at any time of the day, believe me, you will feel spoiled.
The sailing catamaran DANIELA II will bring you to the most beautiful places in the Mediterranean while traveling in all comfort and privacy. Guided by her crew you will yourself discover the magnificent islands, nature, and culture and most importantly the magnificent clarity of the Greek crystal blue waters.
However, if you feel like getting more active, there are several water toys, like water skis, kayaks, wakeboard, floating mats or tubes which are waiting for you to explore your limits.
DANIELA II will take you on a journey that will not easily be forgotten. The itinerary, activities and the menu will be based on your input and preferences to guarantee you and your guests will have a unique experience to cherish long after.
SPECIFICATIONS
Length 45ft 11in (14m)
Beam 25ft 7in (7.8m)
Draft 4ft 3in (1.3m)
Sleeps 8 Guests
Cabins 4
Crew Captain ANDREAS KALOGEROPOULOS & Chef
Year Built 2016
Cruising Speed 8kts
Max Speed 10kts
Stabilisers None
Engines 2 X 45 cv YANMAR

Builder Lagoon
Designer Not know
Flag France
VAT Registered No
US Duty Paid No
APPROXIMATE WEEKLY RATE
High USD $13,586 | Low USD $10,189
FEATURES & AMENITIES
Indoor audio system, iPod dock, Outdoor audio system, Printer, Wi-Fi, 12ft / 3.80m 40hp RIB, Floating Mats, Kayaks multiple, Paddleboard, Tube - towable, Wakeboard, Water skis - adult, Water skis - child, BBQ, Coffee machine, Deck shower, Fishing gear - light, Ice maker, Sun cushions, Water maker
ACCOMMODATIONS
Sleeps 8 In 4 Cabins
DIVING EQUIPMENT
Not Insured, Diving by arrangement, Snorkelling gear
YACHT CREW
Captain: ANDREAS KALOGEROPOULOS (35)
The first thing you will notice, when you meet Captain Andreas for the first time, is his bright and heart warming smile. His welcoming and gentle character will make you feel right at home and looking forward to the vacation ahead.
He is a lot of fun, but also very conscious about his work. His ability to handle any conditions and unexpected matters with serenity and composure is one of his finest qualities, along with his passion for history, enabling him to visualize for you tales and events of places you will visit.
Born in 1982 and coming from the island of Spetses, he was drawn to the sea from his childhood. Due to his family owning a hotel together with several sailing boats adapted to it, he started sailing almost before he could walk.
Captain Andreas knowledge of every little bay and marina of the Greek seas, provides you with a promising and adaptable voyage on your journey through the magical Greek islands.
Chef: POPI TOMAZOU (36)
Popi, born in 1981, is a wonderful chef with years of experience in the culinary arts! She owned a restaurant in South Africa for 8 years and also worked in London in a high-end Italian restaurant. Basically she works professionally the last 14 years in the field of gastronomy. She specializes in Seafood and Vegetarian food, as well as all kind of pasta and meat variations prepared with either Greek, Italian, South African, or even Asian recipes, so you can imagine the delights you will be served on board.
Whether it is Breakfast, Lunch or Dinner, Popi will prepare everything in such a manner, that you will feel spoiled. She prepares her meals with fresh produce which she hand picks – She will have you eating of her hands "literally".
Popi has a marvellous character, with a warm welcoming great smile and is always very joyful. She is great with children and makes everyone on board feel very welcome and cozy. She speaks fluently English, Greek and South African.
YACHT MENU
BREAKFAST
Seasonal Fresh Fruit Skewers
Assorted Pastries
Freshly baked bread
Variety of cereals
Freshly Baked Muffins / Cakes
Variety of Jams and Greek Honey
A Selection of Cold meats and Cheese's
Eggs – Poached, Fried, Scrambled or Boiled
Coffee – Tea – Fresh Fruit Juice
MAIN COURSES
Oven Roasted Lamb with Lemon potatoes and green beans with toasted almonds
"Gemista" - Stuffed tomatoes, Green Peppers with rice and minced meat
Linguini pasta with Prawns and cherry tomatoes
Grilled Lemon Chicken with baby potatoes and zucchini
Drunken Octopus and Savory Rice
Beef Stir-fry with a medley of vegetables and noodles
Chicken Green Thai Curry with Coconut and cashews and coconut milk Rice
Sautéed Mussels with Ouzo and Spring Onions and crusty bread
Grilled Beef fillet steaks served with Béarnaise and Potato Dauphin Oise
Grilled Salmon fillets with Asparagus served with a beurre blanc and Parmesan roasted cauliflower
SALADS
Greek salad with tomatoes, cucumber, red onion, caper and feta cheese drizzled in Olive oil
Caesar Salad – Grilled chicken breast, Cos lettuce, Croutons, Parmesan Cheese, Anchovies and Caesar Dressing
Couscous with finely diced tomatoes, cucumber, red onion and parsley
Watermelon, Feta and fresh Mint Salad
Nicoise – Tuna, Lettuce, Capers, Red Onion, Boiled Egg, green Beans, Cucumber and new Potatoes drizzled with vinaigrette
Green beans, Chick Pea and red onion salad
APPETIZERS
Stuffed Cucumber with tomatoes and Feta
Smoked Salmon Blinis with Horseradish cream cheese
Feta wrapped in filo pastry with sesame and honey
Chacuterrie Board – Selection of Cold meats, Cheese, Olives, Caper, Grissini, Breads and Anchovy Butter
Tyrokafteri, Melizanosalata, Taramosalata, Humus
Prawn and feta Spring rolls
Vegetable rice paper rolls
DESSERT
Chocolate Brownies with hazelnuts drizzled with balsamic glaze
Homemade ice cream with peaches, almond and chocolate
Lemon, Yoghurt and Pecan Crumble Trifle
Eton Mess, with Almonds and fresh Berries
Apple Tarte Tatin
Chocolate Mousse
Galaktobouriko
Baklava Parcels
Salted Caramel Cheesecake
YACHT LAYOUT
YACHT TESTIMONIALS
                                                                                                          2016
September 2016

Daniella II ..... Best boat ever!
Thank you, Andreas and Vaya for a very memorable cruise!
Love you both!


Robyn & Don

September 2016

Thank you, Captain Andreas & Chef Vaya
Wonderful boat and thank you for making sure we had a great time


Beverly & Nick

September 2016
Thanks to captain Andreas and hostess Vaya we had an amazing time! Perfect boat, service, and company. 
We will be back next year!! (with the same crew)
Frederico & Barbara ......Perfect holidays

P.S.: We caught a beautiful 30 kg Yellowfin tuna!! 

August 2016
Vaya and Andreas, a beautiful week on your boat. Your memories will be with me this winter.
Beautiful boat, with a super skipper (Andreas), and Vaya similar to a Michelin Chef!

See you soon
Raffael


August 2016
Queridos Amigos Vaya y AndreasHay semanas en la vida que quedon para siempre en la memoria y el Corazon.Esta ha sido una de esas semanas y todo gracias a ustes que son un gran equipo!!
Los Extranaremos

August 2016

Chicos:Gracias sur atenciones. Muy buen Capitan y exalente cucinera.
Mil graciasRoberto & Iris

August 2016

Una vacanza dasogno, in un posto incanterole con una barca con grandi comodita ma sopratuno con un equipaggio di grande livello sotto tutti I punti di vista! Disponi biuta, efficienza, qualta del cibo cucinato da una chef di livello altissimo che corrisponde al nome di Vaya e da uno skipper di vere capacita nel suo lavoro nella disponibilita con ben Quattro ragazzi instancabili e sempre pronto a farli divertire: il suo nome risponde ad Andreas (Lupo di Mare)
Rosaria

August 2016
Dear Vaya, Dear Andreas, We said it so many times: oh la la. It was indeed an incredible week, we have appreciated every single minute and you both contributed, in your own way, to these great holidays.Merci  Andreas pour les cours de lecture, je suis sur que Louise sen viendra.Thank you, Vaya for your kind and gentle manners, for your great cooking. You are a true cordon bleu.
Bon Vents et Merci
Thank you so much for this beautiful week with you!! 
Everything was very fun! The cook was tasty!!!
Julie

August 2016
Vaya, Andreas, Yannis!Thank you for the wonderful week! I can not imagine a better crew or experience. Vaya the food was delicious every day. Everything was so beautiful, we ate so well. Andreas, thank you for finding us when we were lost, and for giving us recommendations and for conversation. Yannis, thank you for keeping us safe in the rough waters and congratulation for the new baby! Everyone was so wonderful, professional and friendly, you were great companions! I hope the rest of your adventures are safe and fun
Ευχαριστώ

July 2016
Greece is a spectacular place. Thank you for showing us through your home & enabling us to see the beauty of the islands.Most of all thank you for remembering my birthday!!!! I will never forget this one! The flowers, candy, bartender, dinner & cake were all unforgettable Millions of thanks, Melissa
P.S.: Come visit California

July 2016
Vaya, Andreas and YanisThis week was incredible! It was because of your hospitality and spirit, that made this dream a reality. It was such a pleasure spending the week with you! Vaya you are an incredible chef! Andreas & Yanis thank you for your dedication and care sailing us through the sea.

July 2016
Yanis, Vaya, and Andreas
Thank you so much for your incredible hospitality! With your delicious meals, helpful tips, water activities and your overall brightness, you have made this charter voyage unforgettable. It has been such a pleasure to explore the islands with you. Best of luck with your upcoming voyages and congratulations to Yanis again for the new girl.


Lena

June 2016
Thank you, we had a great holiday with you. Love girl I will miss your salads and food. And you Yiannis, I hope your smile will remain all the time.
Bibi

June 2016
Thank you both for the amazing hospitality Thank you both! One of the best weeks ever. You are the best!Thank you so much for making a non-boat person feel comfortable, safe & happy on this trip!Thank you so much for making my first ever trip to Europe as exciting and fun as it could be.

YACHT PHOTOS