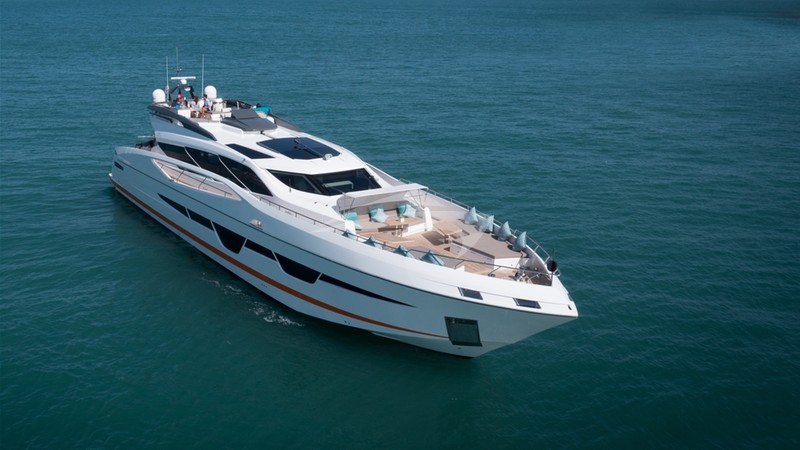 Specs Features Diving Crew Profile Menu Layout Photos Testimonials Similar Yachts Inquire NEW Charter Search »
SPECIFICATIONS
Length 108ft 3in (33m)
Beam 23ft 4in (7.1m)
Draft 23ft 4in (7.1m)
Sleeps 8 Guests
Cabins 4
Crew Captain Danilo Cecchini, Chef and 3 crew
Year Built 2016
Cruising Speed 26kts
Max Speed 31kts
Stabilisers Stabilisers
Engines 2x Caterpillar C32 1925hp

Builder Numarine
Designer Not know
Flag Not know
VAT Registered No
US Duty Paid No
APPROXIMATE WEEKLY RATE
High USD $62,469 | Low USD $55,654
FEATURES & AMENITIES
CD library, Cell phone, Cinema, DVD player saloon, Indoor audio system, iPod dock, MP3 music server, Outdoor audio system, Satellite TV, TV all cabins, TV saloon, Wi-Fi, 13ft / 4.00m 40hp AB, Beach games, Board games, Kayak, Kayaks multiple, Paddleboard, Water skis - adult, BBQ, Book library, Deck shower, Fishing gear - light, Ice maker, Swim platform
ACCOMMODATIONS
Sleeps 8 In 4 Cabins
DIVING EQUIPMENT
Not Insured, Diving by arrangement, Seabob, Snorkelling gear
YACHT CREW
Captain: Danilo Cecchini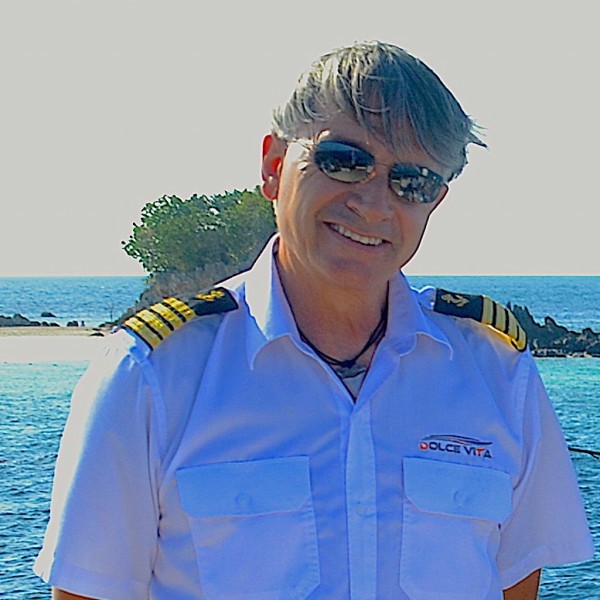 Crew Profiles:
Captain Danilo started his carrier in 1980 as First Mate on a 24 meters Luxury Motor yacht in the Maldives . Back to Mediterranean in 1985 he obtain his MCA Yacht Master 200GT License and has been working as Captain on Charter Yacht ever since , sharing his time between the Mediterranean Sea in Summer season and Thailand during the winter season . He also worked as Convergence Navi for Ferreti Group and has extensive engineering experience .
Danielo multiple certificate: PADI Diving Instructor, PADI first Aid + EFR instructor , STCW95 Advance fire fighting and "Life Guard Certificate .
Captain Danilo lives in Phuket
Excecutive Chef: Phuntarik Tooranuparb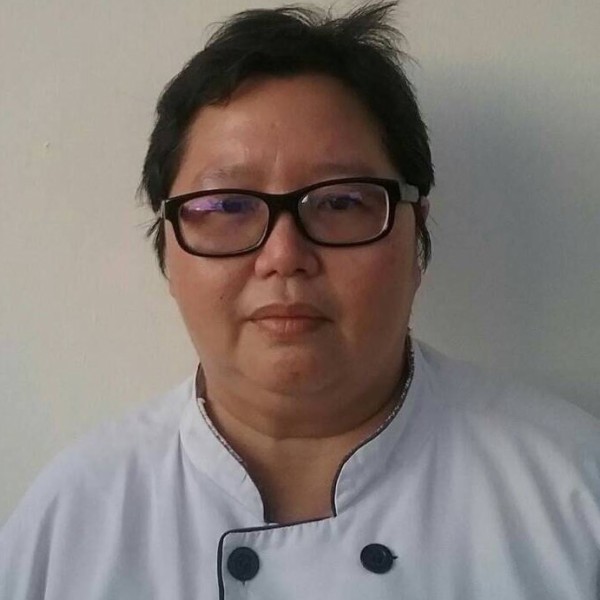 PHUNTARIK TOORANUPARB
EXECUTIVE CHEF
Gold medal award, progressive culinary professional with over 15 years of experience in various culinary fields that include well-established hotels, upscale restaurants, bakery, private catering, store front retail, cooking show and food magazine. Comprehensive knowledge of international cuisine and highly adaptable in all cuisine type with an innovative approach in developing impressive menu while maintaining a high quality standard and effective cost control.
• At the end of her graduation at the Western Culinary Institute, Portland in 1995, PHUNTARIK worked for 5 Years in USA in various bakeries and restaurant
• Back in Bangkok, she work as Chef in several restaurant and hotels, acquiring a vast experience of Thai, fusion cuisine, pastries, banquet catering etc
• In 2006 Phuntarik became famous in Bangkok for her wok as Freelance Food Stylist and Food Writer in magazine such a Bistro Magazine or for TV Cooking show
• In 2008 she opened her first restaurant Steak 'N Pasta By Punna, Italian cuisine with Asian Influence; in the same time she was working freelance for restaurant opening or events
• Since 2018 she run her own restaurant in Bangkok CAFE AZUR, famous for its Home style Thai and western cuisine
Educational Background
University Of North Texas, Denton. Texas Usa
Western Culinary Institute, Portland
Culinary Art Diploma, 1997. Gold Medal Award Honor, Gpa 4.0
International Hotel & Tourism Industry Management School. Bangkok Thailand
Hotel & Restaurant Management 1995. Pre-Requisite Course For Graduate School
Thammasat University, Bangkok Thailand
Bachelor Of Social Work, 1990.
Food & Beverage Operations Diploma, 1991.
Hostess: AILYN P. MARTINEZ ( LYN ) (33)
Ailyn is the Hostess in Dolce Vita since December 2017 and has already operated over 4 over-nigh charters and several day tours . Guest have always been very happy with her services .She is very attentive to the guests and smiling and has a nice personality , working countless hours without a great
STCW Certificate of completion (Certificate No. B/PSSR-4430-09-2013 )
➢ Basic Safety Training
➢ Personal Survival Techniques(13.25 hours)
➢ Fire Prevention & Fire Fighting (15 hours)
➢ Elementary first Aid (IMO Model Course 1.13)
➢ Personal Safety & Social Responsibility (IMO Model Course 1.21)
Kamuning Quezon City Massage Therapist Training April 2005
GALILEO MARITIME ACADEMY TRAINER HEAD OF INTERIOR
SANOOK 23 M MOTOR YACHT STEWARDESS Dec.2015-Feb.2017
SRI PANWA VILLAS HOUSE KEEPER/ASST.COO Dec.2015-Dec.2016
SAINT ANNA 45 FT CATAMARAN COOK/STEWARDESS
DOA 40 M MOTOR YACHT 2nd STEWARDESS(on call) 2015-16
Deck Hand- Electrician: Mark Lin Jaco (28)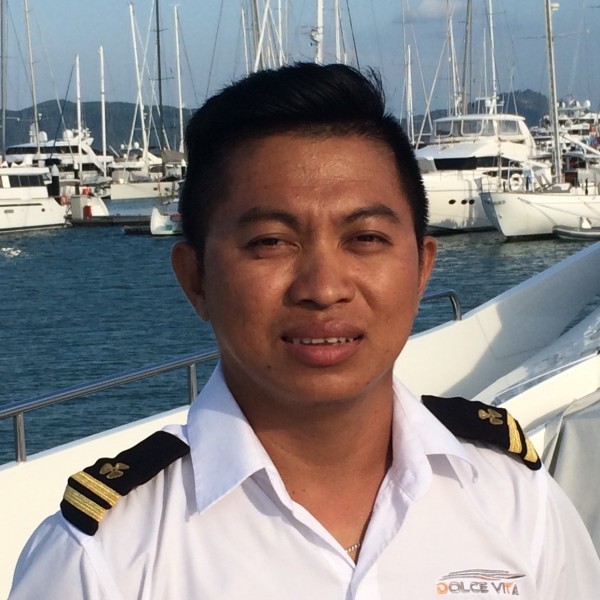 Mark worked on several Yacht such as S/Y Orient Pearl ( 90 Ft ) , S/Y Silverlining ( 105 Ft ) , MY Sea D , MY Northern Sea amongst others . Mark is graduated from the Galileo Marine Academy : STCW Certificate of Completion for Personal survival, Fire Prevention, First Aid , Personal Safety and Social Responsibility .
YACHT MENU
SAMPLE MENUS
Fusion Thai / International cuisnine
 LUNCH : Thai fried spring rolls with shrimps, chicken padthai , banana fritters with vanilla ice cream 
 DINNER : Tempura/ Calamari Steamed fish with ginger sauce and rice, no dessert 
 LUNCH : Mango spicy salad with shrimp, Chicken satay with nut sauce, greens and sticky rice (khao ciao, 
 DINNER : Minestrone, Deep fried fish with sweet & sour sauce crème brûlée 
LUNCH : Mixed salad, BBQ (fish, chicken, lamb, beef) with potatoes, tomatoes and corn
DINNER : Fresh spring rolls, Sushis/sashimis as main course with mango and avocado salad, Ice cream 
LUNCH : Papaya salad (som tam), Fried rice with crab meat/ pork (khao phat)
DINNER : Beef consommé, Roasted chicken with roasted potatoes and greens ,Sweet mango with sticky rice 
LUNCH : Mixed salad, Beef burger with French fries
DINNER : Fish soup with ginger,Fish fillet with lemon sauce with vegetables and steamed rice ,Lemon tart 
LUNCH : Fish cakes, Pad thai with shrimps and tofu
DINNER : Tempura/Calamari with sauce/dips, Pork green curry (keen khiaowan) with steamed rice Ice cream and banana fritters 
LUNCH : Mixed salad, Club sandwich (chicken)
DINNER : Shrimp and lemongrass soup in pork stock (kaeng chut), Sushis/sashimis as main course with mango and avocado salad, Sweet noodles on coconut milk syrup

YACHT LAYOUT
YACHT TESTIMONIALS
Guest Comments after1 week on board  MY Dolce Vita New Year 2017  ( extract …)
Phuket – Langkawi – Phuket
After reviewing several Yacht Options for our planned Yacht Cruise through the Andaman Sea, our Yacht Broker "MGM Yachts" from Florida, USA located and booked the brand new charter vessel "Dolce Vita" for us.
The vessel is capable of providing space for max. 8 people, residing intwo queen and two twin cabins. We were only a party of 6 (3 couples), so the layout of the lower deck was adapted to a three-bedroom option (2 queen, onetwin) with an additional TV salon in the bow of the lower deck.
All the details that we negotiated upfront appeared to be 100% in line with the experience (incl. our preselection of food and beverages, transfers and financial terms and conditions).
We all (the three couples) arrived in Phuket with different flights, sothree transfers needed to be arranged from Phuket Airport to the Phuket YachtHaven. No need to mention, that all couples were picked up in time and style and brought safely to the embarkation dock.
Our Yacht Crew greeted us personally from the stern of Dolve Vita inofficial uniform and with an open and very friendly yet very professionalattitude. Captain Dani, together with the deck hand and engineer as well as our chef and our mate Yoong gave us immediately the feeling of joining a familiarand very cozy environment aboard.

Stewardess: 

Yoong, our stewardess, a 39 year old Thai Lady is probably  the most humble and peaceful professional stewardess we ever got to know. She has already 9 years of experiences on yachts, her English is fluently and her manners and behaviour is simply "WOW"!
Chef
Phuntarik, a female Thai Professional Chef joined Dolce Vita upon areferral from Captain Dani, who knows her and her skills since many years.Great Choice! What a character! After greeting us all during the embarkation she literally "disappeared" in her kitchen (lower deck) and from this time onwe were pampered with a culinary firework every single day. As we all are solely into healthy, light and tasty food without any restrictions we already let the crew know in advance, that our menus are not about how much but about taste, diversity and presentation. During the 7 days on board we were truly surprised every single day with amazingly prepared and tasty creations from"Magic Phuntarik".
Engineer/Deck Hand
Chin the deck Hand as well as the Thai engineer  were accompanying us on our trip taking careof all technical issues aboard and being our helping hands for preparing thetoys for fun and piloting the tender whenever we wanted to go ashore. Both individuals fitted perfectly in the entire crew profile, being very professional, intelligent, smart, extremely friendly and helpful and from what we could observe, they understand very well their position and tasks when itcomes to support the captain in manoeuvring the vessel or anchoring for thenight.
Captain Dani
When we approached "Dolce Vita" on the dock, we immediately discoveredthis extraordinary guise, with his "pepper and salt" hair style, nicely tanned and in his official captains uniform, prior to introducing  himself to us. Well,this is exactly how you imagine a "real" captain of a cruise ship J. Captain Dani, Italian native from the beautiful island of Elba and meanwhile 30 years in South East Asia, is probably THE "prototype"of a charter vessel captain. From the first moment you meet him, you feeltrust, warmth and you can see and feel the unparalleled passion for nautics when you look in his eyes and follow his deliberations. After having already several charter experiences, we can truly state, that the first impression of meeting the captain is probably THE crucial moment, which defines the entire charter experience. In our case we felt from this first moment, that we are notonly in the best hands, we also felt, that we arrive as guests and we will leave as friends. This particular fact exactly happened not only with Captain Dani but also with the entire crew when we unfortunately had to end our charteron Jan 5th 2017.
Overall we can highly recommend "Dolce Vita" as a host for an unforgettable, stress free and very professional charter. Due to the layout ofthe boat, the privacy is a little bit limited; it is therefore absolutely crucial, that you go along well with the crew during the cruise. With Captain Dani and his entire crew, it is a no brainer!
Don`t forget to try the toys, Dolce Vita provides 2 SeaBobs, one Lampuga(electric Surfboard) and various snorkel and swimming equipment.
We would like to also extend our gratitude to Vincent Tabuteau, CEO of Asia Marine, who was in charge of all organizational details at the spot and the final settlement after the cruise. All happened to be exactly as proposed,without any exception.
Overall we will definitely come back and choose again exactly the involved partners as stated in this review. "Dolce Vita" will literally provide you with a "Sweet Life" during your charter periodJ!
Wolfgang Jaksch
Switzerland
January 10th 2017
YACHT PHOTOS