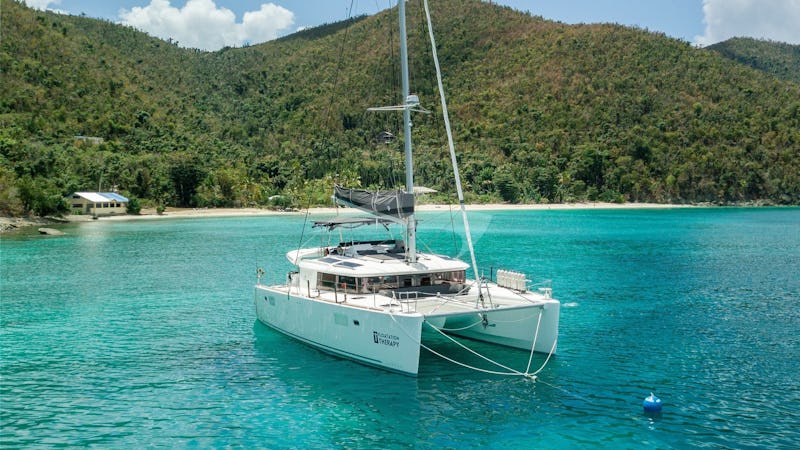 Specs Features Diving Crew Profile Menu Photos Testimonials Similar Yachts Inquire NEW Charter Search »
YACHT INTRODUCTION
Floatation Therapy is a spectacular model of luxury and stylish design inside. There are 3 Queen Staterooms for guests that all include en-suite bathrooms with separate head and showers. Beautiful natural lighting and great use of space makes these suites extremely comfortable and elegant.
SPECIFICATIONS
Length 44ft 11in (13.7m)
Beam 26ft 11in (8.2m)
Draft 4ft 11in (1.5m)
Sleeps 6 Guests
Cabins 3
Crew Captain Andrew Mitchell & Chef
Year Built 2018
Cruising Speed 10kts
Max Speed Not available Stabilisers None
Engines 2x Yanmar 54hp

Builder Lagoon
Designer Not know
Flag Not know
VAT Registered No
US Duty Paid No
APPROXIMATE WEEKLY RATE
High USD $17,750 | Low USD $14,750
FEATURES & AMENITIES
Indoor audio system, iPod dock, TV saloon, Wi-Fi, 12ft / 3.70m 20hp RIB, Beach games, Floating mats, Kayaks multiple, Paddleboards multiple, Tube - towable, Water skis - child, BBQ, Deck shower, Fishing gear - light, Hammocks, Special diets
ACCOMMODATIONS
Sleeps 6 In 3 Cabins
DIVING EQUIPMENT
Not Insured, Snorkelling gear, Underwater still camera, 8 Tanks, 6 BCs, 6 Regulators, Dive Master,
Michaela is a Divemaster.
3 dives per week included for Certified Divers.
Extra Dives are $25 per person/per dive.
$150 for Resort Course and would need an instructor on board.
$300 for Full Course and would need an instructor on board.
YACHT CREW
Captain: Andrew Mitchell
Captain Andrew and Chef Michaela have been working on day sailing charters as Captain and Crew for 3+ years, exploring all throughout the US and British Virgin Islands. They have been spreading their passion for sailing, snorkeling, and all around adventuring to hundreds of guests from all over the world on a daily basis. Andrew and Michaela bring this same passion to the next level on Flip Flop, offering their guests an insiders look into the splendor of the Virgin Islands.
Growing up in suburban Chicago, Andrew might be considered a late bloomer in the sailing universe, but he knew his passion for the ocean was there from an early age. He moved to San Diego for college, and proceeded to take sailing lessons immediately upon his arrival. Starting off in boats hardly bigger then himself, his passion for all things ocean continued to grow as rapidly as his sailing experience in and around Southern California. Upon graduation from San Diego State University, with a degree in hospitality & tourism, Andrew decided to focus on sailing, and became a US Sailing Certified Instructor. He spent years on San Diego teaching sailors young and old the wonders of the ocean. Andrew returned to the Midwest, for years of sailing on Lake Michigan. Upon receiving his USCG Master Captains license, Andrew decided to move "Down Island" to pursue his dream of becoming a full time Captain. He is now excited to continue chasing his dream, and to share his love for all things ocean with all of his guests, as he continues to grow as a diver, surfer, chef, host, bartender, and most importantly lifetime sailor.
Collectively Andrew and Michaela have traveled to 45 countries and are on a constant quest to grow and learn, while sharing their passions with others. They fell in love surrounded by the turquoise water of the Caribbean and soon after realized they made spectacular sailing partners. Their dream became a reality on a Summer sailing trip to the Greek islands, confirming their belief that sailing was meant to be their career. With their professional sailing experience, unique island expertise, and impeccable hosting backgrounds, they are ready to show their guests a one-of-a-kind, and once-in-a-lifetime opportunity.
Chef: Michaela Kremer
Born and raised in the Virgin Islands, Michaela spent her childhood working at her father's dive shop on St. John. Spending her formative years scuba diving, sailing and snorkeling she considers her-self a professional mermaid. While receiving a bachelors degree in Business Management From Five Towns College In Long Island, NY, she also established four years of gained four years of experience in the service industry, in both front and back of the house positions. She was drawn to the creative, but structured aspects of kitchen life and returned to the islands with a passion for food and hosting.
Michaela spent the last three years honing her expertise and skill in the yachting industry in St. John. Highly knowledgeable about local waters and hot spots, she is excited about sharing her unique and beautiful home. She has a super energetic spirit that keeps her constantly looking for adventure and new friends.
YACHT MENU
Breakfast
Continental Breakfast
Croissants ~ Jam ~ Cheeses
Yogurt and Granola Parfait
Sausage, Spinach and Sundried tomato Frittata
Mixed greens ~ Fingerling Potatoes ~ Parsley Relish
Bagel Bar
Variety of:
Toasted Bagels ~ Cream Cheese ~ Toppings
Huevos Rancheros
Tostada ~ Fried Egg~ Queso fresco~ Pico de Gallo
French Toast
Fresh Fruit ~ Nutella Drizzle
Crêpes
Ham and Cheese ~ Dijon Spread ~ Sliced Tomatoes
American 
Scrambled Eggs ~ Freshly Baked Bread ~ Bacon ~ Fruit Plate
Lunch
Seared Sesame Tuna Burger
Brioche Bun ~ Fries ~ Wasabi Sauce
Garides Saganaki 
(Greek Shrimp with Tomato and Feta Cheese Sauce)
Side Salad ~ Vinagarette ~ Crusty Bread
Pulled Pork Tacos
Tostones ~ Mango Salsa ~Guacamole
Crab Cakes
Arugula Salad ~ Parmesan ~ Spicy Remoulade 
Captain Andrew's Salmon Burgers
Pita Pocket ~ Greens ~ Avocado Aioli ~ Sweet Corn
 Pastrami Ruben Sandwiches
Roasted Chick Pea and Cauliflower Salad
Cobb Salad
Grilled Chicken ~ Avocado ~ Blue Cheese Dressing
Appetizers
Charcuterie Board
An Assortment of Meats and Cheeses
Curried Chicken Salad and Tzatziki Dip
Naan ~ Vegetable Plate 
Clams in White Wine Sauce
Garlic Bread
Bruschetta
Balsamic Drizzle ~ Fresh Basil ~ Mozzarella
 Creamy Spinach And Artichoke Dip
Focaccia Bread
Roasted Vegetables ~ Pesto
Baked Brie
Toasted Almonds ~ Cranberry Compote ~ Thyme
Dinner
Sicilian Snapper
Grilled Zucchini ~ Mint ~ Pistachios ~ Anchovy and Black Currant Dressing
(Local Dish) Chicken Roti 
Mango Chutney ~ Side Salad
Lasagna Rolls
Spinach and Ricotta ~ Mini Meatballs ~ Marinara
 Ginger and Rosemary Baked Pork Tenderloin
Risotto ~ Rainbow Carrots ~ Orange Glaze
Spicy Mahi Soup 
Fresh Caught Mahi-Mahi ~ Side Kale Salad
Locally Caught King Fish
Pan Fried ~ Coconut Rice ~ Grilled Peppers
Filet Mignon
Garlic Mashed Potatoes ~ Grilled Asparagus ~ Blue Cheese
Dessert
Mini Coconut Cream Pie
Bananas Foster over Coconut Gelato 
Home-Made Chocolate Chip Cookies 
Chocolate Ganache Cake 
Mango Crisp 
Key Lime Pie
Ice Cream Sundae bar
YACHT TESTIMONIALS
4/15/2019 You two make this special, it felt like a vacation with friends. I can't imagine doing this with anyone else.
Capt. Andrew
To Sandy Andy & Mobile Mac -
Thank you so much for a trip of a lifetime! It was truly an experience we will never forget - I've also never heard Robbie talk so much - that means he really liked you both 😀. I don't think I would pick a favorite part of the trip as everyday was special and fun. All of the snorkeling adventures were great. Especially since Sandy Andy makes sure poke under every single rock and apparently "loooved harassing the lobsta". Mobile Mac taking us through the high seas to see the shark was also amazing!
I've never had so much fun or see anything more beautiful but it was you two who truly made this trip a trip of a lifetime. The food was Absolutely Incredible & now I'm sure Robbie will now think everything I cook tastes like ass.
Although Donnas butt shrimp was pretty good😄. Thank you for teaching Robbie to be a professional snorkeled & for letting us win one time in Sequence. Thank you for treating us like friends and laughing along with us. Everyday was a fun adventure & we will never forget it. You two are the bomb.com. We really hope our paths cross again on our next adventure. You guys are killin the game. We will certainly be back to reclaim the sequence championship. Mobile Mac thank you for the wine night sand all the laughs it seemed like I had know you years. Hopefully one day we will make a page of the memoirs. Stay awesome and we will miss you both back home. Thank you so much for all you did for us and I don't think I have enough room to write it all, so I'll shut up now😀. Stay awesome
GT & Brocoli Rob
That was just one lol.

Captain Andrew and Mac,
This was an adventure I will remember forever. Multiple shark sightings and snorkel battle were things I'll never forget. I will tell everyone about the time Capt andrew yelled "it shark coming your way" while we snorkeled an uncharted location. And the food.... wow. I've never eaten so much seafood. Every meal was amazing. You two make this special, it felt like a vacation with friends. I can't imagine doing this with anyone else. Thanks for the experience of a lifetime. Oh captain my captain! Good luck with all your future adventures. I hope our paths cross again
Broccoli Rob

Michaela and Andrew-
This trip has been in my bucket list for years. I didn't imagine it would be this wonderful. Having the two of you as the crew made the trip that more amazing. I have never seen my husband have such a great time on any other trip. All of the meals were amazing. Andrew really great job at explaining all the sites and places that he took us. We immediately felt so comfortable around them on day one. Watch out the Brocatos will return!! Thanks again for giving us the experience of a lifetime
Ps. Sorry about the butt shrimp the bite out the Cooke appetizer. Ha! We can't wait to see you again.
Love Steve and Donna

6/30/2018 Michaela and Andy were a fun-loving and clearly capable couple that covered each detail of our trip to make the experience truly outstanding.
Our stay on the Flip Flop was better than we could have ever imagined. Captain Andrew and Michaela worked tirelessly to ensure our trip was amazing. For a young couple, they exuded maturity and confidence. Andrew, with his calm demeanor, kept us on schedule with our lengthy wish list of places to see and activities to do and that was not an easy task with our crew of personalities. Andrew's competency on the water and was apparent. He and Michaela worked seamlessly to get us underway sailing or motoring to our next destination. It was clearly evident that they were knowledgeable and experienced.Michaela, growing up in the area, had extensive knowledge of the most beautiful dive and snorkeling spots. She guided us on a couple beautiful hikes with mountain top viewing areas that offered a 360-degree view of almost the entire BVI area. Michaela's intimate knowledge of the islands and the people gave us a glimpse of the local flavor of the islands outside of the tourist areas. Michaela also amazed us every day with daily meals you could expect at a five star restaurant. With the small galley and limited resources, Michaela created magnificent meals down to the homemade pasta noodles. She did not skimp on any detail and clearly took pride in everything she did. Andy was a no slouch in the kitchen either and was a master at unique napkin folding which was a special touch each day. Michaela and Andy were a fun-loving and clearly capable couple that covered each detail of our trip to make the experience truly outstanding. We will definitely seek out this couple on future adventures.Lastly, before our trip, were concerned to be a burden on the people of the BVI due to the recent devastating hurricane; however, the local people were thrilled to see us and for the most part we could not even tell the damage that had been done. The common hot spots were up and running with full service. For us tourists, the one positive is that we could enjoy many areas without huge crowds of other tourists. We had the most incredible bays all to ourselves on several nights. We would not hesitate visiting this beautiful area again and encourage you to go now before the throngs of tourists return. The local people need your support and you will not be disappointed.Eric & Ginger B., Montana

5/24/2018 The matchup with Flip Flop, Cap'n Andy and Mac was perfect
The matchup with Flip Flop, Cap'n Andy and Mac was perfect - we honestly could not imagine a better crew. From the moment we arrived to the very last detail of our departure, they worked tirelessly to ensure our trip was everything and more. They mapped out a route with all the highlights of the Islands and somehow included everything on our long list of requests. It was obvious they put a great deal of time and thought into our custom tailored itinerary, gourmet meals, extensive cocktail list, and daily fun-filled adventures. We couldn't ask for a better Captain - Andrew was professional, confident, proficient, and trustworthy. His quiet sense of humor, adventurous spirit and fun nature was exciting to be around (not to mention, he can fold a mean napkin!). Andy's skills and knowledge of the area made us feel safe and our wishes were his #1 priority. Michaela - wow...she outdid herself with every gourmet meal. She took such care and time in preparing each dish and they were nothing short of incredible and delicious (we have photos of each meal to prove it!). It seems her talents are endless. As our dive guide, she was confident, knowledgeable and took great pride in showing us the best dive spots. Having grown up in the Islands, she has extensive 'local' insight and we loved hearing her stories and experiences of her life there. With their combined knowledge of the Virgin Islands, both past and present, they provided great conversation - there wasn't a single wild or serious question they couldn't answer. No request was too big or too small, Andy and Mac went above and beyond to show us the time of our lives. It's apparent they are a perfect match for chartering and their desire to please is a gift. We just simply loved their company and look forward to the next time our paths cross (hopefully our next charter - can't imagine it without them)!!!Regarding the Islands themselves, they were inviting and amazing. Since this was my first trip, I don't have a pre-hurricane comparison, but it's apparent they have rebounded incredibly well. We had the fortune of small crowds, easy mooring, clean and beautiful beaches, flourishing reefs, vibrant marine life, and very welcoming and gracious residents. Many of the beach bars, restaurants, and shops are open and full of fun - now is the perfect opportunity. I highly encourage anyone considering a BVI vacation to take advantage of the Islands now and in doing so, will also help in their recovery. Thanks again for everything - this truly was the vacation of a lifetime...we can't wait to go back! I'll forward a few pictures as well - we have so many great shots, but I promise to only send a few. Enjoy,Lisa H.

4/18/2018 Please just know you both are amazing beautiful souls and your love for the sea will stay with us for many years to come!
Mac and Capt Andy,I just want to say thank you for an awesome time, even though I wish I could be first mate. You guys are killing it and chilling like you should. Stay wicked smart.MikeThank you guys for such an awesome week aboard Flip Flop! I had so much fun and enjoyed your professionalism the entire time. I truly hope we all meet again to enjoy the seas. Food-sun-drinks and friendships. Until then...Dingy Dingy,TonyCant Andy & Mac,We can't imagine being on another boat! You two have it going on!Thank you for sharing your special spots with us and keeping us active and experiencing what the US and BVI's have to offer. Our week was incredible - hiking, scooters, treasures, sailing, fishing and the most amazing dives ever!We appreciate the wonderful meals and your extra special touches.You both worked your bumpah's off and we really appreciate all of your extra efforts to make our vacation absolutely amazing!We are impressed with your expertise on the water and your professionalism. Thank you for putting up with our crazy crew. Please know if you ever make it to Montana or Idaho - you are always welcome.Thank you Mac for your help with me buoyancy issues and at the same time keeping it fun for all.You tow keep doing what your are doing - you are a perfect compliment to each other!Our week on the Flip Flop was beyond our expiration; however, it is not the boat that makes the trip it is it's crew. We expect we will see you again on another adventure in the future. Best wishes to you both!GingerCapt Andy and Mac,You guys rock! No way to adequately express how wicked fun this sailing BVI trip has been - a total dream come true. Too many crazy fun moments to share - please just know you both are amazing beautiful souls and your love for the sea will stay with us for many years to come! We look forward to continued cocktails and shared times together! Cheers,LisaCant Andy and Mac,Holy shit, where do I begin? You both showed us the trip of our lives. This trip will be a trip that may never be topped and will be remembered forever. I can't thank you enough for everything you guys did for us. Thank you for letting me caress your beautiful locks Andy!Dilly Dilly,NatSooooooo.........Awesome!! You two are the absolute best! Very knowledgeable and so even keel. Thanks for the saying trips Andy and thanks for the diving treasures Mac!! It is part of my life I hope to come back to and maybe share with my boys someday. Everyone deserves people like you guys in their life! Safe travels and beautiful seas!Tony

2/7/2018 Surpassed all of our wildest dreams!
If anyone has ever thought of chartering a Catamaran in the British Virgin Island do it with Andy and Michaela aboard the FlipFlop! It was an experience of a lifetime, one that surpassed all of our wildest dreams. We enjoyed our time on the boat so much, we didn't want to ever leave. The islands were devastated by the hurricanes Irma and Maria, but they are rebuilding quickly and though not a lot was open, our experience was perfect! I wish we were still there!Lori

1/3/2018 Unforgettable Week
Andy and Michaela, Thank you for an amazing and unforgettable week. We had a wonderful Christmas. The food, hospitality, dives and adventures were top notch. Thanks again for a good trip.Darrem

10/2/2018 Excellent Friendship
Andy and Michaela,Thanks for the opportunity in letting me with you fine people the past couple weeks. I've had a great time thanks to your expertise. I've enjoyed the sailing and picture taking, the delicious food and your excellent friendship.I wish you the best in your new adventures. Again many thanks for a job well done.Best Regards,Charlie

5/4/2018 So home we go to the snow and cold, but will never forget our week with you both
Andrew and Michaela,Thank you for keeping us busy and thoroughly entertained well into the evening. Your bananagrams skills are an inspiration! So home we go to the snow and cold, but will never forget our week with you both. Best of luck in your future endeavors and safe travels. Hope out paths cross again. With our thanks again!Gaby, Georgina, and Will

10/1/2017 Whoohoo! 1st charter was a success!
Andrew & Michaela,Whoohoo! 1st charter was a success! Thank you both for an AMAZING week on Flip Flop creating family memories. Your stress free easy going demeanors allowed for a perfect vacay! Always felt at home on board. We put a lot of thought into this charter trying to find the "perfect" fit for our family and we couldn't be happier! You guys were everything and more that we hoped for. Good luck on all your travels."-Ricky, Natalie, Kai & Gavin

YACHT PHOTOS