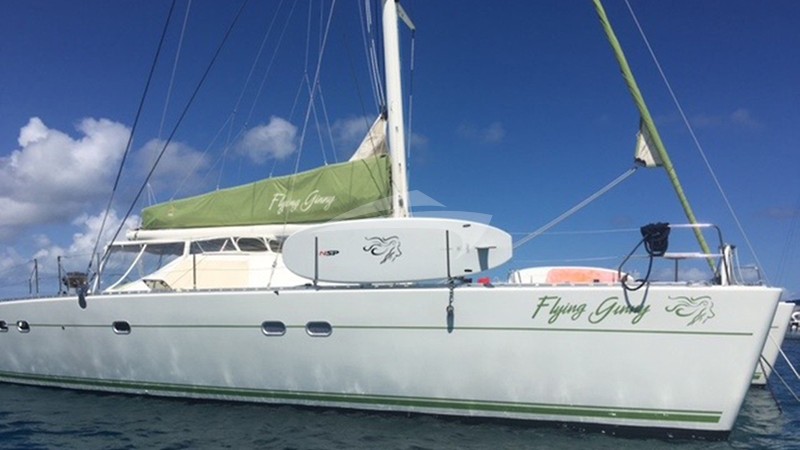 Specs Features Diving Crew Profile Menu Layout Photos Testimonials Similar Yachts Inquire NEW Charter Search »
SPECIFICATIONS
Length 55ft 1in (16.8m)
Beam 30ft 2in (9.2m)
Draft 3ft 11in (1.2m)
Sleeps 8 Guests
Cabins 4
Crew Captain Jannas Koekemoer & Chef
Year Built 1992 / Refit 2011
Cruising Speed 7.6kts
Max Speed 20kts
Stabilisers None
Engines Not know

Builder Lagoon
Designer Lagoon
Flag Virgin Islands (British)
VAT Registered No
US Duty Paid No
APPROXIMATE WEEKLY RATE
High USD $22,000 | Low USD $16,000
FEATURES & AMENITIES
CD library, Cell phone, DVD library, DVD player saloon, Indoor audio system, iPod dock, Wi-Fi, 15ft / 4.60m 70hp Inflatable, Kneeboard, Tube - towable, Wakeboard, Water skis - adult, Water skis - child, BBQ, Deck shower, Fishing gear - light, Hammocks, Owner operator, Special diets, Swim platform
ACCOMMODATIONS
Sleeps 8 In 4 Cabins
FLYING GINNY can accommodate 8 guests in 4 cabins.
The Master cabin has a queen size bed, DVD player, shower and toilet
2 Guest cabins have a queen size bed, DVD player, shower and toilet.
1 Guest cabin has 2 single beds, shower and toilet.
FLYING GINNY is fully air conditioned through out.
Crew has a separate companionway, heads and shower.
DIVING EQUIPMENT
Insured, Crew can instruct, Diving if accompanied, Snorkelling gear, Instructor,
Up to 4 dives & gear are $300/person for certified divers

YACHT CREW
Captain: Jannas Koekemoer
Meet the Crew
Jannas and Carolina have 10 years of hospitality & service experience combined and bring a fresh energetic vibrance to the mix in the Virgin Islands.
The BVI allows Jannas and Carolina to explore the amazing array of sports here and thereby being able to offer the same level of adventure to their guests in the incredibly dynamic tourquise waters of the BVI.
Jannas, South African born and lived in the outskirts of the city, free to roam on his motorcycle from a very young age, brings his adventurous, down-to-earth attitude in a friendly and relaxed manner to lead the way on any charter. With a long working history in technical matters & excelling, he brings a great value of safety and confidence onboard. He is also constantly learning and expanding enthusiastically, including attending an International Barmans course so that he can swift you away with great drinks all around the islands. His personal love of machines and the the greening of the industry, matched with the elegant & classical Flying Ginny retro-fitted in an attempt to be more environmentally friendly and economical, know you have a boat and team that wants to align with the future.
Chef Carolina, Argentine blooded and raised in South Africa, which lends itself to creating a warm, passionate and energectic character onboard, who loves to care for others. She studied law and soon realised that her calling was working with people in a fun, dynamic environment, and from there she excelled into the events and tourism industry then into extreme adventure guiding in the mountains, rivers and canyons and over 10 years of sailing the world. Through her love of nature and health, she went on to study a Super Yacht culinary course in South Africa, and has never looked back. The yacht charter industry allows her to bring all her talents into one dynamic environment and she continuously studies further as a chef & Health Coach, understanding that food is love. She is also expanding inline with her outdoorsy nature and completing her Dive Masters.
Together they bring a wealth of knowledge and experience from varied backgrounds, which will ensure a different experience from any other. Sporty, friendly, relaxed and advenurous, they will sail you away through hikes, surf, winds and beaches, down below in the reefs and above the water with wake, toys and more. This team seemlessly plays all the roles as a true energetic and synergetic duo in true tango style. We want to accommodate your interests to be out there and enjoy, nature at its best, no matter your age or your style whilst accommodated for on the immaculate and classy yacht Flying Ginny which is one of a kind in the entire Virgin Islands. Change your pace, slow down, relax, and enjoy.
YACHT MENU
A Sampler from Carolina's galley
Breakfasts – all served with coffee, juices, infused waters, fruits of the day and/or one of our healthy daily smoothies & revitalizing Juices on offer, breads, bagels and English muffins & as needed gluten free bread to toast
Smoothies & Juices
Green Detox Doctor(anti-inflammatory) 
Orange Energy Booster(nutrient rich antioxidant powerhouse) 
Purple Liver Builder(liver & gallbladder restorer) 
Berry Breakfast Booster(blood sugar stabilizer & pre-biotic) 
Chocolate Hemp-Coconut Brain activator (mood enhancer and energizer) 
Cinnamon Vanilla Blood Sugar stabilizer smoothie (sugar-craving buster)
Golden Milk for non-caffeine drinkers who want an alternative and something very anti-inflammatory and alkaline.
Breakfasts
Brilliant fluffy Banana-Oat Pancakes & mixed berries with raw honey and crispy coconut flakes (GF, DF)
Korean seaweed omelet with sriracha mayo & lemon tangy avo cucumber rolls (GF, DF)
Decadently rich Chocolate French-Toast Rolls with Greek yoghurt & mixed luxury nuts
Nutritious nut, seed & oat soaked Banana Breakfast Split with dark chocolate shavings and homemade coconut kefir yoghurt
Bacon Egg Poached Rose with garlic sautéed mushrooms and roasted cherry tomato confit
Smoked Salmon continental Bagel with caper cream cheese drizzle and avocado paste on a bed of baby spinach
Toasted French Croissant with light scrambled eggs, berries & bacon with honey glaze
Chef's Breakfast special – zucchini with roasted pumpkin seeds, dressed sprouts, caramelized onion & juicy massaged kale with hard-boiled eggs & anchovies
Shashuka breakfast(eggs poached in rich tomato salsa) with gluten free bread & fresh herbed butter
French Style Traditional Poached egg spinach salad (or arugula depending on the day) with home-made traditional hollandaise sauce served on toasted bread of your choice
Lunch
Rosemary infused Balsamic Reduction drizzled Steak strip salad with roasted sunflower seeds & feta
Caribbean Twist Bacon Papaya Salad with lime Mint dressing
Butternut Squash & Red Beetroot Salad, roasted pumpkin seeds on a bed of fresh Spinach
Caprese Pasta Salad with fresh mozzarella balls, basil & sundried tomato confit
Hawaiian Buddha bowl Reviver Green Salad
Roasted Vegetables Medley salad with citrus-mustard dressing
Orange-chili glazed Mahi Mahi on a bed of quinoa salad
Thai coconut curry Chicken with Peanut sauce wrap
Salmon Gourmet Panini Sandwich with home-made mustard pickled onions & herbed cream cheese
Slow cooked pulled pork on garlic tomato rubbed focaccia with pickled coleslaw salad
Fennel, Spinach & Mint salad with strawberries & with baked wild salmon to order as additional
Starters
Vietnamese Spring rolls with Spicy Peanut Sauce
Roasted Portobello Mushroom topped with artichoke Parmesan stuffing
Al dente Turkey wrapped asparagus with onion & pepper dressing
Thai Spring rolls with sweet & sour dipping sauce
Various styles of homemade Hummus, black bean, zucchini & regular with crackers & crudités
Coriander & lime dressed shrimp cocktail
Thin based Italian focaccia two ways, 'garlic , olive & feta ' & 'fig preserve with blue cheese'
Chef's homemade Cranberry & thyme dairy free cheese ball with an array of dairy cheeses with crackers & chorizo platter
Olive & sundried tomato rustic tapenade
Sesame crusted tofu glazed towers
Thyme agave nectar baked Camembert with lightly toasted pita bread & garlic aioli tapenade
Dinners
Argentine Chimichuri salsa steak with Parmesan oregano & thyme herbed baked potato stacks with steamed green beans
Asian seared Teriyaki Tuna with wasabi-mayo, Sushi rice balls with avocado rose, with pickled ginger & green onion garnish & side of chef's special paired soy sauce
Juicy Caprese Stuffed Grilled Chicken breast with sweet cherry tomato, on a bed of fresh herbed quinoa salad
Chef's Skinny baked Chicken Milanese with fresh Oregano butter bean mash & arugula vegetable medley
Vegetarian Fruit Biryani Curry on a bed of Millet
Dijon-Macadamia crusted Baked Salmon fillet served on Cauliflower parsley rice
Kale Quinoa & Strawberry salad with side bread Portuguese style & dipping olive oil with chef's rosemary infused balsamic
Dukkah Chicken stacks served with Fennel Rosti & Fermented Beetroot Relish
Raw food nutrient dense Chef's Pad Thai zucchini & carrot noodles with cashew tamarind sauce with steamed broccoli, red pepper & nuts to top
South African Bobotjie phyllo pastry baskets on pumpkin crème puree
Lemon-chilli grouper fillet on mixed legume coriander lime salad
Dessert
Apple Rose Tartlets with home-made vanilla ice-cream (GF, DF)
Goat Cheese stuffed Bacon wrapped dates (GF)
Ginger honey poached pears (GF, DF) 
Melon Mint Sorbet (GF, DF)
Chocolate Bliss & almond Fig balls pyramid (GF, DF)
Tahini-Cinnamon Cookies to warm your soul with finishing fruit of the day (GF, DF)
Blueberry raw Cheesecake (GF, DF)
Three layer Dream-keylime-cake (GF, DF)
Chocolate Mousse with cranberry & Candied Orange chutney
Extra all homemade and more
A variety of Diary free cheeses, basic & fermented Mango chutney
Tomatillo chili salsa
Spicy kimichi
Coconut kefir
Mustard pickled onion
Juniper berry sauerkraut
Apple mint chutney
Ginger Carrot sauerkraut
Cilantro Oregano Pesto Dip
Almond butter Asian Dressing
Green Mexicana Baja Salad Dressing The real Italian dressing like Italians makes it
Micro greens
And other specialty fermented foods Expansion on nutrient dense raw desserts Home-made Gluten free, sugar free dairy free bread
YACHT LAYOUT
YACHT TESTIMONIALS
Mid-May, 2016 guests on FLYING GINNY said:
Our family chartered Flying Ginny in May 2016. Everything was fantastic. The crew sent us a preference sheet way in advance, asking us what we liked and disliked. They gave us advice on airlines to use, taxis to take, in fact every question we asked, the answer turned out to be correct. On arrival we were amazed at the comfort and space aboard Flying Ginny. We had previously been on a catamaran here with no crew. What a difference. Captain Austin took us to anchorages we never knew existed, sailed perfectly, and constantly occupied the kids with water sports. The food, thanks to Chef Philippa was as good as any 5 star restaurant. She worked magic in the galley, we should not have been surprised as we found out afterwards that she has a wonderful culinary training. We will certainly be back, but never on our own again. Thanks so much Austin and Philippa. Also the wonderful Flying Ginny. An amazing boat

Early April guests aboard FLYING GINNY 7 said:
Our charter on Flying Ginny was fantastic. Austin and Philippa took care of our every need. The food was outstanding and the sailing and activities were exactly what we were looking for. We would definitely charter with them again!!

June 2014
Thank you for your interest regarding our experience on the Flying Ginny.  We had a wonderful time and thoroughly enjoyed the company of Captain Scully and Casey.   Captain Scully's knowledge of the area enabled him to take us to  beautiful snorkeling sites with abundant marine life and breathtaking settings.  He was able to accommodate our requests and he provided interesting  locations to visit.  His expertise at sailing is quite apparent and he made the trip one of the  most relaxing I have ever experienced.  I was impressed how the cabins and yacht were kept in pristine condition at all times.  Captain Scully and Casey are true professionals.
 
Casey is a master chef!  All the meals she prepared were absolutely delicious as well as beautifully presented.   It is unbelievable that she is able to prepare outstanding fine cuisine in such a tiny kitchen (galley!).  She has a lovely personality and is a true joy to be around.
 
My sons and I truly enjoyed the whole experience.  They are both quiet and I think that Cpt. Scully was wondering if they were enjoying themselves.  He can rest assured that they most certainly did…….they talked about it for days and I overheard them telling their friends about the fun they had sailing and snorkeling.
 
I enjoyed my time on the Flying Ginny and would highly recommend it to anyone interested in visiting the British Virgin Islands.  I wish we had booked it for a longer period of time.

---
When we first saw Captain Austin and Chef Philippa at Molly Malone's our first thought was how young they were. It didn't take long for us to realize that was not a problem. They handled themselves in a very professional manner at all times. Captain Austin handled the boat wonderfully and always asked what we wanted to do. When we didn't know, he would take over and take us to all of the places he thought we would like to see. When we went diving, he helped with our tanks, holding onto to them until we went into the water. Chef Philippa was a great chef and her meals were all wonderful. We all felt very pampered and taken care of on this trip. I highly recommend these two people and you can use this recommendation in any advertisement you wish. 




Captain Austin took control right away and we were off on the brilliant blue waters with the sails to the wind. We truly learned to respect his control of the Flying Ginny and his knowledge of the area. His suggestions suited each of us including excellent sailing, scuba diving coves, snorkeling in the turquoise waters, and sitting on the white sandy beaches. Chef Philippa, a graduate of the Ashburton Cookery School in London and has a law degree, divides her time between the galley, assisting the Captain, and as a Master Scuba Diver. She led our tentative divers to a shipwreck and other underwater sites. Her skills in the 5'X 5' galley were exceptional. The small area included all the tools of the trade except a microwave. The freezer was well stocked and two refrigerators held the fresh products. She did use a food processor as the tossing of the boat was a bit dangerous for a knife. All meals were served on deck in the balmy air. Every breakfast was different and the Brioche French toast with banana rum sauce was perfect with our morning coffee or tea. Lunches included wraps, grilled chick- en, Mahi Mahi and Captain's famous cheese burgers. Cocktail hour, which always started pretty early, was accompanied by appetizers as Romesco sauce with pita slices or caramelized red onion crostini. Captain Austin, with a Business Management degree and family restaurant history, excelled at the barbeque. His beef tender- loin was cooked perfectly for each taste. This was served with wonderful cream and garlic scalloped potatoes, grilled asparagus, Marsala wine braised shallots and Balsamic sautéed cabbage with chocolate mousse as our dessert. The galley became a sweat box as our Chef prepared each dish including a made from scratch cheese- cake that was exceptional.




Both Austin and Philippa were awesome. Very enthusiastic and knowledgeable. Especially appreciated Austin's willingness to sail as often as possible and Philippa's 6th sense in appearing just as you finished your drink or had a whim of something to munch. Both Austin and Philippa were awesome. Very enthusiastic and knowledgeable. Especially appreciated Austin's willingness to sail as often as possible and Philippa's 6th sense in appearing just as you finished your drink or had a whim of something to munch. The anniversary dinner they put on for us was just amazing. Private beach, perfect timing for the sunset. Chilled champagne, a sumptuous dinner that met our dietary needs without compromising on taste or presentation. A beautiful beach blanket which we got to take home and all under flickering candlelight. Truly spectacular and something that a simple thank you does not really do justice to. I had this simple idea and they produced an absolute masterpiece. Austin and Philippa were soooo accommodating and did such a fantastic job with each and every request we made. I don't think we've been anywhere, anytime when we've been treated so wonderfully. Every day was better than the one prior and every evening was magical. The sailing was outstanding. The food was scrumptious and so pretty I couldn't help but take pictures of it.




Austin & Phillipa seem to have an excellent grip on reading the groups energy levels and the types of activities we would like. Evan had so many questions regarding being a captain and flooded Austin with thousands of questions but Austin answered every one of them with enthusiasm and kept the conversation going. Evan even said, "Austin makes me feel like a captain. Like I can do this too!" Austin was very sweet and taught him so much about being a captain on a boat! To the point where I think Evan might switch careers! The group has always known about Naomi's "obsession" with dolphins and laughed it off and said they would explore the island and lay on the beach while she "went to kiss a dolphin." Evan said he would go with her but wouldn't do it, Austin saw Naomi was a little upset no one wanted to share in the moment with her so he said, "I'll join you Naomi. I'll do it too." And he did!! This is above and beyond of what is expected from a captain and even customer service! Even the other tourists were surprised that our captain joined me and said we must be on one great boat! Naomi, Evan and the group were beyond satisfied and asked for seconds not bc we were still hungry but we couldn't believe the quality of food she could deliver from that tiny kitchen! Her cooking was better than any island food that Leann and others were asking for recipes to take home!


YACHT PHOTOS