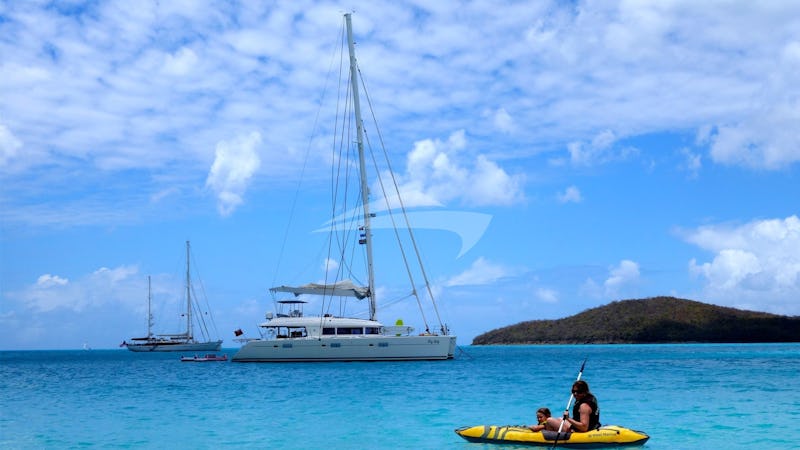 Specs Features Diving Crew Profile Menu Layout Photos Testimonials Similar Yachts Inquire NEW Charter Search »
YACHT INTRODUCTION
"Foxy Lady" is multi-award winning popular Lagoon 620 catamaran launched in June 2011. She is available for charter in the Caribbean and is based in the British Virgin Islands.
Designed specifically so that you can experience the art of living whilst sailing in some of the most beautiful locations, this is one of the most popular sailing catamarans available.
"Foxy Lady" can accommodate 8 people in four spacious air-conditioned double cabins each with its own separate washroom and shower. Each cabin has large hull windows so that you can enjoy your surroundings from every part of the boat. 
The spacious 360-degree viewing saloon is the perfect place to relax after a day in the sunshine. With the boats extensive Apple TV movie library, you can relax in front of the saloons 37" LCD TV or listen to some music whilst taking in your surroundings. For those that would like it links to the outside world "Foxy Lady" is equipped with satellite broadband WIFI internet and telephone. The saloon is modern, bright and airy with a light oak wood finish and comfortable seating area, even a "chaise lounge". You have a choice of eating within the saloon at its extension leaf dining table or you may prefer to eat al fresco at the outdoor dining table.
The outdoor entertaining deck is the perfect place to sit down and enjoy one of the delicious meals prepared for you on Foxy Lady. You can enjoy a fantastic vista from the stern of the boat. The fly-deck above is the hub of action whilst we are sailing between anchorages but is also a fantastic seating and viewing area, perfect for an evening aperitif. There is cold drink fridge on the aft deck with a barbecue and also a drinks fridge on the fly-deck.
SPECIFICATIONS
Length 62ft 0in (18.9m)
Beam 33ft 2in (10.1m)
Draft 5ft 7in (1.7m)
Sleeps 8 Guests
Cabins 4
Crew Captain Jos Smart, Chef and 1 crew
Year Built 2011
Cruising Speed 7kts
Max Speed 12kts
Stabilisers None
Engines 2 X Volvo Penta D3-150

Builder Lagoon
Designer Not know
Flag British Virgin Islands
VAT Registered Yes
US Duty Paid No
APPROXIMATE WEEKLY RATE
High USD $38,000 | Low USD $30,000
FEATURES & AMENITIES
Indoor audio system, iPod dock, Media movie server, MP3 music server, Printer, Satellite radio, Streaming online media, TV master cabin, TV outdoor, Wi-Fi, 16ft/5.1m Custom Tender 70hp, Assorted water toys, Beach games, Board games, Floating mats, Inflatable floating island, Kayaks multiple, Kite board equipment, Paddleboard, Paddleboards multiple, Swimming noodles, Tube - towable, Wakeboard, Water skis - adult, Water trampoline, BBQ, Book library, Coffee machine, Deck shower, Fishing gear - heavy, Fishing gear - light, Ice maker, Special diets, Sun cushions, Sun loungers, Swim platform, Water maker
ACCOMMODATIONS
Sleeps 8 In 4 Cabins
Jason Van Groeningen
DIVING EQUIPMENT
Insured, Diving if certified, Diving lights, Snorkelling gear, Underwater lighting, Padi Divemaster,
Rendezvous Diving Only
YACHT CREW
Captain: Jos Smart (28)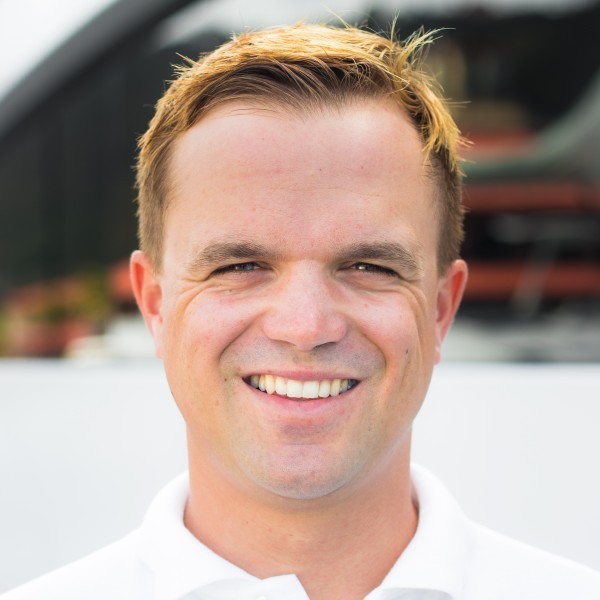 Jos is a Yachtmaster certified by the Royal Yachting Association with all the necessary credentials to safely captain Foxy Lady throughout your voyage. Jos' competency at the helm is equally balanced by a passion for adventure. He spent his younger years on the water, diving, windsurfing, sailing dinghies, and he loves to fish as well! Jos will be your Divemaster onboard and will show you the magic of the underwater world in the Caribbean.
Chef: Julia Taylor (32)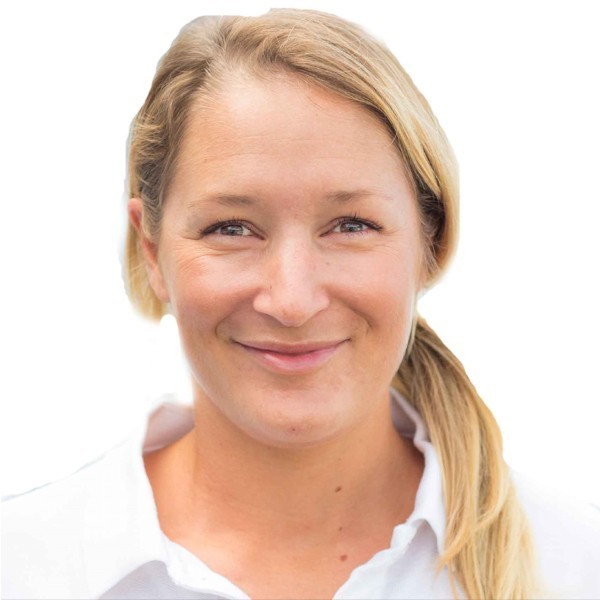 Julia has over 10 years of experience in the hospitality industry within hotels, ski chalets, and sailing yachts. Her culinary skills were honed at the acclaimed Ashburton Cookery School in Devon, England. Julia has a tender heart and gentle nature having worked as a school teacher earlier in her career. She is ready to use her hospitality and culinary skills to create the perfect menu for you.
Stewardess: Rosie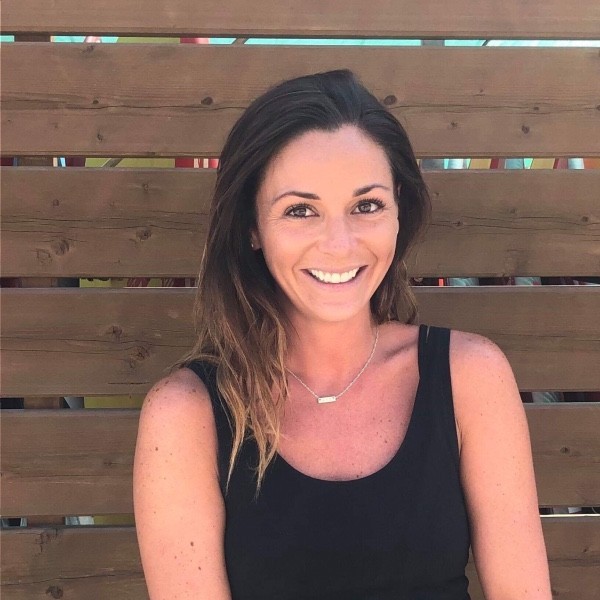 Rosie joins Foxy Lady for 2019-20! Having worked with Jos and Julia in Greece in the past she will be a terrific asset to the team and looks forward to welcoming you onboard for the vacation fo a lifetime!
YACHT MENU
Breakfasts
Breakfast includes fruit platter, yogurts, toast, spreads and a daily
Fluffy lemon and ricotta pancakes with maple syrup and fresh berries
Spinach, tomato and omelets
Cinnamon and raisin French toast with sweet banana syrup and crispy bacon
Individual smoky bacon, onion, mushroom and roast pepper frittatas
Toasted English muffins with crispy bacon, tomato, avocado and fried eggs
Smoked salmon, cream cheese and dill bagels
Yogurt, fresh fruit and granola parfaits
Lunches
Courgette, sun-blush tomato, feta and thyme tartlets with green salad
Sushi sample platter with sides of wasabi and pickled ginger
Blackened Mahi tacos with black bean salsa, sriracha sour cream and charred corn cobs
Ginger and soy seared flank steak with spinach and quinoa salad
Chicken satay on the grill with spiced yogurt dip and warm orzo salad
crab cakes with rainbow style and with crumbled blue balsamic caper, dill dressing
Gourmet beef burgers with crumbled blue cheese, balsamic onions, Caribbean slaw and crispy sweet potato fries
Hors D'oeuvres
Lamb, feta and mint balls with tzatziki or rhubarb ketchup dipping sauce
Baked chili lime shrimp in wanton baskets
Charcuterie board Chorizo and firecracker prawn skewers
Caribbean shrimp and mango ceviche
Thai Spring Rolls with sweet chili dipping sauce
Blue cheese, honey and walnut bruschetta, Italian tomato bruschetta
Entrees
Toasted coconut and almond crust Mahi with lime rice, pineapple salsa and red pepper coulis
Brown butter jumbo Scallops with creamy parmesan and spinach risotto
 Honey mustard glazed Pork Tenderloin with couscous parcel, sweet potato puree and spicy grilled plantain
Miso and sesame seed grilled Tuna with gingered saba noodles and fresh steamed vegetables
Juicy Beef Tenderloin with gruyere stack of asparagus parcel and shallot bearnaise
Chermoula baked Sea Bass with tabbouleh, smoked aubergine and yogurt
Stuffed chicken breast of sundried tomatoes, mozzarella, basil and prosciutto with dauphinoise potatoes and pesto oil
 Desserts
Zesty Key Lime pie with fresh whipped meringue
Honey and yogurt Panna Cotta with fresh figs and pistachio tuile
Chocolate Lava cakes with raspberry compote
Classic vanilla Crème Brulee
Pear and sticky ginger Tart Tatin with vanilla ice cream
Fresh Lemon Torte
YACHT LAYOUT
YACHT TESTIMONIALS
 

Jos and Julia were absolutely amazing.
We had a wonderful trip - probably our best family trip ever! The boat was perfect for us - so nice to have a walk in shower. But what made the vacation so special was the crew - Jos and Julia were absolutely amazing. Julia's culinary skills were over the top - every meal, snack, drink was beyond our expectations. We only ate off the boat on NYE, and decided against bar hopping on the islands because what she and Jos created was so much better. They were able to predict what we would want/need and were lovely to chat with and be with on the boat. They are amazingly good at their jobs! We were all very sad to leave them and the boat.
Steve, Betsy, Meaghan and Jemma
November 2018
I can imagine no better charter boat experience than what we enjoyed on Foxy Lady with Jason, Kate, and Tayla. The boat itself was immaculate, spacious, beautiful, and comfortable. What really put our trip over the top was the crew. As a mom of three (ages 10, 8, and 5), vacations can be utterly exhausting for the parents! That was not the case this time. Every crew member took time to engage with our kids - they played board games daily, took them tubing, indulged their desire to chat about random topics, hosted a pirate party, swam with them (including a mermaid tail lesson!), put on an elaborate treasure hunt, gladly made grilled cheese or PB & J for the picky one, welcomed the kids' endless "help" with setting the table, making drinks, sailing, or even fileting a fresh fish to make ceviche. When we snorkeled, they constantly checked on them to make sure they were comfortable and having fun, offering to take the youngest one back to the boat when she got tired so the rest of us could keep going. It was almost like combined they were an extra crew member assigned to look after the kids. They did this stuff seamlessly, cheerfully, energetically, and all the while seeing to their everyday duties and making sure we four adults felt equally spoiled. 
We all adored our week on Foxy Lady and would recommend it to families who want to experience an adventure in paradise together. 


 2018
Kate and Jason did a fabulous job of keeping all of our rooms, the salon and their busy kitchen neat and clean. They were also amazing at hanging our towels each time we came out of the water and making sure the deck was clean at all times. This is our 5th time chartering and both Jason and Kate were hands down our favorite crew! This is the top captain and chef we have ever had on our private charters. They were both attentive to what we wanted to do while taking into account the conditions of that day. 

They organized a treasure hunt for our 4 year old grandson. Kate drew an amazing map based on the landscape of where we were, I think it was Peter Island. She burned the edges of the map and stuffed it into a bottle. They put it in the water at the front of the yacht so that it would float down and in front of my grandson allowing him to 'discover it'. Everyone jumped into the water and headed to shore. Poor Jason had to make at least 3 prior trips in to add additional clues and bounty. They turned our family trip into a magical adventure! The crews expertise was exceptional. They sometimes had some challenging winds to deal with. Jason handled the boat well in all conditions. Kate too.
We had a previous charter where the food was awful. Since then we have always specified that we wanted someone who knew how to cook. WOW can that girl cook. She sometimes had to make 3 different meals for one dinner. One for my grandson, one for someone who was allergic to the main course and the main course. 

Would we charter this yacht again? YES!!!! We are heading back out with Jason and Kate in November and would not consider sailing with anyone else after being with Jason and Kate.
                        

You guys are awesome ! 
The perfect crew mates at sea and in life. This was our first time on a week long boat trip and what a trip ! We did so many things it was unbelievable! I don't know how we fit so much in, in one week but we did and it just went way to fast ! We have had the most memorable vacation because of you and hope to see you again at sea or on land. You have a place to stay in Philly if your travels ever bring you there.
Best of luck Phil Moyer
---
Y'all are the Best !  
 Thank you soooo much for taking care of us and totally spoiling us. This trip was exceptional and such a pleasure.  Loved the food, drinks, company and SPACIOUSNESS of the boat !!! It was unbelievable how open and airy Foxy Lady is. Such a bonus... We loved dressing up as PIRATES !!! Thanks for the Pirate Celebrations....
We can tell you both have a passion for what you do and that made the trip even more fantastic !!  We are so grateful for being lucky enough to have the best boat Captain's ever !!!
We wish you the best
xx
Cory and Laura
---
The seas are better because of you two !
 Never in my wildest dreams did I think I would be able to experience something like this and hands down we know you're the finest crew out there ! Your attention to detail is unbelievable and your hospitality even better !
You will see us again soon !!!!
Much love and fair winds
---
Thanks for making our family vacation an absolute blast

We had an amazing time from snorkeling to wake boarding to eating to just hanging out. You both are such down to earth friendly people and that's what helped make this trip one of the best ever. We wish you the best of luck and hope you have many great adventures.
Sandy, Jim, Stephanie, Jessica, Nick, Adam and Billy
 Thank you for the epic cruise. 
Although Cindy was hesitant to cruise on a live-on-board, we were very comfortable by the moment Foxy lady left port. Especially enjoyed the excellent meals and the stellar itinerary. Appreciated the help with water sports and patience with Jim's boat conversations.
Thank you for all the knowledge you gave to us about the sea and sailing. You both are the best.  Please come to visit us in Edmonton. we would love to have you both.
Please keep in contact, we need some of your favorite recipes.
Jim and Cindy 
Exceptional commentary from a group of UK-based Travel Agents that catamaran FOXY LADY hosted aboard in late November.
What a fantastic yacht! There is honestly nothing I can fault with Foxy Lady – the amenities and water sports were great, food was fantastic and crew lovely and friendly. I hope to be sending clients their way very soon!
YACHT PHOTOS