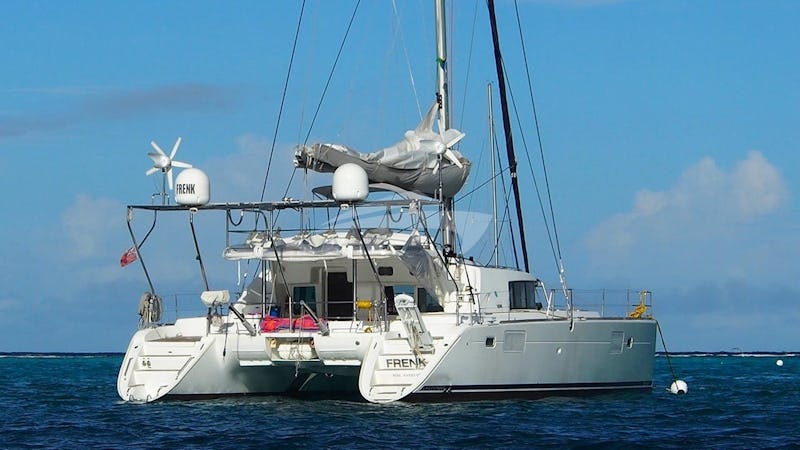 Specs Features Diving Crew Profile Menu Layout Photos Testimonials Similar Yachts Inquire NEW Charter Search »
SPECIFICATIONS
Length 44ft 0in (13.4m)
Beam 24ft 11in (7.6m)
Draft 4ft 3in (1.3m)
Sleeps 6 Guests
Cabins 3
Crew Captain Gabriel Griñan Garcia & Chef
Year Built 2008
Cruising Speed 8kts
Max Speed 10kts
Stabilisers None
Engines Not know

Builder Lagoon
Designer VPLP
Flag British Virgin Islands
VAT Registered No
US Duty Paid Yes
APPROXIMATE WEEKLY RATE
High USD $13,700 | Low USD $10,900
FEATURES & AMENITIES
Camcorder, CD library, DVD player saloon, Indoor audio system, iPod dock, Satellite TV, TV saloon, 14ft/4.3m RIB 40hp, Beach games, Board games, Floating mats, Kayaks multiple, Kneeboard, Tube - towable, BBQ, Deck shower, Fishing gear - light, Hammocks, Swim platform
ACCOMMODATIONS
Sleeps 6 In 3 Cabins
Frenk accommodated up to 6 guest sin two queen berth guest suites and one double berth guest suite.  She is air-conditioned throughout (though A/C all night long is an additional $40/night).
DIVING EQUIPMENT
Not Insured, Diving by arrangement, Snorkelling gear, Underwater still camera,
1 Rendezvous dive is included for each dive-certified guest (on 7 night charters please)

YACHT CREW
Captain: Gabriel Griñan Garcia
Having grown up in Alicante, a Spanish city on the Mediterranean that hosts the Volvo Ocean Race, Gabriel was always interested in sailing and the delights of the sea however when younger he focused his career on land; having a long and successful career in hospitality as well as owning and running several popular entertainment venues, ranging from jazz clubs to nightclubs and organising large scale events and concerts. It was during this time that his passion for sailing developed and by 2003 he had completed his skipper course and changed his course of career.
His first work as captain saw him work as a private charter exclusively in the Mediterranean, from the Balearic islands to Gibraltar and then later two years in the Canary islands. One of his first solely owned boats was a 38 foot mono hull which he used to cross the Atlantic in 2009 and returned to Europe the following year. This was a fantastic return voyage and one which has been repeated many times since. From 2009 Gabriel wanted to broaden his experience and has been sailing Caribbean waters doing charters. Now knowing these waters and its treasures so well, Gabriel loves to share his knowledge and combined with his professionalism, skill and personable style means a unique and unforgettably good experience.
Chef / Mate: René Wiggill (37)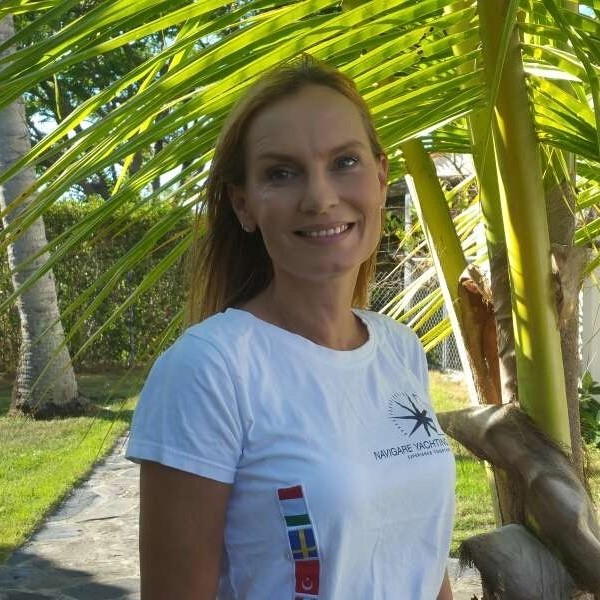 Rene brings her loves for sailing, gourmet cooking, and photography with her every time she sets out on a new adventure in the British Virgin Islands. You'll be amazed at the delicious creations she prepares morning, noon, and night, as well as her incredible professionalism and care for your enjoyment during your luxury yacht charter vacation
YACHT MENU
Some samples from the gourmet galley on catamaran FRENK
Breakfast
All breakfast served with a selection of tea, coffee, juice and fresh local fruits, cheeses and vegetables daily.

Frittata - With spinach, mushroom, spring onion, and goat cheese (optional - add ham or chorizo)
Blueberry/ Cinnamon Spelt Pancakes Served with maple syrup, fresh berries and bacon or sausage
Open Breakfast Benedict - A fresh twist on the classic eggs benedict - poached egg served over tomato, avocado, sliced canadian bacon on a toasted focaccia, topped with silky hollandaise
Mediterranean Breakfast - Boiled eggs with fresh cucumbers, tomatoes, and selection of cheeses, served with toast
Classic Bacon and Eggs - Eggs your way with bacon, sauteed mushrooms and tomatoes, served with toast.
Raspberry Cream Cheese French Toast - With fresh berries, cinnamon and cream cheese baked with a raspberry/maple syrup
Continental Breakfast - Coconut and blueberry scones with rosemary, scrambled eggs, proscuitto, yogurt parfaits with fresh fruits and nuts, toast, butter and jams
Smoked Salmon Bagel - Toasted bagel topped with smoked salmon and a lemon dill cream cheese, and boiled eggs, bacon
LUNCH
Coconut Lime Shrimp
Fresh shrimp served in a coconut lime cilantro broth, with cherry tomato served over rice
Greek Chicken Gyros - Served with fresh cucumber tzatziki, and a classic greek salad
Grilled Fish Tacos - Herbed tilapia with a mango coleslaw, served in a soft shell with a spicy cilantro lime dressing, guacamole and salsa
Pulled Pork on Foccocia - Succulent pork in a chipotle sauce, apple coleslaw and baked baby potatoes
Coconut Chicken Curry - Chicken, pumpkin, and fresh vegetables simmered in creamy coconut sauce served over rice
Spinach Chorizo Pasta - Served with spinach, roasted red pepper in a herb and garlic parmesan sauce
Chicken Bacon Caesar Wrap - Wrapped with a creamy caesar dressing, lettuce, parmesan and a squeeze of fresh lemon, and smashed potatoes
APPETIZERS
Happy Hour! Served with a cocktail or beverage of your choice.
Charcuterie Platter - Selection of meats, and assorted sides (olives/ jams/ grapes/ cheeses and fresh bread)
Parmesan Bruschetta - Fresh basil and roma tomatoes served on toasted baguette with fresh parmesan
Baked Brie - Topped with candied pecans and a drizzle of maple syrup, served with crackers and green apples
Quesadillas - Grilled flour tortillas stuffed with melted cheese and mixed vegetables, served with salsa and chive sour cream
Assorted Dips - Hummus, creamy spinach, spicy avocado dips served with fresh crudites and crostinis
Steak and Mushroom Bites - Baby portabella mushrooms stuffed with blue cheese and grilled onion topped with a grilled fillet
Prosciutto e Melone - Sweet melon balls wrapped in salty prosciutto with a hint of mint and balsamic drizzle
DINNER
Stuffed Chicken Breast - Tender chicken breast stuffed with gorgonzola, and capocolla. Served with pasta and seasonal vegetables
Tropical Pork - Succulent pork tenderloin, peppers and pineapple in a sweet and sour glaze served over coconut rice
Seafood Linguini - Creamy garlic shrimp with parmesan and white wine sauce, accompanied by caprese salad
Cashew Chicken - Asian inspired chicken stir fry with snap peas, peppers, zucchini, cashews and rice noodles
Maple Teriyaki Salmon - Served with whipped potatoes and prosciutto wrapped asparagus
Coconut Crusted Mahi - Panko, herb and coconut crumbed Mahi fillet served with rice and grilled zucchini
Mexican Fajitas - Grilled chicken or beef with sauteed red onion and peppers, grated manchego cheese, fresh tomato salsa and guacamole in a flour tortilla or protein style over a bed of fresh greens
DESSERT
White Chocolate Strawberry Cake - Infused with Gran Marnier and a crumbed almond crust
Coconut Berry Crisp - With toasted pecans and a hint of maple syrup
Baked Cheesecake - With a passionfruit topping
Chocolate Mousse - Topped with dark chocolate shavings
Key Lime Pie - With coconut almond crust
Apple Blondies - With a maple frosting
Grilled Banana and Pineapple - In a honey rum and spiced syrup
(Dishes may be adjusted slightly due to location and availability of fresh ingredients. Items can be adjusted or changed as needed due to personal preference and dietary requirements)
YACHT LAYOUT
YACHT TESTIMONIALS
USVI guests aboard catamaran FRENK in early February, 2021, wrote:

Svetlana Gabriel,
Even though we have to deal with "Covid-19" the trip on your boat with you and Alex was amazing. Your kindness throughout the trip made it so enjoyable for everyone.
As I mentioned before, I was a little nervous coming on the trip after being diagnosed with an autoimmune disease that really limits my diet. Svetlana you were so helpful and willing to make meals just for me. I really appreciate all the extra work hard you had to do for me. Plus the food was Amazing!
I don't want to forget your friend Alex.
He Was very personable and kind to all of us. We love seating and listening his adventures.
God bless you all!
Mizo and Kelly
Capitan Gabi y Svetlana,
Sensational, Phenomenal and Delicious are three of the words that we will take with us as memories! Thank you for your kind attention to details, our daily activities and confort throughout the past week.
We pray for your continued success and safety during all your adventures. Wish you calms seas and gentle winds Sailors!
Guests aboard catamaran FRENK in mid March, 2020, wrote:
Dear Gabriel & Svetlana,
This week was awesome! It was so nice and relaxing being with you on your beautiful boat in the beautiful BVIs.
Svetlana, the food was amazing!  We loved every meal and felt very spoiled!
Gabriel, thank you for sailing us to the most amazing places.
We loved all the snorkelling and beautiful beaches. You are so much better than "Captain Ron" :)
It is so sad that we had to cut our vacations short. We really hope the coronavirus doesn't affect you or your industry for long.
Thank you both so much again for the wonderful hospitality .
Cory, Sydney, Cameron, Emily, Kim, & Craig.
PS. Thanks for the Fanta!
The Renner Family, aboard catamaran FRENK for New Years week 2019-2020, wrote:
Svet & Gabby:
Leading up to this vacation, We were excited, but didn't know what to expect.
Those expectations were met and then some!
Your cooking was AMAZING,
laughter, smiles and educating us on our travel is something our family will forever cherish .
Thank you for sharing your boat, live stories and friendship! Until next time!
Your Indiana Family,
Knox, Tori, Jackson Lisa and Jim
Svet & GABRIEL,
What a way to ring 2020. Thank you so much for an amazing trip!
you two are wonderful host. We will miss you.
Svet your cooking is so incredible !!!
Thank you for sharing your boat and your entertainment.
you are both so kind and funny.
We can't wait to sail with you again.
Best wishes to you both!
Lisa Renner + Family
Columbus, Indiana.
S &G,
Thank you both so much for a fantastic vacation.
You guys helped to make a wonderful trip full of memories.
We love you both!
Jackson
The Nash family, chartering aboard catamaran FRENK for Christmas week 2019, wrote:

Merry christmas!
Svet & Gabriel,
We can't thank you enough for welcoming us to your home.
We've had a lot of wonderful memories & laughs with you both. We are truly going to miss you.
Between Svet's amazing cooking and the beautiful places you've shown us.. we are so grateful.
We've loved getting to know you and learning about your travels.
Todd can't thank you enough,Gabriel, for your sailing insights and the 22nm sail he'll never forget!
The scuba & snorkelling adventures were absolutely stunning.
We loved being able to drink and entertain with you both,
These are memories we'll never forget.
Thank you again for your kindness, hospitality & adventures.
We hope to see you again soon!
Todd, Cathy, Lexi, Garret, Nash & Anthony
Late June, 2019, guests aboard catamaran FRENK with Gabriel and Svetlana wrote:
Gabriel+ Svetlana-
This has a wonderful and relaxing vacation! Everything on the boat was lovely and you both looked after all the details.
We appreciate your generous hospitality- we felt like guest in your home, who are now friends!
loved the food and fun and talk of Spain. we'll remember to never be in a hurry because that is for thieve and bad bullfighters ! 
:)
Beautiful sailing with beautiful people! 
:)
Love,
Trevor, Kristin, + Brennan from Texas.
I had so much fun, Thank you for having us
Brennan.
PS. From one busy " artist" to another - I wish us both luck in keeping some art in our day all the time!
Early June, 2019, guests aboard catamaran FRENK wrote:
What an absolutely amazing time we have had over the past 9 days! First, what a amazing team you are- second, as a mom of 4 children who plan all our trips, it was an absolute luxury for Capt to plan the route for us - eliminate all the guess work for me.
The destinations couldn't be more perfect.
Third, your food is amazing! so much thought, attention to detail - love poured into each evening dish. From the bottom of my heart thank you for making this vacay an unforgettable family experience. Svet, i simply love your kind fan spirit. Love for our world. you are one amazing woman. We love you both. 
Thank you for sharing your home with us !! we met us strangers but leave us friends. You both are gems, we are fortunate to share in your passion!!
Svet &Gabriel You guys really made this trip great. We love how kind & loving you guys are. Thanks for allowing us to live in your home for a couple weeks.
Thank you for teaching me how to drive a boat and talk on the radio. Thank you for taking us to all the beautiful places. 
Guests aboard catamaran FRENK with Gabriel and Svetlana wrote:

Dear Gabriel and Svetlana
We have nothing but words of thanks for the wonderful days we spent together !!!
You and FRENK, the dinghy and the sea are the perfect combination for a dream vacation like the ones we had.
Gabriel: thank you for your wisdom in every place of this sea.
Svet: Thanks for those extra kilos that we happily put in our tummies.
Greetings always !!
with love
Julia and Luciano
(Queridos Gabriel y Svetlana
No tenemos mas que palabras de agradecimiento por los maravillosos dias que pasamos juntos!!!
Ustedes y FRENK, el dinguy y el mar son la combinacion perfecta para unas vacaciones soñadas como las que tuvimos.
Gabriel: gracias por tu sabiduria en cada sitio de este mar.
Svet:Gracias por esos kilos extras que con gusto metimos en nuestras panzas.
Saludos siempre!!
con amor
Julia y Luciano)
April, 2019, guests aboard FRENK wrote:
Dear Svetlana & Gabriel,


Thank you so much for welcoming us into your home.
We loved our short but sweet vacation with you!
Thank you for the beautiful meals Svetlana,
We are definitely taking your banana pancake recipe with us.
Julian loved all the fresh fruit and looked forward the breakfast everyday.
Thank you Gabriel for letting us drive the dinghy. I'm sure you were nervous the whole time :)
Congratulations to you both on your marriage. Hopefully you can come to SF to visit us. Brings lot of warm clothes, it's cold! Especially in summer.
You are such wonderful people, hope to see you again.
We love FRENK!!
Sergio, Eva, Chase & Ju Ju
Guests aboard catamaran FRENK for the last week of March, 2019, wrote:
We had an awesome week aboard FRENK.
Capt Gabe did an awesome job of keeping our days full of great adventures.
Svetlana's meals were awesome and will truly miss her cooking,
From the course Gabe set that kept all of ours preferences in mind to the awesome hospitality on the boat we have ad a great week.
Ashley, Will, ER, & TG Gray
Gracias por una viaje fabuloso, a mi me gusta la comida delicioso y dando ver las islas de BVI, Ojalá que podamos ver en el futuro, Gracias por ayudarme con mi español y ojalá que pueda visitar España en mi futuro.
Teníamos un divertido tiempo!
March, 2019 guests aboard FRENK wrote:
Late February  guests with Gabriel and Svetlana on FRENK wrote:


Early January, 2019 guests on FRENK wrote
Dear Gabriel and Svetlana,
What a trip! we had high expectation and you exceeded them. The food, the places, your tenderness and accommodation made us feel we ever sailed with friends! And therein we are friends.
We will return to your lovely boat next year for another wonderful trip.
John & Melissa 
Ps. And we will tell all & our friend to come aboard.
Catamaran FRENK's guests for New Years week, 2018/2019, wrote:
Dear Gabriel & Svetlana,
From the bottom of our hearts, Thank you for sharing FRENK and your many talents with us.
You are a fantastic team. You each have a magic touch with making sure we were all happy. The meals were over the top! Incredible!
I still cannot believe we had ice cream and homemade brownies!
The snorkelling, the swimming, relaxing, sailing seeing all the different islands was all ultra fabulous. 
thank you for making this wonderful family memory for us.
We wish you love and happiness.
Sara, Abigail, John, jack, Ellen.
Catamaran FRENK's mid July, 2018, charter guests wrote:
Gabriel and Svetlana-
Thank you for the wonderful week on the FRENK! We made so many fabulous family memories.
-The beautiful sites
-The wonderful meals
-The fun happy hours stops
-The games and card filled evenings.
- LEARNING ALL ABOUT usvi/BVI
You spoiled us all week long
Thank you! Thank you !
Hope to see you again soon :)
Chris, Jen, Jackson, Ty and Elay
Guests aboard catamaran FRENK in early July, 2018, wrote:
Gabriel and Svetlana,
Thank you so much for sharing FRENK with us this past week, We feel so lucky to have never planned anything more than a few hours in advance, and to never have more than "two choices", and always end up in the most other worldly places, doing the most fun, relaxing things. Being able to remake ourselves from the decision process and 100% relax was such a luxury.
We all spend so much time together home in San Francisco, but you created an environment in this week where the four of us could all be kids together - enjoying incredible food, playing games, and exploring a new place. 
That is something we never get in San Francisco and gave us such special memories to take back with us. Aside from the boat and food and amazing activities, we can't leave out the fact that the two of you as human being are so wonderful, and simply spending time learning your stories soaking up your life philosophies ("why not?" and " you can live many lives" will stay with us for a long time) made the week unforgettable .
We weren't kidding when we said we would follow you wherever you take the FRENK , so please keep in touch so we can reunite on some other ocean! And please know that you have friends in San Francisco who would love to see you ( and maybe see some live music with you) if you ever make it out to California!
With so much love and gratitude,
Grace, Danny, Deanna, and Jason.
A June, 2018, family aboard catamaran FRENK wrote:
Svet and Gabriel,
Thanks for making a dream come true. We spent almost a year planning this trip so that everything goes perfect and that's how it came out.
We choose well and that makes us very happy!
You should say the good vibes with all of us that even move you to your childhood with board games! Jo!
Maica and Nico (parents)
Thank you for playing with us at the table games, the delicious food stucco (it made me think I was a queen.) Hopefully I can go back to the boat 1 or 2..etc ... times more
I'm going to miss you a lot and thank you for everything.
PS Thanks for teaching me Russian (for Svet) SPASIBA !! !LOL!
Emma Lederer (9 years old)
Thanks for everything, I had a lot of fun, I'm going to miss you a lot
Lucia Lederer (5 years old)
And in Spanish:
Svet y Gabriel,
Gracias por hacer un sueño realidad. Estuvimos casi un año planificando este viaje para que todo salga perfecto y así salió.
Elegimos bien y eso nos pone muy contentos!
Demas esta decir la buena onda con todos nosotros que inclusive te trasladamos a tu infancia con juegos de mesa !Jo!
Se nota el cariño con el que hacen cada cosa, con mucha generosidad y amor
De mas esta decir la calidad de la comida (y la cocinera, claro!) Que hacen una excelente combinación con con la seguridad que brinda Gabriel en su labor !!!Gracias!!!
Maica y Nico (padres)
Gracias por jugar con nosotros a los juegos de mesa, la comida estuco riquísima (me hacia pensar que era una reina0. Ojala pueda volver al; barco 1 o 2..etc… veces mas
Los voy a estrañar mucho y gracias por todo.
PD Gracias por enseñarme ruso( para Svet) SPASIBA!! !Jaja!
Emma Lederer (9 años)
Gracias por todo, me divertí mucho los voy a estrañar mucho
Lucia Lederer (5 años)
Catamaran FRENK charter guests that rescheduled for April, 2018, after hurricane Irma wrote:
You two were so hospitable, we didn't want to leave! Your catamaran was homey and filled with love, your attention to us and our needs/request was five star, and the food was some of the best food we've ever eaten!
We have certainly made lifelong friends and are very anxious for our next trip with you. Please keep in touch. We will send you a link to our online photo album.
Thank you so much for everything this past week! We will never forget this experience with you both.
PS. Thank you for teaching me how to successfully grab balls, tie to the cleats, and be your dinghy captain!
March, 2018, guests on catamaran FRENK wrote:
Dear Gabriel & Svetlana,
Thank you for sharing your beautiful life and boat with us.
This was our first cat trip and won't be our last! Can't wait to see you both again in Miami or on our next charter on FRENK !
You are both so hospitable and made our vacation absolutely perfect!
Times brings opportunities of joy and laughter. We found all of that more on the FRENK. We had no expectation of how wonderful this would is be.
All the love of friendship and camaraderie from the both of us.
Jessica and Chris
March, 2018 guests aboard catamaran FRENK said:
Gabriel & Svetlana,
Thanks for an incredible vacation and helping us to realize the sailing trip we've dreamed of for so many years!!  You chose the perfect destinations and charted an amazing course that made the trip perfect in every way.  Thanks for being so friendly, accommodating and sharing your home with us!  I hope one day we can continue our adventures in the Greek Islands :)
Best wishes and safe travels! With much gratitude -
The Basch Family
PS: I can't say enough positive things about our trip and you both made it one of the best vacations ever!!  Thank you!!!
New Years 2017/2018 guests aboard catamaran FRENK said:
Late July, 2017, guests, Honeymooners!, aboard catamaran FRENK wrote:
Recent guests aboard catamaran FRENK wrote:
YACHT PHOTOS