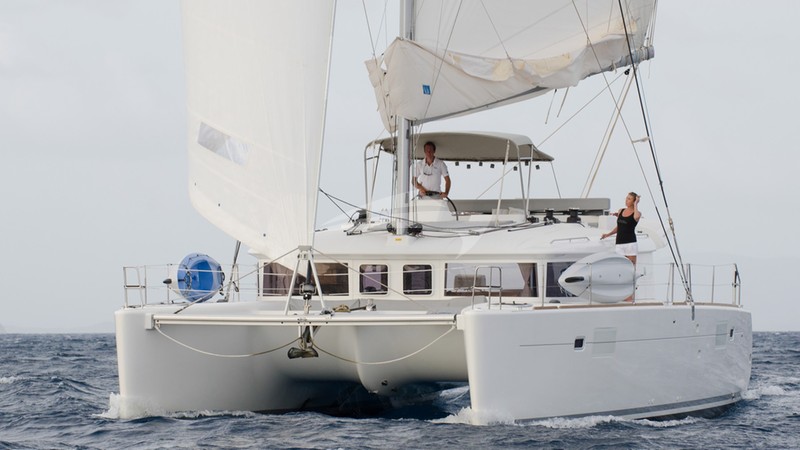 Specs Features Diving Crew Profile Menu Photos Testimonials Similar Yachts Inquire NEW Charter Search »
YACHT INTRODUCTION
2012 45' Lagoon catamaran with 3 spacious queen guest cabins each with a private ensuite head and stall shower. Top deck seating and top deck padded sun lounge.
SPECIFICATIONS
Length 45ft 11in (14m)
Beam 25ft 11in (7.9m)
Draft 4ft 3in (1.3m)
Sleeps 6 Guests
Cabins 3
Crew Captain Chris (Biff) Smith & Chef
Year Built 2012 / Refit 2014
Cruising Speed 8kts
Max Speed 12kts
Stabilisers None
Engines 2x 54hp engines

Builder Lagoon
Designer Not know
Flag Virgin Islands (British)
VAT Registered No
US Duty Paid No
APPROXIMATE WEEKLY RATE
High USD $24,000 | Low USD $14,800
FEATURES & AMENITIES
CD library, Cell phone, DVD library, DVD player saloon, Indoor audio system, iPod dock, MP3 music server, 11ft / 3.50m 20hp RIB, Assorted water toys, Banana boat - towable, Beach games, Board games, Floating Mats, Inflatable floating island, Kayaks multiple, Kneeboard, Paddleboards multiple, Tube - towable, BBQ, Book library, Deck shower, Fishing gear - light, Hammocks, Special diets, Swim platform, Water maker
ACCOMMODATIONS
Sleeps 6 In 3 Cabins
GYPSY PRINCESS can accommodate 6 guests in 3 cabins. The Master cabin has a queen size bed, shower and toilet. 2 Guest cabins have a queen size bed, shower and toilet. GYPSY PRINCESS is fully air conditioned through out. Crew has a separate heads and shower.
DIVING EQUIPMENT
Not Insured, Diving by arrangement, Snorkelling gear
YACHT CREW
Captain: Chris (Biff) Smith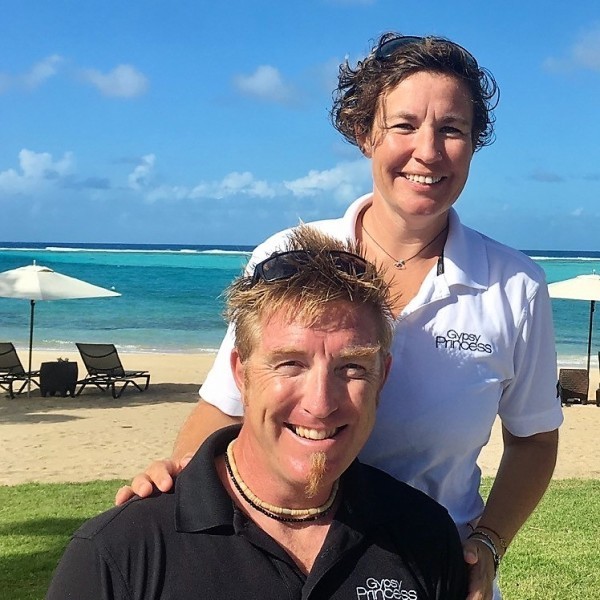 Amy & Biff have been sailing together since 2003 when they first met on a beach in Greece. They were supposed to meet at the ferry port of sleepy Porto Heli but Biff forgot to pick Amy up and she found him instead at the bar on the beach, entertaining his guests! That was the start of something special and they have worked, lived & sailed together ever since. Having always worked in the marine tourist industry they love meeting strangers who at the end of their vacation leave as friends!
Captain Biff learned to sail at the Cub Scouts at a tender age and was hooked! As soon as he was old enough to teach sailing he packed his bags & found his way to the Mediterranean coast of France to start his first overseas instructor job. Working his way around France and Spain he finally settled down in Greece running his own sailing school on the chic Greek Riviera. Cold winters of Europe called him to work in Kenya briefly before settling in the BVI's running luxury charters in warm waters!
Chef: Amy Edmonds
Having learned to cook at the age of 9 so she could watch 'neighbours' (Aussie Soap) on TV, Amy added windsurfing & then sailing to her interests after finishing university in order to travel. First working in Turkey, Italy & France Amy finally moved to Greece & met Biff. Wherever she travels she picks up local recipes and cooking techniques, which she refined at the renowned Ashburton & River Cottage cookery schools, both in Devon, UK. Fresh, seasonal & local produce are her favourite ingredients put together in a fusion of worldwide flavours for all to enjoy!
Between them, Amy & Biff have the experience & knowledge to steer you a course to a truly memorable vacation. With their water sports background they are able to teach even the most reluctant swimmers, sailors, paddle boarders to confidently make the most of their time on the water regardless of age. Their years working in family orientated resorts in Europe also lend them to be dab hands at arranging fun and relaxing family charters. Known for their flexibility & competence, your wish is their command.
Following the passing of Hurricanes Irma & Maria, this year, Biff and Amy have pledged to give 50% of their gratuities to grass roots BVI charities in support of the recovery in the Virgin Islands. PAW (Promoting Animal Welfare) Adopt A Roof, Free Food For Kids & the Plant a Tree Initiative
YACHT MENU
Start the day, Breakfast
-Daily selection of cereal & granola, yoghurt, fruit salad, fresh juices & smoothies.
Crusty sourdough slices with smashed avocado, feta & spinach.
Caribbean coconut French toast with mango sauce.
Scrambled eggs with smoked salmon & parsley.
Blueberry pancakes with crispy bacon & maple syrup.
Piping hot buttered muffins with ham and poached eggs.
Luscious Lunches
Toasted ciabatta stacked with melting soft cheese, wilted spinach, grilled mahi mahi & a soft poached egg, all drizzled with curry infused olive oil.
Succulent Caesar salad with jerk chicken & bacon in a parmesan basket.
Roasted sweet peppers stuffed with quinoa salad, served with a tasty artichoke hummus.
Bloody mary steak salad with avocado cubes and celery sticks.
Local coconut shrimp with lime and a spiced mango puree presented on a bed of mixed leaves
Succulent Entrees
Peach baked pork loin with creamed potato and vibrant steamed greens.
Captains gourmet burger with juicy pineapple, sweet coleslaw and spicy plantain fries.
Lemon baked tilapia, served on a bed of zesty baked eggplant with a pocket of tabbuleh salad.
Oven baked lamb, served Greek style with tzatziki, Greek salad, zucchini fritters and warm fresh bread.
Herb crusted salmon fillet on a bed of fresh mixed leaves with sautéed potatoes and tangy tartare sauce.
Sweet Endings
White chocolate parfait with mint and soft fruit garnish.
Pear, slow poached in red wine with nuts and chilled lemon mascarpone.
Dark chocolate rum pot with orange infused cream.
Baked fresh peach melba with amaretto and raspberry reduction.
Crumbly shortcake stacked with crème fraise, seasonal fruits & lashings of caramel sauce.
YACHT TESTIMONIALS
February 2016
My husband and I both wrote reviews which you will see below so that you could see both points of view which both arrive at the same thing:
OURS:  This was ABSOLUTELY a vacation of aLIFETIME!  Shane and Anne were instrumental in making that happen.

HERS:
Our sailing trip was a Christmas gift from my husband for Christmas 2014. He told me to research which boats I was interested in to sail the British Virgin Islands. After much web search I found the Gypsy Princess which seemed very interesting. They seemed to have a lot of the toys that we might like to use including paddle-boards which I had always wanted to try. After reading about the Captain and First Mate (Shane and Anne) I decided that they seemed like they would be a fun couple to sail with.
We were sent forms to fill out with our preferences for meals and activities. This was helpful too so that we didn't have to make those types of decisions during our vacation. It made it feel more like a vacation when my husband and I weren't looking at each other saying "what do you want to do?" with the other responding "I don't know, what do YOU want to do?" It also is helpful for our Captain and First Mate to plan their shopping for our meals since there are limited opportunities for them to do so. We were told that Shane and Anne would be in touch with us within a couple of weeks of our trip to answer any questions we may still have and to ask any questions they may have.

A couple of weeks before our trip Shane called and we did have a few questions about outlets, phone use, wifi, etc. He was very capable of answering our questions and put us very much at ease. He said that he anticipated that the weather would be good for most if not all of our trip and they looked forward to meeting us. He mentioned that he noticed in our paperwork we had submitted that we were going to be staying in St. John a couple of nights before they were scheduled to pick us up in St. Thomas. He asked if we would rather be picked up in St. John instead of St. Thomas which is where we were originally scheduled. This was so helpful and we are so thankful that they did that for us. It saved us another ferry ride and a long taxi ride and at least another hour and a half of traveling.

12:00 pick up at St. John and Shane and Anne are right on time. We were so excited! A few safety things were explained to us immediately and how to use things like the toilets and showers and then we were on our way. Shane gave us a brief itinerary and explained, of course, that at sea these things are always subject to change. We told him that we were very easy going about this trip and are here to relax.
 
Anne had delicious snacks waiting for us which was just the beginning for MANY DELICIOUS meals, snacks, cocktails and desserts. We had only booked half-board so that we could try out some restaurants on the islands but had we known what a fantastic cook Anne is we would have absolutely booked full-board. We did dine at a couple of really good restaurants but still nothing compared to Anne's cooking.
 
Shane's sailing abilities and knowledge of sailing and the area made us COMPLETELY at ease. We are much older than he and Anne but truly felt completely safe every minute we were with them. Shane knew all the in's and out's of every beach, mooring, dock, etc… He knew when we needed to head out from one spot to get the best spot at the next. He knew which restaurants to go to on all the island. He knew when and where there would be live music on different islands. He knew how we could get around if we wanted to spend time at any of the islands. He knew where we would spot things like turtles and different kinds of fish. I'm not at all a swimmer but was very much able to enjoy kayaking, paddle-boarding (yes, I did it and love it), relaxing on the beach, relaxing on the boat, eating and reading a novel. My husband is a swimmer and was able to snorkel and get as much exercise as he wanted by swimming.    

HIS:
I cannot think of a better way to enjoy the British Virgin Islands. Shane and Anne made our experience incredibly relaxing and rejuvenating. This was no small feat considering that (1) we are used to packing lots into our vacations, almost never resting in our quest to maximize new experiences, and (2) one of us doesn't really like to swim or to be in water where things are swimming with you! But for this vacation, we threw caution to the wind and asked our hosts to design everything for us. We opted for half-board (half meals on the ship and half meals on shore) and asked our hosts to design an itinerary which brought us to cool places and introduced us to great places to eat on the islands. 

And so we come to our first, and perhaps only, problem. Absolutely nothing compared to Anne's cooking. From breakfasts to snacks to dinners, she out did herself. There was not a single meal that left us unhappy. So, although dining on the islands was nice (for example, the Sugar Mill on Tortola was really nice), nothing quite compared to an excellent meal on the boat.  We don't think that Shane's delicious afternoon cocktails did anything to enhance our perception of Anne's meals, but they didn't hurt! So, our advice is go full board.  

Shane's itinerary was fabulous. Just enough sailing to see how it's done, but plenty of time to relax, snorkel and soak up the sun. Which brings us back to concern (1) and (2) above. Enjoying the beauty of these islands (whether sailing, moored in a beautiful bay or taking brief excursions to shore) was never boring! There were five of us traveling together and we each found time to enjoy each other's company and to find our own quiet time. Shane was always ready to accommodate our interests at a moment's notice. Despite our own tendencies, we were able to relax and enjoy. For that, we are grateful! Our non-swimmer was perfectly at home on a flotation device in Shane's home-made containment zone and he even succeeded in getting her to try stand-up paddle-boarding!

The boat, itself, was beautiful. Plenty of room for enjoying time together and plenty of spaces to enjoy some private time reading a book, sun-bathing or star-gazing. Things just seemed to work naturally and we all felt very much at home, and we were all convinced that this was due to the hospitality and preparation of Shane and Anne.

And now a little more about them. They each turned 25 years old during our trip. We were endlessly impressed with their professionalism, friendliness,caring, maturity and poise. We would be honored to call them our kids! Shane's knowledge, command and self-assurance were inspiring. Anne's sweet, considerate attention to detail and culinary skills were impressive. Most impressive,perhaps, was the sense that these two would fit beautifully with any combination of passengers - an older crowd (like us), families with children or a group of college kids. We suspect they'd be able to make any group of passengers incredibly happy and well cared-for. Regardless, they seemed to us to be a perfect combination as hosts.

They were happy to hang back and let us enjoy our group of 5, but they were equally comfortable joining our group and sharing stories that made everyone's experience more enjoyable.
April 2015
What was going to be our trip of a lifetime is now our..."when can we sail again" vacation. We LOVED everything about our adventure and were so glad that Shane and Anne were our crew. Ellen was spot on when she recommended that we book Gypsy Princess and this crew. The fact that we didn't have to make a decision for 7 straight days and we were taken to a more beautiful place each day was certainly the highlight. This yacht is perfect for couples or a family...is spacious, comfortable, and sails beautifully. We asked for an active vacation and were given the perfect balance of activity and relaxation. We would recommend the Gypsy Princess and Shane & Anne to the most discerning guests. It was an absolutely PERFECT experience from start to finish!! We left with great tans, fabulous pictures, a lifetime of memories and 2 new, dear friends!
A HUGE Thank you To Shane and Anne ("Shepard & Bo Peep") from your "Lost Sheep" (Matt & Shelley, Jared & Heather)...until we can sail again!!!!
---
February 2015
Dear Anne & Shane,
The best surprise was getting you two as our crew.  Edward's birthday celebration was above and beyond the best ever!
Anne your meals were fantastic and Shane's cerative drinks were anticipated daily.  Your professionalism and knowledge of the BVI made every stop a wonder.  Your hospitality was heart felt and we wanted for nothing.  We look forward to sailing with you again in the near future.  Until then hope to see you in New York.
Fondly, Jeanne, Edwrd, Sharon, Frank, Helen and  Ronnie
P.S. Hope to sail on  the "Shaneannakin" someday!
---
February 2015
We walked on board and there was a bottle of champagne chilling with snacks and appetizers waiting for us.  Shane Taylor and Anne van Riel were waiting for us with smiles on their faces ready to show us a good time!!!  AND THEY DID
Honestly, Shane and Anne were 2 of the nicest people I have ever met in my life!!  So full of energy; willing to assist you in whatever you wanted.  But, more importantly, just nice honest people.  We spent many hours during the charter just getting to know them and their background.   I would look no further for a crew for another charter in the BVI or elsewhere.  And, if I ever have the opportunity to buy a yacht with a crew, Shane and Anne would be my first choice for a crew. 
---
January 2015
Thank you is such a small few words to express the memories you have offered Donovan and I as well as our friends. What was a "Bucket List" trip is now an annual one soley due to both of you and the GP. Your knowledge and kindness truly make a difference and we thank you for that! Always keeping in touch until 2016 when we meet again!
If you find yourselves in Northern Cal you always have a place to stay with us. Thank you for sharing your passion with us.
Sincerely, Suzi and Donovan
---
December 2014
Where do we even begin....Laughter is good for the soul & there certainly was no shortage of that.  We came here for a trip of a lifetime & left with just that.  We feel so lucky to have made lifetime friends in the two of you. Thank you for being so wonderful. The food, the scenery, the company & the memories were nothing short of perfect. You might have 2 babies made on this trip - we will make sure their names are Anne & Shane:)
Cheers-Until next time...
---
July 2014
We hope your charter lived up to your expectations. We would love to know some of your impressions about your yachting vacation. Please answer the following questions and add any comments you may have.
1. Was the crew friendly and accommodating? 
Very much so, exceeded our expectations.
2. Was the yacht comfortable and clean? 
Yes, clean and super comfortable and spacious.
3. Was the yacht well ventilated? 
Yes, and A/C worked perfectly.
4. Was the food good and well presented? 
Yes! Anna did a great job! We enjoyed everything she prepared for us.
5. Did you like the area you sailed? 
We loved it.
6. May we post this review on our website? 
Yes
7. Additional comments on your charter? 
We loved having Shane and Anna as our crew, thanks to them this trip was so incredible. Shane is an excellent captain, knowledgeable, always willing to please, responsible, smart, good conversationalist and he prepares the best drinks! Anna delighted us with all her dishes, always catering to our tastes and needs; she is the sweetest. Despite their young age, they are very mature and we couldn't have chosen a better crew for this trip. We would hire them again without doubt!
---
June 2014
To Gypsy Princess - best trip ever! Thanks to Shane and Anne for an amazing week in the Caribbean.
Thank you for making this the best trip ever! -Jack
This was the best vacation I have ever been on! Thank you so much for everything and I will never forget it. Thanks again -Katie
We will never forget you and this vacation. -The Beercrofts
---
MAY 10-16, 2014
This was a wonderful family vacation! As Shane as our captain and Anne our chef, we couldn't have been in better hands!  Shane and Anne were both very knowledgeable about the different areas we saw each day. In addition, Shane made sure our boys were very busy with fun-filled activities....the Gypsy Princess is well-equipped with various water "toys".  Anne was a great chef and made sure there were always snacks available after each one of our excursions.  Her dishes were not only delicious, but the presentation each and every meal was quite impressive. I would recommend this trip to anyone!
---
May 2014
Dear Anne & Shane,
What an amazing voyage you have given us - a trip of a lifetime...and one we will always remember!
Thank you for all the adventures shells, snorkeling, sailing and fantastic food! happy sailing together in life. You two are the best crew!
Love, Pat & Mike
---
February 2014
We had the most fabulous time on our Charter with the Gypsy Princess! It was a trip of a lifetime for us. Shane and Anne greeted us in St. Thomas and immediately made us feel comfortable. Anne had previously sent us the menus and asked for our suggestions and comments- she did a fabulous job in light of our preferences we sent in to you. What an extraordinary couple they are- maturity beyond their years and their desire to make our time beyond amazing. We love that they not only took us to amazing places but also showed us more than we would have been able to discover on our own! We all loved them so much and would totally recommend them to anyone without any reservation. The food was beyond amazing and we felt so comfortablewith Shane in command of the boat. He was way beyond his years in experience.
They bothtotally love what they do and that is very evident in each area of taking care of their guests. I think the best compliment we can pay them is that we now consider them as friends that we want to keep up with forever!
~Sonja R.
 
---
January 2014
My wife and I just returned from a week aboard the Gypsy Princess sailing through the BVI. The crew of Shane and Anne were awesome. The boat was beautiful, and the food was the greatest. All the meals, from breakfast to dinner, were superb and plentiful. Shane, the Captain, was very knowledgeable and knew the area well.  Both Shane and Anne were very
accommodating to where we wanted to go and what we wanted to do. They were very friendly and enjoyable to be with every day. The Gypsy Princess was a beautiful yacht. I would recommend the Gypsy Princess and the crew of Shane and Anne to anyone wanting to sail the BVI.
---
NEW YEARS 2013-2014
We got back late last night and I just wanted to communicate to you that we had an amazing time.  The boat was terrific, despite a few mechanical issues.  It's layout was so perfect for three couples.  The itinerary was fabulous and we got to direct our progress with the captain's blessing.  Most importantly, the new captain and cook were incredible.  We were so lucky that there was a recent change.  Shane and Anne were an incredible team.  Their spirit and desire to serve was incomparable.  The meals were unbelievable.  Not sure how Anne did it in such a small galley.  Shane was very knowledgeable for someone so new to the area.  We were just amazed at their hospitality and they really made it a fantastic trip for us.  I will certainly follow their progress and would want to charter with them again.  In fact, we are already talking about late-winter or early spring of 2015.  You can count on us getting in touch with you first.  We certainly appreciated all your help and hope that your medical issues resolved themselves. 
Thank you for everything, and I will tell everyone I know about you guys. 
Dave
YACHT PHOTOS