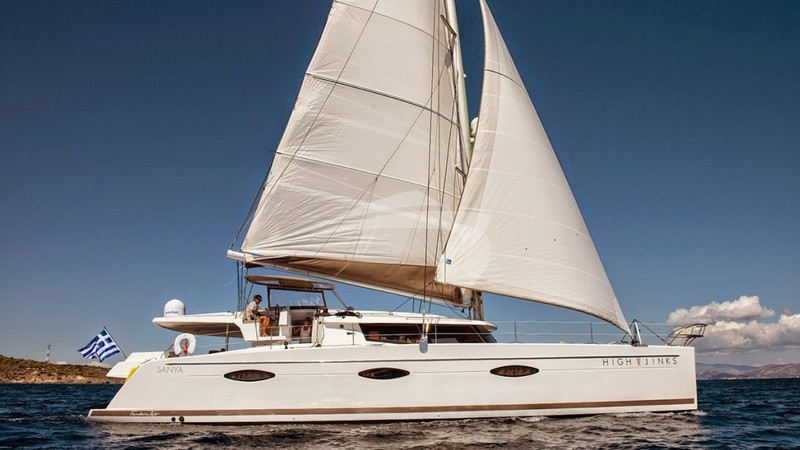 Specs Features Diving Crew Profile Menu Layout Photos Video Testimonials Similar Yachts Inquire NEW Charter Search »
YACHT INTRODUCTION
What are you looking for in your vacation? If you are aiming to take your family and friends on a memorable journey, living an adventurous, yet also relaxing and comfortable, tour among the magnificent Greek islands, sailing through the crystal blue seas of the Aegean or the Ionian, then this impressive and luxurious boat, HIGH JINKS SANYA 57, a definitively elegant and innovative catamaran with a unique, contemporary design by FOUNTAINE PAJOT, is going to fulfil all your desires and expectations.
With all the pleasures of the sea, with the distinctive comfort, fixtures and services you've come to expect from our Flagship Class, HIGH JINKS will embrace you and will book a place in your heart. The memories you will create on this boat, will be cherished for ever.
HIGH JINKS can accommodate up to 8 guests in 1 King size cabin, which features an exclusive suite with a lounge, desk and spacious designer bathroom and three generous Queen size cabins, all equipped with private bathroom facilities. All cabins have been especially designed for maximum comfort and space and have full air-conditioning, TV, DVD and stereo system integrated.
HIGH JINKS SANYA 57 offers the luxury and comfort of a fine hotel. Wide staircases beckon to the tranquillity and privacy of beautifully appointed cabins.
The salon, with its soft colours and flexible seating areas is the perfect place, if you want to hide from the sun and yet not loose contact through the panoramic view with the outside world or if you just want to guess what kind of mouth-watering, delicious culinary delicacies your Chef is going to prepare for you.
The aft deck, where you probably will spend most of your time at, is stylishly designed for your comfort, either when gathering around the table to enjoy a fabulous meal, filling the air with Mediterranean flavours, or simply relaxing, with an aperitif in your hand, after an exhausting day, playing with the numerous water toys, such as water skis, kayaks, paddle board, wake board, knee board, tubes, snorkelling gear ...etc., you have on board. Then again if you like fishing and catch something, your Chef can prepare it for you the same day and serve it to you in the most delicious way, you can imagine.
The fore deck is the absolute ideal area for sun-bathing on comfortable sun mattresses, a trampoline, and the best location, if you see any dolphins swimming alongside the boat. The Fly-bridge is the ultimate favourite place for enjoying a glass of champagne accompanied by a finger-licking hors d'oeuvre, while gazing onto the horizon and harmoniously savouring the dreamlike scenery during a sunset.
The sailing catamaran HIGH JINKS SANYA 57 will bring you to the most beautiful places in the Mediterranean while traveling in all comfort and privacy. Guided by her crew you will yourself discover the magnificent islands, nature and culture and most importantly the magnificent clarity of the Greek crystal blue waters.
SPECIFICATIONS
Length 58ft 9in (17.9m)
Beam 28ft 10in (8.8m)
Draft 4ft 7in (1.4m)
Sleeps 8 Guests
Cabins 4
Crew Captain Miltos Skouras, Chef and 1 crew
Year Built 2014
Cruising Speed 9kts
Max Speed Not available Stabilisers None
Engines 2x Volvo Penta 75hp

Builder Fountaine Pajot
Designer Not know
Flag Greece
VAT Registered No
US Duty Paid No
APPROXIMATE WEEKLY RATE
High USD $26,123 | Low USD $21,580
FEATURES & AMENITIES
Indoor audio system, iPod dock, MP3 music server, Outdoor audio system, Satellite TV, TV all cabins, TV saloon, Wi-Fi, 13ft / 4.00m 50hp RIB, Kayaks multiple, Paddleboard, Tube - towable, Wakeboard, Water skis - adult, Water skis - child, Deck shower, Fishing gear - light, Ice maker, Swim platform, Water maker
ACCOMMODATIONS
Sleeps 8 In 4 Cabins
CABIN CONFIGURATION
 owners suite with ensuite bathroom, TV, DVD, I & POD connection, 
3 double cabins with ensuite bathroom, TV, DVD, I & POD connection,
1 cabin with semi double bed which can accommodates one adult or two children with ensuite bathroom, TV, DVD, I & POD connection,
DIVING EQUIPMENT
Not Insured, Diving by arrangement, Snorkelling gear
YACHT CREW
Captain: Miltos Skouras (63)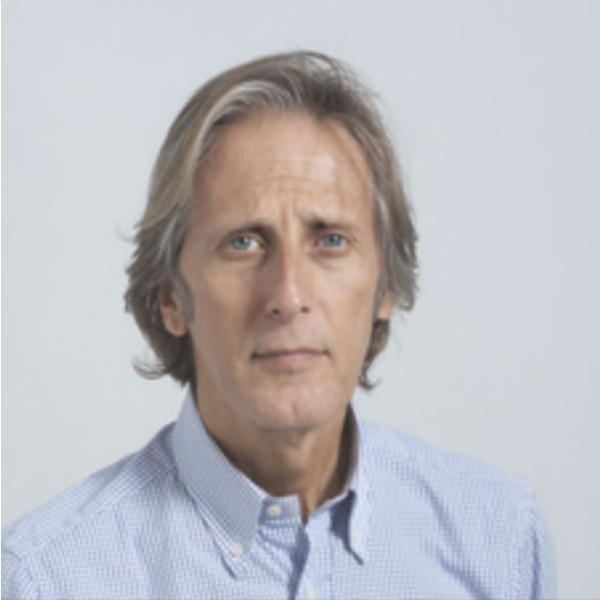 Captain Miltos, born in 1955, has an extraordinary background. He has been on the sea all his life and yet he also holds a diploma in Architecture and he owned an advertising company for 8 years, working between Greece and Italy. He got his first skipper license 30 years ago and he even owned a couple of boats, sailing through the North Mediterranean, Aegean and Ionian seas gaining an excellent knowledge of every harbour, marina, small secluded bays and can tell you about every place worth seeing. He has also taken part in several sailing competitions with a lot of success throughout his career.
He has a very friendly character, always equipped with a smile and a kind attitude. Being very communicative he always make you feel very comfortably around him. Also being the father of two, he has a thoroughly gentle way with children, getting them to enjoy the journey for sure.
He speaks perfectly English, Greek, French and Italian.
Chef: Eugenia Iskou (48)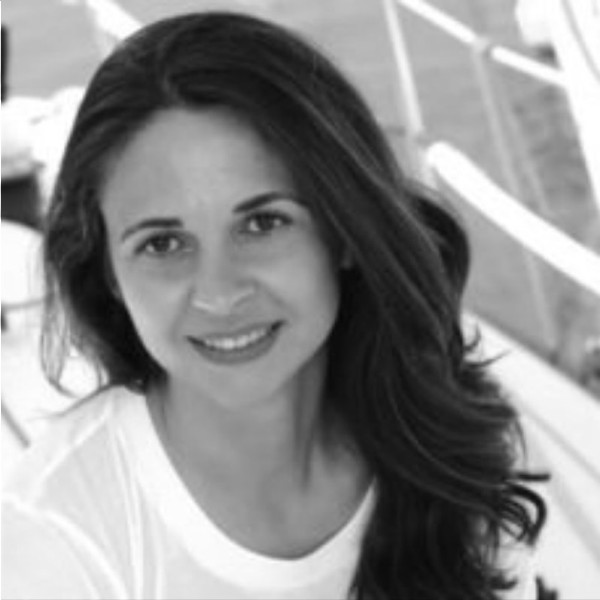 Chef Eugenia, born in 1970, is an amazing cook, who will make your trip unforgettable. Being educated in International and Greek Cuisine, based on seasonal and local products, she will create for you the most delicious meals and culinary delicacies. She owns her Skipper license since 2007 and has taken part, as a solid member of the crew, with various distinctions in various sailing competitions.
Having obtained an additional diploma in Archaeology and History of Arts (she has worked as an Archaeologist for 10 years for the Ministry of Culture) she is always willing to give an insight in ancient history of each place you visit. She speaks fluently English.
She has an extremely kind charisma and a lovely personality and makes everyone around her smile. Eugenia especially loves to make children on board feel comfortable and always has a fascinating story from the Greek Mythology to tell them.
Steward: Ierotheos Moustakas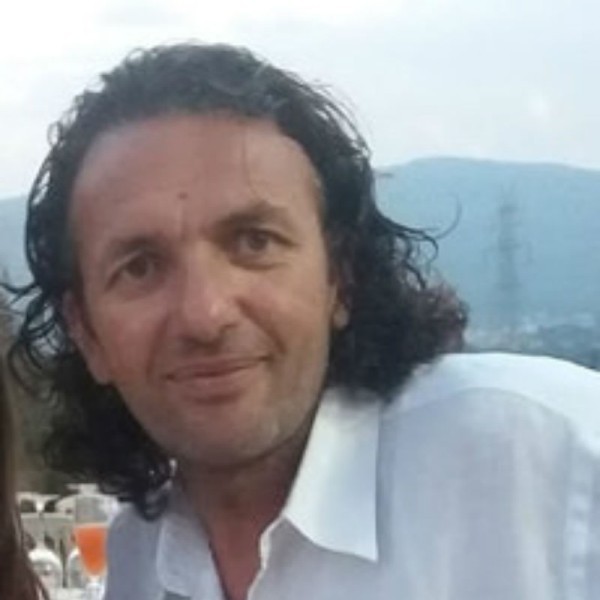 Ierotheos is an outstanding sailor and steward, always smiling and cheerful. He is highly attentive and caring with everyone and has a great sense of humour. He is very helpful and at all times will strive to make your time on board the Yacht as pleasant as possible.
He is very experienced being involved with the sea-life all his life, owning, besides his skipper license and a speed boat license, also a professional diving license.
His hobbies are obviously free diving and underwater fishing. He also holds a Marble Sculpture degree and can therefore tell you everything about the various temples and statues you are going to encounter.
YACHT MENU
Fresh Juice
Whole or light milk
Cereals of your choice
Greek yogurt 
Fruit salad or compote
Greek spoon desserts
Nuts or raisins
Butter
Thyme honey
Marmalade
Choice Between: Boiled Eggs| Poached| Fried| Scrambled| Omelet
English Bread or Greek rustic bread or croissant
Cake or local sweets
Selection of local cheeses with tomatoes, cucumber
and
olives
Selection of bacon, ham, boiled sausages and roasted mushrooms
Filter coffee or espresso
Tea
Lunch
Bruschetta with fresh tomato, Feta cheese, basil and olive oil
Steamed mussels with white wine and fresh dill
Trilogy of roasted eggplant and fresh garden herbs
Fried gruyere with cherry tomatoes, ouzo
and
fresh basil
Vegetables with balsamic sauce
Greek Salad with cherry tomatoes, cucumber, Feta cheese, capers
and
peppers
Ruckola
with spinach, roasted Manouri cheese, walnuts, raisins and honey sauce
Salad bouquet with smoked salmon, avocado
and
orange 
Salad bouquet with smoked salmon, tomatoes, cucumber, mustard and spearmint 
Salad of boiled vegetables 
Couscous salad
Skioufikta (traditional Greek pasta) or
hilopitaki
(Greek style noodles) with Feta cheese, cherry tomatoes,
ruckola
and white wine
Risotto with chicken, ricotta cheese and mushroom sauce
Spaghetti with
ruckola
leaves, parmesan
and
sundried tomatoes
Fish:
Octopus with fava beans, caramelized onions
and
olive oil
Grilled shrimps with lentils, cooked in seafood broth
Chicken breast fillet with
mushed
eggplant puree and olive oil 
or with Roasted Haloumi cheese and
small
salad
Calf
tagliata
with
ruckola
and gruyere
Lamp ragout with zucchinis
Italian sandwich with patatas bravas
Dinner
Appetizers:
Greek pie with wild greens
Fava beans puree with onions, sprinkled with olive oil
Small zucchini pancakes with Feta cheese and spearmint
Fried shrimps with tomato sauce and ouzo
Variety of mushrooms with Mizithra cheese and sweet mustard sauce
Nicoise salad with tuna from Alonissos
Ruckola
with apple, celery,
louza
(Greek Salami), gruyere from Naxos and yogurt sauce
Mista with
anthotyro
cheese, seasonal fruits
and
spearmint
Cretan Salad with rusk, tomato, cucumber and feta cheese
Matsata
with shrimps, mussels and seashell sauce
Seafood risotto with Greek Saffron
Beef Giouvetsi baked in stoneware with trimmed Mizithra cheese
Grilled calamari with sauteed greens and oil vinaigrette sauce
Fish fillet (of the day) wrapped in dough with asparagus and sauce Hollandaise
Beef fillet with dauphinoise potatoes and red wine sauce
Lamp
cooked in the casserole with mashed potato, olive oil and garden herbs
Burger with beef and coleslaw sauce
Chicken breast fillet grilled with baked tomatoes, tzatziki (Greek dip) and small pita
breads 
or Souvlaki of pork with caramelized onions with Greek pita
YACHT LAYOUT
YACHT TESTIMONIALS
                                                                                                 2017

September 2017

Dear loving crew – Oh captain, my captain; Los Ondas/ pamino / Nondas and PhoebeWe had a great time cruising around the Cyclades and discovering the Greek preciosities. The most beautiful blue waters we've ever seen!The hospitality, goodwill and amazing flavors you provided us with made our experience so special. Thank you for making Highjinks our home for the past week and for making our holiday so fun and unforgettable – a trip to be forever in our minds and hearts. 
Love, Luiza, Duca, Pedro, Silvia

September 2017
Thank you so much to all of you – Pantelis, Phoebe, and Nontas. We had an unforgettable week full of adventure and exploration for the kids. We loved all the little gems of bays and beaches and caves, each place so different from the next. The food was an amazing experience at every meal. Phoebe, you are truly talented and I think Adele appreciated more than everyone. She hasn't stopped telling me all week that I need to take cooking classes to be more like you! Nontas, thank you for always keeping an eye out on Mikel Kai, our terrible two-year-old, and being a fun joy to be all week. We really loved it! 
Thank you, crew!
Maria, Adele, Mikel and Agnes

August 2017
Thank you, thank you, dear Pantelis, Phoebe, and Nontas for our Greek Island Odyssey. We could not have enjoyed our selves more and the week passed all too quickly. Pantelis you were perfect skipper – so very competent and caring, Phoebe your cooking was sublime and Nontas you were so great on board and helping with watersports and being generally charming!All in all ***** Five stars
Huge thanks, Tessa and Bryan Pascoe 
U.K.
P.S. Three cheers for "HIGHJINKS"
July 2017
Pandelis, Phoebe, Nonda, Thanks so much, we have the best vacation sailing at Greece. Feeve, your cooking is delicious we love all that you prepare. Nonda thanks you for be too much with us.Pantelis the best captain that we have had. We never forget. Highjinks. We hope to see you again. 
Wishing the best for all of you, you are invited to Chile. 
Pablo Jesus, Feupe Emilie

July 2017
Part 2
This is our last night of an extraordinary week as lucky recipients of your gracious care. A quick survey of our group reveals that sometimes you only have to wait 20 years to experience and store a lifetime-long wonderful memory and sometimes one must wait much longer. Either way, we all now have warm, happy memories to call upon forever. When I return home, people will ask me how was the vacation – and although I try to do it justice, in the end, I will be speechless and fulfilled all at once. And so – the greatest gift of all is revealed. Wishing each of you peace and love in life. 
Until next year, 
Annie Andrews and crew Davenport.

July 2017
Part 1
This is Walter Stuart Davenport reporting from a "Greek Vacation". It has been 3 days of this cruise and moral is running low. Food is running out leaving the rest of us to group up and started to become cannibals and I am ashamed to say that I have now not tasted human flesh. It reminds me a bit of boiled fish, or overcooked spaghetti (is that how you spell it?)We can see land all around us but we are all too lazy to leave the boat to get actual food. I hope to survive this trip and see my future "people that care about me". Although the chances of that are unlikely considering that most find me obnoxious and ugly. I think it all started when I was a kid and I disappointed my father so much that we had a heart attack out of pure shame. After that, no one seemed to start calling him Fredrick. I tried calling him Fred one time and he told me that we weren't on a nickname basis. After we changed his last name so that he could claim to not be related to me. I had to start calling him count Von Zeravich. It's a cool name. Wow, you are a good listener, we should get coffee sometime and do this again, except I am on a horror boat. Oh no, I am being eaten. 
Ahhhhhh Mr. Davenport

May 2017
Dear Pantelis (the gentleman captain), Phoebe (chef-extraordinaire Supergirl), Nontas (Bovat Mr. Happy), What an amazing bunch of people you are…So attentive, so thoughtful and pleasant to be around all day and night long!As first-time cruisers, you made us feel so welcome, we felt very relaxed from day 1. Thank you so much for the most fun family holiday ever!!
Filakia and love from "the Panagops"
 Ken, Phylia, Tanee, Dim

May 2017

Pandelis, Feevi, Nonda!Thanks so much for a blissful week on this fantastic boat. We had the best #honeymoon one and enjoyed your stories Pandelis & jokes!!Feevi, your cooking is exquisite! Each day I looked forward to what delight you prepared for us.The mushroom couscous ceviche and octopus were my personal favs! Nonda, thanks for looking after us and keeping everything spik and span – I hope that you can celebrate your next (big!!) birthday with people you do know!We had an amazing introduction to Greece, the language, and culture! 
Thank yours!Big love 
xxxNadia & Tom

                                                                                                             2016
September 2016
Dear Pantelis, Phoebe, and Nikos
It was a wonderful experience on this amazing boat! Thak you so much for the perfect sailing, delicious food and excellent service and hospitality! We will treasure the memories of this past week for the rest of our life!
Love from all of us
Reinier, Anna, Mike, and Therese
August 2016
Lovely crew!
It was a wonderful week thanks to you. We have seen beautiful landscapes and visited nice little cities.
Phoebe, thanks for your marvelous cooking, we would like to take you to Switzerland. Niko, thanks for being so friendly, available and attentive. Captain, you are an amazing guide, you have chosen wonderful places.
We love HighJinKs!!
Alessandro, Laura, Chiara, Charlotte, Alexia,Deborah, Henri
August 2016
Merci pour ce meiveilleux Sejour, Merci FiBipour ta cuisine! On a pris quelques kilos mais c'est pas grave. On s'enremettra. Merci Pandelis et Nicos pour votre Acceuil et Votre Professionalism,Vous nous avez fait d'ecuavrir votre Pays de mamere admirable, malgre lesconditions difficiles par moment.
Thierry – Fabienne & Emma – Patrice
August 2016
It was our first experience on a sailing boat, but it was surely a wonderful week, great sea, beautiful islands and perfect crew.
Thank you very much for everything.
Ricardo, Eva, Emanual, Guido, Gianni, Olympia,Gianetto, Lintia, Nikos
July 2016
Dear Niko
Thank you so much for looking after us so well.You have been an amazing host and made the last week such an amazing time.
Love Andy, Lex, Morgan, Viv + John
Dear Phoebe,
Thank you so much for being such an incredible chef, the food was incredible and so "yummy" (and healthy). Thanks for running around after us degenerates too! See you soon!
Love Andy, Lex, Morgan, Viv + John
July 2016
I had a great holiday! The breakfast was amazing and the staff is so friendly and I had a great time on all the different islands. My favorite island was Santorini. We nearly bought all the stuff in the shop, so we have a lot of souvenirs.
I HAD A GREAT TIME!!!
We all had a simply marvelous time. The crew was excellent. We would say beyond doubt, that this has been a holiday to remember.
Ethel, thank you so much for looking after us so well.For taking us to magical islands and we will never forget Phoebe's wonderful, colorful, fabulous food creations.
Ef-car-ees-to!!! (ευχαριστώ!)
Clare and Ronan
Thank you so much for the brilliant holiday.Thanks for all of the hugs for Doirean and Naoise! Have a great summer!
Lots of love + kisses
Joy + Eoghan
July 2016
We had a great time! The challenge to organize three boats together, finding marvelous places and always a smooth navigation was completely well done! Kind people always available to help. A week that certainly will remain forever in our minds and hearts.
All the best
July 2016
What can I say, where can I begin? The crew, the boat, the food, the islands? Best holiday ever!!!! We just don't want to leave you!!
Thank you for making our family holiday so special.
Love you all
Sotor, Irini, Nicole, Sotor Jr, Paul     
                                                                                                             2015
August 2015
Thank you Pantelis, Maria, Antonis have had such an amazing week on High Jinks. The relaxed yet efficient way everything was done has made our holiday one to remember, the sailing, the food, the watersports etc etc....everything have been superb from start to finish. Many thanks for everything - the hospitality has been exceptional. 
With love & best wishes to you all, 
Colin, Rachel, Alison, Anna, Shara, Thomas Johnston

July 2015
Thank you for the beautiful time on Highjinks! Exceptional crew, we have been looked after as well. Lovely food Maria and thank you for the waterskiing Antonis! Pantelis, you have been a great captain getting us to all the beautiful bays. Highjinks is a beautiful boat I enjoyed every minute!
Thank you for all! 
Melina
July 2015
We have really enjoyed our few days with you on High Jinks and thank you all for taking care of us so well when the weather was stormy. Thank you Pantelis for keeping us away from the worst; thank you, Maria, for your wonderful cooking; and thank you Antonis for helping Mike with his water skiing.
A trip we shall remember with pleasure!


Gerry Klonaides & family
June 2015
Oh! What a wonderful vacation we have had! A perfect boat (Highjinks is very special) and location(Greece - oh spectacular!) to celebrate three graduations and our 30th anniversary. How lucky are we? Thank you, Pantelis, Maria & Antonis for attending to our every need. We could not have asked for more. The locations we visited were wonderful, a nice variety and balance. Thank you, Pantelis for ordering such a good weather and for your seasoned captaining. Maria, the meals were spectacular. Our family lives from meal to meal and you never disappointed with your tasty local dishes & thoughtful wine choices. You kept us full and happy. Antonis, thank you too for caring for us; always with your large and endearing smile. We loved that you got the entire family waterskiing - thank you. A special thank you to all of you for taking Lizzy under your wings. You are all a special crew and we feel lucky to have had you and experienced your wonderful country.
Thank you! With love, 
The Pandles (Boston, Mass. the U.S.A.)

VIDEO
YACHT PHOTOS