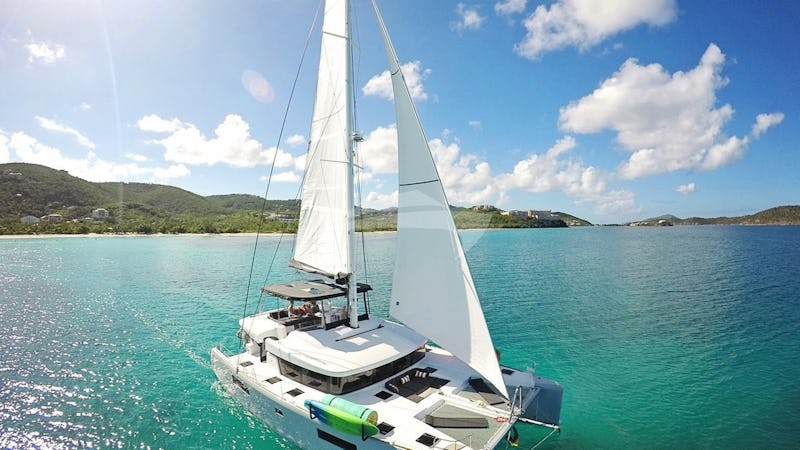 Specs Features Diving Crew Profile Menu Layout Photos Video Testimonials Similar Yachts Inquire NEW Charter Search »
YACHT INTRODUCTION
Captain Only Rates:
CAPTAIN ONLY RATES: $18,000plus all expenses
Includes: Captain, Linens/towels, Dishes, Flatware, Cooking Utensils/Cookware, Toys
Not Included: Fuel, Water, Customs/Immigrations, Food/Liquor/Ice, Mooring/Dock Fees, *Diving, Gratuity
*Diving can be arranged
Provisioning services can be arranged
Additional Rate Details:
***SPECIALS***
CHRISTMAS RATE 2017: $30,000
NEW YEARS RATE 2017-18: $33,000
HALF-BOARD RATES (7/4/3 BREAKFAST/LUNCH/DINNER): $150 off / person
***3 lunches and 4 dinners ashore at client expense***
***Does not combine with children discounts***
CHILD DISCOUNT: $250 off for each child age 15 and under.
***Age is based on the charter date NOT the date of booking***
LESS THAN 6 NIGHT CHARTERS DIVIDE BY 6 RULE: (Rate / 6 X #Nights)
***(Rate divided by 6N X number of nights*** For 6 nights divide rate by 7 X 6N.
TRAVEL AGENT COMMISSION standard 15%
SLEEP ABOARD $1,200
***Halfboard and / or children's discounts do not apply when using special discounted rates***
SPECIFICATIONS
Length 51ft 10in (15.8m)
Beam 27ft 11in (8.5m)
Draft 4ft 11in (1.5m)
Sleeps 8 Guests
Cabins 4
Crew Captain Taylor Smith & Chef
Year Built 2017
Cruising Speed 8kts
Max Speed 12kts
Stabilisers None
Engines 1x Yanmar 80hp

Builder Lagoon
Designer Not know
Flag Not know
VAT Registered No
US Duty Paid No
APPROXIMATE WEEKLY RATE
High USD $33,000 | Low USD $18,000
FEATURES & AMENITIES
iPod dock, TV saloon, Wi-Fi, 14ft/4.3m RIB 40hp, Beach games, Floating mats, Kayaks multiple, Kneeboard, Paddleboards multiple, Tube - towable, Wakeboard, Water skis - adult, Water skis - child, BBQ, Deck shower, Fishing gear - light, Kosher, Special diets
ACCOMMODATIONS
Sleeps 8 In 4 Cabins
DIVING EQUIPMENT
Not Insured, Snorkelling gear, Underwater still camera, Underwater video, 8 Tanks, 6 BCs, 6 Regulators,
$150.00 per Resort Course.
Referral Course if $300.00.
Captain Ryan is a dive instructor.
3 dives per week per person included.
Additional dives $25.00 per dive per person.
Online course required before charter commences.  Rate for the course during charter is $150.00.
YACHT CREW
Captain: Taylor Smith (31)
Genuine hospitality and contagious enthusiasm for the islands are what Margaret and Taylor are
all about. Having sailed their 30' monohull from Maine to Grenada over three years, they know
how to turn the dream of a sailing adventure into a reality. This is their fourth season working as
sailing professionals in the Virgin Islands.
Taylor grew up in Central Virginia, splitting summers between driving ski boats on the lake and
traveling in the family RV to every state with a road to it. After earning a business degree from
Appalachian State University with honors, Taylor continued pursuing his passion for living
outside of the box. Playing in a touring rock band transitioned to trekking in South America,
which led to bartending in Breckenridge, Colorado. After a few years of the ski bum life, the
dream of setting off for points unknown in a sailboat started to form. He jumped head first into
sailing and within a short period he was a licensed captain living aboard and traveling on his
own boat.
Chef & Mate: Margarett Harrington (28)
Margaret also hails from the Blue Ridge Mountains of Virginia and has sailing in her blood from
her Dad, who captained classic windjammers in Maine. She began traveling internationally early
on and developed a love for traditional recipes and an appreciation for the way a good meal can
bring families and friends together. An ambitious explorer as well, Margaret attended the
National Outdoor Leadership school before earning her bachelors degree from the University of
Colorado in Boulder. She is a certified yoga teacher and recently returned to where she
received her training in India, joining a month long motorcycle expedition over the highest
drivable passes in the Himalayas.
Despite being raised less than an hour apart and sharing so many passions, the two didn't meet
until they were both living in Colorado. Shortly thereafter their dream of sailing the islands took
off and they moved to Saint John, USVI where they worked day sailing charters and eco kayak
tours. After that season they bought their sailboat and began cruising full time for three years,
meshing into a dynamic team afloat. Having guests aboard ignited their passion for sharing a
bespoke island experience with others, which naturally led them to live aboard charters.
Margaret and Taylor offer a vacation that bonds family and friends together crafted from many
years of local knowledge and experience. Their menu features a collection of their favorite
island recipes personally gathered from the Bahamas to Grenada. From diving for conch that
are later served up as fritters to helping someone catch their first wave surfing, providing lasting
memories in one of the world's most special places is an opportunity this team is always grateful
for and never tires of. Together they bring personalized service and engagement, with true
authenticity and passion for sharing the island experience with others.
Taylor's Certifications & Training
USCG 100grt Master, Near Coastal, Auxiliary Sail
STCW 2010 Basic Safety Training
ENG 1
PADI Open Water Dive Instructor
Emergency First Response Instructor
American Sailing Association 101, 103
Virginia Boaters Safety
Margaret's Certifications & Training
STCW 2010 Basic Safety Training
ENG 1
PADI Divemaster
STCW First Aid, CPR, AED
200HR Yoga Teacher Training
YACHT MENU
ISLAND HOPPIN' SAMPLE MENU
Susannah King – Sample Menu
Breakfast
Homemade buttermilk pancake stack served with bacon, dusted with icing sugar and a fresh berry sauce
Traditional Italian sausage frittata
Classic eggs benedict with black forest ham, homemade hollandaise sauce and wilted spinach
Full Irish: Authentic potato bread served with bacon, sausages, fried eggs and oven roasted vine tomatoes
Caribbean French toast served with fried bananas, toasted coconut and drizzled with local Virgin Islands honey
Smoked salmon, cream cheese and dill bagels
Individual egg soufflés with feta cheese, spinach, tomatoes and oregano
Lunch
Moules marinere with freshly baked granary bread
Citrus glazed salmon on a bed of seasonal greens
Chicken pad thai tossed with beansprouts, fresh cilantro and roasted peanuts
Seared scallops and crispy prosciutto with roasted tomatoes and smashed white beans
Grilled swordfish, green beans and spicy tomato salsa
Sweet okra shrimp curry with plantain puree
Caribbean jerk burgers with pineapple relish and spicy coleslaw  
Appetizers
Tomato and burrata bruschetta
Oven baked brie with sautéed cinnamon walnuts
Asian infused tuna on toasted bread
Charcuterie platter with an assortment of international cheeses, crackers and olives
Conch fritters with a chilli lime dipping sauce
Smoked salmon rosette with a sweet cucumber salad
Homemade falafel with cucumber yoghurt sauce
Dinner
Pork escalope Holstein with fried duck egg, buckwheat tomato salad, anchovies topped with parsley and capper beurre noisette
Braised lamb breast, boulangere potatoes, green beans and griddled courgettes
Honey glazed ham knuckle with buttered new potatoes, parsley sauce, sautéed cabbage and sweet piccalli
Confit duck ravioli with sage and hazelnut butter
Marasala pork tenderloin with roasted asparagus and sweet potato puree
Filet steak with café paris butter, homemade fries, roasted tomatoes and portobella mushroom
Mahi mahi fillet with saffron risotto and a mango cilantro sauce
Dessert
Ginger crème brulee
Panna cotta with orange glazed figs
Chocolate fondant pudding with raspberry and champagne sorbet
Irish cream Tiramisu
Homemade profiteroles filled with crème diplomat and coated in dark chocolate sauce
Fluffy lemon pudding with limoncello cream
Elderflower fruit jelly
YACHT LAYOUT
YACHT TESTIMONIALS
3/25/2019
Thank you again for another amazing vacation aboard Island Hoppin'!  As Island Hoppin's first repeat customer, we weren't sure if the second time could be as amazing as the first visit we had with Jamie and Susannah in 2018 but we had an over the top week!  For all those wondering if they should do a repeat trip, get on it and book now!!  This trip was even better than last year's. 

All of our adventures were new and unchartered territory.  There were so many new, fun experiences in different places, and the "Hotdog" was the perfect addition for lots of laughs.  The boat was in tip, top shape and looked just as great as it did last year. Susannah wowed us with terrific new recipes for all meals; Jamie amazed us with amazing new dive sites.  Jamie & Susannah, and Island Hoppin' are a wonderful combination; their care, attentiveness, professionalism, demeanor, and great personalities, together with a beautiful boat, left us with terrific memories and we are ready for the three-peat.

3/6/2019
Jamie and Susannah met us when we arrived and quickly rolled all our bags down to the boat. They were friendly and professional all the while getting us quickly onboard after snapping the first of many pictures for us. They looked sharp as did Island Hoppin'. We were shown to our cabin and told to settle a bit and come up for safety information before we set off. Everything was done to make us feel us welcomed. It was a perfect beginning to a wonderful week long charter.
The crew went out of their way to find extra large size 14 fins for one guest. They also gave instruction and encouragement on the use of all equipment.
The boat was very comfortable and we loved all the spaces to sun, read, dine or watch Jamie raise the sails. We're sailors so it was fascinating to view all the high tech equipment used for navigation and operating the sails. We had expressed a desire to sail as much as possible and Jamie was as happy as we were to watch the sails fill and the boat respond . There is nothing like the sounds and sights of sailing.
Jamie was the perfect combination of professional captain and fun ship mate. We felt like friends all enjoying the same adventure. When time came for getting underway both Susannah and Jamie worked to secure the boat, pull the anchor and set the sails. They did all this easily and without any confusion. They made it look easy . They are fit, capable and knowledgeable.
Jamie not only answered every sailing question he gave the guys a tour of the engine room too. They were fascinated by all the operating systems and Jamie gave them a great "tour." I have some funny pictures of Jamie standing in the opening and the men looking down into the compartment.
We were pleased that our preferences were taken into consideration. Susannah prepared fresh fruit for our breakfast that was sweet and arranged on tray. There was always plenty served and the quality was outstanding. Crisp greens were used for our lunch salads and the dressings were all homemade. Susannah uses ingredients to create some of the best salads we've ever enjoyed. We encoured Sue to write up her recipes so we could attempt to recreate them. We had fish served with salsa's and sauces that were tasty and attractive. Jamie grilled delicious, tender chicken and beef which Susannah served up with roasted vegetables. Each dinner was served by Jamie who would explain what Susannah had created. When we had questions on ingredients Susannah would come out and give us the details on how she'd created our meal. I can't say enough about the quality of our meals. The desserts were amazing. Susannah surprised us with delicous desserts too. Each dinner ended with a sweet indulgence. I think my favorite was the Lemon Souffle served with raspberries. Chocolate brownie with a side of ice cream was Bill's favortie. All desserts were beautifully served too. The attention to detail of each meal served was outstanding. Susannah is an outstanding and competent chef, The food exceeded our expectations. We also were pleased that they prepared our food without excess salt and made sure we had no shellfish on the boat due to one passengers allergy.
We have given a lot of thought and can't think of anything that wasn't addressed before we began our charter. The material and suggestions provided answered all our questions. What really helped us was the Facebook Island Hoppin' message board where we could ask Jamie and Susannah questions. They would answer quickly and it felt like we knew them before we even met. They were funny, helpful, and welcoming. All concerns were addressed so we felt completely relaxed and confident that we were going to enjoy an amazing charter. I'd direct future guests to use and view this media. It really gives you a clear picture of the boat, the crew and what to expect. When our cab which by the way Jamie arranged arrived at the marina we right away recognized Susannah and Jamie. We felt like we were meeting two friends as well as our crew.

7/19/2018
"Our family recently had the pleasure of an 8-day trip on Island Hoppin' in the BVI's. The boat itself was impeccable, clean, and ready for our adventure. It was stocked with everything we could imagine for water activity (scuba tanks, SUP boards, kayaks, yoga mats, and even a wakeboard and water skis!). We were able to dive 7 days with divers experience levels ranging from beginner to very experienced. Jamie, the captain, was also our dive guide and comfortably navigated us on a variety of sites ranging from reef dives to wreck dives, in various conditions. Susannah did a remarkable job in preparing beautiful, healthy meals (and great desserts!) in a fashion more worthy of a restaurant kitchen instead of a boats galley! Jamie and Susannah listened to our thoughts and wishes for the trip, they were engaged and involved, non-stop, in making our experience memorable, and we truly could not have asked for better guides or a better boat to takes us through an incredible BVI sailing and vacation experience!"

5/12/2018
In January of 2018, we finally went on our first sailboat charter ever in BVI and it couldn't have been better! It started in St. Thomas when we were escorted to a beautiful brand new 52 foot Lagoon catamaran aptly named Island Hoppin. We were greeted with champagne by the awesome and darling crew Jamie and Susannah! We then toured the yacht and it was much roomier than I expected and our stateroom (and all the others) was absolutely beautiful with an on-suite bath and large window. The bed and bedding was so comfortable. The entire yacht is so well designed and spacious, there were 3 couples and we had more than enough room to lounge about all over the boat. We can't say enough about the crew. Jamie was our Captain and host and Susannah our Chef. They are both so knowledgeable, not to mention fun to visit with, and respectful. Jamie was great getting us out on the water using all of the fun toys, we joked that it was our Senior citizen (we aren't that old) play day! Jamie knew just how to manage us and help us with instruction on how to use the wide assortment of water toys, anything you could hope for. Jamie is clearly a seasoned Captain. It was our first time on a large sailboat and it was awesome watching the sails go up. The bow has a really nice sitting area and the helm area was very large, so we could spread out up there where the views were spectacular as we watched Jamie maneuver the sails through the beautiful islands. Susannah went snorkeling with the ladies a couple of times and pointed out all the wonderful sea life. Susannah prepared the most beautiful and delicious meals that were served at the lovely outside dining table which we really enjoyed. Everything was so tasty I was amazed, and it was fun to watch her in action, she is such a gourmet chef! There is a great tender on the boat. It goes fast, so Jamie would use to pull us around on the tube and take us to various islands and drop us off to snorkel or tour. We were sad to say goodbye to Jamie and Susannah when our 10 glorious days were over. Hopefully we will see them again soon on our next trip!

4/24/2018
Absolutely AMAZING vacation that exceeded our expectations in every way! No shoes. No makeup. No phone. No schedule. Just family, friends, fabulous food, cold drinks and sunsets. Every day was a new adventure! We arose to the smell of freshly brewed coffee that we enjoyed while Susannah prepared a delicious breakfast. We watched our children have the best vacation ever—paddleboarding, kayaking, hiking, snorkeling, cliff jumping, rock climbing, island hopping---and we joined in with every activity. Even our teenagers enjoyed the slow pace of afternoons when we would relax, horizon watch, sail and do nothing while just enjoying the amazing views. Ellen---once again---selected the perfect crew for our family! Jamie and Susannah made us feel truly at home and embraced our active crowd. They had lots of energy to keep up with us, were full of information to teach us about sailing and the islands, and made each day humorous and fun! Drinks were unique and bottomless, the meals were expertly prepared and we are already counting the days to return to the best vacation ever!

4/16/2018
Dear Jamie and SusannahWe simply had the best family vacation ever!This was our first catamaran charter and we didn't have any idea where to start given all the choices of boats, locations, etc. Lynne at CareFree Charters was instrumental in explaining our options, helping us narrow down the various boats and we ultimately booked our trip on the brand new 52 ft Island Hoppin'. Leading up to our departure, Lynne was in constant contact and kept us up to date. We would highly recommend Lynne and CareFree Charters as she understands this business inside and out.Our family, which includes two teenagers, called the 2018 52ft Lagoon Island Hoppin' home for a week. This catamaran, Captain Jamie Deehan and Chef Susannah King far surpassed any and all expectations we had. Jamie and Susannah's passion for sailing, love of the ocean, their hospitality, along with his sailing abilities and in-depth knowledge of the BVI, and her amazing skills in the galley made our trip an unbelievable experience from sunrise until we went to bed every night. Jamie's knowledge of the ocean and his scuba expertise made us feel very comfortable with our 13 and 15 year olds under his watch, plus he was always very eager to take the girls out for any and all water sports. Susannah amazed us at every meal with her incredible culinary talents. Not only did the food look spectacular, it tasted even better and every day we were so impressed with how she came up with her creations in the ship galley. Jamie and Susannah are great people and a fantastic team!As for Island Hoppin', she provided everything we wanted; great sleeping and bathroom accommodations, and plenty of space for eating, sunbathing and relaxation. The sailing between islands was great fun and comfortable and comes fully equipped with all the water-sport toys you want, great scuba gear and you will not have any boat envy while cruising the BVI aboard Island Hoppin'.If you are looking for an unbelievable trip in the BVI, look no further than Island Hoppin', and Jamie and Susannah... you will have the vacation of a lifetime!!Many thanks,Wouter, Yolanda, Ella and ClaireCherry Hills Village, CO

3/14/2018
We spent 10 days on Island Hoppin with Jamie and Susannah in January 2018. Wow. This was our 4th crewed charter and we have done 3 bareboat charters as well. This trip ranked far above the other trips.The boat is a brand new 2018 Lagoon. It has some really smart designs re: space - it feels much larger than a 52 foot. We were on a 54 foot Nautitech a couple of years ago and this boat felt so much more spacious with many additional areas on which we could spread out and relax. The boat was loaded with all the toys one can think of. It had a giant lilly pad, scuba gear, kayaks, stand up paddle boards, and probably a few others we did not pull out. One day we simply found a calm day on a calm bay and simply played with the toys all day.The crew is amazing. They are attentive yet give you space. They seemed to read our minds and knew when to get us in the water and playing vs when it was time for an awesome signature cocktail. They introduced us to new spots in the islands, and they were a lot of fun at the same time. Jamie has unlimited patience with guests who are trying to learn new skills on the toys or the boat itself. Susannah's food and presentation were simply spectacular. Between my wife and I, we put on 15 pounds! The islands are recovering nicely from the storms. They were nice and green. The beaches were beautiful as always. The water was crystal clear for snorkeling and playing on the toys. The people are even more awesome than before and are excited to see visitors come back to the islands and support their recovery efforts. Here and there one will see some areas that are still damaged, but they have come a very long way!And... the best testimony one can give - we are planning our next trip on this boat with this crew!

2/15/2018
Fresh off another amazing charter with a great group of new friends! We had a great time trying to keep up with fun loving bunch as we sailed, dived and partied through the Virgin Islands!In a letter addressed to their charter broker Lynne from Carefree Charters this is what they had to say:"Lynne,Regarding our recent charter. First off your walking us through a series of 4 different vessels due to reasons beyond anyone's control was the most professional job possible and your concern for keeping the price under control couldn't have been done better.Concerning the Island Hoppin' I can't say enough about this vessel. We suffered no boat envy in any of the mooring fields we visited and I would occasionally just walk about the deck touching things and feeling pride in just having the sense to go with such a vessel even though It was mostly a combination of just luck and your good work in getting me there. The cuisine was far superior than I could have ever imagined. There was simply nothing left that I could have desired along with service above and beyond our needs. Concerning our crew, I haven't the words to do them justice. I would have assumed that a more seasoned couple would have been an asset prior to meeting Jamie and Susanna. I couldn't have been further off the mark on this. Besides being there for everything we could possibly need I feel as though we bonded as friends for life. I wouldn't consider ever doing this again without them as my crew regardless of which vessel they were aboard. Jamie has excellent captain skills but his management skills are more amazing. After 44 years of working at sea I know of which I speak.I give the owner much credit for seemingly little things that made big differences. A new Bermese teak dining table in the cockpit dining area that made a huge difference as I got to see what it had replaced. The amount of teak in the decks that I understand was an extra expense made a huge difference over the fiberglass that would have been there if not for the extra care.Rob H., USCG licensed Master 1600 tons, 2nd Mate unlimited, oceansPS thank you for everything

1/3/2018
We spent a week on Island Hoppin' with Jamie and Susannah. The trip was everything we hoped it would be and MORE! The boat is a beauty - new, great condition, gorgeous, spacious, plenty of room for our party of 6. We never felt cramped or on top of one another. The BVIs are as beautiful as always and repairs and improvements are going on daily. Watching the sunsets from the boat took our breath away. We cannot say enough wonderful things about Jamie and Susannah. They are professional, fun, knowledgeable and the trip would not have been the same without the two of them. They went above and beyond to make our week fun and memorable. Susannah's cooking is scrumptious and Jamie's Pain Killers cannot be beat. The menu was varied and the presentation of the three daily meals plus snacks was top notch. Jamie was a wonderful and patient scuba instructor and the diving and snorkeling were absolutely delightful - we felt like we were in an aquarium. We also loved the tubing, water skiing, paddle boarding and jumping on the aqua lily pad! Thank you guys! We look forward to welcoming you back on board 👍#usvi #bvi #crewedyacht
12/24/2017
Dear Susannah and Jamie,Thank you so much for you hospitality and hard work this week! This type of vacation was a brand new experience for me and I did't know what to expect...the two of you made it just wonderful. The meal and snacks were delicious and beautiful and all the fun was so much fun! You provisioned well, planned well and worked well together and it was a pleasure getting to know you both a bit. I wish you the very best in life and hope our paths cross again. Merry Christmas too!MillieSusannah and Jamie,This was defiantly our best family vacation ever and you two are a big part of the reason. You are both very good at what you do and you obviously take great pride in what you do. Thank you for your hard work and great service. Hope to cruise with you again. If we ever use another captain and chef they will have a tough act to follow. The boat wasn't too shabby either!! Great getting to know you as well. Merry Christmas.RipThank you Jamie and Susannah for a fantastic week! You two are awesome company to have around. Your knowledge on so many subjects and humor and good-naturedness was contagious and you inspired me in many ways. Hope to catch you all again sometime. Hopefully in the Canary Islands.Love,SallieSusannah and Jamie,Thank you guys so much for everything this past week. All of your hard work helped make this trip an amazing and unforgettable experience. I hope to sail with you guys again some day!ScottThank you both of such an incredible week! This was an amazing trip in itself and your hard work, delicious meals and hospitality made it that much better. Thank you for being so accommodating and truly caring about what we wanted out of the trip. This was a trip of a lifetime that i will never forget! Hope to see you again.Ann

11/28/2017 
As a thirty year veteran of the dive travel business and co-owner of a catering /hospitality company, I can wholeheartedly recommend the Island Hoppin' experience based solely on the crew. I had the opportunity to charter with Susannah and Jamie last year and found it one of the most customer centric . They provide a top notch experience all around, and with a brand new 52 Lagoon under their care, they will certainly take it over the top! Jamie is an exceptionally knowledgeable captain, excellent boat handler, and he knows BVI diving as well as anyone I've met. Susannah is an excellent chef with great creative ability. Her flavor combinations and presentations are wonderful, and she provides a variety to please any palate. Everyone on the charter was amazed by the food and personal service. Susannah and Jamie can match the experience to anyone's preferences and abilities, and I am already recommending Island Hoppin' to my most discerning clients.Cheers and Merry Christmas,Randy

VIDEO
YACHT PHOTOS