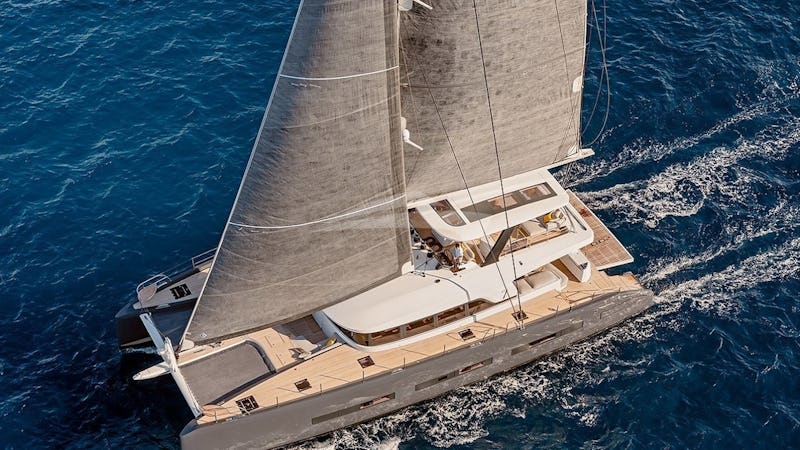 Specs Features Diving Crew Profile Menu Layout Photos Testimonials Similar Yachts Inquire NEW Charter Search »
YACHT INTRODUCTION
Since its debut in 2016, the new Lagoon Seventy 7 catamaran has proved to be an exceptionally popular yacht that has been in record-breaking demand. Built in France by CNB and designed by a super-star team of VPLP, Patrick Le Quément and Nauta Design,
the Seventy 7 is the new flagship for builder Lagoon and boasts gentle and precise lines for a refined and harmonious overall look.
SY JOY is definitely one of the first Lagoon Seventy 7s that are available for charter in the world. As an unbeatable choice for a bespoke yacht charter holiday, she combines pedigree design with luxurious styling, a spacious onboard layout and exceptional performance to create a perfect all-round yacht that is ideal for every kind of adventure on the water.
Lagoon designed the Seventy 7 to cater for a wide range of uses, including coastal cruising, global exploration and charter. This yacht does not disappoint; whatever your dream charter, the Lagoon Seventy 7 is the perfect base to enjoy it from.
As a fully crewed yacht, guests have to simply arrive to relax and enjoy all that this beautiful luxury catamaran modelhas to offer.
Finished to the highest standard, with superyacht DNA in its design, SY JOY offers extensive onboard spaces for its guests to enjoy.
Large open spaces, with an easy flow, make the most of the catamaran's huge volume and huge windows flood the yacht with light.
Located on the main deck the huge main saloon forms the heart of the yacht, with sofas, a bar, dining space and entertainment systems.
Beautiful accommodation is on offer, with versatile configurations to suit a wide range of group sizes and modern and luxurious spaces for guests to retreat to. A particular highlight is the master cabin, which includes a large ensuite, desk space, walk in wardrobe and generous living area. Direct access from the main saloon and out on to the cockpit and foredeck adds to the exclusivity of the master cabin space.
Just like the interior, the three main exterior spaces are huge and provide the perfect base for outdoor living. Leading directly out from the main saloon, the large aft cockpit is home to a dining space, extensive seating and direct access up to the flybridge and down to the transom. The forward cockpit includes informal lounge seating, perfect for sheltered relaxation, and provides direct access on to the trampoline net for relaxing and sunbathing. Moving upwards, the flybridge with hardtop – ideal for protection from the heatof the day – is yet another beautiful space with a navigation station, sunpads,seating and unspoiled views across the water.
SY JOY being a luxury catamaran for charter is perfect for water lovers and an especially impressive feature is the transom beach club, which opens up atwater level to create a base for swimming and water sports, or as a tender dock or prime spot for guests to relax and enjoy the close proximity to beautiful, crystal clear waters. A full sail inventory allows guests to appreciate the serenity of sailing between beautiful destinations.
A perfect all-rounder yacht, it is no surprise that the Lagoon Seventy 7 has been such an instant success story. 
We look forward to welcoming you on board very soon for your unforgettable charter experience.
SPECIFICATIONS
Length 76ft 5in (23.3m)
Beam 36ft 1in (11m)
Draft 6ft 3in (1.9m)
Sleeps 8 Guests
Cabins 4
Crew Captain Carl CJ COETZEE, Chef and 2 crew
Year Built 2018
Cruising Speed 10kts
Max Speed 12kts
Stabilisers None
Engines 2 x Volvo Penta D4-180 Engines / Generators 2 x Onan (19Kva) one upgrade to 27Kw

Builder Lagoon
Designer Not know
Flag Cayman Islands
VAT Registered No
US Duty Paid No
APPROXIMATE WEEKLY RATE
High USD $63,356 | Low USD $51,402
FEATURES & AMENITIES
Indoor audio system, iPod dock, Outdoor audio system, TV master cabin, TV saloon, Wi-Fi, 16ft/5m Ocean Master 100hp, Banana boat - towable, Beach games, Kayak, Kayaks multiple, Kneeboard, Paddleboard, Paddleboards multiple, Surf board, Wakeboard, BBQ, Deck shower, Fishing gear - light, Ice maker, Sun cushions, Sun loungers, Swim platform, Water maker
ACCOMMODATIONS
Sleeps 8 In 4 Cabins
Carl Cj Coetzee
DIVING EQUIPMENT
YACHT CREW
Captain: Carl CJ COETZEE (34)
Captain Carl CJ COETZEE
RYA Yacht Master Offshore & Coastal
STCW 95
Emergency First Response Instructor
PADI Master Scuba Diver Trainer - AIDA Level 2 Freediver
CJ's passion for the ocean stretches back further than he can remember. Born out of a
childhood of summers spent visiting his grandfather's house on the beach in Cape Town, he always knew he wanted a life by the sea.
Starting his career as a dive instructor and professional underwater photographer and
videographer, CJ spent many years working with thousands of clients, not only training them how to dive, but sharing his love for the ocean and guiding them to some of the most spectacular underwater locations and majestic marine life.
After many years under the sea, CJ decided to make the move into yachting to expand his
experience and build his career.
Taking his experiences from large superyachts to smaller award winning charter catamarans, CJ now has 8 years of working experience around the the Caribbean, Mediterranean , South East Asia and French Polynesia to make him the perfect captain for any yacht charter.
With experience of transatlantic crossings on spectacular sail yachts, finding Manta rays in the Benguela current off of Mozambique, discovering overhead barrels on never heard of islands lost in the Indian ocean or swimming with Tiger sharks in the Bahamas CJ has a knack of finding the most spectacular treasures that mother nature has to offer.
With a laid back and very friendly disposition, he leads a team of dedicated and professional crew to ensure that all of his guests have the opportunity to enjoy an once in a lifetime experience.
"I am very fortunate to be able to live a life that most could only dream of, however there is no greater joy than sharing that with others, either in, or out of the water."
Stewardess: Lexi Fletcher
Lexi Fletcher
STCW 95
Lexi is upbeat and charismatic, with a calm disposition and can do approach that makes her a welcome team member in any situation and a great asset on board JOY.
With experience early in her career serving cocktails and later moving on to client servicing in the marketing industry, Lexi has extensive practice delivering to the highest standards with flourish and flair over almost 15 years.
She understands the importance of the smallest finishing touches and prides herself on providing a truly personalised service for guests.
Working closely with Captain CJ and Chef Nikki, Lexi will make sure that every aspect of
your trip is taken care of so that you can sit back, relax and enjoy a once in a lifetime holiday on board JOY.
Having lived on three continents, Lexi has developed a deep passion for travel and has been lucky enough to visit some of the most beautiful places in the world.
A keen diver and hiker, she delights in exploring everything that the natural world has to offer, both above and below sea level.
MATE-ENGINEER: Tim JOHNSON
MATE-ENGINEER: Tim JOHNSON
Bristish
STCW 95 - RYA Yachtmaster Offshore
Languages: English
Tim's life has always been connected to the sea, growing up on the beautiful east coast of England, sailing and kayaking at every opportunity. After finishing university, he left for Corfu to work for a busy charter company, where he met his wife, Chef Nikki.
Together, over the last 9 years Tim & Nikki have had an exciting and varied life at sea.
From cold Northern Europe, across the Mediterranean to up and down the Caribbean and The Bahamas, East Coast USA and now beautiful Polynesia, their combined love of the ocean, diving, nature and wildlife has embedded a passion that they love to share with their guests.
As mate/engineer on board Joy, Tim keeps Joy running smoothly below deck. With an easy-going nature, he will also be there on hand to make sure you have the best vacation possible; whether it is to help you find that secret snorkelling spot, show you how to get up on the wakeboard, or to make sure your glass is always full for that perfect sunset.
CHEF: Nikki CAMP
CHEF: Nikki CAMP
STCW 95
Certificate of professional cookery
Certificate of specialist dietary nutrition
Introduction to Vietnamese cuisine
Nikki's love for food and cooking was developed at a very young age and today she thrives by experimenting with new dishes and creating personalized menus to ensure that every meal on board is an event in itself.
After studying at the Ashburton Culinary School, and with 5 years of experience as a chef on board busy charter yachts between Greece, the Mediterranean and Caribbean, Nikki has been exposed to (and fallen in love with) a multitude of cuisines and cultures.
With her kind-hearted and gentle nature, she endeavours to pour her passion into her cuisine. She delights in mixing healthy fresh local produce with international dishes learnt from a life well-travelled to create delicious yet health conscious menus on board.
Nikki is also a seasoned seafarer and has truly spent a life at sea.
From her earliest memories on her dad's boat on the English coast, to counting whales off the Turks & Caicos, exploring the mangroves of Barbuda, and the bays of Greece, she has loved it all.
She has worked as hostess in Greece. Also as Chef aboard a private sailing yacht in the Caribbean, Bahamas.
YACHT MENU
S/Y JOY
SAMPLE MENU by Nikki CAMP


BREAKFASTS
(Served with a selection of breads, spreads, jams, fruits, yoghurts, cereals, homemade granola and eggs to order)
Crushed avocado on toast with crunchy asparagus and a poached egg with crispy bacon
American blueberry pancakes and maple syrup - French toast with cinnamon, maple syrup and Parma ham
Mediterranean scrambled eggs on toast with breakfast sausages - Fried eggs with bacon and country potatoes
GF Caribbean fruit muffins with overnight oats - Smoothie bowls topped with fresh fruit, coconut flakes
Cheese and bacon quiche with sautéed vegetables


LUNCHES
Honey roasted duck breast on a chickpea, beetroot and cilantro salsa
Grouper goujons served with an arugula and avocado salad and a rustic tartar sauce
Seared scallops served with a quinoa and apple salad on a butternut squash puree
Seared tuna and niçoise salad served with fresh bread
Beef taco salad served with fresh guacamole, salsa, sour cream and jalapeno's
Lemon buttered salmon with couscous and feta mint arugula salad and cucumber ribbons
Grilled steak and caramelized onion salad with a chimichurri sauce and fresh bread


CANAPES
Vietnamese spring rolls, Loaded nacho plate, Quesadillas with salsa & sour cream
Charcuterie Board, Artichoke and parmesan bake with crudité and crackers
Hummus, crudité, olives and pita, Deep fried breaded cauliflower bites with dipping sauce


STARTERS
Carrot and cilantro soup
Tomato bruschetta with balsamic glaze
Sweet caramelized red onion and brie in crunchy phyllo pastry with lettuce and soy sauce
Mahi ceviche with avocado puree and a lime wedge
Cucumber, avocado & basil gazpacho
Goat cheese and beetroot salad with rocket and Dijon sauce
Spinach & mozzarella stuffed portobello mushroom


MAIN COURSES
Spiced duck breast on a date puree, roasted butternut squash, braised baby turnips and a duck jus
Sweet and spicy Mahi-Mahi on coconut rice and lentils with aubergine caviar and balsamic pearls
Pork tenderloin on wilted kale with sweet potato mash, shallot puree and sautéed apples and raisins
Creamy garlic butter Tuscan shrimp tagliatelle with sun-dried tomato, spinach, parmesan and garlic bread
Garliky butter lobster topped with parsley and served on a bed of coconut rice and pineapple salsa
Mahi stuffed with salmon mousse and rolled in pancetta on wilted spinach and a Maltaise sauce
BBQ baby back ribs served with potato salad and Asian slaw


DESSERTS
Rumfudge pie with chocolate sauce, whipped cream and strawberries
Carrot cake with an orange zest
Chocolate mousse
Oreo cheesecake
Chargrilled pineapple with caramel and cream
Keylime pie
Chocolate fondant


YACHT LAYOUT
YACHT TESTIMONIALS
Charter November 5 - 14, 2020 Rangiroa - Tikehau / 2 Americans 
Wow, what a magical adventure the last 9 days have been. The deepest gratitude to every human on this special boat, JOY, for ensuring that our trip was one of the most amazing and tranformative trips of our lives. We leave today feeling as if we not only made 6  new beautiful friends but life long adventure buddies. 
Thank you for making us free the family keeping us safe, showing us the beauty of French Polynesia and keeping us in fits of laughter.
Lexy you may be one of the funniest humans i've ever met. Your jou of life, lightearted attitude and witty humor were a big highlight of my trip.
Thank you provideed me with so much safty, knowledge and some deep belty laughs.
Thank you!
There's so much more I would like to share but words weren't created to express my deep gratitude for the trip you are made possible. from dancing with daolphins encounters, delicious food and incredible company. This the best trip I have ever been on and will forever live in my heart.
We see how hard you worked to make this happen and we look forward to the many adventures we will share together.
So much love and beams of lights.
M.
Charter November 27 - December 4, 2019 / Fakara - Fakara / US family of 6
This trip has been a wonderful gift to all of us. Your hospitality, fun loving spirit, incredible food and drink - plus all the fun activities we enjoyed throughout the week! Thank you for making our every desire come true and for all the unending service always with a smile and brightness. 
We loved having the "puppies" [blacktip reef sharks] visit us each day and night and all that you taught us. You are a marvellous team! 
So JOY-ous! Thankyou! 
Every activity was superb! The perfect family trip!
G B
Charter Septembre 28, 2019 - October 5, 2019 / Bora Bora - Raiatea
Dear crew,
Thank you so much for this amazing cruise, on a beautiful catamaran.
JOY is on the top of all the perfect word for an unforgettable holiday, with a perfect crew, very professionel, however being very friendly, and also with amazing food, very healthy and tasty.
Thanks again for everything and hope to be onboard very soon.
A & S W
Charter on August 28 - September 25, 2019 / Rangiroa - Bora Bora / one American couple

This has been the most remarkable vacation - a month on a boat with an unknown crew - and for the crew unknown guests, was a step in the dark - it has proved to be one of the best decisions of our lives. 
Four weeks on a very special boat, crewed by four very special people has been a JOY and a privilege. CJ's sailing skills took us to perfect locations at every stage - avoiding "bombies" all the way. Every member of the crew has contributed significantly to our enJOYment - never an empty glass and such quality and variety of meals that deserve Michelin stars. 
CJ's knowledge of the likely locations of the different areas to view, from tiny fish to 4 metre manta rays is uncanny! We have had the most memorable sightings of whales, manta, sting and eagle rays as well as dolphins off the bow and sharks swimming around us. 
I don't possess adequate superlatives in wishing to say a huge thanks to CJ, Lexi, Fabiana and Pablo - you have all been stars and made our dream a reality. From our hearts, thank you all. 
B & H
YACHT PHOTOS