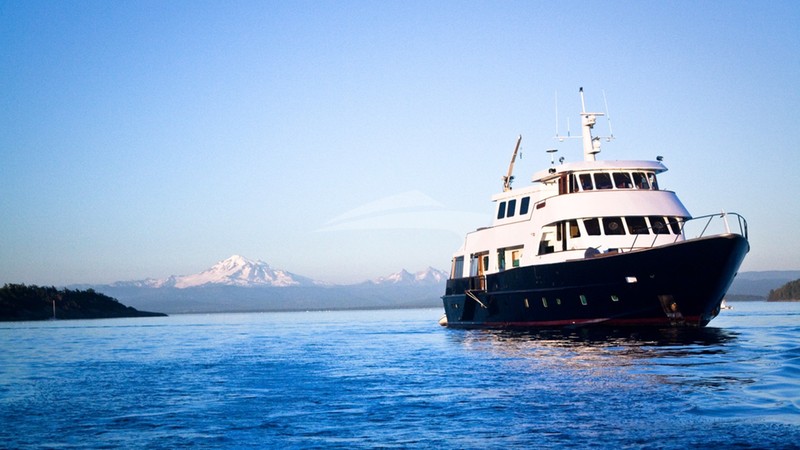 Specs Features Layout Photos Similar Yachts Inquire NEW Charter Search »
YACHT INTRODUCTION
At 124' and 200 tons, the MY Kayana is the world's best luxury expedition mega yacht to help you experience Alaska, the "Last Frontier". For the past decade elite luxury travelers and celebrities have praised her unique layout with six richly appointed staterooms, three dining areas, extended main salon, media/game center, spa room, two day heads, bridge lounge, activity deck, eco viewing/sunning/workout deck, and largest staff capacity. But, mostly they love her crew - pampering, caring, multitalented people. The most experience in Alaska. Coupled with the most extensive amenities (kayaks, fishing, crabbing, etc.), the finest cuisine and the best wine cellar in the region, they are eager to take you, your family, friends and associates on an "Expedition to the Extraordinary" – what many have said was the trip of a lifetime.
The Kayana and her sistership, Katania, is from this area. We grew up here, have sport fished these waters for decades and started this company to cater to elite clientele who's luxury expedition mega yachting needs were not being properly met in Alaska. We often found that white fiberglass yachts would arrive from the Caribbean or California with only four staterooms, jetskis on top, limited crew capacity, no covered outdoor dining, white carpet, no wet/cold weather gear, limited fishing/crabbing/kayaking amenities, inexperience staff, and no local supplier/guide/airlift relationships. They would try for a few charters. They quickly learned that Alaska is different, much different, and would head back after a season or so. Waters full of icebergs, logs, raging tidal currents (up to 28 feet), no ports en route, limited supplies, and minimal good anchorages was not easily for the inexperienced. For warm weather crews used to shuttling from port to port for guest to visit the local bars and shops, a solid week at sea in a rain forest region where there were more bears than people was just too much. They'd head back south.
Thus, we set out in 1999 to buy and refit some of the strongest built, best classic expedition yachts and bring them to the Northwest and Alaska, and alternate destination, Mexico. In all areas we have substantial investments in related travel destinations and can supply the best full time crew and port support. No other single vessels operations can do this. We are a business dedicated to providing the ultimate land and sea adventures for wealth travelers. We have chartered to business leaders, politicians, investors, and movie stars over the last 12 years, and many have said it was their best adventure ever. We think you will too.
What we have learned in that time of chartering with our own yachts and crew, and doing our own refit, is that vessels in Alaskan waters, traveling a couple hundred miles a week to remote islands have different requirement than traditional luxury yachts. First, you need more common spaces – one salon is not enough for people together all week.. Ditto more dining areas. You need more staterooms as most of your clients are extended families. There has to be something for everyone, whether a private yoga stretching room for mom, or Xbox play area for the kids. You need activities including fishing, crabbing, clamming, etc. Alaska is a treasure trove or seafood and guests, especially children, love catch a salmon, or helping the crew pull up crab pots, then eating what they caught that morning. Many come from environments where they don't do enough of that, so we coordinate with the best guides in the business to help catch the big ones.
In terms of crew, you often need more than most cruises, and multi-disciplined, as there is so many activities that require an naturalist, kayak or hiking leader. As there are no restaurants along the way, we employ the top chefs available, both regular and award winning guest chefs. To match the amazing cuisines we have the largest wine cellar, chosen during the year by tastings with the top Northwest wineries – the winners are stored in a 1200 bottle private cellar and placed on the yachts later for the season. You're in for a treat every night with some wines you've never heard of that are better than some of the highest rated wines in the world. Our average rated wine is 90 by Wine Spectator.
Kayana's interior spaces are warm, open, and beautifully furnished in classic wood decor. The many outdoor areas provide a mix of large and small spaces to gather together or enjoy some private time. The large aft deck is beautifully finished in teak with matching furnishings, and the upper deck has a hot tub and dining area, with plenty of room for sunning, working out, or just enjoying the ever changing scene on the ocean as you head to each new island. Additionally, the bow area is ideal for private sunning – a private retreat our guests love.
The Kayana has three separate dining areas, which is needed as you're at sea most of the time. The main dining room can accommodate 14 comfortably, as can the aft deck area, and the upper deck can accommodate as many as 30! Great for those parties, especially for multi-boat charters. The media room boasts a 300+ movie collection and the younger guests will love the Xbox 360 and the latest and greatest games. But one of the favorite places is sitting in the Sky Lounge right in the bridge, watching with the Captain for whales, bears on shore, magnificent waterfalls, or just the awe inspiring beauty that is Alaska.
Accommodations are up to 12 people in 6+ staterooms, including a full beam master located midship, our Sky Master Suite on the upper deck, and a bonus room that can easily be converted into a stateroom if needed for a nanny, caregiver, or bodyguard. Each stateroom has its own private bath and is equipped with its own entertainment system.
The Kayana is equipped with tender, dinghy, 4-double kayaks, scuba gear, fishing/crabbing/shrimping gear, wet/cold weather outfits for guests, hot tub, two day heads, kids cruising bunk, and many other amenities. Our standard cruise itinerary between Juneau and Sitka with many wonderful islands, bays and fjords to view icebergs, glaciers, whales, eagles, bears, spawning salmon and so much more. But, what's most amazing about Alaska is the remoteness, awesome beauty, and the sense you get that this is the way whole world once was long ago – wild, raw and dangerous.
SPECIFICATIONS
Length 121ft 1in (36.9m)
Beam 24ft 11in (7.6m)
Draft 6ft 7in (2m)
Sleeps 12 Guests
Cabins 6
Crew Captain , Chef and 3 crew
Year Built 1978
Cruising Speed 12kts
Max Speed Not available Stabilisers Stabilisers
Engines Twin MD 234V16

Builder Vosper Thornycroft
Designer John Bannenberg
Flag United States
VAT Registered No
US Duty Paid No
APPROXIMATE WEEKLY RATE
FEATURES & AMENITIES
CD library, Cell phone, Cinema, DVD library, DVD player saloon, Games console, Indoor audio system, Local TV, Satellite phone, Satellite TV, Wi-Fi, 7ft / 2.40m 25hp Caribe, 11ft / 3.60m 25hp Caribe, Kayaks multiple, Kneeboard, Wakeboard, Water skis - adult, BBQ, Deck shower, Fishing gear - light, Jacuzzi on deck, Kosher, Owner operator, Special diets, Swim platform
ACCOMMODATIONS
Sleeps 12 In 6 Cabins
KAYANA can accommodate 12 guests in 6 cabins.
The Master cabin has a king size bed, shower and toilet.
2 Guest cabins have a double bed, a single bed, shower and toilet.
A Guest cabin has a king size bed, shower and toilet.
A Guest cabin has a queen size bed, shower and toilet.
A Guest cabin has a twin bed, shower and toilet.
KAYANA is air conditioned in saloon only.
A seperate massage/yoga room can be used as a guest suite/bath.

YACHT LAYOUT
YACHT PHOTOS