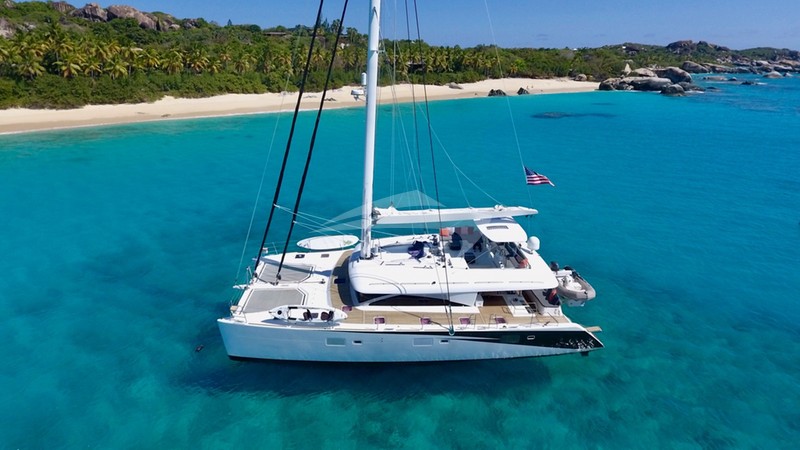 Specs Features Diving Crew Profile Menu Layout Photos Testimonials Similar Yachts Inquire NEW Charter Search »
YACHT INTRODUCTION
LADY KATLO is a 2010 Van Peteghem - Lauriot Prevost designed Lagoon 620, space has been optimized everywhere above and below decks.  Windows on three sides and pale upholstery create a light and airy main salon with large lounge and dining areas.  
Master stateroom has walk-around queen berth, lounge area, private en-suite head/shower and private access to aft deck.  The two VIP cabins each have queen beds and private en-suite head/showers.  All cabins have TV, DVD and MP3 players.
In place of a flybridge, LADY KATLO has a full sun deck.  The shaded aft cockpit has a wet bar and BBQ grill for casual outdoor dining with space to seat 12.
The 4.7 meter (15.5 feet) tender with 60hp outboard guarantees quick trips ashore, exhilarating water skiing and halyard flying! Water toys including the wake board, paddleboards, water skis, underwater camera and snorkel gear offer water sport thrills for everyone. 
Lady Katlo is fully air conditioned throughout. 
Amenities include:  
Salon TV/VCR, DVDs/Movies, CDs, Salon Stereo, Satellite TV, WiFi and Internet, Cell Phone, SATCOM, iPod Docker, Blu-Ray, Blu-Ray Library, Media Library, Games Console.  
The two-person crew has separate quarters on their own companionway.  
SPECIFICATIONS
Length 62ft 0in (18.9m)
Beam 33ft 2in (10.1m)
Draft 4ft 11in (1.5m)
Sleeps 6 Guests
Cabins 3
Crew Captain Henry Topham, Chef and 1 crew
Year Built 2010 / Refit 2013
Cruising Speed 9kts
Max Speed 12kts
Stabilisers None
Engines 2x Volvo Penta D3-150 (150hp)

Builder Lagoon
Designer Not know
Flag United States
VAT Registered No
US Duty Paid No
APPROXIMATE WEEKLY RATE
High USD $36,500 | Low USD $26,000
FEATURES & AMENITIES
Bluray player saloon, CD library, Cell phone, DVD library, DVD player saloon, Games console, Indoor audio system, iPod dock, Media movie server, Wi-Fi, 15ft / 4.60m 60hp RIB, Floating mats, Kayak, Kneeboard, Paddleboards multiple, Surf board, Tube - towable, Wakeboard, Water skis - adult, BBQ, Deck shower, Fishing gear - light, Special diets, Swim platform
ACCOMMODATIONS
Sleeps 6 In 3 Cabins
LADY KATLO, Lagoon 62 - Luxury Owners Version
Accommodates 6 guests in 3 en suite cabins. 
The Master Suite has a walk around queen bed and separate lounge area with private access to the aft deck.
The two VIP Staterooms have walk around queens.  All Staterooms are ensuite heads.
The crew have a separate companionway and facilities.
Fully air conditioned through out.
 
DIVING EQUIPMENT
Insured, Crew certified, Diving by arrangement, Diving if accompanied, Snorkelling gear, 1 Compressor, 4 Tanks, 4 BCs, 4 Regulators, Master,
Up to 3 dives during the week and gear are included for certified divers.
Additional dives are $150/diver, per dive.
YACHT CREW
Captain: Henry Topham (61)
Captain Henry and Chef Jayne are a married English couple and the proud crew of the fabulous Lady Katlo, their entire focus is to provide you with the best vacation you have ever experienced past or future!
Henry started sailing aged 19 in the south coast of England, racing in Wales and freezing in Scotland.
He is an accomplished sailor having survived the Baltic in January, The Caribbean in September and a dry boat in the Irish Sea. He has sailed around Greece, The Balearics, French Riviera and The Italian west and East coasts, Sardinia and Corsica.
He will find you exactly the location you desire, quite coves for inward inspection and meditation or party beaches to let your hair down.
He is a dive master who will lead you to all the greatest dive spots in the area and tell you the history of everywhere you visit, what you will see, show you the wreaks and explain why they are!
When the cocktail bell tolls, he will demonstrate his bar tending experience taking you to places usually inhabited by angels.
1st Mate & Stewardess: Jayne Topham (44)
Jayne is the pivotal figure on the boat, responsible for keeping our guests delighted with fabulous food from across the globe and looking after everyone's wellbeing, kindness and caring are in her DNA!
She is a qualified chef, a holistic therapist and wonderful yacht hostess. She has sailed everywhere with Henry through all types of weather. She has vast knowledge of the best places in the Mediterranean, Caribbean and the Baltic!
Together they will ensure your vacation is safe, exciting and full of fun!
Lady Katlo is a Lagoon 620, 62 feet long and 32 feet wide. She has undergone a complete refit, including two new engines, upholstery and galley. She is a fantastic vacation vessel with great water sports equipment, dive compressor and everything you need for your stay.
Welcome on board!
YACHT MENU
Lady Katlo sample menu
 

DAY 1
Breakfast
Eggs Benedict with peppered button mushrooms
Lunch
Spicy Lamb Brochette, Greek Salad, Tzatziki & Warm Pitta's
Appetiser
Roasted Red Pepper Hummus & Crudites
Entrée
Red Thai Shrimp Curry, Jasmine rice & Sautéed vegetables Dessert
Key lime Pie with whipped cream
DAY 2
Breakfast
Continental Platter with warm croissants and homemade preserves
Lunch
Honey Dijon Chicken Salad served with Fresh bread rolls
Appetiser
Spinach & Artichoke Dip, served with seeded crackers
Entrée
Filet Mignon, with a Cabernet Thyme reduction, crushed purple potatoes, parsnip puree, and spiralized vegetables
Dessert
Rich Chocolate Mousse
DAY 3
Breakfast
Scrambled eggs crispy bacon rolls and English muffins
Lunch
Beef Taco Bowl with spicy tomato salsa, guacamole sour cream and shredded cheese 
Appetiser
Charcuterie & Cheese Platter
Served with rosemary crackers, olives and fig chutney 
Entrée
Ricotta & Spinach Lasagne with dressed mixed leaves Dessert
Flan & Fresh Berries
DAY 4
Breakfast
Banana & Coconut Pancakes 
Lunch
Grilled Tuna skewers with Mango Salsa 
Appetiser
Sushi with Pickled Ginger, Soy Sauce & Wasabi Entrée
Entrée
Chicken Breast stuffed with Blue cheese and wrapped in Pancetta Served with roasted vine tomatoes and a balsamic glaze 
Dessert
Vanilla cream sponge & Passion fruit coulis
DAY 5
Breakfast
Potato, Thyme Frittata 
Lunch
Burgers in Paradise - Homemade Burgers served with avocado, onions and tomato in a sesame bun 
Appetiser
Mini filo tartlets filled with goats cheeses and caramelised red onion
Entrée
5 Spice marinated Pork Tenderloin with Puréed sweet potato and roasted vegetables 
Dessert
Chocolate pudding with chocolate sauce and Vanilla ice cream
DAY 6
Breakfast
Tropical fruit Platter with homemade Lemon and poppy seed muffins 
Lunch
Jerk shrimp served on a bed of couscous and black beans 
Appetiser
Mozzarella, Basil and Balsamic Bruschetta
Entrée
Seafood Paella
Dessert
Pavlova nests with whipped mascarpone and summer fruits
Breakfast
English breakfast, sausages, bacon, eggs, Portobello mushroom and grilled tomato's 
Lunch
Curried Egg Salad served with hot bread rolls
Appetiser

Mini crab cakes with garlic and herb aioli
Entrée
Marinated grilled lamp chops, served with redcurrant sauce, Duchess potato's and green beans
Dessert
Grilled Bananas & Rum Sauce
All breakfasts are served with fresh coffee, tea, juice and cereals
YACHT LAYOUT
YACHT TESTIMONIALS
March 2015
Richie is DAH BOMB - great food!
The best food in the world! 
Hilary is COOL
Matt knows how to turn a wheel
Thank you! – Luke
 Thank you guys so much for the past week!  Richie's food was crazy good, possibly the best food I have ever had.  Matt knows how to sail which is good, and thanks Hilary for cleaning our room when it smelled bad.  Amazing trip!
Thank you! – Nick
 This was the most amazing trip I have ever been on!  I had so much fun learning about sailing a big sailboat when my only experience was sailing a four foot long opti.  Matt is an amazing sailor and Hilary is so nice and fun to hang out with!  Richie is hilarious and an amazing cook!  I will be craving his food every morning at home.  I really hope to come back next year!  Again, this was amazing and thank you so much!
 (hopefully) See you next year! Lexie
 Fantastic! Unforgettable! Amazing – Thank you matt, Hilary & Richie for giving our family and friends the most exciting and flawless spring vacation.  Your kindness and "can do" approach to everything was evident from the moment we climbed aboard.  You all went above and beyond – Richie's gluten-free cooking – absolutely the best.  Hilary's cheerful manner – and doing everything for us behind the scenes and also front and center – down to doing Nicholas and Max's laundry1  Her afternoon cookies & the Rice crispy treats,  Matts expertise on the boat in all kinds of ways beyond sailing (which  is of course unmatched). 
We went to the best snorkeling spots ever. Saw Sea Turtles, bubbly pool, (Necker Island – with champagne toasts), waterskiing, big dinners on the boat and so many more memories to last forever.
We thank you , we applaud you and we sincerely hope to do it again in 2016!
Until then – all our best – Hilary S.

---
Yacht: S/V Lady Katlo
Date:  December 29, 2013-January 5, 2014

Comment on the comfort onboard Lady Katlo: LK was spacious and tastefully decorated—more modern than overdone which was to our taste—so very comfortable.  The photos were not misleading.


Comment on the condition of Lady Katlo:  LK had just come from being redone in Fl Lauderdale and we were it's first clients, so it was really like being on a brand new vessel.


Comment on the cleanliness of Lady Katlo: Perfectly spotless—our rooms were cleaned every day, sheets and towels changed mid-week, crew worked throughout to keep the common areas and the boat itself tip-top.



Comment on the congeniality of the Captain and crew:  Captain Patrick is a doll and so were the crew. Super friendly.
 
Comment on the service of the Captain and crew:  I thought we had a few ideas for our trip and had emailed them to the Captain earlier.  But we soon realized that he had thought out a lovely tour of all the islands trying to make sure we got to see all the best spots the BVI had to offer in our limited time there.  His organization was perfect!


Comment on the fun aspect of the Captain and crew:  As a family of 5 we looked for "fun" mostly in our water sports, not really bars or restaurants, and The Captain and crew made sure we had access to anything we wanted to try—and we did a bunch of it—so yes, loads of fun.


Comment on the expertise of the Captain and crew:   I know nothing about sailing so It is hard for me to judge, but I would have to say the we felt in highly skilled and professional hands.  I  understand that the captain as well as Emily (I think she might be called the steward?) both had transatlantic crossings under their belts, as well as multiple solo sails on their own boats. Expertise: check!



Comment on the quality of your meals: OMG!! Chef David was AMAZING—we ate so well we never wanted to leave the boat to go ashore, and so we never did!  (The2 times we did eat in a restaurant it was nowhere near the caliber of the food on LK)  So accommodating too, since the kids like meat and the parents fish, but never felt like an effort to make everyone happy.  OK, I admit it, took photos of the food, it was beautiful.


Comment on the presentation of your meals: See above. Oh and the table was beautiful without the food as well.

 
Would you charter this yacht again? (Circle one)     YES     NO
YES YES YES
One last thing—
Initially I went along with my husband's desire to charter a boat—not against it, but thought it would be a one-off, great experience.  The quality of the experience from our first conversations with the broker to being helped through customs by the Captain and getting back to St. Thomas was perfect.  We are both hooked, and will be looking to
charter again.  And again.
Sincerely,
Risë
Lady Katlo Guest comments
I spent a wonderful week with my parents cruising on Lady Katlo in the southern Grenadines this February (2012).  We had a truly wonderful week of sailing and were looked after beautifully by the catain and his crew.The yacht is luxuriously comfortable and spotlessly clean, the food delicious and the service immaculate.  We were thoroughly spoiled in every way possible. The captain found ideal moorings for us every night, peaceful places of great beauty and calm, which was just what we had asked for.This was our first experience of cruising in these islands and we are already planning our return next year....seven days was certainly not long enough
2012
YACHT PHOTOS