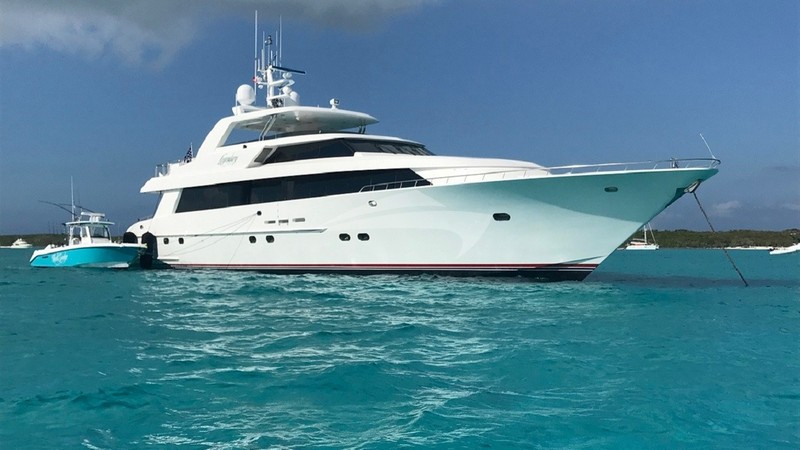 Specs Features Diving Crew Profile Menu Layout Photos Testimonials Similar Yachts Inquire NEW Charter Search »
YACHT INTRODUCTION
Timeless styling, beautiful furnishings and sumptuous seating feature throughout to create an elegant and comfortable atmosphere.  LEGENDARY's  impressive leisure and entertainment facilities make her the ideal charter yacht for socializing and entertaining with family and friends. Her  interior layout sleeps up to 8 guests in 4 double staterooms, perfect fore couples! .
The flybridge has a fiberglass hardtop with retractable sun roof and 62" plasma TV which is recessed in the overhead just above the helm station. There is a 2 1/2' extension on the transom which houses a fully hydraulic set of stairs and underwater platform for swimming  and personal watercraft access. Underwater lights located on the swim platform will provide hours of evening underwater viewing.
SPECIFICATIONS
Length 120ft 1in (36.6m)
Beam 24ft 7in (7.5m)
Draft 6ft 7in (2m)
Sleeps 8 Guests
Cabins 4
Crew Captain Paul Warner, Chef and 3 crew
Year Built 2000 / Refit 2017
Cruising Speed 12kts
Max Speed 20kts
Stabilisers Stabilisers
Engines 2 X DETROIT DIESEL MTU 16V2000 M72 SERIES DDEC.

Builder Northcoast Yachts
Designer Jonathan Quinn Barnett.
Flag United States
VAT Registered No
US Duty Paid No
APPROXIMATE WEEKLY RATE
High USD $63,800 | Low USD $58,000
FEATURES & AMENITIES
35ft / 10.70m 600hp Everglades, Floating mats, Paddleboards multiple, Tube - towable, Wakeboard, Water skis - adult, Wave runner (sitdown), Fishing gear - heavy, Jacuzzi in master cabin, Swim platform
ACCOMMODATIONS
Sleeps 8 In 4 Cabins
DIVING EQUIPMENT
YACHT CREW
Captain: Paul Warner
Captain Paul Warner
Paul has been on the water since the age of 13 after his parents had emigrated from England to settle in Tortola, British Virgin Islands. Growing up amongst an island chain and where he eventually joined a 282' Schooner passing through the territory and sailed away at age 17.
Through his career Captain Paul has operated Sailing Ships, Live-aboard Dive ships, Cargo ships and now ultimately Yachts. Captain Paul brings knowledge of the maritime industry and has held the capacity of Engineer during his career ensuring smooth sailing while aboard.
Paul is married and has two teenage boys, when docked he enjoys outdoor activities and is active with his sons in a local Boy Scout Troop in Palm Beach, FL
Mate: Clayton Burleson
Mate Clayton Burleson
Clayton was destined for a nautical journey, he was born in Newport News, Va and raised in the Florida Keys. As a minor Clay was introduced to a variety of water sports including snorkeling, spearfishing and sailing. Before Clay joined LEGENDARY, he had been crew upon traditional sailing schooners in New England and joined us mid-2017 as our 1st mate and water sports guru. Clay enjoys leading the water activities whether its fishing, Jet skiing, snorkeling or excursions by tender throughout the Bahamian waters.
Chief Stewardess: Corina Istrate
Chief Stewardess Corina Istrate
Corina is originally from Romania and has worked with the professional maritime community for several years, mostly aboard large passenger ships with the Carnival Cruise lines group before coming into yachting. Corina trained for interior hospitality and guest services of which eventually led her to becoming a sommelier in training while there. Corina endeavors to bring the highest tier of guest comfort and relaxation aboard during your stay.
Deck/Stewardess: Paula Skelly
Paula Skelly
Paula was born and raised in Rochester NY and moved to the Florida Keys shortly after high school to study marine sciences. My boating background focuses on water sports such as snorkeling and parasailing etc, but traveling as well as growth are important to me which is what really attracted me to the bigger, more formal aspect of the industry. She loves to interact with the guest and looks forward to providing seamless service!
Chef: Carissa Sanchez
Water lover & talented chef with 15 years professional culinary experience. Specializing in nutrition, dietary requirements, sustainability & plant based diets. Enjoys one on one interaction with guests, keeping tidy & attention to detail. Highly motivated & eager to reinvent traditional dishes with a healthy spin or perfect specialty cooking ingredients from various cultures. Travelling around the world, she pleasing people's paletes as she continues to "wow" everyone's mouth lucky enough to indulge her delicious healthy eats.
YACHT MENU
Chef Carrissa Sanchez
Breakfast:
Fresh fruit platter
Fresh pastry basket
Cereal assortment with yogurt, nuts and dried fruit
Warm breakfast on order
Sandwiches:
Gourmet Beef Burger with Portobello Mushrooms, White Truffle-Horseradish Sauce & Arugula dressing
Spicy Chicken Sandwich with Cilantro Relish, Arugula, Tomatoes & Sourdough Bread
Tri-Tip Sandwich on French Roll with Taziki Sauce & Tahini
Chimchurri Skirt Steak Sandwich with Goat Cheese, Roma Tomatoes & Red Onions
Seasonal Grilled Vegetable Sandwich with Lemon-Tarragon Pesto & Provolone
Sandwich Spread Board:  Assortment of meats, cheeses, breads and spreads
Salads:
Goat cheese, toasted almonds, dried cranberries & mixed greens tossed in a blush vinaigrette
Kalamata olives, goat cheese, cucumber and mixed greens tossed in blush vinaigrette
Apple & pear, candied walnuts, Gorgonzola blue cheese, mixed greens & Champagne Vinaigrette
Mixed Greens, strawberries, Ricotta Pecorino, toasted almonds & blush vinaigrette
Orzo Pasta Salad with sun-dried tomatoes, sweet peppers, basil, feta cheese & golden Raisins
Quinoa Salad with dried cranberries, dried cherries, toasted almonds, basil, parsley & EVOO
Soups:
Cannellini beans, kale and roasted tomato soup with sage
Acorn & apple soup with crèma
Potato & Leek soup
Chorizo-Pumpkin soup with potato
Asparagus & Saffron Rice Soup with Pancetta
Potato-Corn Chowder with bacon & cilantro
Carissa's Fisherman Stew – Assortment of seafood in saffron-tomato broth
Lamb Stew with Kohlrabi and Leeks
Mini Meatball Soup with Escarole, Vildia Onions
Beef & Wild Boar Bacon Chili w/ Porter and Espresso
Bites & Bruschetta's:
Cannellini Bean Bruschetta with white truffle oil
Roasted Tomato-Basil & Parmesan Bruschetta
Pear Brulee Bruschetta with Hazelnut Cream
Caramelized Sweet Vildia Onion & Goat Cheese Bruschetta
Fire-roasted tomatoes infused with rosewater; served with arugula & garlic crostinis
Crostinis with Asparagus Fondue, Manchego cheese, Pancetta, Arugula, Truffle oil
Asparagus, Goat Cheese, Tomato & Caper Salsa on crostini with Balsamic Reduction
Marsala & balsamic Vildia onion wood-fire tart with Roquefort Blue Cheese
Fennel, prosciutto, arugula, & ricotta pecorino wood-fire tart
Elk Carpaccio with spiced mustard
Seared Scallops with potato Mousseline, prosciutto & Marsala cream
Cured Salmon, Cucumber, Lemon Cream & Dill
Citrus Marinated Tiger Prawns with Mango Chutney
Polenta with Tomato Creole, Cajun Shrimp & Micro Sprouts
Party Meatballs (veal, beef, pork) with Vodka Sauce
Chive & Potato Scones with Roasted Tomato Crema
Wood-Fire Braised Endives with Pancetta, Chives, Goat Cheese & Extra Virgin Olive Oil
Kohlbrussel with Pancetta, Rocket Arugula & White Truffle Oil
Stuffed Mushrooms with Polenta, Spinach, Sun-Dried Tomatoes & Parmesan Reggiano
Portabella Mushrooms, Herbed Goat Cheese, Tomato Fondue
Bruleed Seasonal Fruit in Phyllo with Marscapone & Balsamic Reduction
Antipasto Platter Specialty Salamis, Cheeses &  Olive Medley, roasted vegetables, fruit
Variety of dips with crackers, crostinis; Dips Selection: Taziki, Hummus, Pesto & Salsa
Pasta & Gnocchi (see vegetarian also):
Pasta de la Casa: Veal and pork, grounded and sautéed with onion, garlic, red pepper flakes, cream and parmesan cheese.
Pasta a la Stella: Pasta sautéed with prosciutto, radicchio, tomatoes, cream, Parmesan Reggiano and red pepper flakes
Spaghetti & Meatballs: Braised meatballs made from veal, pork and beef.  Served with spaghetti and a Meritage marinara sauce; topped with Parmesan Reggiano
Linguini Bolognese – Trio of Italian meats slow baked with Chianti wine; Served with linguini and topped with Parmesan Reggiano
Tiger Prawns, white wine, cream, tomatoes & Manchego, sautéed with lemon-pepper Linguine
Gnocchi with Marsala cream, prosciutto, spinach & peas
Tiger prawns sautéed with white wine, lemon - pepper linguine, cream, parmesan cheese & tomatoes
Vegetarian:
Farmers Market Pasta: Pasta with roasted seasonal vegetables, light béchamel sauce, fresh ricotta & basil oil
Spaghetti with artichoke hearts, roasted bell peppers, tomatoes, cream & spinach
Seasonal Vegetable Lasagna with Béchamel
Gnocchi with creamy basil pesto, seasonal vegetables, toasted pine-nuts and Parmesan Reggiano
Gnocchi & Ratatouille with Feta
Ratatouille Vol Au Vents with Sun-dried Tomato & Basil Pesto, Pine-nuts
Potato Gnocchi is butternut squash puree, spinach, cream & white truffle oil
Coconut Curry with roasted eggplant, zucchini and cauliflower; served on saffron rice
Vegetable Stir-Fry with seasonal veggies, ginger & sesame oil; served on rice
Chicken:
Fire-Roasted Leg of Chicken with Rosemary, Lemon-Pepper & cranberry-orange chutney
Macadamia Nut bread chicken breast; marinated in coconut milk
Spicy Peach Glazed Chicken Breast
Chicken Marsala with Portabella mushrooms
Chicken Parmesan
Beef:
Braised Tri-Tip with Berry Au Jus
Ginger-Soy Tri-Tip with Berry Balsamic Reduction
Skirt Steak with Zinfandel Demi-Glace
Braised Short Ribs
Beef Shoulder & Root Vegetables
Pork:
YACHT LAYOUT
YACHT TESTIMONIALS
#1
                           M/YLEGENDARY
"I'm afraid if I get started on this trip I will never stop! 
From the momentwent met Captain Murph until the day we waved good bye. I can say there wasnever a moment of disappointment.  Every member of the crew wasprofessional, engaged and anticipated our every need.
Therooms were spotless and the food was consistently delicious!
The flexibilityof being able to choose our own way and spend as much time as we liked in anyarea was exhilarating.  
We were over thetop satisfied with this method of traveling
 andwill do it again!'
Regards,  
Mr. & Mrs. D
#2
To: LegendaryMarine
Re: Trip on the Legendary, West PalmBeach to Exumas in August 2007
Gentlemen:
We have been boating in the Bahamas forover 50 years on all types of yachts.  We must say that we've never had abetter yachting experience than the ten days my wife and I spent on theLegendary this August.
Yacht – we found her to be very stableand an easy ride even when the seas exceeded 5 feet on the crossing of the GulfStream.  She is beautifully and newly re-decorated and equipped living upin every way to her luxury super-yacht status.  In addition, she has severalfeatures which makes her unique and greatly enhanced our trip: (i) a foldingswim platform over15' wide with steps into the water providing both a perfecton/off for swimming and a safe and easy access to the yacht's tender –especially good as my wife had broken her arm a few weeks before the trip andwas in a sling; and (ii) a fun movie theater on the top deck which the crewmade into a gourmet dinner theater under clear and calm skies for us.
Crew – it is unusual to find a crew socompetent, and which works so well together.  The Chef was superb turningout breakfast, lunch and dinner each day which would make a Five Starrestaurant proud. The steward was quick witho ur drink and even quicker inmaking sure our stateroom was always in shows condition.  She also had areal talent for making the dinner table lookalikes it was set for royalty andto dress the table for special occasions. The Mates were always helpfuland kept the vessel in Bristol condition at all times.
In short, a first class time which Iwould rate A+, and we'll look forward to another trip on the Legendary.
Best,
Patti & Mitch
#3
Good morningMadeline,
I wanted to reach out to you and share my experience aboard the Legendary last month.  My husband and I spent 4 days on the boat and couldn't have been more pleased. 
Thechef is extremely talented and the food was amazing.  She asked us eachmorning what meals we would like to have on board and if there was something inparticular we were looking for.  The stew was very knowledgeable withproper service and quick to ask if there was something she could provideall while giving us privacy and space to relax.  The captain was aperfect gentlemen. 
Wewould definitely recommend this boat.
Respectfully,
Lindsey
YACHT PHOTOS