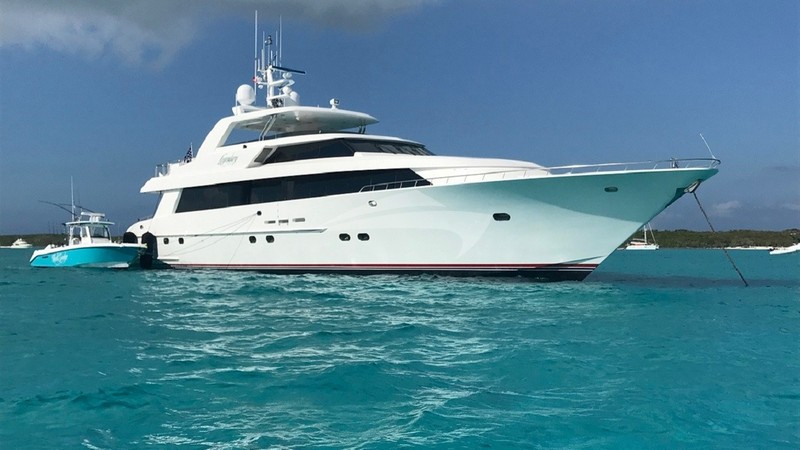 Specs Features Diving Crew Profile Menu Layout Photos Testimonials Similar Yachts Inquire NEW Charter Search »
YACHT INTRODUCTION
LEGENDARY'S interior layout sleeps up to 8 guests in 4 rooms. The yacht has just completed a $1,000,000 refit!
LEGENDARY'S impressive leisure and entertainment facilities make her the ideal charter yacht for socializing and entertaining with family and friends.The flybridge has a fiberglass hardtop with retractable sun roof and 62" plasma TV which is recessed in the overhead just above the helm station. There is a 2 1/2' extension on the transom which houses a fully hydraulic set of stairs and submersible teak beach for scuba and personal watercraft access. Underwater lights located on the swim platform will provide hours of evening underwater viewing.
SPECIFICATIONS
Length 120ft 1in (36.6m)
Beam 24ft 7in (7.5m)
Draft 6ft 7in (2m)
Sleeps 8 Guests
Cabins 4
Crew Captain Paul Warner, Chef and 3 crew
Year Built 2000 / Refit 2017
Cruising Speed 12kts
Max Speed 20kts
Stabilisers Stabilisers
Engines 2 X DETROIT DIESEL MTU 16V2000 M72 SERIES DDEC.

Builder Northcoast Yachts
Designer Jonathan Quinn Barnett.
Flag United States
VAT Registered No
US Duty Paid No
APPROXIMATE WEEKLY RATE
High USD $64,500 | Low USD $58,000
FEATURES & AMENITIES
35ft / 10.70m 600hp Everglades, 19ft / 5.80m 90hp Zodiac, Floating Mats, Paddleboards multiple, Tube - towable, Wakeboard, Water skis - adult, Wave runner (sitdown), Fishing gear - heavy, Jacuzzi in master cabin, Swim platform
ACCOMMODATIONS
Sleeps 8 In 4 Cabins
DIVING EQUIPMENT
YACHT CREW
Captain: Paul Warner
Captain Paul Warner
Paul has been on the water since the age of 13 after his parents had emigrated from England to settle in Tortola, British Virgin Islands. Growing up amongst an island chain and where he eventually joined a 282' Schooner passing through the territory and sailed away at age 17.
Through his career Captain Paul has operated Sailing Ships, Live-aboard Dive ships, Cargo ships and now ultimately Yachts. Captain Paul brings knowledge of the maritime industry and has held the capacity of Engineer during his career ensuring smooth sailing while aboard.
Paul is married and has two teenage boys, when docked he enjoys outdoor activities and is active with his sons in a local Boy Scout Troop in Palm Beach, FL
Mate: Clayton Burleson
Mate Clayton Burleson
Clayton was destined for a nautical journey, he was born in Newport News, Va and raised in the Florida Keys. As a minor Clay was introduced to a variety of water sports including snorkeling, spearfishing and sailing. Before Clay joined LEGENDARY, he had been crew upon traditional sailing schooners in New England and joined us mid-2017 as our 1st mate and water sports guru. Clay enjoys leading the water activities whether its fishing, Jet skiing, snorkeling or excursions by tender throughout the Bahamian waters.
Chief Stewardess: Corina Istrate
Chief Stewardess Corina Istrate
Corina is originally from Romania and has worked with the professional maritime community for several years, mostly aboard large passenger ships with the Carnival Cruise lines group before coming into yachting. Corina trained for interior hospitality and guest services of which eventually led her to becoming a sommelier in training while there. Corina endeavors to bring the highest tier of guest comfort and relaxation aboard during your stay.
Deck/Stewardess: Paula Skelly
Paula Skelly
Paula was born and raised in Rochester NY and moved to the Florida Keys shortly after high school to study marine sciences. My boating background focuses on water sports such as snorkeling and parasailing etc, but traveling as well as growth are important to me which is what really attracted me to the bigger, more formal aspect of the industry. She loves to interact with the guest and looks forward to providing seamless service!
YACHT MENU
ChefChristy Brow's 7 day sample menu
Day 1
Breakfast
Continentalbreakfast
Scrambledeggs
Applecinnamon waffles
W/Ham Steak
Lunch
Mahi-mahiw/saffron
Zucchini& Squash
Coconutrice
Dinner
Lemon,garlic roasted
Brusselssprouts
Couscous
Redvelvet cake
Day 2
Breakfast
Continentalbreakfast
FreshBlack berry pancakes
Sausage
Lunch
Applesmoked wings
PaprikaCorn on the cob
EliteTots
Snack
CheesyBites
Dinner
Homemadestuff ravioli
 W/Goat cheese, mushrooms & prosciutto
Spinachand shallots
Chocolatecake
Day 3
Breakfast
Continentalbreakfast
Biscuitsand gravy w/sausage
Eggsto order
Bacon
Lunch
Mixedgreen salad
LobsterStuffed croissant
Potatosalad
Carrots
PMSnack
Ham& Cheese Bites
Dinner
Crabrolls
ChickenPiccata
SautéedGreen Beans
Angelhaired pasta
CrèmeBrule
Day 4
Breakfast
Continentalbreakfast
 Scrambled eggs W/broccoli & Amish Cheddar
Loadedhash browns
Sausagelinks
Lunch
Mixedgreen salad
Grilledshrimp wraps
Goldenquinoa Tabouli
 Ribbon zucchini and squash
PMSnack
Ham& cheese croissant rolls
Dinner
CrabStuffed dumplings
Cashew,basil, garlic, chicken
Ricenoodles
BokChoy
SpicedGinger carrot cake
Day 5
Breakfast
Continental breakfast
Breakfast burritos
Sautéed potatoes W/corn leeks &kielbasa 
Thick cut apple smoked Bacon
Lunch
Apple& Fennel Salad
Lemonpepper Shrimp 
SautéedGreen Beans
Angelhaired pasta
PmSnack
Hummus& Cheese platter
Dinner
Pestocheesecake
Nutcrusted NY Strip w/poached quail egg
Sautéedonions and mushrooms
Fingerlingpotatoes
Ovenroasted broccoli
Breadpudding
Day 6
Breakfast
Continentalbreakfast
3Berry French toast
OreganoFeta Scrambled Eggs
Sausagelinks
Lunch
Avocado,Tomato Cucumber salad
Butterburgers
Brats& Tots
Dinner
SteamedMussels 
Herbedchicken breast
3Cheese Mac & Cheese
RoastedGreen Beans
Tiramisu
Day 7
FarewellBrunch
Quiche
AlmondFrench toast
EggsBenedict
Applesmoked bacon
Mimosas& Poinsettias
Thankyou for choosing this Legendary Crew
Tojoin you in
Your island adventures and memories !
YACHT LAYOUT
YACHT TESTIMONIALS
#1
                           M/YLEGENDARY
"I'm afraid if I get started on this trip I will never stop! 
From the momentwent met Captain Murph until the day we waved good bye. I can say there wasnever a moment of disappointment.  Every member of the crew wasprofessional, engaged and anticipated our every need.
Therooms were spotless and the food was consistently delicious!
The flexibilityof being able to choose our own way and spend as much time as we liked in anyarea was exhilarating.  
We were over thetop satisfied with this method of traveling
 andwill do it again!'
Regards,  
Mr. & Mrs. D
#2
To: LegendaryMarine
Re: Trip on the Legendary, West PalmBeach to Exumas in August 2007
Gentlemen:
We have been boating in the Bahamas forover 50 years on all types of yachts.  We must say that we've never had abetter yachting experience than the ten days my wife and I spent on theLegendary this August.
Yacht – we found her to be very stableand an easy ride even when the seas exceeded 5 feet on the crossing of the GulfStream.  She is beautifully and newly re-decorated and equipped living upin every way to her luxury super-yacht status.  In addition, she has severalfeatures which makes her unique and greatly enhanced our trip: (i) a foldingswim platform over15' wide with steps into the water providing both a perfecton/off for swimming and a safe and easy access to the yacht's tender –especially good as my wife had broken her arm a few weeks before the trip andwas in a sling; and (ii) a fun movie theater on the top deck which the crewmade into a gourmet dinner theater under clear and calm skies for us.
Crew – it is unusual to find a crew socompetent, and which works so well together.  The Chef was superb turningout breakfast, lunch and dinner each day which would make a Five Starrestaurant proud. The steward was quick witho ur drink and even quicker inmaking sure our stateroom was always in shows condition.  She also had areal talent for making the dinner table lookalikes it was set for royalty andto dress the table for special occasions. The Mates were always helpfuland kept the vessel in Bristol condition at all times.
In short, a first class time which Iwould rate A+, and we'll look forward to another trip on the Legendary.
Best,
Patti & Mitch
#3
Good morningMadeline,
I wanted to reach out to you and share my experience aboard the Legendary last month.  My husband and I spent 4 days on the boat and couldn't have been more pleased. 
Thechef is extremely talented and the food was amazing.  She asked us eachmorning what meals we would like to have on board and if there was something inparticular we were looking for.  The stew was very knowledgeable withproper service and quick to ask if there was something she could provideall while giving us privacy and space to relax.  The captain was aperfect gentlemen. 
Wewould definitely recommend this boat.
Respectfully,
Lindsey
YACHT PHOTOS