Specs Features Diving Crew Profile Menu Layout Photos Testimonials Similar Yachts Inquire NEW Charter Search »
YACHT INTRODUCTION
Yacht Lolalita  is a 65' Privilege Sailing Catamaran, fully equipped for your memorable luxury sailing and diving vacation in the gorgeous Caribbean and the British Virgin Islands. 
SPECIFICATIONS
Length 65ft 0in (19.8m)
Beam 36ft 1in (11m)
Draft 5ft 11in (1.8m)
Sleeps 8 Guests
Cabins 4
Crew Captain Giovanni Damiani, Chef and 1 crew
Year Built 1996 / Refit 2019
Cruising Speed 7.6kts
Max Speed 8.6kts
Stabilisers None
Engines Twin 160 HP Yanmar's

Builder Privilege Yard
Designer Jeantot
Flag Virgin Islands (British)
VAT Registered No
US Duty Paid No
APPROXIMATE WEEKLY RATE
High USD $38,000 | Low USD $27,000
FEATURES & AMENITIES
CD library, Cell phone, DVD library, DVD player saloon, Games console, Indoor audio system, iPod dock, Media movie server, Satellite phone, Wi-Fi, 13ft / 4.00m 40hp AB, Assorted water toys, Kayaks multiple, Kneeboard, Mono ski, Paddleboards multiple, Tube - towable, Wakeboard, Water skis - adult, BBQ, Deck shower, Fishing gear - light, Hammocks, Special diets, Swim platform
ACCOMMODATIONS
Sleeps 8 In 4 Cabins
LOLALITA can accommodate 8 guests in 4 cabins.
Four en suite cabins.  The master has a centerline king and spacious bath with separate shower. 
Three queen guest cabins have private en suite baths with enclosed showers.
LOLALITA is fully air conditioned through out. Crew has a separate companionway, heads and shower.
DIVING EQUIPMENT
Insured, Crew can instruct, Crew certified, Diving if accompanied, Diving if certified, Snorkelling gear, Underwater still camera, Underwater video, 1 Compressor, 10 Tanks, 10 BCs, 10 Regulators, Instructor, NAUI and PADI,
Diving on Lolalita is included at no extra charge for certified divers, and we are now including the DiscoverScuba/Resort course for free! Usage of tanks and weights are included at no extra charge. BCD and/or regulator rental is $200 for the week per person for any diver not bringing their own gear. No dive lights or wetsuits onboard.
 $250 for any referral course. Guests complete classroom work & pool/confined water skills prior to joining Lolalita.
 
YACHT CREW
Captain: Giovanni Damiani (31)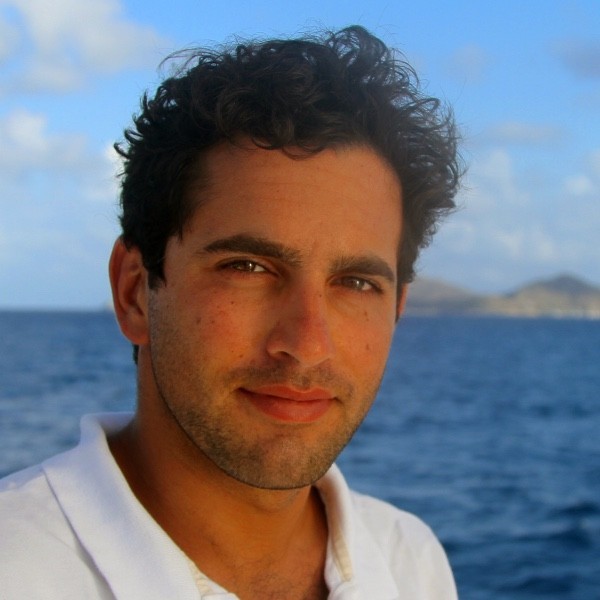 Gio is a highly experienced Captain who finds his fulfilment from connecting people with the sea and enjoying their experiences vicariously through them. Born and raised in London, his career began at young age teaching sailing and windsurfing at home and in Greece. A before moving to Australia to study for a degree in marine biology, conduct underwater acoustic research and guide marine wildlife tours. Eventually he bought his own 50ft sailboat and used it to lead documentary filmmaking expeditions thousands of miles around the Caribbean, resulting in work published by National Geographic. He is also an expert freediver and a PADI Dive Instructor. Gio takes great pride in ensuring the highest levels of safety onboard while helping guests to have the adventure of a lifetime.
Chef: Ryan
A traditionally trained chef with 16 years culinary experience, Ryan has followed his larger than life passion for cooking exquisite food for over half his life. He has frequently been headhunted to create diverse menus in the fine-dining restaurant industry before winning an international cooking competition three years ago that put him onto the worlds largest superyachts. We stole him away for a new chapter in his career to chef on smaller boats like Lolalita where he enjoys a more personal and interactive experience with the guests, teasing them with flavours throughout each day. He has an excellent knowledge of many styles of cuisine from Asian to Mediterranean and good old BBQ and takes pride in sourcing the finest ingredients around.
Mate: Raven
A South Florida girl passionate about the sunshine, Raven spent most of her previous life working for an iconic hotel and tiki bar on Hollywood beach, mixing drinks and looking after hotel guests. As a long term member of the team she understood the importance of maintaining a reputation for outstanding service and hospitality, bringing in a crowd of regulars who could always feel at home under her care. She recently moved into the yachting industry to explore beyond the horizon while using her eye for detail to maintain a first class hotel environment onboard and making sure her guests always feel pampered and well looked after. She's also out on deck, pulling lines and driving the tender, making sure the adventure is always flowing.
YACHT MENU
SEVEN DAY MENU
Chef Ryan Katona
NOTES:
A CHOICE SELECTION OF BREAKFAST ITEMS SERVED DAILY WOULD INCLUDE BREADS, BAGELS AND PASTRIES, CEREALS, YOGURTS, FRESH FRUITS, HOUSE MADE GRANOLA AND FRESH SQUEEZED JUICES
A VARIETY OF COOKED BREAKFASTS WILL ALSO BE AVAILABLE UPON REQUEST, SUCH AS CREPES, FRENCH TOAST, PANCAKES, WAFFLES, EGGS ANY WAY, OATMEAL, ETC.
Day One
Lunch
Beef Carpaccio With Rocket, Pine Nuts  And Charred Lemon Vinaigrette
Pan Seared Miso Marinated Chilean Sea Bass With An Orange Fennel Salad And Julienned Vegetables
Canape
Crispy Salami Cups Filled With Finely Diced Cucumbers, Tomatoes, Kalamata Olives, Feta Cheese And Fresh Basil
Freshly Shucked Oysters Served With Lemon Wedges And A Smoked Red Pepper Sauce
Dinner
Blackened Mahi Mahi And Roasted Red Pepper Rouille
Lemon Grass Infused Rice Pilaf, Broccoli Milanese
Tarte Tatin With Pecan Creme Fraiche
Day Two
Lunch
Maple Cured Bacon, Baby Romaine, Sliced Heirloom Tomatoes, On Grilled Sourdough Bread With An Avocado Aioli
Baked Camembert With Burgundy Poached Pears, Marcona Almonds And Medjool Dates
Canape 
Spinach & Artichoke Dip
Grilled Hanger Steak With Black Fig Demi-Glace 
Dinner
Marbled Avocado Tiles With Mango Ceviche
72-Hour Sherry Braised Beef Short Ribs
Chive And Chevre Whipped Potatoes And Spring Mix With A Roasted Tomato Vinaigrette
Ice Cream Parfait Layered With Lemon Custard, Blueberry Compote, Whipped Cream And A Cherry On Top
Day Three
Lunch
Kansas City Style Barbeque Ribs With Watermelon Mint Salad
Spice Grilled Tuna Tostadas With Mango-Avocado Slaw & Asian Glaze, Served with Cilantro Lime Pilaf
Blueberry Compote Stuffed Red Velvet Cupcakes With Lemon Infused Cream Cheese Frosting
Canape
Roasted Sweet Red Pepper And Smoked Garlic Hummus With Crudités
Escargot With Beurre De Bourgogne
Dinner
Traditional Beef Wellington
Sauteed Rainbow Trout With Lemon Caper Beurre Blanc
Basmati Rice, Wilted Spinach, Toasted Hazelnuts, Brown Butter Vinaigrette
Peppermint Tartlets
Day Four
Lunch
Korean Marinated Tri-Tip Skewers Grilled With Shishito Peppers And Sweetie Drops
Red Quinoa And Rocket  Salad With  Halloumi And A Sweet And Smokey Vinaigrette
Seared Ahi Tuna Sashimi With Soy Ginger Lime Sauce And Seaweed Salad
Dinner
Herb Incrusted Calamari Steaks Topped With Sautéed Lobster Knuckle, Lump Crab, And Bay Scallops In A Sweet corn Veloute
Duck Leg Confit With Vanilla Demi-Glace
Yam And Sweet Potato Au Gratin Gruyere
Roasted Brussels Sprouts With Maple Cured Bacon, Thyme Roasted Apples And Stout Mustard Sauce
Lavender Crème Brulee Served With A Shot Of Chilled Limoncello
Day Five 
Lunch
Red And Golden Beet Gazpacho With A Crab Salad Quenelle  
Pork Cheek Potato Gnocchi With Maple Glazed Root Vegetables And Natural Jus
Banana Pudding With Nilla Wafers, Sliced Bananas, And Fresh Whipped Cream  
Canape
Candied Bacon Wrapped Quail With Bleu Cheese Dipping Sauce
Cucumber Slices With Dill Cream Cheese And Smoked Salmon
Dinner
Pan Seared Sea Scallops And Pork Belly With A Cherry Gastrique
Free Range Chicken Breast Baked With A Shrimp And Crabmeat Stuffing, Topped With Lobster Saffron Cream
Wild Mushroom Risotto, Green Bean Almondine, Leaf Salad
Passion-Fruit Mousse With Bittersweet Chocolate, Poached Strawberries, And Candy Dust
Day Six
Lunch
Mac n' Cheese Stuffed Grilled Cheese Wedges In Tomato Bisque Drizzled With Chive Crème Fraiche
Chopped Kale with a creamy Caesar dressing and Garlic Croutons
Green Shawarma Marinated Chargrilled Salmon
Grapefruit And Fennel Salad With A Ginger And Pomegranate Vinaigrette
Dinner
Beef Fillet Entrecote Bordelaise
Roasted Sweet Potatoes And Red Onions Topped With Tahini, Za'atar, And Pine Nuts
Chargrilled Asparagus With Himalayan Black Salt
Spiced Rum Bread Pudding With Dried Cherries, Crème Anglaise, And Cinnamon Ice Cream
Day Seven
Lunch
Pan Roasted Chicken With White Wine, Artichoke Hearts, Cremini Mushrooms, Tomatoes, Garlic And Fresh Herbs
Seared Shrimp And Langoustines With Cheesy Grits, Mustard Greens And Okra
Deep Fried Cookie Dough With Brandy Caramel Ice Cream
Canape
Oysters Rockefeller With Swiss Chard, Crumbled Bacon, Sambuca, Mozzarella And Muenster Cheese
Steak Tartare With House Made Chips 
Dinner
Shredded Cucumber Salad With Tomato Confit, Chèvre, Powered Bacon And Yogurt Dill Dressing
Crown Roast Of Lamb Filled With Harvest Vegetable Couscous
Squid Ink And Truffle Fettuccini Lobster And Shrimp A La Crème 
Classic Chocolate Fondant
YACHT LAYOUT
YACHT TESTIMONIALS
Guests aboard LOLALITA in late June, 2017, said...
It was truly one of the best vacations I've ever had. The crew couldn't have done anything better. They were very easy to be around, friendly, humorous, and fun to hang around with. All this while doing their jobs with ease and always trying to accommodate us in all areas. We felt like they were part of our "family". They made this trip extremely enjoyable. They were very knowledgeable about all aspects of the boat and made us feel very secure. Every meal was top notch, tasty and presentation was always beautiful. The charter was well worth every penny we paid. Never being to BVI, everywhere we went was better than the one before in some way. Loved it all. Capt. Gio knew exactly where to go for good, dives, snorkeling or to just sit back and enjoy the beauty. There was plenty of things for all of us to do. Overall satisfaction was definitely a 10/10 for me. Can't wait to be able to do it again!! Thanks for all that you did for us!
L. Thompson
Late April, 2017 guests aboard LOLALITA said:
Gio and Renee,
Thank you so much for an amazing week. I know I speak for the entire family when I tell you we all enjoyed ourselves immensely.
Your sense of adventure and attention to the kids was as much a part of the trip as the boat herself. Everything was fantastic!!
Thank you for the wonderful slideshow and please forward along any additional pics you might have.
I have CC'd Sue and the girls on this and we look forward to staying in touch with you both. Good luck to you both and we wish you calm seas ahead. I hope our paths cross again soon.
Cheers,
The Thompsons
Easter 2017 guests on LOLALITA said:
We had a fantastic time on Lolalita! 
The crew accommodated all of our needs and desires in order to make this trip unforgettable, especially for the kids. We threw a big birthday bash for our V.I.P. family member (stuffed animal Beaver) that included a customized, homemade beaver cake from the chef, streamers, and even fun hats! For Easter, first mate Renee created an easter egg treasure hunt that had everyone, even the adults, laughing and exploring. Each place that Captain Gio took us to was even more beautiful than the last. In the end the only issue was that we didn't have enough time - so the crew let us extend our trip by 24 hours just to squeeze in even more fun and relaxation. 
Thank you, Lola! - Jason

YACHT PHOTOS