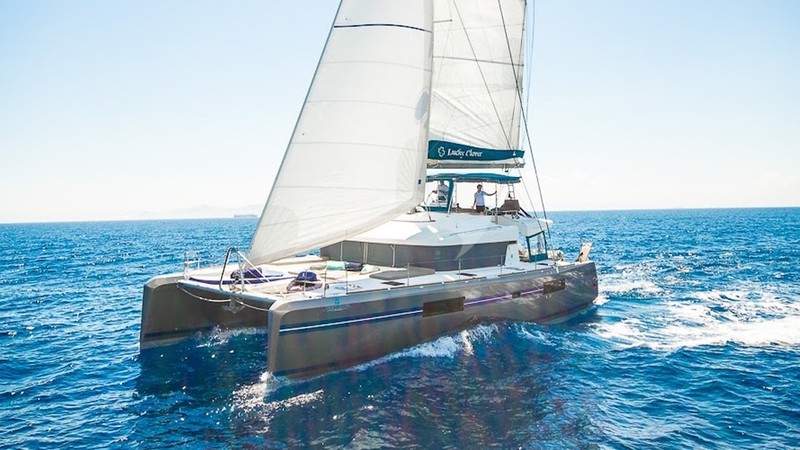 Specs Features Diving Crew Profile Menu Layout Photos Testimonials Similar Yachts Inquire NEW Charter Search »
YACHT INTRODUCTION
LUCKY CLOVER is a 52 ft (15.84 m) long vessel and belongs to the elite fleet of the Lagoon family. With its spacious and ergonomic design it can fit up to 12 guests and therefore often referred to as the ultimate family catamaran. The friendly colours, being used in this translucent modern design, and the comfortable spaces will make you feel right at home. When stepping on board for the first time, getting your first impressions of this beautiful boat and meeting with the amazing crew, who will win you from the first instance with their genuine friendliness and assuring professionalism, you will know that you made the right choice and will be eager to start your vacation.
One would not expect to find so much space on a boat with 6 cabins, of which 5 are Double cabins and 1 Pullman cabin, all equipped with private bathroom facilities, though through the ergonomic and stylish design you will be surprised how comfortable the cabins are. The interior, with its luxurious and contemporary design and its soft shades will leave you with a harmonious feeling of relaxation and contentment.
The aft deck, where you probably spend most of your time, is like the veranda of your mid-summer holiday home, where you can enjoy your delicious and luscious meals, your Chef will have created especially for you, or just savour a cocktail or a snack, while your children will play in the largest swimming pool of Europe. Whenever you will feel like getting a bit more active there are plenty of sport amenities, such as water-skis, paddleboard, tubes and kayaks to make you feel alive and healthy.
Greece has amazing sunsets and the perfect way to enjoy them is with a refreshing aperitif on the fly-bridge or on the comfortable cushions on the foredeck, whilst gazing at the romantic horizon. Whether you are at anchor in some quiet bay or cruising through the Greek seas or docking in a small beautiful harbor, you will always feel privileged to be on board LUCKY CLOVER.
SPECIFICATIONS
Length 51ft 10in (15.8m)
Beam 28ft 3in (8.6m)
Draft 4ft 11in (1.5m)
Sleeps 12 Guests
Cabins 6
Crew Captain Ioannis Tzortzis, Chef and 1 crew
Year Built 2016
Cruising Speed 9kts
Max Speed 10kts
Stabilisers None
Engines 2 x 80HP Yanmar 4JH4TCE

Builder Lagoon
Designer Not know
Flag Greece
VAT Registered Yes
US Duty Paid No
APPROXIMATE WEEKLY RATE
High USD $20,444 | Low USD $15,901
FEATURES & AMENITIES
Indoor audio system, TV saloon, Wi-Fi, 14ft / 4.30m 50hp RIB, Beach games, Board games, Floating Mats, Kayak, Paddleboard, Tube - towable, Wakeboard, Water skis - adult, Water skis - child, BBQ, Coffee machine, Deck shower, Fishing gear - heavy, Fishing gear - light, Sun cushions, Swim platform, Water maker
ACCOMMODATIONS
Sleeps 12 In 6 Cabins
DIVING EQUIPMENT
Not Insured, Diving by arrangement, Snorkelling gear
YACHT CREW
Captain: Ioannis Tzortzis (43)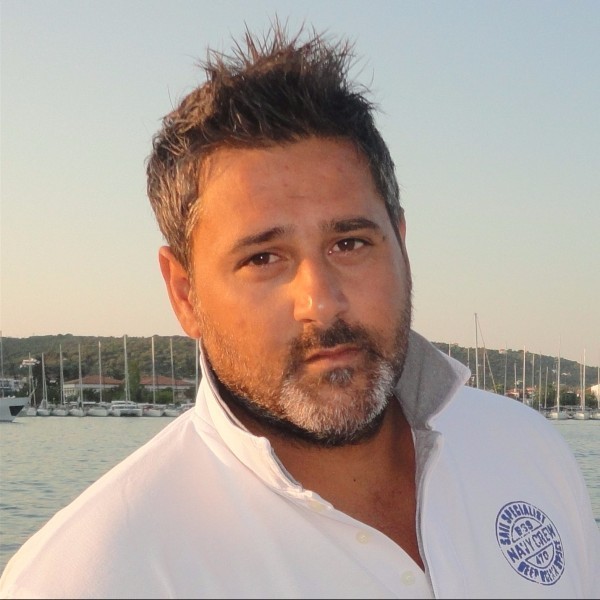 Ioannis's loves for the sea leads him to make sailing a way of his life and to travel endlessly ever since. He is an experienced sailor and Captain of almost any type and size of pleasure yachts (mono hulls, catamaran and motor yachts) and he has successfully managed to organized and equip numerous of boats. He is very diligent, hardworking and maintains a high level of professionalism at all times. He enjoys meeting new people and sharing his passion for sailing and travelling.
He holds a Diploma Skipper of Delphinarium Yacht Club - Offshore Sailing School and Diploma power license. Ioannis is also graduated of Hellenic Navy as Mechanical Engineer. In 2011-2012 he had the 1st Position in "Rally Ionian", ORC Club, Bareboat Gulio.
Chef: Vagia Bairaba
This is a chef you will remember for the amazing food, she is going to serve you. Vagia received her Professional Cooking Diploma with excellence from Chef dOeuvre and will astonish you of what a cook can prepare in such a small kitchen on board. She is extremely organized, efficient and responsible, her skills in the kitchen (and not only) are highly inventive, flexible, choosing always and only fresh ingredients for her meals and with her guests she is always in such a friendly manner communicative. Always attentive with a sweet smile, you cant help feeling very comfortable around her.
In possession of a Skipper Diploma, First Aid Certificate, Padi Advanced Open Water Diver Diploma and a vast experience of years on sea, she is well fit to handle any issues, also outside of her kitchen.
Vagia speaks fluent English, Greek and Spanish, as well as a little bit of French. She also loves gardening, ceramic pottery, traveling and discovering unknown places, books with humanitarian subject, volunteer work, music and dancing.
Stewart: George Argiros
George is an outstanding sailor. He is speaking fluently English and always aiming to be an effective communicator. Possessing experience within the yachting industry in sailing yachts and speedboats as Skipper/Sailor. He has completed more than 14.000 nm in central & south Aegean sea, Saronic Gulf. Self-motivated individual, with two main passions-people and sailing. In terms of both sailing and career, always open to new adventures and tasks. In his spare time he likes sailing, windsurfing, snorkeling/ scuba and all kind of water sports.
He has studied archaelogist but his passion for the sea was stronger. He has done daily charters in Santorini and Milos and as a tour guide he organised small groups for snorkelling in these areas. He has an excellent knowledge of greek history and he can advise you about main historical places you can visit during your trip.
YACHT MENU
BREAKFAST
All type of coffees
Tea, bagged and handmade blends
Fresh fruit juices
Milk, whole and lactose free
Greek yogurt
Different types of cereals
Fresh made breads and cakes
Honey and homemade jams and marmalades
Pancakes 
Viennoiseries
All type of eggs
Platter with cheese and cold cuts
Salads
Grill roasted vegetables with mustard sauce
Fennel and manouri cheese marinated with orange juice 
Shrimps and green beans with lime vinaigrette
Tomato cucumber and feta cheese with herbs
Roast carrot and avocado with lemon dressing
Various Greens with pear and almonds
Caprese with grilled peppers
Vine leafs stuffed with goat cheese and cous cous
Feta cheese croquettes with sesame with safran and lime sauce
Potato nest with mushrooms and sun dried tomatoes
Crunchy stuffed zucchini
Chilled curried cucumber soup with lemon and mint
Fresh fish carpaccio marinated with lime and onions
Anchovy croquettes with cold tomato sauce
Pappardelle with seafood and saffron
Bianco (Cod with potatoes and onions in white sauce)
Roast beef with vegetables
Marinated squids with wild rice
Grouper in the oven with lime and coconut milk
Chicken yakitori
Veloute fish soup with lemon mixed peppers and fresh thyme
Desserts
Lemon mille-feuille
Meringue with caramelized figs and yogurt
Mint sea breeze
Panacotta with peach sauce
Poached pears in wine and spices
Fruit salad
Ice cream
DINNER
Dressed green salad
Tabouleh with tuna
Beetroot onion and watercress
Tomato with sumac and herbs
Grilled peach onion and Jamon
Spinach shrimps and peas
Crunchy vegetables with ricotta crostini
Salted cheesecake with dried bread, cheese and fig sauce
Tartelettes with asparagus parmesan and prosciuttο
Grilled greek cheese with lemon and mastic flavor
Wild greens croquettes with yogurt sauce
Eggplants with garlic and tomato sauce
Spinach and other greens pie with herbs and olives
Cheese and chive blinis with pesto cream
Lasagne with vegetables
Chateaubriand with variety of mushrooms and brandy sauce
Salmon fillet with lemon cream
Moussaka
Fisherman's pasta
Vegetables ratatouille 
Casserole octopus with pasta and tomato
Grand Marnier mousse with strawberries
Chocolate mousse in tuilles with orange coulis
Apricots charlotte
Ravani (semolina pantespani) with mastic semifreddo
Bavaroise with sweet white wine sauce
Fruit salad
Ice cream
YACHT LAYOUT
YACHT TESTIMONIALS
                                                                                                         2017
September 2017
Yes I have a beard I am not the murdered hahaha Matthieu

Thanks, Yannis, Vaya, George 

September 2017

Dear crew, 
The Lucky Clover bring us luck with the amazing crew but not so much with the weather. Please rename your next boat: lucky weather Unfortunately this week comes to an end but we can't stand defeated and we will be back to conquer the Cyclades. Hopefully, Georges will know how to do kitesurf by then unless he sarks with the tender. In that case R.I.P….Since Vaya will still be there to work her magic as the master Druid we will come back to taste her new recipes. At last but not least Yannis will evolve from being the masterful Captain of this ship to Poseidon. 
May we need again, we will miss you, Chloe & Lionel

Thank you so much for this amazing week, with the perfect crew! I hope that you passed a nice moment with us. You are very professional and kind team. Nice to meet you!Maybe, we will make another trip with you next year!
Charles

September 2017

We are returning home, relaxed and refreshed after a great vacation on the Lucky Clover. Captain Yannis & Vaya and Jorge have made our stay very safe and comfortable, we thank you for the excellent service aboard, food, drinks, swim and the rest. We had plenty of sunshine and good friendly winds to sail around the Cyclades, starting in Mykonos-Paros-Ios-Milos-Siros, all excellent islands for our needs. It was an excellent choice!
All the best wishes for the next tours, 
Many thanks, Peter, Mongilardi & Anc Maria

September 2017

We had an amazing experience aboard the Lucky Clover (lucky us!). It was made more special because of Vaya (amazing yummy food), George (yummy bod) and Captain Mike (great stories). We are extremely grateful for letting us decorate the boat for our surprise wedding ceremony – it was perfect. Thank you for being great human beings and keeping us safe, comfortable, and entertained throughout the entire week. We felt like family and were so happy to share this unforgettable trip with an incredible crew. Linda Eller Atlanta – Evren Baykal New York – xoxo Joyce Chon Los Angeles - Much love for the incredible crew – we love you Capt. Mike. Vaya & George – MonaExperience of a lifetime! Will always remember Greece and our new Greek family Vaya, Yiorgos and Captain Makis. Thank you for making this unforgettable! Love you guys!Savitha Los Angeles, CA- We will forever remember this trip. Thank you for hosting our wedding and being so wonderful to us. Best crew ever! Esther & Giancarlo- Thank you so much for an amazing unforgettable trip! The best experiences are those made with great people and every one of you contributed to that! Will never forget you all – Savitha- I will never forget this amazing week on the Aegean. Thank you so much for everything. Hands down, you are the best crew a girl could ask for to.- We will never forget this trip. Thank you for a truly fantastic time. You are all the best! Esther-Thank you for taking such good care of us. We will not forget you. Bang-On the 20th of September every year, I will fondly remember the smiling faces of Makis, Yiorgo & Vaya who just gave us a trip of a lifetime, but also pulled off getting us married on board. Yamas! Giancarlo-This was one of the most amazing trips I've ever had and it's not only because Greece is beautiful but also your crew's kindness. We will forever remember you guys and the Lucky Clover. Xoxo Joyce-You made this trip so special. We can't thank you enough. 
Devi & Sarah 
August 2017
We ended our 2 ½ week honeymoon with a week of sailing in the Cyclades with friends on the Lucky Clover and this has been the best experience ever!! Yiannis, Vaya, and Giorgos have made our trip better than we could have imagined. The whole crew took such good care of us, from giving us hangover remedies, to adjusting route plans to accommodate wind and rain, bringing at delicious snacks before we even knew we needed them, giving great island recommendations, driving us on the water toys, and so much more. Yiannis provided us the perfect balance of exploring the islands and spending time in the water. Every day was perfect and seemed to get better and better. Vaya spoiled us with her wonderful meals and Giorgos was incredibly helpful with everything. It was so nice getting to know this crew also appreciating all their hard work. They truly made this trip so special for us. My favorite day might be our last day anchored on a cove in Kythnos, hanging out with the crew all day in the water and enjoying a BBQ dinner with everyone on the front deck. I will never forget this incredible experience. 
Thank you!!!!!
 Lindsey + Kyle
August 2017
Yannis, Vaya & Yiorgos our dream team thanks for this beautiful cruise, one of the best in my life!
Love Herve & Lizzy Studnia
 – Paris – 

Dear Yannis, Vaya, and George, 
A great thank you for that wonderful cruise. You are the three of you, a great team always ready to please us. Best cruise we ever had.
Best regards, Marc & Nathalie Mandel (Paris)

Dear YANNIS, Dear VAIA, Giorgos,
 We spend a very very good time with all your team, very nice, very easy always ok for the wishes of the customers. Good choice of crew and taverns. See you soon for the next cruise. 
Merve Studnia – Paris

Dear Vagia, Dear George, and Captain Yani 
It was a pleasure to meet you all and Helen and I was delighted to share our first private cruise XP with the best team ever!!Thank you for Everything you did for us and the wonderful time. You are beautiful people. Looking forward to seeing your team again next time we cruise in Greece.
Lots xx – Yves & Helene

August 2017
Dear Yannis (Joooo), Vaya and George, Thank you very much for this week, we had an amazing time. We were able to see unique places that we will never forget. The food was really good too!Thank you for being so kind! We will see you next year!

Love, Marta Joao, Maria Joao, Pedro, Mariana Joao, Mariana Jose 
(The Portuguese family)
August 2017
Yannis, Vaya & George, 
The trip across the Aegean was perfect and yet you allowed us the opportunity to have our adventure of a lifetime. You were so gracious to us, sharing your experience and providing us with culinary delights beyond our expectations. Thank you for making our trip this past week such a success. Wishing you all warm wishes and safe travels wherever you go in the future. 
Best, Kyle

August 2017
To the wonderful team captain Yannis, Vaya, and Giorgos!
It was a dream to be on the boat with such a professional team, with a huge heart that gave us much more than we expected. We are sure that we will come back and ask the same team. We really enjoy our time with you.
 Love you all
Ratzoni & Gaat family

Thank you so much for your kindness and ……..availability.
Gilles & Catherine

Thank you so much. You have made our trip absolutely amazing. Your crew is so great. Wishing you calm sea and great trips ahead.
P.S. The food and service have been just…. Don't know how to say but beyond amazing. 
Romain & Natalia
July 2017

Once in a lifetime trip! There is no doubt that these memories will last a lifetime – such an amazing experience! Thank you so much for all of your hospitality. From day one, the Lucky Clover felt like home. I truly enjoyed getting to know each one of you and wish you nothing but happiness in the future!... and if you ever find yourself in Cincinnati, OHIO, please reach out for a beer! 
Cheers!
Kacy and Houst

July 2017

This was the trip of a lifetime. The crew treated us so well. To care for us who drink so much was a challenge. Yannis, Yorgos, and Vie spoiled us and gave us so much patience. I loved the boat days and George showing me wakeboarding and throwing myself the tube. I hope I get to see this crew in the very near future. They are like family. 
Thank you, Yannis, George, and Via!!
Efharisto!
July 2017
Yannis, Vaya & Giorgos, we can't thank you enough for everything that you do! Truly a dream visiting the Cyclades with all of you. Somehow each day was better than the last, thanks to all three of you. We definitely hope to join you again! 
Thanks for your patience, kindness & humor and delicious food. 
Yamas! 
Christine & Dominic

Yannis, Vaya & George, You made this trip "extra" special. You were awesome with your hard work and efforts. …. Best trip ever!!
Yamas & cheers! Brat & Chery!

July 2017
Yannis, Vaya & George, This has been a trip I will never forget and so much of that has to do with your hard work, hospitality, good humor, incredible cooking knowledge of the islands all the best swimming spots and attention to every little detail. I am already dreaming about my next trip to Greece – as long as it's on the Lucky Clover with the same crew! 
Thank you, thank you! 
Love Kate

July 2017
In spite of the wind that shortened and changed our itinerary, we had a wonderful time, with lovely spots the Captain took us, protected from the bad weather. Delicious food made by our always smiling Vaya and with the continuous and …….. help of Yiorgos. More to come back soon. 
Best from Evelyn, IuliaJohn, Luz Maria, Juan, Maria, Matias, Julia, Rosemary, Julio, Evelia, Stefania, Raimundo 
Thank you again, all …………
Rosie Lucky Clover gave us luck!!

July 2017
To the Suavecito crew!
We have nothing but gratitude towards the warm service we received during our family vacation! We believe in life experiences and this was definitely a once in a lifetime experience! Vaya's smile and cooking abilities were phenomenal!We still think she lies about her age, but it's ok…..that's all on her! We are very appreciative of her, taking care of us. Thank you Vaya!Mr. George 300!! You are an extraordinary gentleman! Your kindness and smile were pleasing to deal with every day! Thank you for taking care of the kids and giving them those memories they will never forget and thank you for giving the adults that 5 start service!Capt. Yannis!!! You are amazing! Your wiseness…..your attitude….your patience….a true captain! Again thank you for having us and the unforgettable family experience!We all appreciate your crew, your ship and most of all the time devoted to us!
Thank you immensely!
Dani Nolla – Claudia Harb – Monica Harb –Bella Nolla, George Bejarano, Manuel Harb-Nolla, Kristian

July 2017
This has been an amazing adventure. The islands we visited were beyond my dreams, but the best thing of all for me was the Captain and crew. They made us feel like family. Take care everyone. Would love to do another trip with you all. 
Karen Ellig – David Ellig. 
New Zealand Kiwis

To the "Lucky Clover" crew,
Thank you so much for making our holiday absolutely amazing. Your attention to us all was excellent. Loved the boat, the islands, the water and the food. You made our trip of a lifetime the best experience ever!
Dean & Nicola

Thank you for an awesome time. The attention you gave us was great food, facilities and company made our experience all the better & Libby Cunningham. 
Waimate New Zealand
Good luck and safe travels

Yannis, Vaya & George, 
Many thanks for an amazing week showing the islands. Every day was brilliant and so many laughs along the way. We have been very spoilt by you all. We will be back to do it all again. Meantime you are all most welcome to come & stay with us all in NZ.
 Best wishes & good health to you all.
CheersRoss & Deborah Gibson, Ashburton, NZ

Thank you "Lucky Clover" we have had an amazing holiday with you guys. We have been very spoilt and are sad to be leaving such a beautiful boat, country and people. 
Much love Ian & Stacey 

Thank you for an amazing week spent on the Lucky Clover. The Captain and crew have been just brilliant. The food was so good and the service excellent. We have had such a wonderful time. 
Thank you, Robert & Kayla,, NewlandsAshburtch, NZ

June 2017
I had the most amazing time, and wouldn't change a thing. Thank you for the wonderful food, hospitality and taking us to all the most beautiful places. And for taking such good care of us, putting up with our shenanigans and still having fun. Hope to cross paths soon and best wishes for the future! 
Ya mas!
Katy; Hot Carl
June 2017
Had a great time experiencing Greece! The crew made the trip a memory that will last forever. We wanted to make sure we were easy to accommodate and entertain. Every aspect of our sail was spectacular. I cannot wait to tell my family and friends of our journey that I will forever call friends! 
Thanks!
Bart-Melissa

June 2017
Words can never express and pictures cannot capture the feelings, emotions, memories and of course the dabs. Thank you for making the Lucky Clover feel like the home we never want to leave and that we always want to return to. Remember our home is always open for you all to visit!We could never repay the hospitality you guys have shown us and our lake beaches could never compare to the clear blue waters of Greece. Thanks for your love and everlasting friendship! We will always remember this amazing weekKeep your dabs high and your "wwhhaaaatt" s loud!
Toby, AJ Rachel, Jeffrey, and Grant. 
June 2017
LUCKY CLOVER CREW!
We had the most incredible trip and could not have imagined a better experience. SO much of you were so wonderful and welcoming. We hope you come visit us in Chicago sometime. We are so appreciative and cannot thank you enough for the trip of a lifetime. 
Efharisto! - Yamas!
Megan and Brett

May 2017
*Please don't read the text below*
There is nothing to compare with our journey on the Lucky Clover! The perfect mixture of the weather, people, food, and sea. It is not enough to say just "thank you" to the crew, I would like to send them postcards every day with plenty of good words. Yannis, Yorgos, Vagia you are the best crew ever. Hope to see you again and of course again wherever it's possible. Not sure my English is that good to describe my mood and all the pleasure I got here on board.Every day was full of joy and happiness. 
Huge thanks to Yannis, Yorgos, and Vagia!!
P.S. It's a bit stormy now, so my handwriting getting worse and worse
YACHT PHOTOS