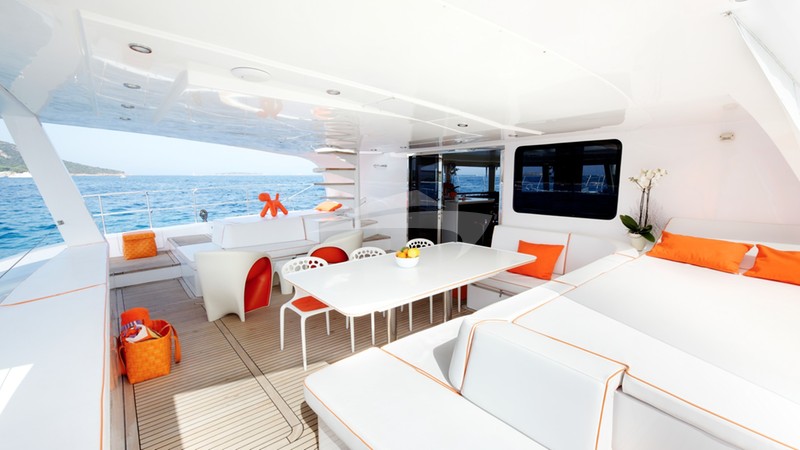 Specs Features Diving Crew Profile Menu Layout Photos Testimonials Similar Yachts Inquire NEW Charter Search »
YACHT INTRODUCTION
Designed by renowned architecture firm VPLP (winner in 2010 of the prestigious Manley-Bendall Prize by the French Naval Academy and winner of the "1999 Most Innovative Superyacht" and designer of the best racing yachts in the world) Maita'i was given a full technical and design refit by its new owner in 2011. Maita'i has unique style, which is modern and very chic!
On board, the collection of original works of art sets the tone. Paintings, sculptures and furniture designs of Alexander Calder, Auguste Herbin, Martha Botto, Philippe Stark and Ross Lovegrove are together with modern conveniences such as iPads & iPods in the cabins and the salon, a Wii games console large screen television and DVD player with 300 movies available in each cabin.
Bed and bath linens and accessories come from the House of Hermes, the crystal stemware from Baccarat, and cutlery from Christofle. Every detail has been considered to create a high level of quality, beauty and style.
In addition to her style Maita'i is an amazingly adaptable boat: the double beds convert into single beds, one double cabin becomes a cabin for three teenagers, the tables can be made larger or smaller depending on the guests' needs, and the dining room can be inside or outside on the fly bridge for a 360° view. The bunk beds cabin's size, is the forward starboard cabin, are 185x75 m.
The master suite offers a large dressing room, bureau and bathroom with a Hansgrohe rainShower and white Corian washbasins.
Guests will find it impossible to be bored with the numerous water toys on board, which include: an inflatable 10' sailing cat, wakeboard, water skis, diving equipment, kneeboard, floats.
Navigation is not forgotten, and Maita'i has new Hydranet sails and spectra lines. All of the equipment is on the forefront of the latest technology.

SPECIFICATIONS
Length 74ft 2in (22.6m)
Beam 35ft 1in (10.7m)
Draft 5ft 11in (1.8m)
Sleeps 9 Guests
Cabins 4
Crew Captain Davide Casanova, Chef and 2 crew
Year Built 2003 / Refit 2011
Cruising Speed 10.8kts
Max Speed 15.7kts
Stabilisers None
Engines Yanmar 2x 240hp

Builder VPLP
Designer Van Peteghem & Prevost
Flag United Kingdom
VAT Registered No
US Duty Paid No
APPROXIMATE WEEKLY RATE
High USD $42,000 | Low USD $34,000
FEATURES & AMENITIES
CD library, Cell phone, DVD library, DVD player saloon, Games console, Indoor audio system, iPod dock, Satellite phone, TV saloon, Wi-Fi, 13ft / 4.00m 50hp Hard Bottom, 32ft / 10.00m 0hp Sail, Floating Mats, Kayaks multiple, Paddleboard, Tube - towable, Wakeboard, Water skis - adult, Deck shower, Fishing gear - light, Swim platform
ACCOMMODATIONS
Sleeps 9 In 4 Cabins
MAITA'I can accommodate 9 guests in 4 cabins. The Master cabin has a queen size bed, shower and toilet. 2 Guest cabins have a queen size bed, shower and toilet. A Guest cabin has a single bed, shower and toilet. MAITA'I is fully air conditioned through out. Crew has a separate heads and shower.
DIVING EQUIPMENT
Not Insured, Diving by arrangement, Snorkelling gear, Underwater scooter, Diving cost on request
YACHT CREW
Captain: Davide Casanova (34)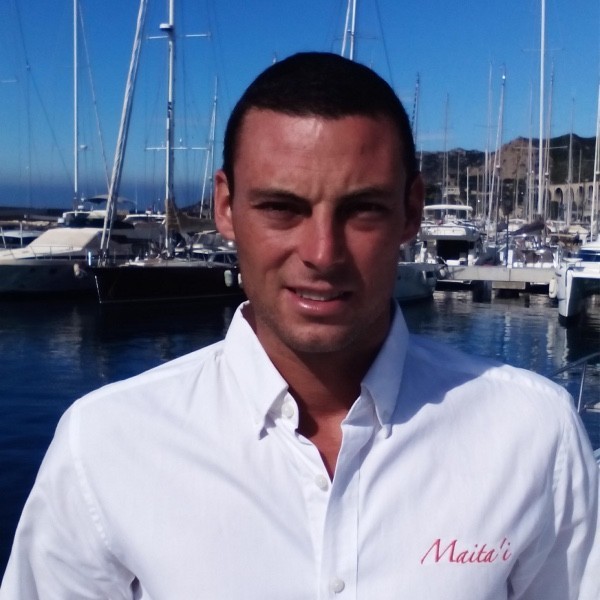 Fluent Italian and French, and with good spoken Spanish and English.
Diploma: Yachtmaster, diving instructor
Davide is a great communicator, loves the relationship with guests, is always smiling.
Expert dive instructor, catamaran lover, he has made Atlantic and Pacific crossings. On-board entertainer with cocktails skills plus sea toys - wake board, tender and ski.
Hobbies: freediving, underwater photography, surfing and kitesurfing.
Chef: Elena GRAS BERTRAND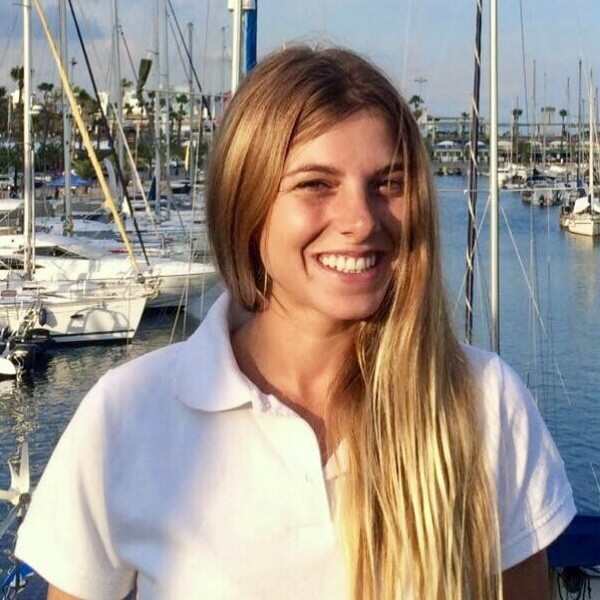 Chef: Elena GRAS BERTRAND, 32 years old
Nationality: Spanish
Language: fluent Spanish and French, speaks well Catalan, English
Young and active, Elena spent her youth enjoying all aspects of the sea; she started her career as a diving instructor in the Mediterranean and then worked all around the world both in diving and yachting.
While gaining great experience in the hospitality industry as hostess on yachts, Elena was cooking for the crew and in her free-time it was her favourite hobby.
She enjoyed learning from the chef working with her and adding to her cuisine knowledge wherever she was travelling.
MAITA'I 's owner, who expects high competence, was completely seduced by her cooking abilities; and that is why Elena is now MAITA'I's chef on board. Whatever cuisine is your preference, Elena's cooking will delight you!
Deckhand: Adria SASTRE
Deckhand: Adria SASTRE
Nationality: Spanish
Languages: Fluent Spanish and English
Diploma: Skipper Unlimited
To be announced soon
YACHT MENU
A few exemples of the taste on board
Lunch
Simply cooked fresh asparagus, served with Mousseline sauce.
Artichokes in "three manners" with smoked salmon and orange sauce
Riviera Salad
Sushis
 
Chicken served in supreme sauce, with a garnish of cooked spring vegetables.
Thin sliced and grilled beef, with mixture of grilled and mediterranean vegetables
Veal saltimbocca, fried chanterelle mushrooms with fresh pastas
Fried noodles and Vegetables in Chinese mood
 
Fresh Oranges carpaccio, touch of mint and grapefruit sorbet.
Red fruits gratin with zabaglione
Vanilla and Apple Sundae of our Chef
Simple and tasty sliced fruits with sorbet
 
 
Dinner
Fresh peas Royale
Kadaïf shrimps with Orange and rosmarine sauce
Tortellini stuffed with ricotta and fresh herbs, delicate Thyme emulsion
Crusty Scampi with Basil dressing
 
Braised lobster , with wild rice and Sauterne Sauce
Thick turbot cooked flat on its side and basil flavour, flower courgette stuffed with courgette
Red Mullet Tart
The Sole of our coast with fine Champagne Sauce
 
Ile Flottante (baked white of eggs laid on egg custard and caramel topping)
Crêpe Suzette
Red Fruit Mousse
Strawberry and Lemon Millefeuille 
YACHT LAYOUT
YACHT TESTIMONIALS
Charter 05-19 of August, 2017, Nassau to Nassau,Bahamas :
Très bon séjour sur Mata'i. Pas de commentaires particuliers sur l'équipage dont nous sommes très content. Davide est un jeune mais très bon skipper. Prudent et très attentionné pour ces clients. Tout l'équipage a été super avec les enfants.Franchement pas grand-chose à dire si ce n'est bravo.
English translation:
Very good stay onMata'i. No particular comments about the crew who we are very happy with.Davide is a young but very good skipper. Prudent and very attentive to theseclients. The whole crew was great with the kids. Frankly, not much to sayunless it's "bravo. 
Charter 21-28 of July, 2017, Georg Town to Nassau,Bahamas :
We had a greattime. crew was wonderful and we referred several of our friends.
Charter St.Martin-St.Martin - March 11-18, 2017 :
It was truly a "dreamvacation"!  The boat and crew exceeded our expectations in every way! It was a score of 11 on a scale of 1 to 10.  
Each of the crew memberswere so professional, kind, helpful, friendly - every step of the journey.  My kids adored them as did all the adults.   All 4 of them werealways working hard and always doing so with a friendly smile.  They madeeverything perfect for us and we always felt very safe. The food was amazing.The adults and kids all agreed that the meals on the boat were much better thanany restaurant we went to.  David did a remarkable job on every meal.Elena was always right on point offering anything we might need - she kept therooms so nice and clean the entire time and somehow managed to always do itwithout us knowing.  She set up the tables for meals beautifully and herservice was impeccable. She is an absolute delight. 
Jay (Jerome) was awesome! He was amazing to watch work the sails.   He always had the biggestsmile and always gave us a good laugh.  He is such a hard worker and wasalways willing to help us with anything. 
I can't imagine there is abetter Captain out there than Davide. He was amazing. He made us feel so safeand guided us to many incredible spots we would not have known about. Hecouldn't have been more kind and again like all the other crew he was alwayswilling to help with anything. 
The crew was exceptional -truly outstanding. 
The Maitai boat was gorgeousand worked perfect for our family. The rooms/beds were wonderful and everyonewas very content with all the accommodations. We loved the boat!!
We were all so sad yesterdaythe trip was over.  (name of the broker), thank you for guiding us to sucha fabulous boat with such an amazing crew!!  We very much appreciate yourhelp with the process.  Please pass on to the crew how wonderful they areand our thanks to them and you for making this trip so incredibly special. 
Thanks!
Charter Tortola-Tortola - December 26-January 02, 2017:
Email from the broker: "We had a long call with Ms. XX last night and the entire call was about how great the crew, the yacht and the entire trip was."
Charter St Marteen-St Marteen - 5-11th of November 2016: 
Captain Davide thank you very much for all your efforts to make this charter a successful one and again congratulations for a firstcharter as captain. Well done!
Charter in Sicily islands - 23-31th of August 2015:
I have just talked with the client , she is plenty satisfied with their cruise on board of MAITA'S.The captain Marco and his crew has work very hard to offer to all the party an unforgettable cruise.They have appreciated their professionalism, the discretion , the long experience and the excellent cousin .I want thank all the Team , I will give only super positive feedback on the boat and I hope to have soon other clients.
Charter during summer 2012:

The boat was the best we have ever sailed. Spacious and comfortable accommodations. Very clean, beautifully decorated and well maintained. The crew did a good job of keeping everything in good working order and comfortable for the guests. It sailed beautifully and was very stable.
The food was amazing !!! Creatively prepared and well presented, Enora put out every effort to satisfy our requests for special things like lobster, scallops, and fresh caught fish. The drinks as well were creative, and generous. I'd give her a 10/10 on the food and drink. It takes really special people to meet complete strangers and be with them in close quarters for a week, while making them feel at ease and happy. Eddy, Enora, Guy and Emma are these people. Eddy is not only the captain, but sort of a tour operator as well. He arranged a driver and tour of the for us on Corsica. It was a good way to get a look at the island for an afternoon.

I would love to sail this boat and crew again sometime in the near future and do a longer sailing itinerary. The boat and crew are right for it. We had a really great time!!

Thanks again for suggesting this boat. It was better than expected and I would recommend it to anyone!!
Mandy S.

YACHT PHOTOS