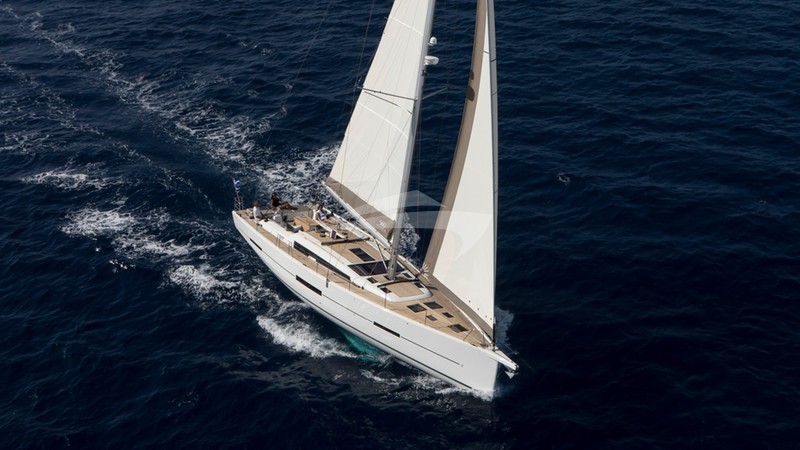 Specs Features Diving Crew Profile Menu Layout Photos Testimonials Similar Yachts Inquire NEW Charter Search »
YACHT INTRODUCTION
A grandiose sailing beauty designed to satisfy those seeking the perfect balance of performance, style, luxury and comfort. MIMOSA is the newest flagship of the famous Dufour shipyard incorporating so many innovative details that make all the difference between just plain sailing, and ultimate sailing. Defined by her elegant beauty and her roominess both above and below deck, she is distinguished for refinement truly taken to its pinnacle on this yacht for you to enjoy.
SPECIFICATIONS
Length 56ft 1in (17.1m)
Beam 16ft 5in (5m)
Draft 8ft 2in (2.5m)
Sleeps 6 Guests
Cabins 3
Crew Captain Giannis Gatzonikas, Chef and -1 crew
Year Built 2014
Cruising Speed 9kts
Max Speed 9.5kts
Stabilisers None
Engines Yanmar 110hp

Builder Dufour Yachts
Designer Not know
Flag Greece
VAT Registered Yes
US Duty Paid No
APPROXIMATE WEEKLY RATE
High USD $13,062 | Low USD $8,518
FEATURES & AMENITIES
Indoor audio system, Local TV, Wi-Fi, 11ft / 3.60m 15hp RIB, Paddleboards multiple, Fishing gear - light, Swim platform
ACCOMMODATIONS
Sleeps 6 In 3 Cabins
DIVING EQUIPMENT
Not Insured, Seabob, Snorkelling gear
YACHT CREW
Captain: Giannis Gatzonikas
Giannis holds a RYA Yachtmaster Ocean license and he is also certified for GMDSS, firefighting, first aid and lifesaving. Giannis also graduated from the National University of Physical Education in Greece with a focus on sailing. He speaks both English and Greek. From an early age Giannis was a national champion in water-sports like wake board and water ski. He started sailing at the age of 12, racing dinghies at first and then evolving to the 420 and 470 classes. He has participated in various national championships and has done extensive offshore racing on numerous boats. Over the years, he has undertaken numerous seagoing transfer assignments and has skippered both private and charter sailing yachts- both in Greek and international waters. Giannis' local knowledge of the numerous islands and bays, his easy-going nature and infectious sense of humor complement his sailing experience. In his free time, he enjoys to read and listen to music.
YACHT MENU
Breakfast 
Seasonal fresh fruit platter - Greek yogurt- Cereal- Bacon- Sausages- Eggs (Omelet/Hard boiled/ Scrambled/ Sunny side up)-Crepes- Croissants – Toast – Cookies – Baked goods
Cheese and cold cuts platter – Honey – Spreads-Coffee – Tea – Milk – Orange Juice
Snacks & Appetizers
Homemade pies – Tortilla rolls with tuna and mayonnaise – Cream cheese and salmon canapés – Crudites with homemade dips – Mini Cretan dakos with olive paste and cottage cheese – Grilled feta with honey and sesame – Mushroom duxelle in white wine reduction
Salads
Traditional Greek salad with grilled pitas – Green salad with pineapple, walnuts and lemon dill vinaigrette – Chicken and sundried tomato salad with parmesan flakes and balsamic honey vinaigrette – Cold fusilli salad with shrimps, colorful peppers and basil pesto – Tuna and corn salad with croutons and yogurt dressing
Main Courses
Chicken stripes with green bell peppers in mustard dill glaze, served with aromatic wild rice
Octopus and orzo casserole-Wild mushroom and sundried tomato risotto-Slow cooked lamb with yogurt and thyme crust, served with herb marinated baby potatoes- Seafood and spring onion linguini in fresh tomato and mint sauce-Crisp crust sea bass fillet with lime and ginger drizzle, served with grilled asparagus and parsnip puree-Pork medallion served with diced aubergine, carrots and cherry tomatoes- Glazed Beef fillet served with creamy dauphinoise potatoes- Wide selection of traditional Greek main courses (Mousaka, Pastitsio, Spetzofai, Stuffed vegetables etc. )
Desserts
Lime Pana Cotta- Lemon cheesecake with strawberry coulis- Orange pie with vanilla ice cream- Banoffee- Chocolate pie with salted caramel sauce- Strawberry Millefeuille
Traditional Greek deserts ( Galaktompoureko, Ekmek , Ravani etc)
Drinks
Fresh Fruit Smoothies-Milkshakes-Popular Cocktails (Margaritas, Mojitos, Apple Martini, Cosmopolitan etc.)
Vegetarian, Ethnic/International Cuisine, Low Calorie Menus etc.
Creation possible given your special preferences
YACHT LAYOUT
YACHT TESTIMONIALS
Guest Comments 2016
05-12/05/2016
Where could be possible begin-how could be possible explain how much we love Mimosa, Tassos, Lou, and the Greek islands? We are on honeymoon and we could never have asked for a better start to our marriage!Mimosas on Mimosa every day forever! Perfect breeze, beautiful sunshine and weather, delicious food, plenty of booze, code zero flying, dolphins, goats,snorkeling, cave exploring and of course mountain biking! We can't wait to continue our cycling the Cyclades adventures with Mimosa in the future! Best boat, best Captain, best chef/hostess you could ever ask for!
We love you guys and we hope & pray we 'll be back!
27/06-06/07/2016
What a magical holiday we have had. All thanks to Tassos and Lou. We have been spoilt with Tassos finding us the most beautiful mooting spots in secluded gulfs and you keeping us fed with delicious food and drink!
Dear Tassos and Lou thank you so much for the wonderful experience. I'm so going to miss sailing, late night diners, and cheesy 80'smusic with you and all my awesome! Memories will never be forgotten.
Thank you so much for this amazing time!
Thank you so much this has been amazing trip lots of love from William!
Thank you, thank you!!! It has been so relaxing, breathtaking, super fun and just glorious!!! Thank you Tassos for all the beautiful bays and Lou for the most delicious food! You make a great team. We hope to see you both next year!
With love!
 20/08-03/09/2016
To Our Beloved Mimosa Friends! Once again you out did yourselves.  2 great weeks on an amazing vessel. With Captain Tassos and Lou looking after us and making us feel like kings.  An amazing attentiveness to ensure that things are not just simple…but absolutely perfect!  Always a best moment coming to the end of our journey, but at the same time much to look forward to for next year! Once again thanks for a truly spectacular charter! Our hearts are grateful for this wonderful vacation! With all our kindest regards and friendship!
Les Suisses!
 September 2015
Let's start with a big thank you to both Tassos and Gregoria. We safely sailed to the different islands in this beautiful boat. The Dodecanese was shown to us in a great way. If we ever go chartering again we know who to call! –Karin, Paul, Luc, Lilian and Mathieu

 


PS. Next time we will bring our TRX and inflatable dolphin 


 August - September 2015
1 September 2015 / 36°57'434 N 25°04'067E / Somewhere known as Anti Paros

 



The ingredients for an absolutely perfect charter…

-1 x Dufour 56 in impeccable condition

 


-1 x Captain Tassos with all his skillful seamanship and attention to detail combined with a unique mix of Greek charm and good old English humour
-1 x Cook/Hostess Gregoria who continuously kept our stomachs exceptionally happy combined with gracious Mediterranean hospitality and a warm and inviting character that makes both the taste buds and heart melt

 



Pour all together & mix well = 10 days of bliss on the Saronic Gulf and Aegean Islands.
Tassos and Gregoria… you guys rock! A charter vacation to remember, cherish and to look forward next year… all our appreciation for being great Crew, for being so committed to our continued well-being and for allowing us to discover the joys and wonders of a lovely part of Greece. Definitely to be continued. With our highest esteem, friendship and gratitude…

 



Gregory & Carine, Geneva Switzerland


 July 2015
This has been an amazing week of sailing that we will never forget! Thank you so much Tassos and Alexandra for showing us such a great time here in the Greek islands! For us this has been an excellent vacation filled with great food and a lovely time on Mimosa. We have gotten to see some beautiful places and experienced Greece in the best way possible! Hope to be back soon! All the best, Sindre, Anne, Martine, Magnus, Alexander


 July 2015
We will never forget this 2 awesome weeks on Mimosa. We had a very good time Tassos and Alexia made us feel like home and our 2 boys. We were sailing between small islands and finding sweet towns and ports. Food was very tasty! Thank you, Kat, Marius, Frank & Alex


 June 2015
First time sailing and have felt in love immediately. Wonderful islands, Tassos always found the right spot in little beaches. Both Tassos and Gregoria made us feel like home. Amazing people to spend our holidays. Tassos always on the move and funny and Greogoria put some pounds on us with her great cooking. What else is there to ask! Blessed to have spend this wonderful week in great places, with family and our friends Tassos & Gregoria.

 



Thank you!

 


Caila, Francesca and Nancho

 


Guatemala / June 2015


 June 2015
It took less than minutes for Mimosa to feel like home and only seconds for Tassos (one man one crew) to feel like family. We covered a lot of ground in just 48hours on the boat but no amount of boating can ever be enough. We have to come back soon to explore more and to bring others.

 


Tassos, thanks for such an amazing time. Your hospitality and expertise are both beyond measure.

 


All the best and safe sailing,

 


Chris, Adrian and Zanna


 May 2015
The Mimosa and its crew have made our honeymoon a trip we will never forget! From sailing between small islands to finding the most amazingly beautiful corners to stay for the night, and fine diving morning, noon, and night. Tasos and crew have made a prefect cruise. Our own private 5 Star hotel on the water.

 


We can't wait to come back.

 



We had such an amazing time on our trip, thank you so much for all of your hard work putting it together. The hotels were all wonderful. However, the highlight of the trip was really the boat. The MiMosa, its captain, and Alex our concierge/chef were all perfection. I think I speak for both myself and Michael when I say that it was an incredible experience.

Thank you!

 


Watt family
YACHT PHOTOS