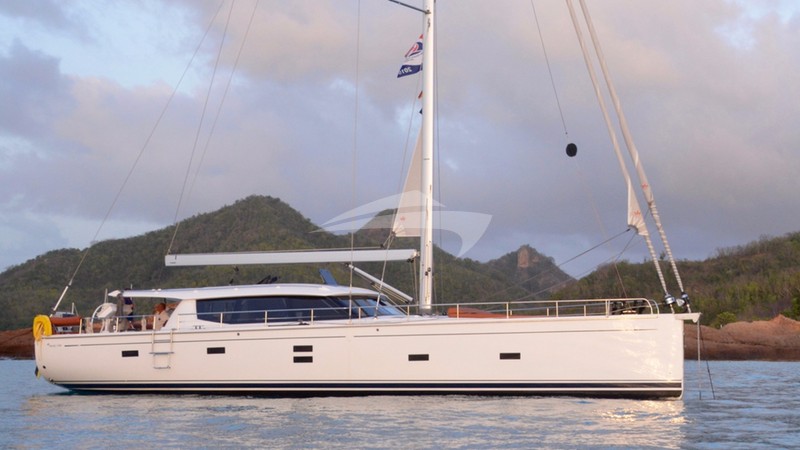 Specs Features Diving Crew Profile Menu Layout Photos Video Testimonials Similar Yachts Inquire NEW Charter Search »
YACHT INTRODUCTION
Not often does a new yacht enter the market that is truly unique and clearly innovative, nudging the enjoyment of the yachting experience even further, if that is possible. The Moody 54 DS is such a yacht, introducing a new concept in monohull design with the salon and cockpit on the same level - referred to as "one level living". With skylights that flood the main salon with light, panoramic views all-around, and a huge comfortable cockpit with convertible sunning bed, she offers unparalleled luxury and comfort in a yacht of her size. 
MOJEKA is, simply put, a very special boat combining the benefits of a catamaran with the beauty, grace and sailing characteristics of a monohull. Because she is built with public spaces on the main deck and private staterooms below, she actually fits the space of a 64ft boat into a 54ft boat. Hanse, the owner of Moody since '07, has always been known for high-sided boats. MOJEKA incorporates this design, which translates to extra side windows and well-lit cabins. And when it comes to sailing, she's extremely easy to handle and provides absolute sailing satisfaction unique to a monohull. With her powerhouse genoa, she takes off like a rocket and her gennaker produces maximum speed in lighter wind conditions. There is no question that MOJEKA will become the class for a new level of sailing. 
MOJEKA accommodates 6 guests in 3 very comfortable staterooms. Stepping to the lower level, the spacious master with ensuite bath is located forward. A wonderful large skylight directly above the king size bed creates a great view. The bath has a separate shower stall and electric toilet. The portside VIP cabin is virtually equal to the master in size only with less headroom. It also offers a luxurious and spacious ensuite bath and shower. The third guest stateroom with double bed is located starboard side and shares the day head/shower accessed by steps at the rear of the salon, or the other guest heads.
The main level features a very spacious salon with large skylights and expansive side windows which create a 360 degree panoramic view. The large galley has many smart conveniences, all incorporated into the design so they are hidden and out of the way when not in use. In addition there is a coffee and cappuccino maker. Throughout the yacht one finds such niceties as wood paneled walls with upholstered accent, creating a warm and elegant feel. The safety features incorporated into the design include well-rounded corners, handgrips in all the right places, a very high bulwark, solid steel rails and deck cleats that retract when not in use. MOJEKA is an extremely comfortable and safe choice for just about anyone, offering an unusually high degree of protection, even to children.
If you were wondering whether there is special meaning to the name of this lovely yacht, the answer can be found in a beautiful story in which MOJEKA'S name sources from the writings about Vasco da Gama, the captain-major of four vessels dispatched by the King of Portugal in 1497 to go in search of spices. The party made landfall in South Africa near the Cape of Good Hope. They found the inhabitants of this country to be very pleasant and hospitable, as they spent time with them waiting for a weather window to round the Cape. When they finally made their departure, the natives bid goodbye by shouting "Mojeka, Mojeka" again and again, which seemed to bestow best wishes for a safe and successful journey. And so you will find the gracious accommodation of a holiday aboard MOJEKA.
SPECIFICATIONS
Length 56ft 1in (17.1m)
Beam 17ft 1in (5.2m)
Draft 8ft 6in (2.6m)
Sleeps 6 Guests
Cabins 3
Crew Captain Gus Clement & Chef
Year Built 2014
Cruising Speed 8kts
Max Speed 10kts
Stabilisers None
Engines 1x 150hp Volvo

Builder Moody Yachts
Designer Not know
Flag Jamaica
VAT Registered No
US Duty Paid No
APPROXIMATE WEEKLY RATE
High USD $18,113 | Low USD $13,250
FEATURES & AMENITIES
Indoor audio system, iPod dock, TV master cabin, TV saloon, 0ft / 0.00m 20hp Zodiac, Board games, Kayak, Paddleboards multiple, BBQ, Book library, Coffee machine, Deck shower, Fishing gear - light, Ice maker, Special diets, Swim platform, Water maker
ACCOMMODATIONS
Sleeps 6 In 3 Cabins
Salon has TV/DVD/CD & stereo and Bluetooth. Salon Headroom 198cm 
Master has TV/CD 
Master Cabin Headroom 204cm
All guest cabins have electric fans
Master & VIP Cabins are ensuite; third guest cabin uses day head/shower located rear lower
Bed sizes:
Master Cabin 208x190cm
VIP Cabin 203x160cm
Guest Cabin: 203x124cm
WIFI - internet hot spots. 
Guests can buy a local sim card and get 3G wherever this is possible. (which is usually close to the major islands )For emergencies the guests can use the boat's computer to check emails.

DIVING EQUIPMENT
Not Insured, Diving if certified, Snorkelling gear, 1 Compressor, 6 Tanks, 3 BCs, 3 Regulators, Diving Instructor (Ellie Mae),
$50 pp/pd
Dives are subject to availability and functionality of equipment. Every effort is made to have the necessary equipment available and fully functioning, but out on the water this can not always be assured.
YACHT CREW
Captain: Gus Clement (55)
CAPTAIN AUGUSTINE (GUS) CLEMENT:
Captain Augustine (Gus) Clement is originally from Grenada's little sister island of Petite Martinique. He says he grew up as a "sea boy". In part, because on a tiny island you're always just steps from the sea. More so because he can't remember a time when he wasn't on boats. To date he has sailed over 100k nautical miles, on both charter and private yachts, in the Caribbean, Atlantic, Mediterranean, South Pacific, Canada and the Americas.
Having grown up in the islands of Grenada, Captain Gus is an especially remarkable host. Guests will experience magnificent sailing, because Gus knows the winds, seas and tides with the intimacy of old friends. As an avid sport fisherman, he knows where the fish are. Let him know if you prefer complete solitude, or a bit of mayhem on your beach; shallow reefs for snorkeling, or shady banks for a barbecue. Your charter itinerary on MOJEKA will be exactly what you want.
Captain Gus is qualified as Yachtmaster Ocean 200tons # 1894 issued 20 January, 1997, Commercial Endorsement to 2018, MCA Seafarer Medical Certificate ENG 1 and Marine Safety Training STCW95 #005380 from the Royal Yachting Association Department of Transport United Kingdom.
Crew Interview with Gus and Ellie Mae - https://www.youtube.com/watch?reload=9&v=BkAfxvrEpf8&feature=youtu.be
Chef: Ellie Mae Byas (55)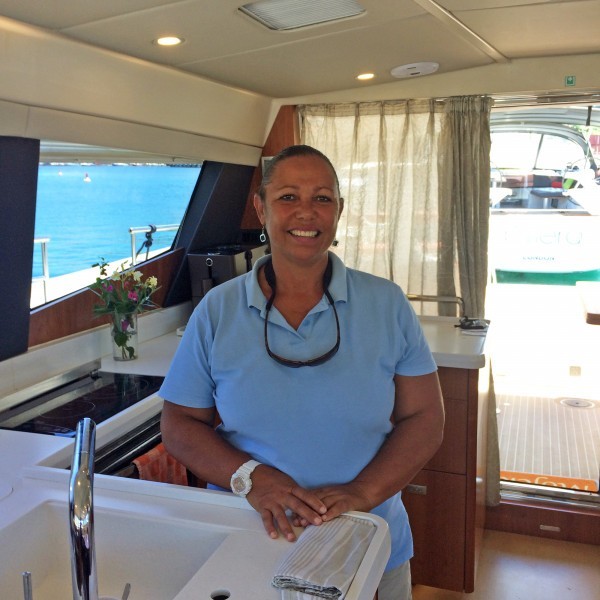 CHEF/STEW ELLIE MAE BYAS:
Ellie Mae Byas has an infectious smile, a subtle sense of humor, and a lengthy list of impressive accomplishments. She was born and educated in Amsterdam, Netherlands, but is truly a citizen of the world. She is certified as a P.A.D.I Open Water Scuba instructor. She has taught scuba at Club Meds, Robinson Clubs, in the Maldives, managed a dive center in Rovinj, Croatia, and owned a dive center in Mallorca. She has R.Y.A Certification Yachtmaster Offshore and has circumnavigated the globe in her own yacht, Bon Bini. With a little coaxing, guests aboard MOJEKA can persuade Ellie into recounting some amazing sea stories.
Ellie has been a charter yacht chef for more than a decade. Although she specializes in recipes with fresh seafood and local ingredients, having lived all over the world she has a sophisticated repertoire. Of course, her menu is based on guest preferences. So, whether the mood dictates a gourmet menu paired with a fine wine, or sandwiches with a hot cup of Grenada chocolate, guests are never disappointed. Even those on special diets.
Ellie's hobbies are spearfishing, snorkeling, scuba-diving and sailing. She also has a small cottage industry smoking fish. Provided there's time away from the galley, she welcomes guests to join her in any activities of interest. And she can explain things to almost everyone in a way they can understand it, because she is fluent in English, Dutch, German and French and conversational Spanish.
YACHT MENU
Mojeka-Chef Logan's 7 Day Menu
Breakfast
(All breakfast is served with coffee, tea, local fresh fruits, yogurts, granolas & cereals)
Vanilla French toast with bacon and eggs
Sautéed mushroom, tomato, and 3 cheese omelet
Grandma's homemade biscuits with island jam
Skillet sautéed mango pancake
English muffin supreme with scrambles eggs, avocado and salsa
Frittata cups and smoked salmon
 Continental breakfast with eggs of your choice, bacon and sausage
Lunch
Crab and pineapple salad
English sausage rolls with fresh vegetables
Tex-Mex fish tacos with homemade taco shells
Zucchini and swiss cheese quiche
Gourmet sandwiches with a selection of delicious meats and cheeses
Bacon and pineapple cheeseburgers off the grill
Grilled chicken fajita salad
Sundowners
Cheese &Fruit Platter- An array of cheeses with preserves, fruits, nuts, olives and crackers or artisanal seed chips.
Charcuterie platter- Dried chorizo, pepperoni, Serrano ham or prosciutto, cheese, olives,hummus or dips, accompanied by a selection of bread products.
Homemade tortilla chips with Mexican guacamole
Dinner
Classic pasta bolognese with wild mushrooms
Surf and Turf-Delicious spare ribs with sweet chili sauce and Honey coated shrimp
Local caught fresh red snapper marinated in zest and apricot
Crispy bacon wrapped scallops on creamy corn risotto
Fresh Lobster with garlic butter and local vegetables
Soy and honey pork tenderloin with cauliflower mash
Coronation mango chicken with Kashmir curry sauce
Dessert
Lindt chocolate mousse
Ice cream with homemade chocolate sauce
Key lime pie
Ritz cracker pie
Banana flambé
Local fruit with yogurt and chocolate
YACHT LAYOUT
YACHT TESTIMONIALS
Repeat guests on Mojeka in the Grenadines 9-15 April 2019
We all had a wonderful time!
Grenada and the Grenadines were beautiful and the sailing was fantastic! The area is much less developed than any other place we've been in the Caribbean. We were able to do one dinner ashore, a lobster barbecue in the Tobago Cays, and that was good fun! The people were friendly, and the landscapes were breathtaking. And did I mention that the Windward sailing was fantastic!
Mojeka was a pleasure to be back aboard. The large bow with suncushions is great! The large cockpit with movable roof and side screens is great! The large swim platform is great! And she handles beautifully in a brisk wind!
Gus was a good skipper, he was friendly, and very competent, and he let Les and I take the helm whenever we requested! He is not a conversationalist, but happy to answer questions. He was very dependable and always helpful. There were some minor issues with Mojeka and he solved them quickly, he knows the boat well. - We would hire him again.
Ellie was a good cook, and very enthusiastic and friendly. Her cooking was not fancy or lavish, but very good.
Overall, it was another very fine experience!
Thank you for arranging things, Melanie. We appreciate all your help!
Mike

10-20 January, 2019 in Grenadines                                                                    
We are home after a fabulous 10 days With Mark Barton and Ana. I can not praise our crew highly enough. Mark and Ana made the trip. I have been on other cruises but have never been treated the way Mark and Ana treated us. You have a real winner in this crew. I hope you will be able hold on to them.
Kindest personal regards,
 Al G


10-20 May, 2018 - An Amazing Trip!
Marc and Anna were wonderful! We had great conversation, I loved hearing Marc's sailing and life stories and this will be a trip I will never forget!

Marc was recognizable to a lot of the locals. The islands are more "raw" than I was anticipating and the fact that Marc resides in Grenada and knew the culture was extremely comforting and helpful. As I was hoping, I think it was a blessing in disguise. Anna was an amazing hostess as well.

My only comparison for a sailing trip is BVI's 10 years ago. This was completely different. It was beautiful and special in its own way. Sure there were a couple hiccups with the A/C.At the end of the day – we loved it! And I found out I really enjoy plantains… We learned a lot, we met great people (crew and other vacationers, and a guy named Willy took us to a beach bbq in Tobago Cayes then we ran into him at Union Island and he was full of waives and hello's), we experienced a part of the world we had never been to, we saw underwater art in Grenada, on 2 separate occasions it was literally just me and Ashley on an island, I almost touched a stingray snorkeling by accident, and we had an absolutely amazing 10 year anniversary trip.

So thank you! Job well done.

1-8 March, 2018 ~ Grenadines ~ Our most memorable vacation ever!
We just had one of our most memorable vacations ever. We sailed the Grenadines (Grenada to Mustique and back) on the beautiful Mojeka, a 2014 Moody 54, for 7 days. The boat is kept in bristol condition by its incredible and hardworking crew Tristan and Logan.  They catered to our every whim and their attention to detail is amazing. The food was extremely fresh and delicious from the fresh fruit for breakfast to the locally sourced fish for dinner. Logan makes a banana bread from scratch that is to die for. The recipe is from Tristan's Grandmother.They have great insight and knowledge into the many islands and know where to find the private coves and great rum bars. (Happy Island, The Last Bar Before the Jungle, Glossy Bay, Basils).  Tristan and Logan made our trip relaxing, stress free and highly enjoyable. The only problem - the trip wasn't long enough. :) We'll be back for more!!!! DG
Comments from the Broker:  I did speak directly with David after the charter and he raved about it.  I'm so happy all went well and it's always nice when crew get a review written for them.  So I appreciate the hard work that Tristan & Logan did on this charter. 
January 2018 in Martinique - Diving at Diamond Rock

2018 New Year Charter - Absolutely Amazing

Satisfaction with yacht charter
• Crew Friendliness: Very satisfied
• Crew Knowledge: Very satisfied
• Quality of Service: Very satisfied
• Professionalism of Crew: Very satisfied
• On-board Cuisine: Very satisfied
• Destination/Location: Very satisfied
• Watersports: Very satisfied
• Overall Satisfaction: Very satisfied

Graham L

6-11 April, 2017 ~ Sensational Antigua!
Note from broker:Thank you so much for taking great care of my clients on their first ever Antigua sailing yacht charter. Thank you also Alma for picking up the flower arrangement for me and for setting up the chilled champagne so nicely for the guests arrival :-).I am still waiting for the "full report" from them, but their initial feedback was excellent.

Mike texted me a few times.
1) Mojeka is beautiful!
2) We had a sensational time!!

Thanks so much for the welcoming flowers and amazing champagne! The crew and boat were great and we really enjoyed it! Cheers!

Photo of "Happy Hour" at Green Island.

11-19 March, 2017 ~ Grenadines - Comments to crew:

Hi Jan and Alma –We woke up this morning in Concord, MA – missing both of you! It's 35 degrees and cloudy with some snow on the ground…. Thanks so much for such a wonderful week. We feel so lucky to have met you both and to have had you as a part of our vacation… We enjoyed all of the great conversation – as well as your thoughtful, careful, and warm approach to every aspect of our trip. As we drove home from the airport, Olivia, Tim and Luke each remarked as what nice, special people you both are…We hope to see you again soon – and hope you have a wonderful trip north to Antigua!
Tom and Kristan

11-19 March, 2017 ~ Grenadines - Comments to broker:

We want to thank you both for your efforts in planning our wonderful trip on Mojeka. We absolutely loved Jan and Alma – they became such a special part of our trip and gave our family an experience that we will always remember. The boat was a nice fit – the sailing was great… I appreciate all of the work that you did to help prepare us, Jan and Alma for the trip… We will certainly speak to you again – hopefully for another trip next year!
Tom

6-10 March, 2017 ~ St Lucia ~ Wonderful!
It was really wonderful. The boat was better than expected. Jan and Alma couldn't have been nicer and more accommodating.

Thanks, Philip

Feb 2-9, 2017 -  Grenadines

We wanted to thank you again for such a wonderful vacation on Mojeka.  She is such an awesome boat.  We will always treasure our days sailing on her.  She is so comfortable to stay on and sails like a dream.  We can only hope a 45 Moody is in our future.
Alma what can I say except you are just such a sweet lovely person.  You made us feel so welcome and comfortable aboard Mojeka.  And very spoiled as well.  Each meal was better then the last.  Your food presentation is lovely.  We felt like we were in a fine dining restaurant.  I can tell you we are missing your cooking.  And a special thank you for all of your research into Gluten free cooking.  Having  Celiac  disease is difficult and we never get to eat out anymore so your delicious meals meant so much to us.  You were always one step ahead of us when we needed something and you kept the boat so neat and tidy.  Your sunny disposition is so uplifting to be around.


Captain Jan you are the best.  We both learned so much from you during our trip.  You are such a knowledgable sailor.  Mojeka and her owner are very lucky to have you.  Mojeka is in good hands with you as we can tell how much you like her and how well you are caring for her.  We wish we could have you caring for our boat Mojito like that.  As you know I can be a bit of a nervous sailor but I was totally relaxed in your capable hands.  You handle Mojeka so well.  Your fun, friendly personality made our trip so pleasant.   We could tell that you really wanted us to have an amazing vacation and that was so sweet.  Like I said before I would trust you to sail me across the Atlantic.

We wish you both safe sailing and much happiness together.  You make a great team.  I'm keeping my fingers crossed that we can do it again next year if finances allow.   You are always welcome to stay with us here in Virginia.   What fun we would have taking you both horseback riding.  Please stay in touch because we would love to hear about all of your adventures.  Get that Mojeka Facebook page going....lol."

Thank you again !!!
Fondly,

Cheryl And Budd

Xmas and New Year Grenadines 2016/2017 ~ Splendid!
We were very happy overall with the charter. The yacht was splendid, the crew was great and the itinerary worked out well.
21 Dec - 2 Jan, 2017 - St Lucia to Grenadines ~ Mojeka Smile!

The yacht Mojeka: The yacht was in tip-top condition ( effectively new) and fitted out to the highest standard. The master cabin was spacious and comfortable, and shared a head and shower with the starboard side twin cabin. The port side twin cabin had its own head and shower, but restricted headroom for one of the bunks. The galley and dining area was roomy, light and had excellent views , whilst the cockpit external dining area ( which we used most of the time and seated 6 in comfort) was really luxurious and seemed unique in a yacht of this size. The bimini gave sun and rain protection and could be stowed away in seconds. The swimming deck was easy to deploy and access and the watermaker was a real luxury – there was always plenty of fresh water. The front sun deck was a nice feature, especially when coming into port, and the rear rail seating was comfortable and safe even when cruising fast at a 25 degree heel. Overall, we didn't see another yacht in 12 days of cruising that offered the comparable quality of fit-out, an equivalent entertaining space and top-level sailing qualities. We were quite proud to be on it, actually – a real peach.
The crew: This was the first charter Jan and Alma had done together on Mojeka. They were keen to please and that created a very positive impression right from the start. At the same time, they were obviously working out how to operate together effectively and that was quite charming to observe. We felt they relaxed towards each other and to us in the course of the charter and we all had a lot of fun together as the trip progressed. Jan was a highly competent and experienced sailor with good practical skills around the boat, whilst Alma ( with limited sailing experience) was an imaginative and skillful cook who rose impressively to the challenge of organizing and cooking in a grand style in the restricted facilities available. Her menus always had a touch of the exotic which is exactly what we had hoped for. We established an on-board routine of expansive breakfasts, then either a big lunch or dinner on board and the other meal ashore, which suited everyone fine. We particularly liked Alma's cheery disposition, always on display and especially at mealtimes! Jan took his responsibility as captain very seriously and we would enjoy sailing with him again in waters he knows well and this may be something we plan on doing in the future.
The Charter: A charter of a big, modern yacht over Christmas and New Year was always going to be expensive and this charter certainly ticked that box. However, the overall quality and delivery was excellent and there were no additional "nasty surprises" - the only extra charge was for the six bottles of top quality champagne which was ordered at our request, as agreed. The yacht and crew succeeded in fulfilling our (high) expectations and we would certainly consider chartering Mojeka with Jan and Alma again, perhaps in a different area of the Caribbean. Please pass on our thanks to the owner. We very much enjoyed his cocktail recipe "Mojeka Smile", which encouraged us to burn through 6 bottles of rum on the trip. He can be confident in the crew he has operating Mojeka on his behalf.
Guy

VIDEO
YACHT PHOTOS