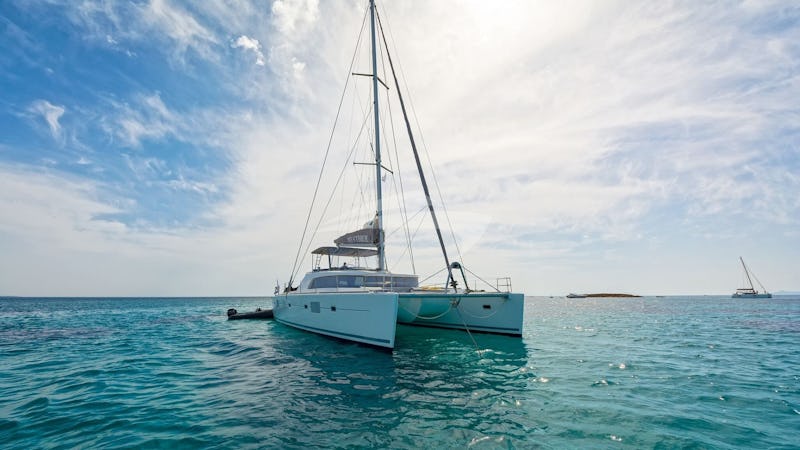 Specs Features Diving Crew Profile Layout Photos Testimonials Similar Yachts Inquire NEW Charter Search »
YACHT INTRODUCTION
Space & fun are just ample on this yacht, revolving around the easy circulation from the internal saloon area (with dinner seating capacity for up to 10) and the aft covered cockpit offering an ideal envirnoment for relaxed alfresco dining , lounging and entertainment. Indulge yourselves into the luxury and comfort of four cabins with comfortable queen size beds and a twin cabin, all of them air conditioned with individual ensuites. It is not certain you will take fully advantage of so much deck space available for you to relax sunbathing on her flybridge that seats six or her huge fore deck with trampolines and seating area as you will certainly be tempted to spend too much time enjoying the many water toys & activities offered onboard!
SPECIFICATIONS
Length 49ft 10in (15.2m)
Beam 27ft 11in (8.5m)
Draft 4ft 3in (1.3m)
Sleeps 10 Guests
Cabins 5
Crew Captain Thanasis Damalidis & Chef
Year Built 2008 / Refit 2018
Cruising Speed 9kts
Max Speed 10kts
Stabilisers None
Engines 2x 75hp Yanmar Engines

Builder Lagoon
Designer Not know
Flag Not know
VAT Registered Yes
US Duty Paid No
APPROXIMATE WEEKLY RATE
High USD $16,923 | Low USD $12,380
FEATURES & AMENITIES
CD library, Cinema, DVD library, DVD player saloon, TV saloon, Wi-Fi, 12ft / 3.90m 40hp RIB, Floating mats, Hoverboard, Kayak, Paddleboard, Tube - towable, Wakeboard, Water skis - adult, Fishing gear - light
ACCOMMODATIONS
Sleeps 10 In 5 Cabins
DIVING EQUIPMENT
YACHT CREW
Captain: Thanasis Damalidis (29)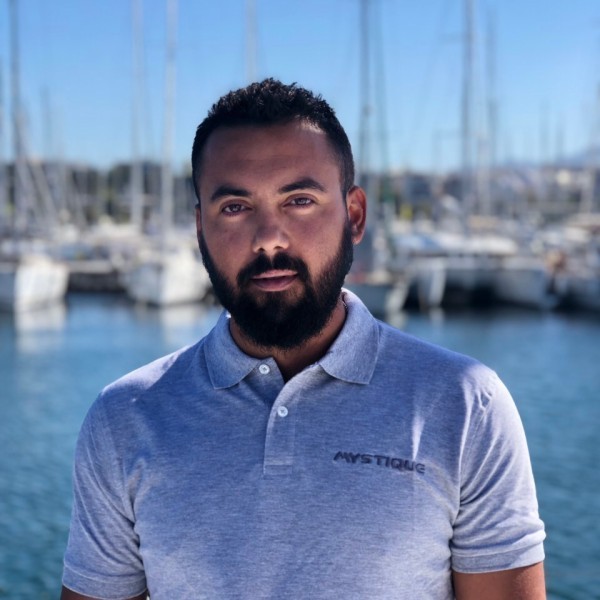 Thanasis was born in Athens in 1990.At the age of 11 he had his first experience in sailing as his family used to charter yachts for holidays. Sailing was his true passion so he decided to expertize it and start working in the sea. He started gaining experience by assisting the delivery of newly launched mono hulls and catamarans from the shipyards abroad as well as everywhere in Greece. His charter experience started from smaller size yachts, going to bigger and bigger year after year. Especially last year with 21 weeks of non stop charters and many many happy customers! Thanasis holds an offshore sailing license by HORC club and a powerboat license from Greek authorities. He also holds a first aid license from Greek Red Cross and in his free time he is a volunteer in Red Cross Samaritans, Rescuers and Lifeguards. Skipper Thanasis is always ready to welcome his guests, aiming to ensure a hospitable experience on board and show them the most beautiful hotspots of the Greek islands. He speaks English fluently. His hobbies are diving, training and shooting club.
YACHT LAYOUT
YACHT TESTIMONIALS
Guest Comments 2016
18-25/06/2016
Elena and Mike,
Words cannot express how special you have made this trip.Your hospitality is above and beyond, and I appreciate that as much as yourgood humor and camaraderie as well. I will miss your cooking Elena, and Mike's,''It's what you want…''
I will also miss my ''floatie'' time and Mike trying toknock us off the tubes! I look forward to future travels with you both, whetherit's aboard the amazing Mystique, at on Elena's couch, on another countryadventure!  Thank you for all the laughs,experiences and an amazing journey aboard the Mystique!
Elena and Captain Mike!
The past week has been more than wonderful and a lot of thereason that's so is because of the two of you! Elena the for sure 5 libres Timgained (happily) was because of your fantastic cooking! You have a talent forsure.
Mike you captain the boat perfectly and as a matter with mychildren on board (even though they are grown adults), I was always sure theywere safe! The sailing was absolutely awesome!
Both of you are special people and have made this time withour family memorable!
Favorite meals all of them! But if I have to pick one or two(or three) :
Favorite breakfast egg guiche, (muffin size), fruit withhoney and nuts and yogurt, baguette and various breads.
Favorite lunch the lamb meat balls with rise.
Favorite dinner the chicken breast combo.
Deserts every single one of them!
Mike and Elena,
Thank you for sharing Greece with us! This trip has beenfull of surprises (calm seas, moonlight private) , caves, 5 stars meals, senseof humor and so much more. I could not have imagined a better time in Greecethan what you provided. Our adult family of six is departing today with happyhearts, full bellies, and priceless memories which will from now on be known as''Mystique".
You two are now honor ally members of the family who we allhope to see you again!
Mike and Elena,
We loved, loved, loved our Greek adventure!  In no small part to you two. Captain Mike tookus to the most beautiful coves and hidden gems in the sea. Absolutelybreathtaking! Elena was a master 5 star chef who kept us guessing on whatdelicious meal was coming next. Thank you so much for a wonderful week oflaughter, joy, and exploration. Untill next time! Sails up!
Harris family!
Favorite lunch was the gyros and lamb meatballs. Favoritedesert was the banana pie that Michell almost dropped. Thank goodness shedidn't! All the food was top notch!
26/06-01/07/2016
Captain Mike and Elena!
What a great week! Touring the Greek isles aboard Mystiquewas fantastic. You made the trip very memorable. Elena thanks for the fantasticmeals, snacks and drinks. I cannot pick a favorite because they were alloutstanding!
Mike thank you for finding beautiful coves and showing ushow to fit in ports that are already ''full''. The shopping, swimming, sunning,water sports, drinking, music, friends, laughter and a great crew with greatmeals created a vacation we will never forget.
Thank you!
Mike & Elena,
Mike you are such a great Captain and Elena you are a greatcook. I loves when Captain Mike took us to Santorini and all of the other youtook us it was breathtaking and amazing. Elena, your deserts were amazing andyour meals were fantastic. My trip was amazing because of you two.
01-08/07/2016
Elena & Mike,
Thank you for bringing ''very'' Greece to us! Food wasamazing as was the hospitality helping to make our trip a ''one in alifetime''. I will always remember Elena's warmth and genuine passion! AndMike's humor. Favorite meal…
09-16/07/2016
Mike and Elena,
You have made this experience so incredible for us. Thistruly has been a trip of a lifetime for us. From the moment we met you we knewwe would be done friends. Steves birthday night was memorable. It was one ofhis better surprises!
The food was better than anything we were thought it wouldbe. Thanks for the extra 10 pounds! We really are serious when we say we wouldlove for you two to visit us so we can return the hospitality.
You have our contact information and remember the secret toa good marriage of 35 years is ''Yes Dear, No Dear, whatever you say Dear''!
Love you Guys!
16-23/07/2016
Mike & Elena,
It's been the most wonderful week I could ever imagine andyou make it possible. Thank you very much enclosed! We remember you forever!
Summer 2016, Font family.
I will always remember the UNO game we played.
See you in Spain!
23-30/07/2016
Captain Mike & Elena,
Thank you very much for taking in the Mystique through thecalm and transparent ocean on the Cyclades. We 've had excellent moments, itwas so fun sharing them with the Captain and his explanations about how to sail!
30/07-05/08/2016
We could get to visit all the islands we wanted in suvhlittle time! And finally we got to do it ! Great job!!! Thank you captain Mike.
Elena is the most courageous and decided sailor and also thebest chef of the Aegean Sea. Thank you for your attention in every moment thatwe needed. We will take with us the most beautiful memories but also we returnto Argentina with two new friends!
Love,  the bestArgentinian group.
Next time you will come to our ship as guests. Don't toforget to Giuliana to THE ROCK!
You are very welcome to Argentina whenever you want to!!!
Hope to see you soon!
06-13/08/2016
Mike & Elena have shown us a memorable week! Fromexploring the Western Cyclades to the fabulous food, we were over whelmed withbeauty! Greek food! Culture, Snorkeling, Tubing, Swimming, Paddleboarding,  Kayaking, all in tranquil,aqua blue lagoons….Mike found us hidden gems of vacations. We are humbled byhow Mike & Helena have welcomed us to the Mystique and have been friends.We will remember Mike's confident dockings in ports and his impish, calm smile.Elena has taught many tips for Greek foods. We look forward to her future cookbook. All the islands are swimming lagoons well worth to get there but what wewill remember how much fun we had on board Mystique. We look forward to seeingMike & Elena!
With warm friendship gratitude,
The Kolstads
20-27/08/2016
To Mike & Helena,
Best crew ever by far. Also best chocolate Mike ever. It wasvery comfy and fun staying with the Mystique and even better with Mike &Helena. I 'd enjoyed a lot.
Thank you, from chocolate bay!
Mike & Helena,
Thank you for the trip of lifetime. Having never stayed in aboat nor traveled to Europe before, I was stepping into this experienceblindly. I am glad that was the case, because every port, every meal, everyjourney was more incredible than I could have ever imagine. Keep it real,Abigayle
27/08-03/09/2016
Thanks for the great job captaining the boat this past week.Your guidance on the islands to explore and your experience sailing made ourtrip wonderful. We really enjoyed sharing this experience with you!
Kind Regards!
27/09-04/10/2016
PPS thanks for being so great with Amara. Elena, we won't besurprised if her first card is in Greek! She loved you so much, and we are soglad she get to make new friends on this trip (she liked you too Mike).
Also, Mike, your skill as a captain was as advertised wassuch an but was such an awesome surprise to find out that you are also such agreat photographer. Thanks so much for the incredible photos. The will likelyfind there way into our living room out of these days. Anyway you two truly made our trip of a lifetime, and we are so lucky not only to have experienced such a beautiful country but also have made two new friends!
 October 2015
Elina and Mike,
Thank you for a wonderful week at sea! I loved every meal onboard! Very inspired by your cooking. Loved seeing all the beautiful sites. Best Regards, Cindy

Elina and Michalis,

 


Our week aboard Mystique was not only an "E" ticket to the Aegean Sea but a wonderful time with some of our friends exploring the Cyclades! Elina your culinary skills are so inspiring, I can't wait for my Bill to make your sweet peppers recipe (Yum!) Michalis your piloting and smiling face will always be remembered. Your "1" legged rain suit will be a picture that will bring a smile to my face. Bill and I wish you both the best and look forward to your visit to San Diego, California. Thank you again! Bill, Stacy and Emily

Beautiful trip –thanks for the memories!!! –Kevin & Mary
 September 2015
Elina and Mike,
Thank you all for the trip and attention you offered. We were all blessed by the good weather and good time we spent on the boat. Everyone is going back home with Greece with a bigger space in our hearts!!! Cheers! Rodrigo, Douglas, Renata, Daniel, Vivi, Isabella


 August 2015
Cain Family & Chelton Family

 



Dear Mike and Anastasia,

 


We have spent a magical 10 days on the boat and not often experience such relaxation and the chance to go to so many beautiful bays and towns. We massively enjoyed walking around towns and villages soaking up the wonderful Greek culture. It is rare when you come across people as kind as Anastasia and Mike who have served us to the point where we can ask for no more. –Charlie

 



The funniest moment for me was when Mike has to jump into the water and it was really cold and he had to get a rope off the propeller and it was funny when he came out because he was jumping up and down because he was so cold. Thank you Anastasia for making wonderful food and mike for being a fantastic skipper. Xxx Mia

 



Dear Mike and Anastasia,

 


Although I have only been on the Mystique for a few days, I must say I've had the time of my life and I wish I could stay longer. My bed was extremely comfortable and the food was fantastic. I enjoyed Nutella crepes and bacon for breakfast and toasted sandwiches for lunch. Once again I want to say thank you so much for the luxurious cruise and thank you for taking us to glorious bays which helped me learn to successfully dive from height. –Joss

Dear Mike and Anastasia,

 


My 10 day stay on Mystique was absolutely magical. Firstly because the beautiful boat was basically a villa with a sail and secondly, because the crew were wonderful, very warm and welcoming to all of us providing us with all we need. Before this, I have never been to Greece and this exquisite sailing adventure was an incredible way to come here for my first time. Thank you so much again, An

Mike, put out the tender
Lower the tender
To shore we must flee

 


For it is precarious to wee

 


When starting at the peak

 


Of the very lovely Mystique

 



Oh, what a glorious time

 


Friends, family and wine
And not to forget the sunshine

 


We forged our way

 


To a new bay each day

 


And in Anastasia's care we lay
The heart of a wonderful stay.

Thank you, Edward Cain


 August 2015
Elina and Mike, thank you again lovely Mystique and great crew! Love, Tatiana


 August 2015
Elina and Mike, thank you for making our trip so memorable and taking good care of us. The food was delicious and very much appreciated your hospitality! We were so happy to be here and you made every effort to make sure that we had a great trip. We would love to come back again someday! Long live the blob! –Love Christine, Stephane, Eric and Tim


 July 2015
Dear Mike and Elina, we love you! Thank you for being this boat's crew. We all enjoyed your food and even helping me connect my PS4. Thank you once again.


 July 2015
Dear Elina and Mike,

 


Thank you for the wonderful week! It was the most amazing seven days!!! Elina: Thank you very much for such delicious, varied and hearty dishes! Your breakfasts, lunches, dinners are real culinary miracles! Mike: Thank you for such an interesting journey to the islands! And… for the great waves, water skiing and music! Our Russian team happy that you spent a wonderful holiday. Amazing trip, amazing team, amazing food, amazing water and… amazing Greece! We wish all the best and already miss you. Spasibo! –Spartak, Miron, Elena, Sergey, Albira, Nastya, Mario, Sofya


 July 2015
Dear Mike (Captain Jack Sparrow), Thank you for the most amazing trip and for taking us to some lovely places! You have been so calm all the time and made us feel very safe on board. And the girls won the race –yippee! You are very good at UNO. Hope to see you next year!
Dear Elina, you have been amazing, the best cook ever! We have eaten like Kings and Queens! Every meal was delicious! And you did it all so calmly and presented it so beautifully. Do a cook-book, we will buy one! Thank you, have a great summer! –Love, The Appells xxx


 June-July 2015
Michael & Elina,

 


You both made this trip amazing! We loved every port and the food was awesome! Fantastic! We felt so very pampered everyday! Thank you for your expert seamanship in 60+ knot winds and the bumpy ride. We felt safe in your hands Michael! Thank you Elina for the wonderful food and fantastic presentation at every meal! And thank you for caring for every one of us all day long. A special memory is the Greek night traditional food in Poros! And don't forget mama mia! Let me know if anyone brings more litters of vino than we did! Hope to see you next time! –Marge, Donna, Pam & Max, Kathleen & Bill, Marsha & Roger 


 September 2014
Dear George and Emilia,
Travelling 5000 miles to get here was more than worth it!!!We fly out on Monday, and wish we could come back on Tuesday!
We loved the itinerary and every island we visited. Without your ideas and expert navigation we couldn't have experienced all this.
Your company, jokes and laughs were great. Even better was the beauty salon. Thanks heavens our hair looked good because our figures are ballooning with all the amazing food.
We hope to see you in Miami, and we'll be the captains and cooks for you.
Will you come: "Yes or No"
Efharisto!!
Patty and Jay


 September 2014
Captain Ron (George) and Emily,

Fabulous! The food, the islands the company was great.
We will be back!
Please visit us in Miami…Yes or No
Thanks for the trip of a lifetime!

Ronaldo,Natalie,John,Katiana


 September 2014
George and Emily,

Thank you for taking us to "the most beautiful places in all of Greece"
We appreciate you finding the best route for us so we had a smooth sail with relating areas to swim.
We will all cherish many amazing memories-lessons in

 


•Throwing banana peels.
•Catching tuna
•Eating sushi and fried tuna prepared fresh
•Learning to navigate
•Emily's meals that were better than any restaurant
•Open water swimming
•Playing cards against humanity with Emily
•Sleeping in spots offshore
•Meeting your dog!
Every day was perfect and we did not want to leave.
Thank you!

Michael, Karima, Stephanie, Katherine, Andrew, Kate


 August 201
Georgy and Emilia, the best crew ever met in the sea! Excellent steering of the cruise by Georgy who took us in the most beautiful places around the islands of the Dodecanese.
Emilia: What to say for your cooking style: Unbelievable!
Gaia will make every attempt to copy your recipes … good luck to her! We will remember you moussaka for a long time…We were taken care of in the most efficient and professional way!
Thank you,
Gaia, Marco, Michele, Stefano, Camilla, Allegra, Guia , Sara, Susanna


 July 2014
Dear George and Emilia,

This has been an absolutely spectacular trip an unforgettable experience! We have happily enjoyed a family, a wonderful country, one that that you have shown us with great appreciation. All the places we visited were astonish highly beautiful, you have taken great care of us. The sailing, the safety, the wonderful energy of the crew and of course the food Emily cooked more absolutely spectacular. It was a real pleasure to make this trip with two professionals like you two. We will miss you both...You took great care of us and you exceeded our expectations.
Thank you thank you thank you!
Lina,Carlos,Francisco,Carolina,Ana Maria


 June 2014
Dear George and Emily,

Your marvelous attention to details has made all the difference in our experience on board.
George, a couple of lithrinia may not retain your reputation as a fisherman your try however was impressive.Emily we may have not challenged your cooking, yet your discreet shadow looking over us has made this trip most pleasant and memorable.
Troodia,Constantinos,George


 June 2014
A truly great 6 days sailing around the Greek Waters!!
Lots of fun food and alcohol !
Thank you Emily and George for looking after us in such a friendly and nice way and for bringing us back in one piece!!

Thanks a million,
Popi

 May 2014
Dear George and Emilia,

Laurie and i would like to thank you for providing us a wonderful experience in the Cyclades over the last week.
Your professionalism and attention to every little detail made for a special adventure during our visits to each beuatiful island.
This experience was special for me because it is the first time that i have been able to enjoy the magnificence of many of the Greek islands from the sea.
The skills of captain George were evident during one day of rough weather. He was able to navigate through rough weather with ease. At the same time Emilia made sure all of us were happy and very well fed with her special cooking skills.
You provided us with the best experience of Greece and we thank you very much!
All the best John and Laurie


 May 2014
Dear Captain George and Emilia,

You have ruined Greece for us ! How can we ever see it again with out you ? You both have made our trip through the Cyclades perfect. Wether good weather or bad you made each day a wonderful experience. The food was the best we have had in all of Greece. George's fishing skills are now legendary.
The beauty and the silence of the catamaran under sail is something we will remember as a special part of our Greek experience.
Thank you , thank you ! As we head to Crete we are already missing you !
Ron, Marrianne.


 15th of July 2011
The journey we had a pleasure to go through, which brought us an unforgettable experience, we¢d like to thank for so the hard work and great service of the crew members would not be forgotten.

 


We would like to say great thanks to Captain George for being both friendly and professional, showing us this little world we would never expected to find in Europe, where the places we visited would leave warm and kind traces in our memories. The atmosphere which was created for the perfection of our holiday made us feel in our own planet without any discomfort which persuaded me to transfer all of our good and thankful feelings in this letter.
It also should not be left out how our great cooking expert Christina introduced to us the best dishes a Greek person could know! The food was simply amazing though some people gained some extra weight…
Excellent work guys!
Maria, Sergey, Nikolay, Victoria, Dina 


 17-24/07/2011
17-24/07/2011
Being a child and living one week on an amazing boat is a dream come true. I want to thank George and Cristina for being amazing helpers throughout this experience. I couldn¢t think of a better way of spending my 10-11 b-day
Thank you George,
Thank you Cristina,
P.S. I¢ll remember not to come in wet again


 Thanks!
Dear George and Christina
Sharing with you this wonderful week in the Greek islands was very special and a wonderful experience . Many many thanks for all your warmth and caring.
Take care 
Graber Family


 See you soon!
Captain George and Cristina :
We had an amazing experience on the Mystique, floating on oily waters on our way to Mykonos which looked like a dream. Cyclades and Peloponeso islands, night navigation, even herculean effort to repair one of the engines showed that both of you make a perfect team to enjoy safely an incredible holiday on Greece waters.
Food was superb, we will always remember you guys and this excellent week on this amazing catamaran.
Thanks ,
Adrian, Gaby, Tomi and Julia Isman


 June 2012
Top ten things about the June 2012 Mystique Cruise
1.If your champagne bottle is smaller than 6 liters, you are doing it wrong.
2.Never ask Christina if there is another course of food. There is.

 


3.Millennium millennium.
4." Attention! Anchor!" = swim time!
5.If it's your birthday, George is your DJ.
6.Wine glass maximum acceptable loss rate (also known as WMALR) is 25%.
7.If you go horse back riding in Paros and they ask your skill level Always say "advanced" . Seriously.
8.Don't screw with the Mykonos pelican.

 


9.Breakfast at 1pm is the new reality.
10.The Russian way is the only way!
Thank you for an incredible week.
George & Christina- you guys are the best!

Jaina D,Benjamin D,Annie D,Maxwell H,Hollie D,Tom H


 July 2012
Georges,Kristina

What an experience! Our first time on a catamaran!First time in Greece, we are glad we have shared it with you
Olive Oil= that's what we understand greek cooking was based on- but so amazing.
Never forget the beautiful beached we discover, thanks to you.
Do you know that the Lagoon 500 can sail?
we discovered it once or twice,the rest of the time the engine took us very more faster to the beautiful beaches!
Enjoyed so much Kristina's kindness and George's good advice
Remember for ever the 18th birthday of Laetitia, the care, the balloons. Thank you so much.
Full of sun, memories, pictures, we go back to France and tell our friends how Greece is beautiful!
Uneasy to find the words to describe how wonderful is a week on a Lagoon 500 with George & Kristina!
Lot's of thanks & Kiss from us!
Clementine

Thank you very much for this week
I enjoy to meet you and Greece is a very beautiful country
A very nice experience for me
A lot of kisses
Catherine

Un Cordon Bleu en cuisine et un super skiper, quoi de mieux pour passer une super semaine? Je suis ravie d' avoir fete mes 18 ans avec vous. Bonne continuation,
Bise Laetitia


  03 August 2012
Thank you for the wonderful memories. We loved Christina's cooking and smiling face waking up to greet us every morning!
George thank you for getting us safely to Mykonos and back. The kids loved being tossed off the boat. We will always remember our trip to Greece and our friends on Mystique.
We wish you many years of happy safe sailing
Love the Showalter Family (Julie,Carl,Drew & Kate)
Los Attos,CA


 17 August 2012
Thank you...Grazie mille...Vielen Dank...Ευχαριστω!!
He who enjoys doing and enjoys wha the has done is HAPPY.
After the enjoyable trip we had, thanks to you George and Christina, we can definitely say: "we ate happy"
We wish you all the best with the secret hope to meet you again.
Agnese, Mathias, Lisa, Marcos, Petra, Lakis


 Athens, 22.IX,2012
Coming to the origin of our civiliazation was not an unknown but you were unknown to us.
Christina and Georgy or Georgy and Christina thanks for your hospitality, your smiling faces.
See you soon!!(I hope in Juin)
Borja, Alicia, Jacques

 


We will come back!!
With Olivier and Jacques-Yves
YACHT PHOTOS