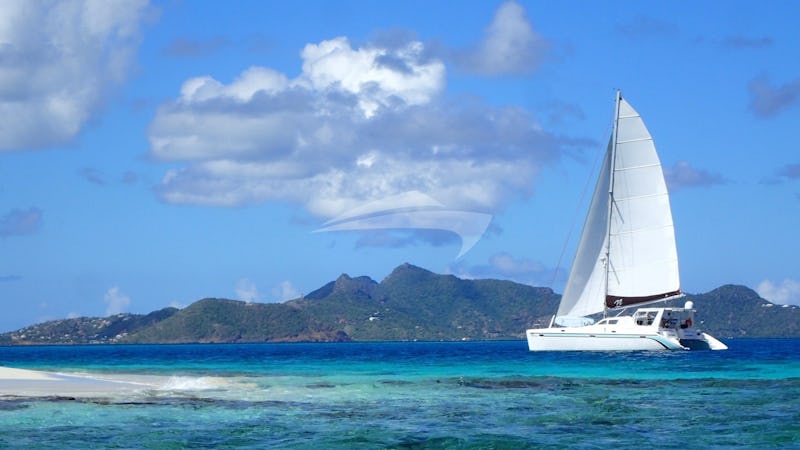 Specs Features Diving Crew Profile Menu Layout Photos Testimonials Similar Yachts Inquire NEW Charter Search »
YACHT INTRODUCTION
Nutmeg... putting a little spice in your life!
Ahoy!
Welcome aboard Yacht Nutmeg!
Looking for some exotic flavor? An escape to paradise? Live out your dream of the ultimate getaway aboard Nutmeg and put some spice in your life. Let Nutmeg and her crew sail you throughout the secluded islands, islets and cays of the BVI archipelago and other beautiful Caribbean islands. Discover white sand beaches, offshore reefs, famous shipwrecks and emerald green mountains.
Enjoy your dream vacation sailing on a luxury catamaran to beautiful islands, enjoying tropical drinks, gourmet cuisine and beautiful sunsets with your favorite people.
Max & Whitey on catamaran NUTMEG, Runners Up for Best Cat Under 56 feet at the 2019 BVI Charter Yacht Show!
SPECIFICATIONS
Length 49ft 10in (15.2m)
Beam 25ft 11in (7.9m)
Draft 4ft 3in (1.3m)
Sleeps 8 Guests
Cabins 4
Crew Captain John "Whitey" White & Chef
Year Built 2008 / Refit 2019
Cruising Speed 7kts
Max Speed 10kts
Stabilisers None
Engines 2 x 54 Yanmars

Builder St. Francis
Designer Angelo Lavranos
Flag British Virgin Islands
VAT Registered No
US Duty Paid Yes
APPROXIMATE WEEKLY RATE
High USD $22,000 | Low USD $16,400
FEATURES & AMENITIES
CD library, Cell phone, DVD library, Indoor audio system, Local TV, 13ft/4.1m Tender 50hp, Floating mats, Kayaks multiple, Kneeboard, Paddleboards multiple, Swimming noodles, Tube - towable, Wakeboard, Water skis - adult, BBQ, Deck shower, Fishing gear - light, Swim platform
ACCOMMODATIONS
Sleeps 8 In 4 Cabins
NUTMEG can accommodate 8 guests in 4 cabins.
The Master cabin has a queen size bed, shower and toilet.
3 Guest cabins have a queen size bed, shower and toilet.
Heads are dry
NUTMEG is fully air conditioned through out.
Crew has a separate companionway, heads and shower.

DIVING EQUIPMENT
Insured, Crew can instruct, Diving if accompanied, Snorkelling gear, Instructor,
Certified divers: No charge for up to 5 dives per week. 
Guest must rent gear. We will assist in the process.  Guest must pay for any tank fills through the week.

Resort Course:   $150   
Referral Course:  $350
Any other instruction:  Please inquire
Any dive fees to be paid to crew when on board.


YACHT CREW
Captain: John "Whitey" White
Max and Whitey (Maxine and John White) have a long history in the charter industry. Whitey is originally from Perth, Australia and Max from Utah but they have made 'the Caribbean' their home. After arriving on their cruising boat in 1992 to get married at Cane Garden Bay, they began their chartering career. They have hosted guests on large catamarans in the Virgin Islands, down the island chain and even a few years of 'adventure chartering' in the San Blas Islands of Panama and in Belize. The most recent years have been on a private yacht exploring the Dominican Republic, Jamaica, Cuba and Belize. They are excited to now be returning to the beautiful British Virgin Islands where chartering began for them.
Captain Whitey takes the helm as he sails you around the islands. He knows all of the anchorages intimately and will customize the itinerary to the guest preferences. He is known as the entertainer and his primary goal is to make sure his guests on Nutmeg have the best vacation in their life. He holds a RYA Yacht Master Ocean license and has been a PADI Dive Instructor for 24 years. Whitey has a passion for teaching, whether it be snorkeling or scuba diving, or introducing people to anything regarding life on a boat. At night you can expect more entertainment with interesting 'Whitey stories' of his many travels while being served his original and classic beverages from the bar.
License and Certificates:
- Royal Yachting Association, Yacht Master Ocean
- PADI Dive Instructor since 1994
- St. John Senior First Aid
- Red Cross Senior First Aid
- STCW 95: Personal Survival Techniques; Personal Safety and Social Responsibilities; Fire Fighting; First Aid and CPR
- 30+ years electrical contracting with licenses held in California, South Carolina and Western Australia
Chef & Mate: Maxine White
Chef Maxine White
Originally from the land-locked state of Utah, Maxine had never been sailing until she met Whitey in San Francisco. She quickly took to it and before long she quit her job in the San Francisco Financial District to sail away under the Golden Gate Bridge with Whitey. Many sea miles later they were married at Cane Garden Bay, Tortola. Max has since completed over 45,000 blue water miles.
First Mate and Chef Max brings her years of extensive traveling to inspire her meal preparation on Nutmeg. Max likes to use local and fresh ingredients and her primary culinary specialties are Latin and Caribbean as well as Asian and Mediterranean cuisines. In past charter boat shows, she has won awards with her Tamarind Duck! Max is also an avid diver as a PADI Dive Master for over 20 years. She especially likes to show her guests the underwater world and knows the best of the snorkel spots in the BVIs.
While sailing on a Nutmeg charter you can expect to have a specialized and relaxing sailing vacation!
Certificates
- Certificates Culinary Institute of America, United States Personal Chef Assoc.
- PADI Dive Master since 1992
- STCW 95: Personal Survival Techniques; Personal Safety and Social Responsibilities; Fire Fighting; First Aid and CPR
- Red Cross Senior First Aid
- Bachelor of Science, Human Resource Management, Westminster College
YACHT MENU
SAMPLE MENU FROM NUTMEG'S GALLEY
BREAKFAST
All breakfasts are served with Coffee, Tea, Assorted Juices and Fresh Fruit
Banana Pancakes topped with Cinnamon Apples. Served with Crisp Bacon
Breakfast Parfaits with Yoghurt, Granola and Fresh Berries
Deconstructed Eggs Benedict:  Poached Eggs on a Potato & Ham Hash with Hollandaise Sauce
Breakfast Burritos with Salsa and Fried Potatoes
Build Your Own Bagel Platter with Smoked Salmon, Cream Cheese, Tomato, Red Onion and Capers
Traditional Aussie Breakfast with Fried Eggs, Sausage, Bacon and Baked Tomatoes
Greek Frittata with Zucchini, Feta and Cherry Tomatoes
LUNCH
Grilled Cuban Panini with Ham, Roast Turkey and a Pickle and Mustard Sauce. Served with a Side of Chilled Gazpacho
Mediterranean Seafood Pasta Salad with Shrimp, Crab, Feta Cheese, Black Olives and Cherry Tomatoes
Make Your Own Tacos with Grilled Fish or Chicken, Black Beans, Avocado, Jalapenos, Cheese. Salsa and Sour Cream
Grilled Chicken Caesar Salad
Pork Satay with a Spicy Peanut Sauce.  Served with Couscous and Honey-Mustard Coleslaw
Thai Chicken Salad Served in a Lettuce Bowl and Topped with a Mango Salsa.
Your Choice of Grilled Cheeseburgers of Fish Burgers. Served with Baked Potato Fries
SUNDOWNER COCKTAILS WITH APPETIZERS
Indulge in the Captain's Daily Cocktail or choose your favorite.
Nutmeg's Special Pain Killer, Pina Colada, Classic Margarita, Cosmopolitan, Dark & Stormy, Shark Bite 
or a 'Virgin' Cocktail which appeals to all ages.
APPETIZERS
Conch Fritters with a Spicy Mango Sauce 
Sushi & Nori Roll Platter with Pickled Ginger & Wasabi 
Bruschetta with a Variety of toppings such as Fresh Tomato-Basil-Caper Salsa, Olive Tapenade
or Bacon-Leek and Goat Cheese Spread
Mixed Seafood Ceviche with Crisp Tortilla Chips
Antipasti Plate of Proscuitto, Salami, Olive Tapenade and Homemade Hummus
Spinach Artichoke Dip with Baked Pita Chips
Tortilla Chips served with Salsa, Guacamole and Black Bean Dip
DINNER
Grilled Mahi-Mahi over coconut rice with Pineapple-Cilantro Salsa
Max's famous Paella! with a Medley of Shrimp, Mussels, Italian Sausage and Chicken.  Served with a Fresh Green Salad
Grilled Jerk-flavored Pork Medallions topped with a Green Curry Mango Sauce.  Served with Roasted Broccoli and Cauliflower
Award Winning 'Tamarin Duck Breast' with Tamarind-Grand Marnier sauce. Served with Sweet Potato and Grilled Asparagus
Filet Mignon Grilled to Order Topped with Carmelized Onions.  Served with Scalloped Potatoes, Corn Puree and Grilled Zucchini
Chicken Piccata with Creamy Mushroom Flavored Fettucini Alfredo
BBQ Baby Back Ribs with Twice Baked Potatoes, Grilled Corn on the Cob and Roasted Balsamic Vegetables
DESSERTS
Lemon Breeze with Lemon-zested Coconut Macaroons
Rum Pineapple Upside Down Cake with Salty Caramel Sauce
Mango Cheesecake
Tropical bread pudding with rum custard sauce
Pina Colada Inspired Sorbet with Coconut Whipped Cream
Chocolate & Fresh Fruit Platter
Almond Cake with a Strawberry Coulis
YACHT LAYOUT
YACHT TESTIMONIALS
A family aboard catamaran NUTMEG for New Years 2020-2021 said:
Bottom line: I would not hesitate to recommend Nutmeg or its crew to others.

Max and Whitey are very easy to be with, and were great with the children. We all enjoyed their company, and they made us feel at home on Nutmeg. The food was fantastic and varied. There were not many instances in which someone did not fully clean their plate. Max made special effort with the food for New Year's Eve, with lobster for lunch and steak for dinner. She also accommodated our youngest child with her preferred chicken when seafood (not preferred by her) was served. We ate very, very well.

As you know, the crew agreed to take the "drop down" forward cabin, leaving the four main cabins in the rear for our family of five. I did not previously appreciate what a significant difference this would make. It made the boat feel larger for us than it otherwise would have felt and provided some privacy that we may not have had otherwise. Their willingness to accommodate guests in that way really makes a significant positive difference in the experience.

Thanks for setting us up with the Nutmeg and its crew. We had a great trip.

Richard M., Alabama
Guests aboard NUTMEG in early December, 2020, wrote:
Max and Whitey:  THANK YOU again for such a wonderful trip. Your skill, experience, creativity, passion, personal chemistry – and the fact that you're just great human beings, all made this a unique, memorable and superbly enjoyable experience for Melanie & I. I think I can safely vouch that Pete & Vera's experience was the same.  
Matt K
Catamaran NUTMEG's guests in the Grenadines for early August said:
We had a wonderful time with Max an Whitey. Everything was beyond our expectations, the catamaran was beautiful and spacious and we couldn't have wished for a more perfect holiday!!! Max and Whitey were absolutely wonderful: Whitey full of energy and with a great Aussie sense of humor and Max, the quiet force accompanying him, she made every meal truly wonderful: the food was delicious, varied and healthy!!! We were truly pampered (even our beds were made when we weren't watching!!!), and we really appreciated their huge amount of experience both with sailing and in life. We miss them already!!! If we ever decide to sail again in the Caribbean we would choose them again, without hesitation!!!! Thank you for everything!!!
The de Jong Family

Early May, 2019, guests aboard catamaran NUTMEG wrote:
Food & Drink? 5 Star!
Planning the charter? We were incredibly happy to have the expertise of Whitey and Max's knowledge to plan the amazing itinerary.
What you liked most? So many things! The amazing attention to detail, Max and Whitey's warm and outgoing personalities, the PADI instruction, always feeling safe during the instruction, the food! Totally 5 star and beautifully presented.
The captain: 10+++ The chef: 10+++
We are a family of 5 with extensive travel experience. We all concluded this was a trip of a lifetime.
Guests aboard NUTMEG in early March, 2019 (they called themselves the Salty 7!) wrote:

Spicing up the BVI - ship faced, nauti and a little dinghy!'  
Max and Whitey: there are no words to describe what a wonderful time we had. You are the best! 
Mary and David
Captain Whitey and Max: You have been fabulous! Thank you for the memorable week in the BVI.  And those meals! So great!  
Margret & Mike
Dear Max and Whitey: Thank you so much for a trip of a lifetime. You have set the bar for any other charters for us in the future.. and good luck to anyone you attempts to compare. Hoping to be friends for a long time. 
Deb & Steve
And the same "Salty 7" wrote to their broker:
Charterer's name: Holmes

Boat's name: Nutmeg
Upon arrival the boat was clean: Yes
The boat was tastefully presented and decorated: Yes
Upon arrival the boat was immaculate: Yes
Captain Whitey arrange for a taxi from the airport and met us at the dock.
Was the boat kept clean during the charter? Yes
Was all advertised equipment on board? Yes
Was the equipment in good condition? Yes
Any toys particularly enjoyed:
My husband is a recent amputee. Captain Whitey and Max took him snorkeling and diving for the fist time since his foot amputation.
Comments-was the boat comfortable: Every thing exceeded our expectation.
The captain was outgoing: Yes - The captain was professional: Yes - The captain was friendly: Yes
Comments-captain: Captain Whitey and Chef Max were FABULOUS.
Did you feel free to choose each day's activities? Yes
Please describe the meals: PERFECTION!!!!! Everyday was a wonderful surprise.
Were specifically requested drinks on board? Yes
Did the meals reflect your requested preferences? Yes
The cook was outgoing: Yes - The cook was professional: Yes - The cook was friendly: Yes - The cook was eager to please: Yes

Comments-were our descriptions accurate?
Emphasize more how great Captain Whitey and Max are to their guests. 

Past guests with Capt. Whitey and Chef Max wrote:
March 2011
It was possibly our best vacation! Certainly it ranked right up there. Whitey and Max are really a special crew, really great people with whom we all bonded very quickly. They go out of their way to make everyone feel at home in their home. We all loved it and thank you so much for gently nudging me to choose them.
T. Boyd
January, 2011We have such great memories of our trip. Thank you so much for making the trip so great. 
J. Ivie
December, 2010We had such a great time. Thanks to all of you for making it so special.Even the boys agreed that it was one of our best vacations! 
E. Amari
February, 2010You guys are definitely the greatest !!!
Please know that our experience with you on our charter vacation is one of the
finest experiences I've had in my lifetime [and I've had the opportunity
to do a lot. I thank God for our 6 days with you guys and for having
had the opportunity to meet each of you. I can't tell you how many
people have inquired of us about our experience. Of course everyone is
envious. 
Margie tells everyone " on a scale of 1 - 10, this trip was a
15. 
YACHT PHOTOS