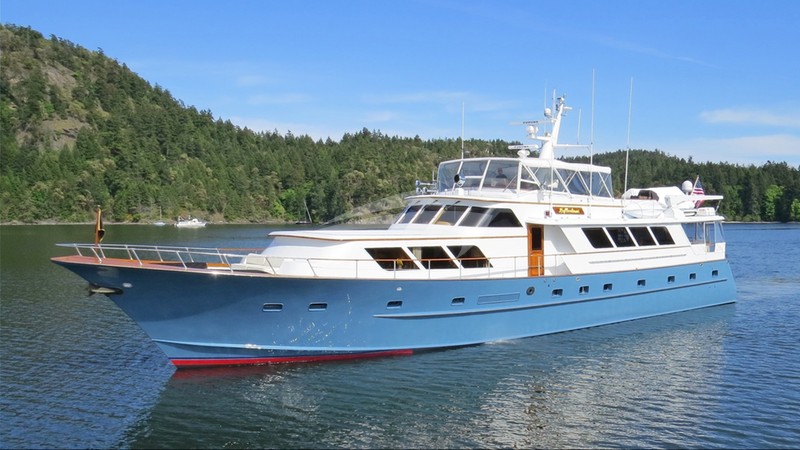 Specs Features Diving Crew Profile Menu Layout Photos Testimonials Similar Yachts Inquire NEW Charter Search »
YACHT INTRODUCTION
REFLECTIONS journeys the calm, Inside Passage waters of the Southeast Alaska and Washington State.
The Inside Passage is unique on our planet. The waters are pristine, rarely traveled, generally calm, rich in wildlife, abundant in fish, enhanced by glaciers and waterfalls, temperate and green, and the land full of native peoples and history. It invites exploring. Anchor in secluded bays of unimaginable beauty. Kayak and tender in search of the giant Brown Bear. Enjoy fresh caught salmon, spot prawns, crab and more. This is a journey unrivaled.
In Southeast Alaska, REFLECTIONS is based in the archipelago between Sitka and Juneau. These waters are the richest in Alaska. World class fishing, an abundance of whales of great variety, extraordinary scenery, tidewater and mountain glaciers, waterfalls and waterfowl, unique ecosystems and stunning anchorages of solitude. Your days are flexible by nature to insure every day affords the time necessary to see and feel the depth of the Alaska experience.  Travel amongst the ice of the great Tracy Arm Fjord to the tidewater Sawyer Glaciers to witness the awesome power of calving. Hike along a powerful rushing river for a soak in a magical warm springs. Enjoy kayaking on 3 Malibu "Pro 2 Tandem" 2-person sit on top kayaks (new in 2018). Take out the stand up paddleboards. Juneau to Sitka, or Sitka to Juneau, are advised for an optimal trip. In Alaska, Juneau to Sitka, Sitka to Juneau are available with no delivery fees.  For Juneau to Juneau, or Sitka to Sitka, please inquire.
REFLECTIONS is an entirely non-smoking vessel.
Private Charter Rates:
Up to 6 guests:    Special - $49,000 inclusive / 7 nights for remaining Summer 2019 dates.
7-8 guests: Please Inquire.
A week is 7 24-hour days and nights, Noon to Noon. Some would describe this as "8 days / 7 nights".
The Charter Fee includes:
Yacht, 4 professional crew, meals, snacks, non-alcoholic beverages, taxes, generator fuel, yacht fuel for cruising at 12 knots for up to 6 hours per day averaged over the charter.
In Alaska, casual fishing for salmon and bottom fish (excluding halibut), and crab and shrimp pots. 
The Charter Fee does not include:
Customary crew gratuity at the Charterer's discretion (15-20% of Charter Fee advised); alcoholic beverages (charged at cost); dockage and transfers.
Advanced Provisioning Allowance (APA) of $4,000 for optional scenic flights, alcoholic beverages, and fishing licenses. Any funds not spent are fully refundable.
In Alaska, fishing licenses for salmon, bottom fish, crab and shrimp; optional sport fishing charters; optional halibut fishing (which requires charter of a licensed boat and guide).
In Washington State, all fishing is from sport fishing boat charters at additional cost. 
SPECIFICATIONS
Length 105ft 0in (32m)
Beam 20ft 0in (6.1m)
Draft 5ft 11in (1.8m)
Sleeps 6 Guests
Cabins 3
Crew Captain Eric Olsen, Chef and 2 crew
Year Built 1982 / Refit 2018
Cruising Speed 12kts
Max Speed Not available Stabilisers Stabilisers
Engines Twin Scania D1 12 44M 750hp. 2018 Northern Lights generator.

Builder Broward
Designer Not know
Flag United States
VAT Registered No
US Duty Paid Yes
APPROXIMATE WEEKLY RATE
FEATURES & AMENITIES
Bluray player saloon, DVD player all cabins, Indoor audio system, Satellite phone, 15ft / 4.60m 60hp Novurania, Assorted water toys, Board games, Kayaks multiple, Paddleboards multiple, BBQ, Coffee machine, Fishing gear - light, Swim platform
ACCOMMODATIONS
Sleeps 6 In 3 Cabins
DIVING EQUIPMENT
YACHT CREW
Captain: Eric Olsen (65)
A charter aboard Motor Yacht REFLECTIONS allows you the opportunity to experience and explore the Pacific NW with an elite, highly trained crew of 4, all versed in the standards of yacht etiquette. All crew are non-smokers.
Captain - ERIC OLSEN
Captain Eric Olsen has a lifetime of experience along the coastlines of the Pacific NW. He is a passionate naturalist, birder, and photographer.
His approach? "Creating a memorable experience for my guests has always come naturally to me. Building relationships and loving what you do will consistently bring guests back for more."
Eric led the REFLECTIONS team for an extremely successful charter season in Summer 2018 in SE Alaska and the San Juan Islands of Washington State.
For 5 summers, Eric captained a 157' Expedition Ship for naturalist trips between Sitka and Juneau.
His experience also includes 5 years as Marine Operations Manager at Kenai Fjords Tours as the company expanded to 11 vessels. He supervised a seasonal crew of 75.
Eric's experience at sea began with 20 years of commercial fishing in Alaska. He holds a 200 ton Master license from the United States Coast Guard.
Chef - VICTORIA SPANIOL
Victoria has worked aboard motor yachts, primarily in Florida and the Bahamas, since 2012.
She writes, "I have been working as a chef for over 20 years, including a catering company in New York which I sold. I am extremely proficient in Italian/Mediterranean fare as well as typical American favorites. I have a working knowledge of gluten free, lactose intolerant, vegan, vegetarian, pescatarian etc. I have a good handle on most palates around the world and I am always willing to challenge myself with new recipes."
Previous yachts include 117' InterMarine PORTOFINO, 95' Hargrave LADY C II, 105' Lazzara TRANQUILITY IV, 130' Westport VISION paired with 72' Viking SPORTVISION, 97' Hargrave THE PROGRAM, 100' Hatteras CRESCENDO, 80' Hatteras TOPPS, and 75' Hatteras SHEER BLISS.
Stewardess - DIANNIE SEVILLANO
Dianne has over a decade of yachting experience on motor yachts to 165'. Her studies included the American Yacht Institute Professional Stewardess Course and Silver Service Yachting Training. She is returning to REFLECTIONS for Summer 2019 after being aboard for Summer 2018.
Mate/Engineer - IAN FAY-HILTNER
Ian, originally from SE Alaska, has a tremendous variety of experience in yachting. He has been a Deckhand / Fishing Guide / Naturalist in SE Alaska, served as a Dive Instuctor and Activities Director aboard yachts in SouthEast Asia, and voyaged to yachting hot spots as Second Engineer aboard 60 metre Abeking & Rasmussen's ELYSIAN and EXCELLENCE V. Ian is delighted to be returning to the Pacific NW aboard REFLECTIONS for Summer 2019.
YACHT MENU
Everything about the meals and beverages aboard REFLECTIONS 
is customized to your preferences, but here's a Sample Menu.




DAY 1

Turkey Pesto Panini on Ciabatta
Multigrain Chips, Sliced Melon

Mixed Green Salad
Gorgonzola-Crusted Filet Mignon
with Risotto, Tomato Chutney, Asparagus

Berry Rhubarb Cobbler a la Mode



DAY 2

Blueberry Buttermilk Pancakes
Warm Maple Syrup, Bacon & Fresh Fruit

Alaskan Red Snapper Fish Tacos
with Pineapple Salsa & Chipotle Black Beans

Grilled Salmon with Pesto Cream Drizzle
Roasted Vegetable Couscous, Crispy Kale & Balsamic Reduction

French Vanilla Custard with Chocolate Crackle



DAY 3

Feta, Kale & Oven Roasted Tomato Fritatta
Breakfast Sausage, Whole Grain Toast

King Salmon Chowder
Fresh Baked Cornbread, Sliced Watermelon

Caesar Salad
Potato Wrapped Cod
with White Wine Mushroom Sauce, French Lentils

Chocolate Dipped Berries & Oatmeal Fig Cookies



DAY 4

Freshly Baked Cherry Almond Scones
Yogurt, Fresh Fruit, Granola & Assorted cereals

BLT on Toasted Rosemary Bread
Creamy Roasted Tomato Soup

Italian Chop Salad
Herbed Chicken Parmesan
with Capellini in a Fresh White Wine Tomato Sauce

Apple Crostata with Sea Salt Caramel



DAY 5

Scrambled Eggs with Aged Cheddar
Swiss Chard, Bacon & Potato Hash
Fresh Baked Buttermilk Biscuits

Coho Salmon Burger
with Lemon Herb Aioli & Mixed Greens

Fresh Spring Rolls with Sweet Thai Chili Sauce
Coconut Panko Crusted Halibut with Thai Curry Sauce
Steamed Vegetables & Jasmine Rice

Milk & Dark Chocolate Truffle Duo



DAY 6

Bagels with Smoked Salmon Cream Cheese
capers, red onion, sliced tomato, fresh herbs

Chicken Cobb Salad
with Honey Balsamic & Blue Cheese
Dungeness Crab Surf & Turf
Parmesan Bacon Twice Baked Potato, Garlic Haricot Verts

Peach Upside Down Cake



DAY 7

Fresh Baked Raspberry Sour Cream Coffeecake,
Yogurt, Fresh Fruit Selection, Granola & Assorted Cereals

Halibut Fish & Chips with Honey Mustard Slaw

California Rolls
Sesame Ginger Baby Green Salad
Spot Prawns with Thai Peanut Noodles 

Warm Chocolate Cake with Vanilla Sauce



DAY 8

Smoked Salmon Eggs Benedict
Fresh fruit

YACHT LAYOUT
YACHT TESTIMONIALS
"We had a magnificent charter and the six of us enjoyed every phase of the trip.  The four person crew made the trip memorable.  Chef Jessica was better than can be found in fine restaurants.  Captain Eric was a good captain and provided information about everything in the area.  We had a wonderful life experience."
September, 2018
"We have had a fabulous time with a fabulous crew."
July, 2018

"It was a TO DIE FOR TRIP with all that we saw and the great care that the staff gave each of us. We would do it again in a heartbeat. Overall Rating - over the moon, magical, and easily a 10+ out of 10. ALL of the crew was outstanding. The yacht was totally comfortable; not one complaint. It was well ventilated, and there was plenty of space to move around. Having the comfort of this yacht, the superb crew and their willingness to go above and beyond the call of duty IN EVERY WAY, we would definitely charter the same yacht and take the same crew again. We loved them all.

Alaska is one of the few places on the continent permeates our souls. We will return.

My thanks again to you and our super crew." 

Private Family Charter

YACHT PHOTOS