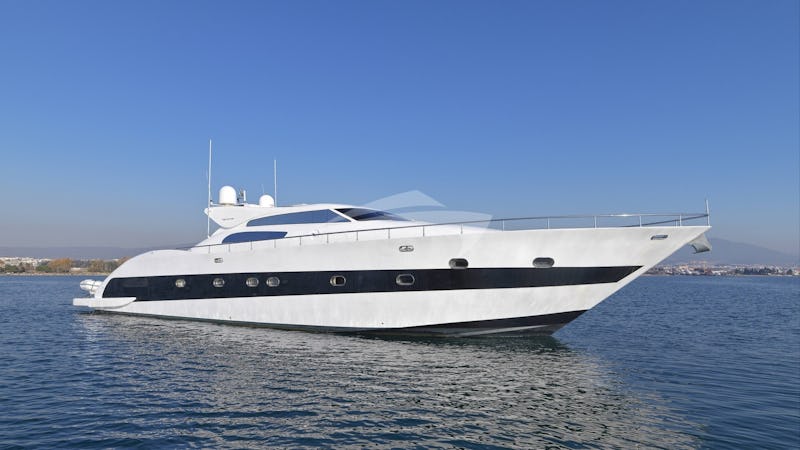 Specs Features Diving Crew Profile Menu Layout Photos Similar Yachts Inquire NEW Charter Search »
SPECIFICATIONS
Length 87ft 11in (26.8m)
Beam 19ft 0in (5.8m)
Draft 4ft 11in (1.5m)
Sleeps 8 Guests
Cabins 4
Crew Captain Athanasios Liakos, Chef and 2 crew
Year Built 2006 / Refit 2019
Cruising Speed 30kts
Max Speed 40kts
Stabilisers None
Engines 2x MTU at 2000hp

Builder Tecnomar
Designer Not know
Flag Greece
VAT Registered Yes
US Duty Paid No
APPROXIMATE WEEKLY RATE
High USD $36,142 | Low USD $33,883
FEATURES & AMENITIES
Indoor audio system, iPod dock, TV all cabins, TV saloon, Wi-Fi, Zar, Assorted water toys, Jet ski (standup), Paddleboard, Fishing gear - light, Sun cushions, Sun loungers, Swim platform
ACCOMMODATIONS
Sleeps 8 In 4 Cabins
DIVING EQUIPMENT
Not Insured, Seabob, Snorkelling gear
YACHT CREW
Captain: Athanasios Liakos (47)
Captain Sakis Liakos was born on January 28, 1973. He is married with three children and his permanent stay is in Thessaloniki. He is a professional Seaman since 1990. He has graduated from the Merchant Marine Academy of MACEDONIA. He has been travelling for 7,5 years as a Second Mate and Chief Officer at Commercial Cargo Vessels. For a period of 3,5 years has been a Captain on Tug Boats in Harbor and Salvage and for the last 18 years is a Captain on Motor Yachts. His mother language is Greek and he is very fluent with English. He is committed to his duties and always there to offer you a unique yachting experience. Due to his solid background knowledge sailing in the Greek islands, he can introduce you to many hidden Greek treasures that will amaze you.
Deckhand: Mathaios Grammatopoulos (35)
Mathaios was born on March 12, 1985 he is single and his permanent stay is Thessaloniki. He has been working as a Professional Seaman since 2012 and he has all the documents needed as an AB. For four years, 2012-2016, he was a Sailor on M/Y "WATER SECTOR", a pleasure yacht. For a year, 2016-2017, he was occupied by a company involved in the maintenance and services of motor yachts. From 2017 and until the summer of 2019 he was a Sailor on M/Y "HAPPY DAY", a commercial yacht. During last summer (2019) he was working as a Sailor at Hotel ''MIRAGGIO MARINA'' and since December 1st, 2019 he is a member of the crew of M/Y ''RUBY''. Since 2012 he has been working and co-operating with Captain Sakis Liakos. His mother language is Greek and speaks fluently English and Russian. He is fond of the Martial Arts and he has received a proper training for 15 years. He seeks working at sea and he is eager to take on any task he will be assigned.
Chef: Spiros Varelis (31)
Spiros is born in beautiful island of Corfu in 1989. He has a passion for good food and has always been involved with cooking, as his parents own a Greek and Italian cuisine restaurant in the island of Corfu.He has a culinary degree and a bakery/pastry chef degree from Akmi School of Culinary Arts. He has worked in numerous restaurants and hotels and enjoys exploring culinary differences, experimenting with new ingredients, especially Greek products, using them to approach Mediterranean cuisine in a creative, delicious and insightful way. As Spiros has always enjoyed travelling, he seized the opportunity to work on a yacht and he is looking forward to satisfying your taste buds and help you explore a new side of the Greek cuisine with his mouthwatering creations.
YACHT MENU
Day 1
Lunch
Sea bream tartare with black garlic crostini and citrus mayonnaise.
Streamed mussels sauteed with Robola wine,fresh herbs and lime.
Lobster with linguine,red sauce and herbs.
Lemon creme with crispy meringues and berries sauce.
Dinner
Beef carpaccio with aged graviera cheese,pickled sea fennel and aromatic black truffle oil.
Battered in oatmeal feta cheese with marmalade from Florinas peppers.
Grilled pork tenderloin with smoked mustard-honey sauce and grilled baby potatoes.
Cheesecake with blueberries marmalade.
Day 2
Lunch
Sea bass tiratido with lime and beetroot cream.
Grilled squid on black tarama, cherry tomatoes,fresh onion,caper and olive oil.
Greek creation with cherry tomatoes,cucumber,fresh and dried onion,kritamo herb and Athotiro cream cheese.
Fresh fish with greek wild greens and herbs.
Dinner
Salmon tataki  with chives,black sesame,tobico and soya sauce.
Wakame salad with sesame oil and rice wine.
Maki rolls with tuna,avocado
Inside out rolls with salmon fresh onion,spicy sauce and red flying fish eggs.
Nigiri with salmon and tuna.
Banana rolls with cream cheese,honey and cinnamon.
Day 3
Lunch
Ceviche with white grouper fresh onion,chili peppers and sweet potato puree.
Mushrooms with sea fruits,smoked tomatoe sauce and truffle oil.
Sea bass fricassee with wild greens,herbs and fish broth.
Orange pie with kaimaki ice cream.
Dinner
Fava from Santorini with chopped tomatoes,fresh onion and crunchy oil pies
Quinoa salad with cucumber,peppers,tomato,wakame and sweet mustard dressing with dill.
Orzo pasta with cuttlefish ink,spinach and bottarga from Greece .
Panna cotta with raspberries,sour cherry jam and almond fillet in caramel.
Day 4
Lunch
Marinated tuna with chilli syrup,fresh onion and chives.
Smoked eel with celery puree and paprika oil.
Salad with baby potatoes,mayonnaise,truffle oil,parsley and shrimps.
Paella with mussels,shrimps,squid peppers and fresh herbs.
Dinner
Pitarakia with lean cuts of tenderloin and apaki meat,cheese and kumquat jam.
Vegetable banquet with grilled vegetables,roasted nuts,parmesan flakes,and balsamic vinegar.
Rib eye steak with crayfish,aromatic butter and baby potatoes.
Chocolate pie with hazelnut praline and kaimaki ice cream.
Day 5
Lunch
White tarama mousse with flying fish eggs.
Cod doughnut with potato ,garlic,herbs and aioli sauce.
Monkfish skewers with grilled vegetables,celery puree and aromatic lemon and olive oil sauce.
Zabaglione with figs
Dinner
Beef tartare with lime juice,pickled cucumber,chives and fried noodles.
Traditional pie with chervil,Mediterranean hartwort, seasonal greens and katiki from Domokos cream cheese.
Beef escalope with mushrooms,fresh thyme,beef sauce and parsnips puree.
Traditional Greek dissert with milk and filo.
Day 6
Lunch
Marinated anchovies with sundried tomato and green oil with herbs.
Greek dakos with squid fresh onion wild oregano capers and  kopanisti cream cheese.
Shrimp pasta with small lasagna,red sauce,fresh herbs and fennel.
Bavarian cream with cinnamon .
Dinner
Scallops with fennel,sweet wine from Samos island and white root puree.
Eggplant salad with red peppers,parsley,cherry tomatoes and goat cheese.
Tuna taliata,potato puree and mushrooms with truffle oil.
Pudding with chocolate and strawberries.
Day 7
Lunch
Tataki tuna with onion confit ,chilli syrup and whipped cream from tarama.
Clams with peppers,dry wine,fish broth and herbs .
Grilled vegetables with roasted manouri cheese,vinaigrette of age balsamic vinegar and fig.
Grouper with orzo pasta,lime,herbs and saffron.
Dinner
Grilled meatballs on crispy oil pies,chopped tomatoes and yogurt spread flavored with sumac.
Beetroot salad with baby leaves,green apple,nuts and beetroot vinaigrette.
Grilled chicken fillet with colorful quinoa salad and cream avocado.
Tart with patisserie cream and strawberries.
YACHT LAYOUT
YACHT PHOTOS