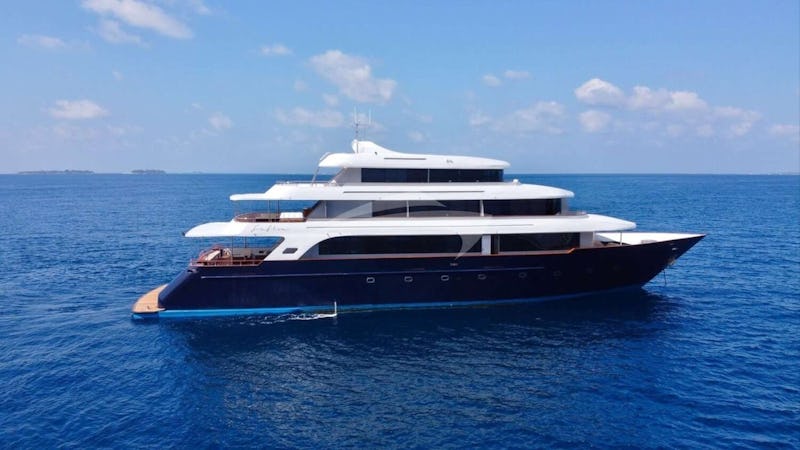 Specs Features Diving Crew Profile Layout Photos Similar Yachts Inquire NEW Charter Search »
YACHT INTRODUCTION
SAFIRA was designed by Swiss architects from Nuno Santos Pereira. She features a minimalist design with large living areas. With light tones of fabrics and soft tones of woods, the interior has a relaxing and inviting atmosphere. Well equipped with several entertaining decks, Jacuzzi and an excellent range of onboard amenities, SAFIRA is in a class of her own among Maldives yachts. Onboard services include massage, yoga and diving.
Accommodation is offered for up to 12 guests with 2 extra cabins for qualified support staff.
SPECIFICATIONS
Length 142ft 5in (43.4m)
Beam 33ft 2in (10.1m)
Draft 8ft 9in (2.66m)
Sleeps 20 Guests
Cabins 10
Crew Captain Moosa Jameel, Chef and 6 crew
Year Built 2017
Cruising Speed 9kts
Max Speed 12kts
Stabilisers None
Engines 2x CAT C18 at1430hp

Builder Custom
Designer Nuno Santos Pereira
Flag Maldives
VAT Registered No
US Duty Paid No
APPROXIMATE WEEKLY RATE
FEATURES & AMENITIES
Cinema, Games console, Indoor audio system, iPod dock, Outdoor audio system, Satellite phone, TV outdoor, TV saloon, Wi-Fi, 1x 5.26m RIB with 60hp, Assorted water toys, Board games, Jet ski, Kneeboard, Paddleboards multiple, Tube - towable, Wakeboard, Water skis - adult, BBQ, Beach club, Exercise equipment, Fishing gear - heavy, Gym, Jacuzzi on deck, Spa
ACCOMMODATIONS
Sleeps 20 In 10 Cabins
SAFIRA offers generous accommodations for 18 guests as well as one cabin for support staff.
Each cabin is designed to invoke relaxation with luxury custom bed sleep systems, custom luxury bed and bath linens, ensuite bathrooms with modern shower systems and full air-conditioning.
Due to her design, if unrequired, the lower deck with cabins can be closed off to ensure a more intimate experience for smaller groups.
On the bridge deck: 6 queen suites with private terraces overlooking the ocean. The 2 cabins towards the bow are slightly larger
On the lower deck: 2 twin cabins,  2 queen suites and 2 bunk bedded cabins.  3 of the cabins on the lower deck will be retained for specialist crew, the Cruise Director and as the massage room. 1 can be available for support staff if necessary.
On the top deck: Crew Quarters for all permanent crew.

DIVING EQUIPMENT
Not Insured, Snorkelling gear, 3 Tanks, 3 BCs, 3 Regulators
YACHT CREW
Captain: Moosa Jameel (54)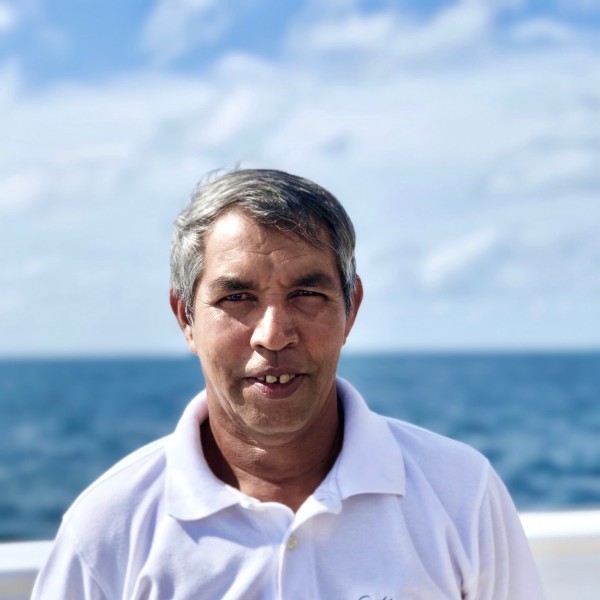 Born in the Maldives, Captain Moosa has been at sea for well over 30 years. He has vast experience in navigating the Maldivian seas and has trained many who have gone on to become captains themselves. His years of experience help him navigate the reefs and lagoons of the Maldives with ease. He takes pride in his role and strives to ensure clients have memorable experiences during their charter. Moosa has been the Captain of SAFIRA since she arrived in Maldives. He has a very warm and welcoming personality and is liked by everyone onboard. During his days off, Moosa enjoys fishing.
First Mate: Ibrahim Ali
Ibrahim or Ibbe as he is known as, is the First Mate onboard Safira. Ibbe is also in charge of water sports activities onboard SAFIRA. He has worked in luxury yachts and in resorts in Maldives. He is currently gaining experience and intends to qualify as a captain in the future. He will also be providing clients with the knowledge and expertise on how to use the water sports equipment. He has taken part in Catamaran and Regatta races in Maldives and is very comfortable in the water. He is very energetic and is usually the first person to start work every day.
Chef: Hemantha Kumara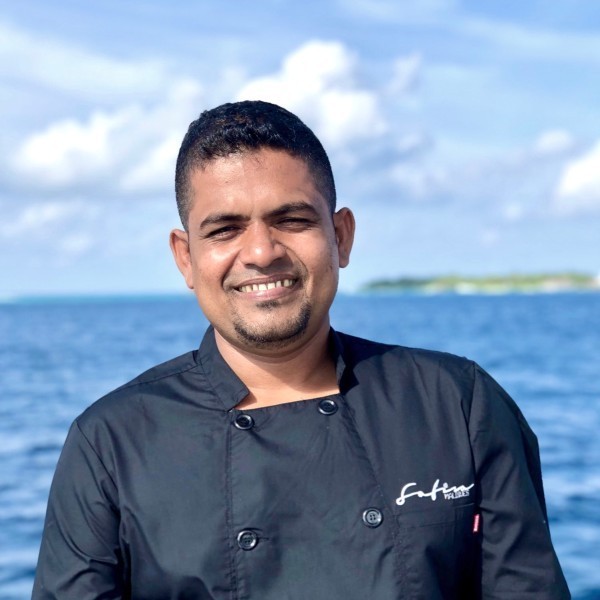 Chef Hemantha brings with him years of experience serving clients across Maldives and in Sri Lanka. He has worked in numerous resorts and yachts. Chef Hemantha is specifically talented in creating dishes in French, Italian, European, Mediterranean, East Asian, Indian and Sri Lankan cuisines. He can prepare Sushi and Sashimi based dishes as well. He has previously worked on yachts specifically working with the American markets for over 10 years. His warm personality and extensive culinary knowledge ensures SAFIRA is able to provide clients with many different culinary experiences
Steward: Mohamed Zinadh
Zinadh was born and raised in Maldives. He is one of the stewards onboard. He will be the first person to greet you and will be at your service throughout the charter. Zinadh has previously worked in Conrad Maldives as well as in other luxury resorts in Maldives. He is friendly and will make sure your stay onboard SAFIRA is a memorable one. He is passionate about providing exceptional experiences for charter guests. He is a wine enthusiast and works with the chef to create and recommend wine pairings that go well with the cuisine onboard
Steward: Mohamed Mansoor
Mansoor is one of the most experienced crew onboard. Born and raised in Maldives, Mansoor joined the military service and served until 2014. He worked in several luxury resorts in Maldives. His love for the ocean drew him towards the yachting industry and eventually to SAFIRA. He is very calm under pressure and has shown his ability to find solutions in difficult situations. He brings a wealth of experience in regards to security awareness, fire and rescue and disaster management. In his free time, he likes to keep fit and enjoys spending time with his family.
Stew /Deckhand: Ahmed Mohamed
Born and raised in a small island in the North of Maldives, Ahmed comes from a family of sailors and grew up in and around boats. He is very energetic and likes to keep himself busy at all times. He likes to be involved onboard. He is starting out in the charter industry and intends to gain experience and move up the ranks. Ahmed likes to stay active and enjoys paddle boarding and swimming during his free time.
Deckhand: Ali Mohamed
Ali has been working onboard SAFIRA from the beginning. He has previously worked on liveaboards in Maldives as a deckhand. He is a hard worker and valuable member of our team. He is a fast learner and has been able to help out with routine maintenance in the engine room as well. Ali has a quiet personality and is liked by everyone onboard.
Charter Director/ Manager onboard: Mohamed Shuailam Nasheed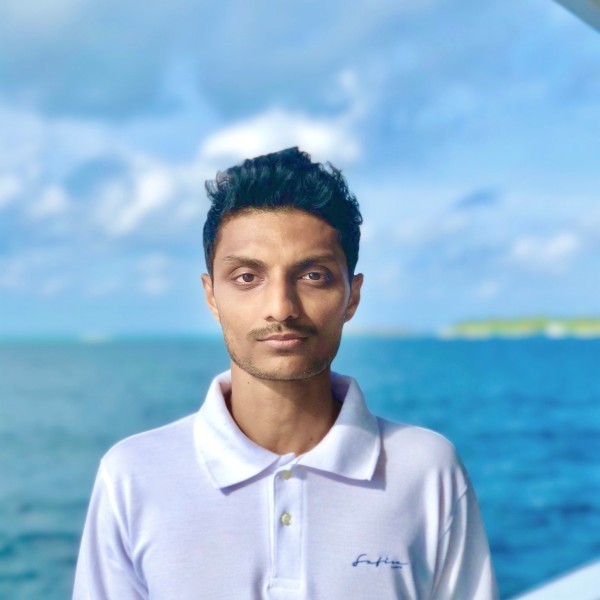 Mohamed was born in Maldives and spent his childhood in and around water. He is in charge of the overall operations of SAFIRA and ensures the operations onboard are carried out as expected. He is responsible for the overall safety of the clients and crew onboard and ensures that the charter plan is followed and executed. He has worked previously on other yachts in Maldives and offers valuable experience and business insight onboard. Mohamed is able to provide details about the onboard operations at all times.
Yoga Instructor/Junior Stew: Aminath (Anyu) Hasna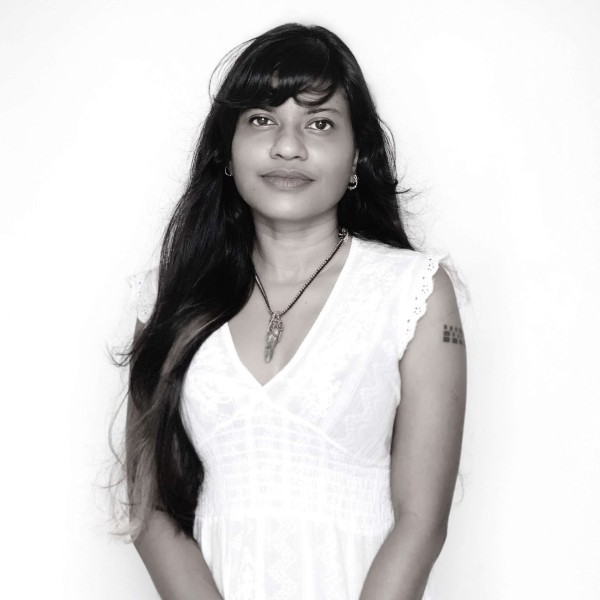 Anyu is the yoga instructor onboard SAFIRA when requested by guests (for an additional fee). She has worked as a yoga instructor at many luxury resorts and brings with her a wealth of experience. She trained as an instructor in India and has over 7 years experience with different types of yoga. She likes to conduct sessions in small groups. As well as being a yoga instructor, she has also worked as a photographer and creative director for several studios and design houses in Maldives.
YACHT LAYOUT
YACHT PHOTOS