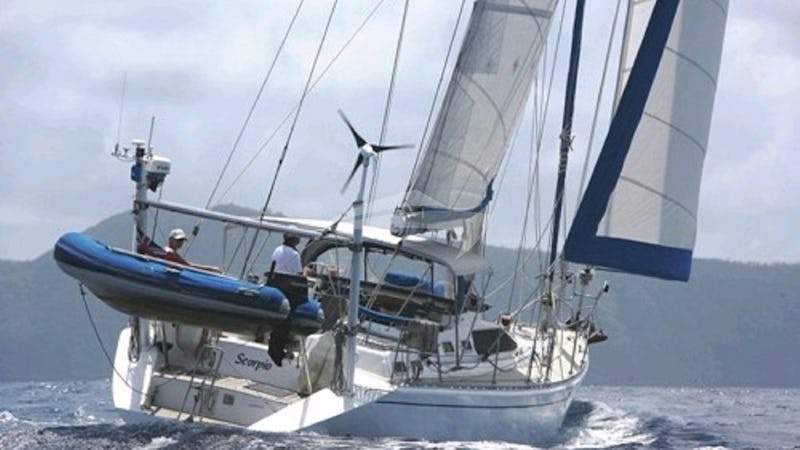 Specs Features Diving Crew Profile Photos Testimonials Similar Yachts Inquire NEW Charter Search »
YACHT INTRODUCTION
Scorpio is a fantastic yacht to charter. She is a fast sailing yacht, yet her spacious accommodation and high levels of equipment make for luxurious living.
Built in 1996 at the Fred Shultz Yard in Cape Town, South Africa, Scorpio is a Sovereign 51 designed by Phil Southwell. She accommodates 3 guests in 2 aft cabins, both are extremely well ventilated by a large ceiling hatch to funnel breeze plus opening ports on 3 sides. The larger Guest Double Cabin has a queen sized bed and en-suite bathroom. Guests using the adjacent Single Cabin can share the double cabin facilities or those of the crew off the Saloon. The Saloon is spacious and comfortable. On deck a separate helmsman's cockpit aft leaves a spacious centre cockpit with table for al fresco dining which offers guests ample space to relax.
Scorpio is also fully equipped for scuba diving for certified divers.
SPECIFICATIONS
Length 51ft 10in (15.8m)
Beam 16ft 1in (4.9m)
Draft 4ft 11in (1.5m)
Sleeps 3 Guests
Cabins 2
Crew Captain Richard Hough & Chef
Year Built 2001
Cruising Speed 8kts
Max Speed 10kts
Stabilisers None
Engines Not know

Builder Sovereign Yachts
Designer Not know
Flag Not know
VAT Registered No
US Duty Paid Yes
APPROXIMATE WEEKLY RATE
High USD $8,855 | Low USD $6,400
FEATURES & AMENITIES
CD library, Cell phone, DVD library, DVD player saloon, Indoor audio system, iPod dock, Wi-Fi, 9ft / 3.00m 0hp Hard Bottom, BBQ, Deck shower, Hammocks, Owner operator, Swim platform
ACCOMMODATIONS
Sleeps 3 In 2 Cabins
SCORPIO can accommodate 3 guests in 2 cabins.
The Master cabin has a double bed, bath/tub, shower and toilet.
A Guest cabin has a single bed.
+A/C: $30/nt
Crew has a separate heads and shower.
SCORPIO is available throughout the Lesser Antilles
DIVING EQUIPMENT
Insured, Crew certified, Diving if certified, Snorkelling gear, Underwater still camera, 4 Tanks, 4 BCs, 4 Regulators, Dive Master, Included for certified divers and PADI Discover Scuba included for non-certified divers
YACHT CREW
Captain: Richard Hough
Richard and Jan have a wealth of sailing experience having spent years sailing the temperate waters of the North European Atlantic coast and the warmer climes of the Mediterranean before crossing the Atlantic, then sailed over 6,000 miles circumnavigating the Caribbean Sea. Richard has been sailing since childhood and holds an MCA approved Masters Offshore Certificate for Sailing Vessels up to 200T as well as being an ASA (American Sailing Association) qualified keel boat sailing & navigation instructor for ASA 101-103-104-105. Since 2009, Richard & Jan have been providing crewed charter vacations aboard their yacht, Scorpio. As owner-operators they pride themselves on the service they offer as well as the facilities and condition of their yacht. Unusually, they do not confine their charters to one particular area; you can charter Scorpio almost anywhere throughout the Caribbean Leeward & Windward Islands, from the ever popular, sheltered waters of the British & US Virgin Islands in the north to the less well trodden paradise of the Grenadines at the southern end of the island chain and all points in between. Richard & Jan are both keen scuba divers; Richard holds a PADI professional Dive master qualification and Jan is a PADI certified Rescue Diver; both have first-aid training. Richard will be delighted to show you the fantastic undersea world of the Caribbean, either snorkelling or scuba diving. For those not qualified but who would like to try scuba diving, Richard can provide a PADI Discover Scuba course. Whether admiring the spectacular coral reef or exploring sunken wrecks, the wonders below the waves are not to be missed. Sailing & diving aside, Richard doubles as your waiter, barman, guide and all-round Mr. Fixit, while Jan does all the hard work providing your delicious meals! Jan's style of cooking is varied –wherever possible, she likes to use local ingredients to provide meals with a Caribbean flavor but retains and reproduces all the wonderful flavors of Mediterranean cooking experienced in her earlier travels.Richard and Jan both gave up successful professional careers to pursue their dream afloat. Richard worked in major UK distribution businesses and Jan in human resources in both public & private sectors. Not only did they thrive in this professional environment requiring the provision of high quality services to very demanding customers but they actually enjoyed the challenge.They look forward to welcoming you as guests aboard Scorpio and to providing the vacation of a lifetime in the beautiful Caribbean Sea.
YACHT TESTIMONIALS
Guests aboard the Sovereign 54 sloop SCORPIO wrote of their June, 2018, charter in the Grenadines:
Richard and Jan were the best hosts you could hope for. If there was something you would like, be it food, activity or simply a drink of water, they were the most accommodating.
We sailed out of St. Lucia down to Bequia and back to St. Lucia. We sailed for 8 days and were greatful for the input and guidance from Richard and Jan for options of things to do as this was a first for my spouse. We enjoyed snorkleing, some hiking on one stop over, a stroll through Bequia and a nice dinner ashore in the Young Island area.
OMG! Jan and Richard do a wonderful job at using your preference list to guide them in building a menu that is quite enjoyable. Jan put together some really appetizing meals. Richard was our bartender and did a great job for sundowners and our wine with dinner.
The yacht was comfortable and clean. Richard and Jan keep a tidy boat. This is a unique yacht in it's size and that there in only room for a maximum of three passengers aside from Richard and Jan.
The yacht is as well ventilated as a yacht can be. There are plenty of hatches to allow air to circulate and help keep you cool. Keep in mind however, that hatches have to be closed when it rains and that air flow is reduced. However, the companion way, which is covered, is kept open and this helps with air circulation.
Guests aboard SCORPIO in the BVI for New Years week, 2017/2018, wrote:
Was the crew friendly and accommodating? Extremely, very professional and sincere in their desire to make our vacation a great experience
Was the yacht comfortable and clean? Yes, it was clean and maintained throughout our stay.Was the yacht well ventilated? Yes
Was the food good and well presented? The food was very good in both quality and preparation.
Did you like the area you sailed? Yes, it was peaceful, relaxing, and convenient to hop around to different spots.
Additional comments on your charter? I would recommend Scorpio for any couple that are looking for a quiet, private, and personally customized charter. Richard and Jan were very knowledgeable about the area and were flexible and accommodating.

Guests aboard SCORPIO in late January, 2016 said:
The experience we had on board Scorpio could not have been better. Richard and Jan, our hosts were always on top of everything and had tremendous knowledge of the Islands we traveled. The yacht did not disappoint either as it was immaculately clean, roomy, and comfortable.
Richard was amazingly helpful in helping me and my wife as new divers get comfortable with the activity. His patience was immeasurable and always done with a smile. He was very careful to choose dive sites that matched our skill level and were interesting as well. As we also have interest in learning to sail he was tremendously helpful in this regard as well and taught us a great many things about sailing a larger yacht and the rules of the water. We are actually considering a second charter with them to get our sailing certificate for future possible bare boat charters. 
As Richard handled most of the sailing and diving activities, Jan was always busy in the galley whipping up new creation for us to enjoy. She would always be a step ahead of us asking for what drinks we wanted, what we wanted to eat and the like. To say the least the menu she created was amazing and different with every meal. They were also far more than just hosts as we spend long whiles on deck chatting and getting to know each other.
One of the reasons we chose Scorpio was the on board dive master and ability to fill tanks on board. This allowed much more time to actually dive than having to travel to a shop for tank fills or carry many tanks that take up deck space. One of the other reasons was his ability to teach sailing as we mentioned above as we have interest in learning.
All in all we would not hesitate for a moment to join Richard and Jan again and could not be more pleased with the experience. They are truly wonderful people that obviously enjoy what they do and it shows in many ways. I would also highly recommend them to anyone who wants a private sailboat charter in the islands as I could not have imagined a better experience. The combination of excellent crew and an excellent yacht I don't think could be beaten.

______________________________
Name:  Gary 
Yacht:  SCORPIO with Richard & Jan
Charter Dates:  June 11-18, 2012
Area Cruised:  Virgin Islands

We hope your charter lived up to your expectations.  We would love to know some of your impressions about your yachting vacation.  Please answer the following questions and add any comments you may have.

1.  Was the crew friendly and accommodating?
Extremely!

2.  Was the yacht comfortable and clean?
impeccable

3.  Was the yacht well ventilated?
Yes, and when AC was needed it worked very well

4.  Was the food good and well presented?
Delicious and wonderful

5.  Did you like the area you sailed?
Best time we have had diving or snorkeling

6.  Could we have helped you further in any way?

7.  May we post this review on our website?
Yes

8.  Additional comments on your charter?
A truly perfect vacation.  We will be sailing for our future vacations and hope it will be on the Scorpio with Richard and Jan!





Name:  Georgia & Allen 
Yacht:  SCORPIO with Rich and Jan
Charter Dates:  March 24 - 31, 2012
Area Cruised:  Virgin Islands

We hope your charter lived up to your expectations.  We would love to know some of your impressions about your yachting vacation.  Please answer the following questions and add any comments you may have.

1.  Was the crew friendly and accommodating?
absolutely

2.  Was the yacht comfortable and clean?
yes

3.  Was the yacht well ventilated?
very well so

4.  Was the food good and well presented?
The food was great, very healthy and tastey

5.  Did you like the area you sailed?
Very much so.

6.  Could we have helped you further in any way?
No, everyone was very helpful.

7.  May we post this review on our website?
Yes

8.  Additional comments on your charter? 

Guests aboard Scorpio in April, 2011
"Richard & Jan have made this a great week for my two 18 year old kids and me. The meals were all excellent and Richard & Jan were great company for each of the three of us.

We came to the BVI for the first time anticipating some great sailing on their well reputed yacht.  As it turned out the winds were essentially dead, though they got the sails up at every possible opportunity.  The unusually light winds made our biggest surprise all the more pleasant – SCUBA!

None of us had any previous experience beyond snorkeling.  Richard was able to make us comfortable with the scuba gear and many and varied local opportunities.  He is really an expert diver and a gifted teacher – patient, thorough and enthusiastic.  Our scuba experience was far beyond any expectations and I felt perfectly comfortable with everything the kids and I did.

Richard & Jan know the islands very well and put together an itinerary that hit all the sweet spots – great anchorages and day stops, lively nights ashore whenever we wanted plus being very careful and accommodating of our arrival and departure plans.

The boat is very well maintained and stocked with everything one could think to ask for.   Richard & Jan offered us great hospitality and still gave us plenty of space for our "family vacation".

Bravo & many thanks!!"

Brian Borders
Washington
__________________
January, 2010 - ONE MONTH CHARTER in the Grenadines
What a wonderful cruise with our most gracious hosts.  The sailing was exceptional with great winds that saw the captain consistently hitting 9 knots and kicking every boat within sight of our vanishing stern.  The food was superb from breakfast, lunch and dinner - fresh lobster, snapper and grouper that can only be described as absolutely delicious.
There was never a wonder of where we should go for the best anchorages or places to explore.  Richard & Jan have all the best places figured out.  Scuba diving was Absolutely the Best, far beyond what we have ever experienced.  Richard is an exceptional dive leader with safety and concern for our enjoying the  underwater world always first rate.
To rate our trip...It was 5 star... on sailing, diving, eating, exploring and most importantly on a personal level.  Richard & Jan - you are wonderful people and you will always be our personal friends - we look forward to meeting you again - hopefully in the near future!
Kaaren and Jim S. WA USA
YACHT PHOTOS