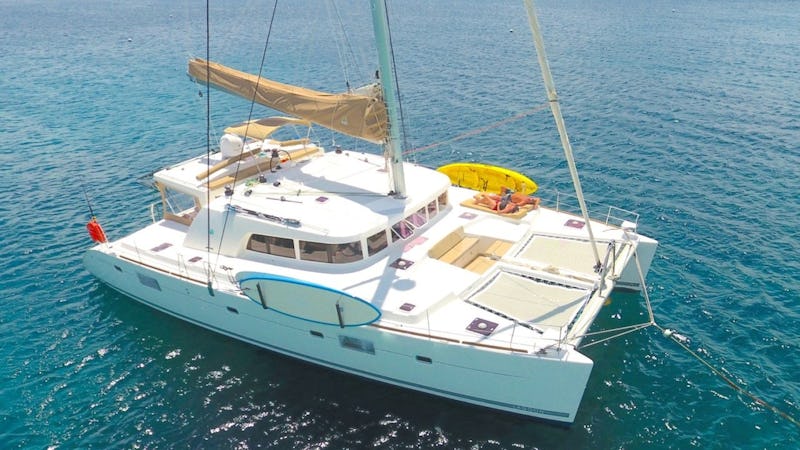 Specs Features Diving Crew Profile Menu Layout Photos Video Testimonials Similar Yachts Inquire NEW Charter Search »
YACHT INTRODUCTION
Captain Only Rates:
CAPTAIN ONLY RATES: $15,000 plus expenses
Includes: Captain, Linens/Towels, Dishes, Flatware, Cooking Utensils/Cookware,Toys
Not Included: Fuel, Water, Customs/Immigrations, Food/Liquor/Ice/Trash Disposal, Mooring/Dock Fees, *Diving, Gratuity
*Diving can be arranged
Provisioning can be arranged
Additional Rate Details:
CHRISTMAS RATE 2017: +10% / NEW YEAR'S RATE 2017-18: +10%
(Maximum pax rate +10% applies to both Christmas and New Year's)
HALF-BOARD RATES (7/4/3 BREAKFAST/LUNCH/DINNER): $150 off / person
***3 lunches and 4 dinners ashore at client expense***
***Does not combine with child discounts***
CHILD DISCOUNT: $250 off for each child age 15 and under.
***Age is based on the charter date NOT the date of booking***
LESS THAN 6 NIGHT CHARTERS DIVIDE BY 6 RULE: (Rate / 6 X #Nights)
***(Rate divided by 6N X number of nights*** For 6 nights divide rate by 7 X6N.
***Half board and / or children's discounts do not apply when using specia ldiscounted rates***
SPECIFICATIONS
Length 49ft 10in (15.2m)
Beam 27ft 11in (8.5m)
Draft 4ft 11in (1.5m)
Sleeps 6 Guests
Cabins 3
Crew Captain Harry Gilmore & Chef
Year Built 2012
Cruising Speed 10kts
Max Speed 14kts
Stabilisers None
Engines 1x Yanmar 75hp

Builder Lagoon
Designer Not know
Flag Not know
VAT Registered No
US Duty Paid No
APPROXIMATE WEEKLY RATE
High USD $18,600 | Low USD $15,500
FEATURES & AMENITIES
Indoor audio system, iPod dock, Satellite TV, TV saloon, Wi-Fi, 14ft/4.3m RIB 40hp, Beach games, Kayak, Paddleboards multiple, Tube - towable, Wakeboard, Water skis - adult, Water skis - child, BBQ, Deck shower, Fishing gear - heavy, Kosher, Special diets
ACCOMMODATIONS
Sleeps 6 In 3 Cabins
DIVING EQUIPMENT
Not Insured, Diving if certified, Snorkelling gear, Underwater still camera,
Resort Course $150.00.
Full Course $300.00.
3 dives included per certified diver.
$25.00 per dive/per person over 3.
YACHT CREW
Captain: Harry Gilmore (30)
Captain Harry Grew up right on the water in Charleston S.C. in a family of watersports enthusiasts and has been around the ocean his whole life. Harry loved to fish, surf, shrimp, wakeboard, and spearfish when growing up and spent all his free time in the water. Harry got his first boat when he was about 12 and has been hooked ever since. During the summers as a teenager harry traveled regularly with family and friends to the Bahamas, Caribbean and central America to boat/fish/surf and swim and has been spending time at his family home in the Bahamas his whole life.
After graduating from High School Harry worked as a wilderness field guide for the national outdoor leadership school in Wyoming and Colorado
doing lots of mountain fly fishing and mountaineering with groups of young adventurers. After finishing school at college of Charleston, Harry worked as a fishing guide in Charleston and owned many of his own businesses including an award-winning catering company, a watersports company and a creative marketing firm.
At about 24 years old harry began selling his businesses to fulfill a dream of moving to Indonesia to surf and explore the islands known for amazing waves and diving. After spending a season as captain of a surfing and diving charter boat based out of Bali, Harry returned to the Bahamas to work on large luxury charter yachts.
He got started working in the yachting industry as first mate on 100- 200,foot charter yachts in the Bahamas and Caribbean and spent a lot of time taking guests fishing and diving and island exploring. After working as a Mate and officer harry began His role as captain and grew to develop a great knowledge of cruising the Bahamas and Caribbean while enjoying working with expert professional crew on some of the worlds nicest yachts for over 7 years.
Captain Harry's sailing experience started at a young age beginning with small sunfish sailboat regattas with friends. He always had access to the water and spent lots of time sailing and swimming at a young age. After spending time sailing a 160 foot 3 mast schooner as "First Officer" Harry began working more and more in the sailing field of yachting. Just this summer He participated in the winning of the world championship of 12m sailing in Newport, Rhode Island for Team USA.
Captain Harry loves to sail and show others what he knows about the ocean and everything in it. He is known for being an amazingly friendly host and really demonstrates Southern hospitality in his top-notch service as your charter captain. Captain Harry loves to fish, dive and surf and he is a great chef as well. Don't be surprised if he spears you a lobster, helps you catch a fish and serves you it for a 5-star seafood dinner.
Chef and First Mate: Christin Kruger
Christin Kruger grew up just outside Washington D.C. in Alexandria Virginia and has been in love with the outdoors and the ocean since as long as she can remember. Christin loved to fish and swim growing up and spent her free time chasing exciting new adventures in nature. She traveled regularly to Zimbabwe to visit her family and Charleston SC, always spending lots of time fishing diving and enjoying the ocean. Christin also spent lots of time playing sports and especially enjoyed the being on the swim team. Growing up she even set a record at her school. Christin has been diving since she was very young and has explored reefs in Mexico and central America as well as the Carolinas and Florida and loves diving more in new exciting places.
After graduating from College Christin spent some time traveling the world and used this time to go on many adventures including fly-fishing in the Scottish highlands, catching massive tunas and climbing mountains in South Africa, tiger fishing in Zimbabwe and diving and exploring new places and oceans.
Christin also spent time working as a wedding banquet caterer in Charleston SC at the most luxurious wedding venue in town and learned a great deal about excellent service and quality management in catering and food service. Later Christin worked as a child program specialist at the South Carolina Aquarium leading educational classes in marine biology and running the children's educational program as a volunteer.
Christin then began attending ICAST an international fishing convention and worked with a company that promoted conservation. This opportunity allowed her more time to spend fishing in new places.
Christin has spent time working with endangered rhinos in Zimbabwe, as well as worked at a game park.
Christin has a bubbly fun loving and kind helper with a great attitude toward her guests. She wants to offer you the best possible personalized service and experience on our charters and she never disappoints.
Christin loves to cook with fresh seafood and loves the healthy and vegetarian style menu when requested. She will be showing you how to catch a tarpon after dinner on the back of the boat or making you a cocktail unlike anything you've ever had! This fun loving adventurous stew is a real go getter when it comes to going above and beyond to satisfy her guests.
YACHT MENU
Margaret's Menu
*chef's favorite **captain's favorite
Breakfast
A pair of french baguette rounds filled with eggs over easy, served with rosemary sweet potatoes + fresh fruit
Coconut Waffles with Strawberry Rhubarb Compote
Traditional or gluten free waffle mix brought to life with coconut milk + coconut flakes
Menemens (Traditional Turkish Style Eggs)
A traditional Turkish breakfast staple - a savory combination of meltingly soft onions, stewed local tomatoes + spicy green peppers, finished with eggs scrambled and cheese until just set. Served with grilled halloumi cheese, split sausage + an airy loaf of bread straight from the oven
Health Bowl*
A choice of overnight oats or greek yogurt topped with crushed almonds, popped amaranth, cinnamon, agave, fresh dragon fruit + side of caramelized plantains
Baked Greens Frittata
Inspired by the signature Provençal chard omelet called trucha, this beautiful baked frittata incorporates thick Greek yogurt, lots of greens + garlic
Southern Style Sausage and Gravy Biscuits**
Our weeks wouldn't be complete without a traditional, belly pleasing plate consisting of mouth watering butter biscuits + hearty sausage-studded white gravy
Eggs and Potatoes
Choice of fried or poached eggs served on a bed of rosemary sweet potato fries, choice of meat, served with a juicy, local fruit salad (dragon fruit, papaya, pineapple)
Baltimore-Style Crab Cakes
Kept simple and focused on the jumbo lump crab meat, experience unadulterated crab cake heaven paired with a tri-color slaw + zesty lime dressing
Local Mahi Tacos
Tequila lime mahi mahi on roasted corn tortillas topped with cabbage, avocado, mango salsa, drizzled with a lime cilantro aioli
Caribbean Chicken Rotis**
Found locally throughout our islands, enjoy a spicy and savory combination of shredded chicken and potatoes seasoned with turmeric, curry, ginger, cumin, paprika + peppers paired with a sweet mango chutney
Grilled Portobello Sandwich*
Juicy portobello steaks marinated in olive oil + balsamic vinegar, grilled until lightly crispy, topped with caramelized onion, melted feta, roasted red peppers, drizzled with basil aioli on a ciabatta bun
Shrimp on Cauliflower Fried Rice Bowl
This paleo-friendly, 5-ingredient meal is loaded with fresh vegetables, tender shrimp, and signature Asian flavors
Caribbean Conch Salad*
Freshly cracked, local caught conch marinated in lime juice with bell peppers, onion, jalapeño + cilantro served with crunchy plantain chips
Salmon Arugula Salad
Zesty, grilled salmon atop a bed of spicy arugula, local heirloom cherry tomatoes, shaved asiago, pine nuts, dressed with a tangy lemon pepper vinaigrette
Appetizers
Fresh Cracked Caribbean Conch Fritters
Ultra fresh, local caught conch chopped and combined with scallions, bell peppers, and a spice blend + a chili lime dipping sauce and lime wedge
Tomato and Stone Fruit Crostini with Creamy Feta
A drizzle of tangy feta over juicy tomatoes + sweet stone fruit over a crispy rice cracker
Bountiful Charcuterie Board
A board full of variety: Bold meats (prosciutto, salami, sopressata...) + a range of cheeses (truffle goat cheese, aged asiago, crumbled blue, merlot or espresso bellavitano, dill havarti...)
+ delectable spreads (fig jam, stone ground mustard, olive tapenade, truffle...) + pickled vegetables (beets, jalapenos, pepperoncinis...) + seasonal fruits
Homemade Falafel
Ground chickpeas, minced onion, chopped parsley, and Arabic spices + homemade tzatziki sauce of yogurt, cucumber, sea salt, and fresh dill
Watermelon Goat Cheese Salad
Watermelon spheres tossed with creamy crumbled goat cheese topped with fresh mint
Prosciutto Wrapped Melon
Skewers of melon strips and prosciutto + drizzles of honey + rock salt
Baked Arancini and Bruschetta
Breaded risotto balls with mozzarella and select meats, grilled bread rubbed with garlic + topped with a fresh herbed tomato salad
Sizzling Shrimp Roll
Chili-garlic seared shrimp, cabbage, shredded carrots, bibb lettuce, cilantro, thai basil, mint + homemade chili hoisin peanut dipping sauce
Dinner
Ahi Tuna Tower with Plantain Crisps
A tower of sushi grade tuna, sushi rice, mango-avocado-cucumber salad, arugula + a side of salty plantains crisps
Blackened Sesame Chicken Stir Fry
Wild rice sauteed in sesame oil with snap peas, broccoli, water chestnuts, celery, and carrots topped with sesame seeds + coconut aminos
Simply Elegant Pasta
Quinoa angel hair pasta mixed with sauteed onions, crispy bacon bites, sun dried tomatoes and zangy capers
Baja Shrimp on Tostones
Grilled jumbo shrimp on twice-fried plantains + cucumber salsa, honey and lime
Fresh Caught Grilled Lobster Tail
Split tails simply grilled + a bed of cilantro rice and baked avocado with red rice salsa
Filet Mignon
Grilled to ordered, paired with baked brussel sprouts + sautéed minced cauliflower "mashed potatoes"
Truffle Gnocchi***
Shallots and white wine reduced and combined with melted butter, truffle oil and fresh thyme tossed gnocchi + truffle salt and fresh cracked pepper
Desert
Homemade Chia Pudding
Chia seeds, almond milk, 100% cocoa, cinnamon + tropical fruit
Key Lime Pie
Key lime juice, egg yolks, and sweetened condensed milk in a graham cracker pie crust
Crème Brûlée
In honor of her mother, Margaret prepares this traditional french dessert with love - a rich custard base + a contrasting layer of hard caramel
Almond Peach Blueberry Crumble
A mouth watering, balanced combination of peach and blueberries topped with a crispy almond crumble
Cashew Nut Cheesecake
Vegan styled cheesecake consisting of cashews, coconut milk + lemon juice supported by an almond + date crust
Cocoa Banana Phyllo Cups
A creamy combination of ripened bananas, 100% cocoa, maple syrup + cream cheese filled phyllo cups topped with kiwi or caramelized pears
Snacks
Margaret's favorite way to fill up midday is with homemade, light fare: peanut butter, white bean hummus, truffle popcorn, guacamole, and cilantro garlic yogurt dip, to name a few.
"Once around the World" Dinner Menu
As an option to guests, this cuisine is a collection of traditional recipes inspired by Chef Margaret and Captain Taylor's travels
Indian
Curry served with naan
Italian
Pasta carbonara or simply elegant pasta, paired with veal or chicken scallopini
Portuguese
Fresh caught whole fish grilled, bed of rice, grilled vegetables
South American
Skirt steak with chimichurri sauce
Caribbean
Coconut crusted grouper fillets with fried plantain
Moroccan
Vegetable or Chicken Tagine with tri-color quinoa
 Somthing Familiar
Quarter pound select beef hamburgers and truffle rosemary fries
YACHT LAYOUT
YACHT TESTIMONIALS
April 23-30,2019
All -
As a busy family of four (kids ages 13 and 11) who likes to travel a lot – we rarely have time to sit down and write a review. In this case, we felt it absolutely necessary to let you know about our recent trip aboard White House (Better Days) with Taylor Smith and Margaret Harrington.
We were a bit nervous booking with a first-year crew, however, we kept going back to their biographies and felt as though they were the right crew for us - and boy were they ever!
Captain Taylor – Rest assured that you are in good hands with Taylor. His sailing and island knowledge are impressive and it's easy to see his genuine love and passion of all things outdoors related. His attention to detail is second to none.
Taylor proved to be very safety conciencious in every aspect of boating from sailing, to driving the dinghy and pulling our daughters wake boarding. He also planned our stops at Willy T's and Soggy Dollar accordingly to avoid the rowdy drinking crowds that both places attract at times in order to ensure the best experience for our entire family.
As recently certified divers and having expressed an interest in doing quite a bit of diving on our trip, Taylor did not let us down. We would mention diving and before we knew it Taylor had a spot picked out and had our dive gear set-up ready to go. He took the time to research the dive spot and brief us to be sure it met everybody's comfort and skill level as well as personal expectations. During each dive, Taylor kept a close eye on us all and pointed out ocean life that we would have otherwise missed. Taylor took his role as dive master seriously and it was very much appreciated as it put us all at ease and allowed us to enjoy each dive to its fullest. It is also worth noting that his navigational skills under water are top notch as after every dive we would come right back to the mooring line.
When asked on the first night of our trip what we hoped to do, learning to sail was near the top of the list. Taylor took time to explain the basics and the ways in which the wind affects the sails and how one must adjust accordingly. Much to our delight, we were given an opportunity to raise and lower the sails a time or two.
Taylor's patience and sincere passion for showing us all things both under and above the sea made for a remarkable trip.
Chef Margaret - Margaret surpassed any and all expectations of meal preparation, presentation and flavor. Our family was able to try new foods and experience comfort food in new and exciting ways thanks to Margaret's expertise.
Margaret was very flexible with us on meals and even went off her prepared meal plan one night to try her hand at making cauliflower wings for us. Our youngest daughter loves to cook/bake and Margaret was such a sweetheart allowing her to help in the kitchen. When we had oranges for a snack one day our daughter mentioned how she'd love to try to make chocolate covered orange peels when we got home. Moments later and much to our surprise and our daughter's utmost joy, Margaret had a recipe pulled up and the girls were making them to serve with ice cream for dessert that evening.
She was an amazing guide of our snorkeling adventures and for our on shore excursions - from hiking up the hills of Salt Island, walking on the beaches of Cooper Island, touring the Baths of Virgin Gorda, and exploring the Bubbly Pool - her enthusiasm and sense of adventure created memories that will last a lifetime.
As a yoga instructor, Margaret was very excited to teach a class to us as the sun was rising one morning. She encouraged us to settle into our senses and really become one with nature and our bodies. It was a great way to connect with the islands around us, the salty air, the warm sun shine and the sound of the waves lapping against the shore.
Both Taylor and Margaret are such a sweet and warm-hearted couple who have contagious smiles and evident passions for living their best lives. Our trip was made complete by having them as our crew. Together they work seamlessly and make for a first-class experience. The boat was kept immaculate 24/7. It is easy to see that both Taylor and Margaret treat the boat as if it were their own. Impressively, they went about and kept the boat neat and tidy without us noticing it. While we were eating our breakfast, or out enjoying the morning sun on paddle boards, kayaks or on the deck of the boat, our beds were being made, showers and bathrooms cleaned, and towels were replaced. When we would wake up in the morning the boat was as spotless as the first day we boarded.
From the bottom of our hearts, we would like to say THANK YOU to Taylor and Margaret for sharing with us the best vacation we could have ever dreamed of! We look forward to hopefully joining them both again soon for another trip around the (Leeward) islands.
The Vish Family
December 16-23, 2018
We had a fantastic week vacationing on the White House. Taylor and Margaret were awesome...considerate, thoughtful, and fun. We snorkeled, hiked, paddle boarded, kayaked, went scuba diving, sight seeing, sailed (Taylor is a great Captain), and wakeboarded. Margaret cooked us amazing meals for breakfast, lunch and dinner. Her food was delicious. Margaret and Taylor made this one of our best family vacations. We can't wait to come back.
The H Family <3
December 27  , 2018 - January 3, 2019
Taylor and Margaret,
Thank you for an incredible experience aboard White House! Your service was exceptional, as was our trip. I wish you the very best and hope our paths cross again. 
The G Family
January 4-11, 2019
Margaret and Taylor,
Thank you so much for the wonderful experience and we know many more "Better Days" to come. The food was amazing, the guided tours made the experience so much greater, our dream of sailing and being in the beautiful Caribbean Islands fulfilled. Our family is very appreciated to your wonderful service, kindness, and training to sail. See you soon. Enjoy the charters until we are back.
Love,
Jeff, Bonnie, Devin, and Lillie
<3 PS: blowing the conch was so much fun!
January 12-19, 2019 - "One week in the year of Frances"
Margaret and Taylor,
This has been the best week that we could have asked for- thank you both so much for making it happen. From the moment we came aboard, we've been overwhelmed by your warmth and hospitality, and we've so enjoyed getting to know you both this week. From conch diving, to starting our own scooter gang, to late night Catan and rescuing Hanes' belongings-y'all have gone above and beyond, and we are grateful not only for our time together, but that we are walking away with two new friends. Thank you for everything - we'll be back!
-Frances, Gibbs, Mary, Park 
VIDEO
YACHT PHOTOS