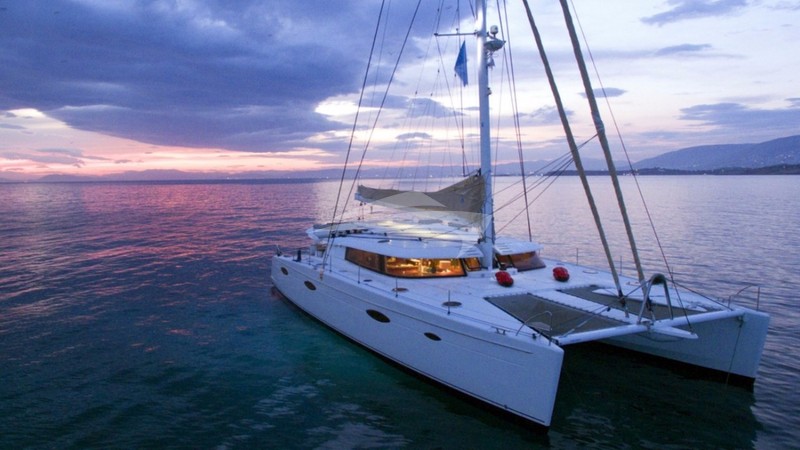 Specs Features Diving Crew Profile Menu Layout Photos Testimonials Similar Yachts Inquire NEW Charter Search »
YACHT INTRODUCTION
WORLD'S END is a Fountaine Pajot Galathea 65 and a boat to fall in love with. The absolute best-seller in our fleet is not without reason the most requested vessel for repeat customers. Having undergone a total refit in 2016 she looks more beautiful than ever. Its stylish design, decorated with colorful cushions puts you in a playful, though relaxed mood throughout your journey. This sailing yacht catamaran was built to highest industry standards to guarantee your safety and comfort under all circumstances.
The moment you set your foot on board, you will be overwhelmed by the luxurious and translucent interior, by the comfortable and spacious cabins, the relaxing atmosphere of the deck areas, the intriguing variety of water toys and most of all the amazing service of the WORLD'S END crew, who will make you feel extravagantly spoiled in every way.
​
Accommodating up to 10 guests, in one King size cabin, three Queen size cabins and one twin cabin, all equipped with private bathroom facilities, it is perfectly suitable for sublime vacations with your family or friends. The aft deck will make you feel like sitting on the private terrace of your summer bungalow, enjoying the tranquility and comfort, either having a deliciously prepared meal, created according to your desires by your Chef with a vast variety of Mediterranean flavors, either simply relaxing and blending in with the amazing environment your Captain will have taken you to.
​
The sailing catamaran WORLD'S END will bring you to the most beautiful places in the Mediterranean while traveling in all comfort and privacy. Guided by her crew you will yourself discover the magnificent islands, nature and culture.
​
If you feel like maintaining your daily exercise and to digest the delicious meals, (you probably will gain a few pounds), there are numerous water toys waiting for you, which are going to make you feel like playing in your own amusement park, whether you are being towed on a tube, banana, or water-skis, paddle boarding, wake boarding or having a small trip in the kayaks, or living the ultimate experience of diving with one of the sea-bobs. If you've ever used a sea-bob before, you know what it feels like.
During the hours between meals and playing in the crystal blue waters, you can either relax sunbathing on the comfortable mattresses on all decks, play with the dolphins, who often swim alongside the boats in Greece, or simply and harmoniously savour the dreamlike scenery during a sunset, whilst sipping a cocktail or a glass of champagne on the cosy upper deck.
WORLD'S END will take you on a journey that will not easily be forgotten. The itinerary, activities and the menu will be based on your input and preferences to guarantee you and your guests will have a unique experience to cherish long after.
SPECIFICATIONS
Length 63ft 8in (19.4m)
Beam 32ft 2in (9.8m)
Draft 4ft 3in (1.3m)
Sleeps 10 Guests
Cabins 5
Crew Captain Dimitris Prantzos, Chef and 1 crew
Year Built 2011 / Refit 2016
Cruising Speed 10kts
Max Speed 12kts
Stabilisers None
Engines 2x 110hp

Builder Fountaine Pajot
Designer Berret - Racoupeau
Flag Greece
VAT Registered No
US Duty Paid No
APPROXIMATE WEEKLY RATE
High USD $30,666 | Low USD $21,580
FEATURES & AMENITIES
DVD library, DVD player saloon, Indoor audio system, iPod dock, Media movie server, MP3 music server, Printer, TV saloon, Wi-Fi, 0ft / 0.00m 98hp Williams, Assorted water toys, Banana boat - towable, Board games, Kayaks multiple, Paddleboards multiple, Swimming noodles, Wakeboard, Water skis - adult, Water skis - child, Coffee machine, Deck shower, Fishing gear - light, Ice maker, Special diets, Swim platform, Water maker
ACCOMMODATIONS
Sleeps 10 In 5 Cabins
DIVING EQUIPMENT
Not Insured, Seabobs multiple, Snorkelling gear
YACHT CREW
Captain: Dimitris Prantzos (76)
EEEEEEEEEEEEEEEEEEEEEEEEEEEEEEEEEEEEEEEEEEEEEEEEEEEEEEEEEEEEEEEEEEEEEEEEEEEEEEEEEEEEEEEEEEEEEEEEEEEEEEEEEEEEEEEEEEEEEEEEEEEEEEEEEEEEEEEEEEEEEEEEEEEEEEEEEEEEEEEEEEEEEEEEEEEEEEEEEEEEEEEEEEEEEEEEEEEEEEEEEEEEEEEEEEEEEEEEEEEEEEEEEEEEE
Captain: Dimitris Prantzos (76)
EEEEEEEEEEEEEEEEEEEEEEEEEEEEEEEEEEEEEEEEEEEEEEEEEEEEEEEEEEEEEEEEEEEEEEEEEEEEEEEEEEEEEEEEEEEEEEEEEEEEEEEEEEEEEEEEEEEEEEEEEEEEEEEEEEEEEEEEEEEEEEEEEEEEEEEEEEEEEEEEEEEEEEEEEEEEEEEEEEEEEEEEEEEEEEEEEEEEEEEEEEEEEEEEEEEEEEEEEEEEEEEEEEEEE
Captain: Dimitris Prantzos
Captain Dimitris was born in 1984 and has been involved with the sea all his life. He is an outstanding Captain of his ship in every way. He is a throughout professional sails man, who through his years of experience is capable to master any difficult or stressful situations. At the same time he has an amazingly humorous and outspoken friendly character, which makes everyone on board feel welcome, cosy and comfortable. Through his solid confidence in his skills and abilities emerges a very relaxed and reassuring attitude, he transmits to his guests and crew.
Besides the official RYA Yachtmaster Offshore (sail/motor) Certificate of Competence, he also holds the Offshore Sailing Diploma (Skipper), the Speedboat Operating Diploma and The Lifeguard Diploma and has been Captain on numerous private Yachts and various chartered Sailing Yachts throughout his career.
Chef: Dimitra Stamatopoulou
Chef Dimitra is an amazing chef and an outstanding artist. With years of experience in restaurants, artistic food performances and events. She combines her love for cooking with her artistic background, using fresh local ingredients, to create a regional fusion cuisine aiming to provide a unique eating experience. One could refer to her as an artistic chef. She always strives to achieve perfection in the way she prepares each meals, with outstanding results that makes everyone cherish their very own nostalgic memories of this "finger-licking" experience.
Chef Dimitra has an outstanding lovely personality, extremely friendly, especially with children, and is always in a happy mood, with a big smile and a good sense of humour, ready to assist you on your every wish and need.
Stewart: Maria Bikou
Maria is a very joyful character, high spirited and extremely attentive. She has a wonderful ability to make people feel very comfortable around her and will take care of every need you might have. With her big smile and friendly attitude she overwhelms everyone and has a special understanding with children.
Maria, born in 1991, has been working as an English teacher, while she also speaks fluent Spanish and adequate Catalan. She is athletic, being an active female rock-climbing athlete in her local Mountaineering and Climbing Club, has completed a First-Aid Seminar, is a member of the Environmental Group at the University of Macedonia involved in wildlife and environmental preservation, as well as was a volunteer at the Institution for people with disabilities "Action for Something Else ". All in all Maria is a very active and lively person, who is full of live and high spirited.
YACHT MENU
All type of coffees
Tea
Fresh fruit juices
Milk, whole and lactose free
Greek yogurt
Different types of cereals
Fresh made breads and cakes
Honey and homemade jams and marmalades
Pancakes
Viennoiseries
All type of eggs
Platter with cheese and cold cuts
Apple Spinach with Goat cheese and Champagne Vinaigrette
Herbed Tabbouleh
Lemony Green Bean pasta salad
Lentil Salad with Feta cheese
Chargrilled Courgette with Basil, Mint, Chilli and Lemon
Alfalfa Sprout and shaved Carrot with Sesame Garlic Dressing
Guacamole
Appetizers
Bacon Wrapped Dates with Goat Cheese
Houmous
Stuffed Zucchini rolls
Crispy Shrimp in Kataifi crust
Steamed Mussels with Wine and Saffron
Halloumi Zucchini and Herb Cake
Spinach and Feta Quiche
Orzotto with Wild Greek Mushrooms
Leek and Bacon Quiche
Greek Spiced Meatballs in Tomato Sauce with Mashed Potatoes
Beer Battered Fish and Mushy Peas
Stuffed Summer Vegetables
Sea bass with Fennel, Lemon and Capers
Sticky Baked Chicken Drumsticks with Jasmine Rice
Mastic Greek Yogurt Panacotta with a Sour Cherry Sauce
Lemon Sorbet
Semolina Halva truffles with pine nuts
Blondies with White Chocolate and Cranberries
Fruit Salad
Carrot Cake with Cream Cheese Frosting
Unbaked Brownies
Beetroot with Orange Dressing
Rocket and Goat Cheese with Walnut Dressing
Greek Salad
Mixed Greens and Avocado
Beet Red Cabbage and Carrot with Seeds, Currants and Pomegranate Dressing
Garden Tomato with Thyme, Parsley and Mint
Mango Spinach Salad with Honey Lime Dressing
Spicy Tuna Fish Cakes
Bruschetta with slow baked Tomatoes and Goat Cheese
Beet and Yogurt Dip
Lettuce Wrapped Chicken Coronation
Baked Feta with Chilli and Oregano
Wild Greens and Herbs Turnovers
Grilled Zucchini and Bell Peppers with Halloumi Cheese
Main Courses
Prawn Linguine
Staffed Lamb with Spinach and Pine Nuts
Sea Bream with Tomato and Herb Salsa
Moussaka
Oven Baked Beef and Orzo Casserole
Roasted Chicken with Brandy Orange and Honey
Paella
Strawberry Sorbet
Chocolate Soufflé
Mango Coconut Cheesecake
Tahini Mousse with Honey and Halva
Lemon tart with Summer Berries
Banoffee Pie
Moist Chocolate Beet Cake
YACHT LAYOUT
YACHT TESTIMONIALS
                                                                                                      2017
July 2017
Avery family (Bob, Kelly, Olivia, Loopan, Georgia & Kincad) & Castallarin family (Aleksandra, Stephanie, Francesca & Luca). Wonderful week, we loved every minute.
 Thank you so much for the memories – we want to come back. T
hank you – Georgia

August 2017
The Durkin family: Of course we could talk endlessly about how amazing this boat has been, but really it's the people that make any holiday! In our case, this wonderful crew (Dimitri-Dimitra & Maria) have gone above and beyond anything, we could have expected. Everything from the beautiful bays, to the comfort of activities on board, has blown us away and this trip will always have a special place in our hearts.
Thank you, our world will be empty without you. 
Edward, Trudy, Peter, Lucy, Daniel, Lucy, Louis, HeatherHeidi, Loic + Clement Amelie xxxxxxxxxxxxxxxxxxxxxx
Thank you for the most wonderful and memorable vacation. You were fantastic. Everything about our trip was exceptional. I am sure we will come back on our time with you as most enjoyable. Thank you The Rogas Family

August 2017
On behalf of all these shipmates, Rand, Paula, Joe, Ron, Samery, Jeff, Sean & Bonnie we would like to thank the crew Capt. Dimitris, 2nd mate Maria and great chef Dimitra for their excellent above and beyond the call and duty! 
May God Bless you and the crew and may you have many more happy endings. 
Bon Voyage, The Currier New England 
August 2017
MYKONOS 
Una settimama di relax e di merazavigliose isole, su uma gram bella barca (fontamentali I SEABOB) com un equipaggio simpatico e professionale, che rimazza mei mostri piu bei ricordi. 
A Dimitri, Dimitra & Maria.

                                                                                                      2016
September 2016
Dearest Makis, Zeta, and Irish words cannot express our gratitude, our thankfulness that we connected with you. The first day was a cordial Hello, not knowing what the next 5 days would unfold. SURPRISE. The families could not have imagined that one would fall in love with the three of you!! Sharing family stories, laughing, eating, toasting what a gift!! 
Kelly, John, Bruce, and Kathy wish you safe sails. 
Much love

September 2016
Thanks to the best crew of the (Worlds End)!
The Germans from Hamburg

August 2016
Dear Makis, Zeta, and IrisYou are a fabulous crew. We have enjoyed every minute on Worlds End. Many thanks from the Aussie Crew And thanks for adding an extra dimension to our charades. 
Next time we will have a go at them in Greek!

August 2016
Steph and I set off from Kos today heading to Scotland with our trusty golf sticks ... The same ones you stored for us 2 years back!We saw worlds end departing today , heading into the meltemi , back to Mykonos It's pretty strong this afternoon hope they all have an enjoyable cruise...ours was fabulousGreat weatherGood sailingThoroughly enjoyed your favourite island lipsi , including a memorable dinner at the taverna Zeta and Markis, looked after us beautifully, and Iris was a wonderful addition to the crew,( as much as we did like Nickos )My crew are all home now and enjoyed the whole deal... I find when you go back and do things again, you run the risk of not enjoying it so much the second time around... But not the case on worlds end ...
 Just loved it and agree, the refit works were all great sorry to miss you this time around but we will be back someday 

June 2016
Dear King, Zeta and IrisOur voyage was fantastic. We could not have asked for a better crew to be with for ten days. You made everything special and perfect. The King made sailing the Worlds End look easy & fun. Zeta & Iris worked very hard to make him look good.
We love you all.
Love & Kisses
Stavros, dawn, Greg, Kathy, Katarina, Haley, Mark, Marie & John until next time!

June 2016
Dear Makis, Zeta, and Irish thank you for the trip of a lifetime. The Memories and Experiences shared on this boat will be in our hearts and minds forever. None of this would have been possible without you. You work with a grace and professionalism we have never seen before.Thank you for making us feel at home.
Until next time Alex, Matt, Viv, Chris, Phil, Dan, Diana, John, Charlotte


                                                                                                        2015
September 2015
What a terrific 3 weeks! We even sailed a little! Fabulous meals and very attentive service. Thank you for giving my guests and me such a pleasurable trip. If in Toronto come for a sail.
Mrs. H


We can't thank you enough for all you did to make our stay on board "World'sEnd" so special! Your attention to every detail, effortless seamanship, wonderful cuisine – will be one of our very special memories. Fair winds and seas to you all.
Mrs & Mrs. M



To Makis, Nikos, and Zeta
Many many thanks for a great trip and for looking after us so well (EspeciallyD – not easy). Lovely food, good sailing and all very comfortable.
Dear crew,
Thank you for a fantastic trip! It never rains in Greece. We will remember this! Great food, great crew, and great friends. Hope to see you soon! 


Ps: Zeta, it snows in Belgium!


Emy & Bruno 

August 2015
Dear Zeta, Alex, and Captain Makis,

We spent a fantastic holiday on board of World¢s End. It has been an amazing cruise both relaxing as well as full of joy and happiness. We loved the islands of Dodekannese, we enjoyed the waters of the Aegean and most of all, we will remember the great time we spent together. Thank you, captain Makis for finding always the best spots and for leading the boat with perfect professionalism! Thank you, Zeta for your smile and the great food! Thank you, Alex, for being always so kind and at hand when needed! Thank you all for the consistent positive attitude and good humor, for being always protective, professional and simply perfect. Let¢s keep in touch. We look forward to the next cruise together.

Warm regards,
Alberto
Riccardo
Victoria
Leo
Tommy
Giorgi
Valentina
Fay 
Matheo
Barbara

July 2015

Makis, Alex, and Zeta

We were a group of five couples from Florianopolis, south of Brazil. We stayed here for a week and we had a wonderful time here! The cruise and the crew were fantastic! Hope we see them again!
Thanks!
Betina Lopez Gomes

July 2015
Dear Zeta, Alex, and Captain Makis,

We are very grateful for this wonderful boat trip. So happy to have spent 10 fantastic days in the World¢s End with this amazing crew. The coziness of Yeydra, the lovely village of Syros, the toughness of Kea, all the natural bays we had on dinners on the board… it was just fantastic. We hope to come back on another occasion to see more of the Cyclades islands, too much wind now…. but…. a good excuse to come back. Thank you, Alex, for taking care of us as if we were at home. Thank you, Zeta for the amazing dishes!! Thank you, captain, for the nice itinerary and the time you spent with the kids. We will remember the friendliness of the crew and the patience!
Hope to be back soon.

Bruno Varena William John
Glivier Laurence Leon Juorki Depre
and Yauthuennsa
June 2015
ZETA MAKIS ALEX

GREAT CREW

GREAT BOAT

GREAT TRIP

BERTRAND LEARY + SYBIL MELLION KEN+ MARY WALKER
May 2015

Makis, Alex, and Zeta

Thank you for a very memorable vacation. Not only was this 4-day voyage over our honeymoon trip but also accommodated our 4 year anniversary. The trip not only exceeded our expectations but will give us a unique memory to forever look back on especially since we have never experienced a charter like this. We will look forward to our next voyage and only hope to have an experience the same quality of this experience.
xoxo 

You are a very lovely crew.
Thank you for the hospitality. We had an amazing time. We will never forget this trip and are looking forward to coming again.
Zeta rocks!
2014
August 2014
Worlds end was everything we had hoped for and more! Beautifully detailed dry and sailed well in all winds. We were out at 35 knots + and she handled it like it was what she was designed for! A great amount of space for all of us including bloke my size! But the crew made it that extra special Markis, Nicko, and Zetta ( did I spell them right ? ) We're fantastic And such a pleasure to spend time with Sadly for Markis, I never left the wheel , so he did not get too much downtime Great weather  Great fun I will plan a return one day !


Tim
July 2014

Same crew new boat plus Nikos. What a holiday you gave us all. We loved World's End from Crete to Cyclades Islands and have so many happy memories particularly when " PinkFloyd" were playing. The seabob won the best new toy of the year and the skiing was great. 
Thank you all for next year!


Love Jamie

A huge thank you to you for as ever, arranging everything so efficiently and charmingly. The boat as you told us is fabulous, a big step up from Anassa. We love her and managed some good sails, she is so swift, I would have been happy to stay in my cabin in luxury but the lure of Zetas cooking was too much to resist. She really surpassed herself with the most delicious meals which I am now regretting as have had to double my sessions at the gym! What a crew, we are sooooo lucky to have had them again. Mikey and Zeta are totally charming, nothing is too much trouble and all done with a smile and with such good grace. Nikos is a good addition and was utterly helpful and fun. They all work so hard and we really appreciate their kindness and for being such great sports with us all. Please pass on our thanks to them once again. It was a great route, as we experienced a variety of islands and some beautiful towns. The children adored the whole trip from cocktails and dancing to endless fun on the paddle board and sub - I even managed that and it takes a lot for me to get my hair wet!!


Love Jo
June -July 2014
No comment, no complaints only congratulations and thanks. This month of July was paradise for my peers and myself.
Thank you so very much "wonderful crew" we had a lovely time and we were spoiled as ever before.


Mrs. C
June 2014

Thank you so much for giving our families a vacation of a lifetime. I must admit having 7 kids on a boat for a week was a little concerning but each of you did a superb job of keeping them happy. Zeta your culinary skills were put to the test and you made each of them happy. From crepes, pizza, smoothies, and meals everything was great. Maki and Nikos you were great with all the water toys – especially teaching them how to ski. The last night was the best with a perfect local fresh dinner followed with great wine and beautiful sunset. You showed us the beautiful Greek islands but even more, you showed us how warm and generous the people of Greece truly are.

Thank you so much
Calhoune, Aaron, Tripp, Carmen, Ryan, Ivy, Jennifer

Thank you so much for the birthday party and the cute bracelet. I had such a great time here on this boat
Phoebe

It was a great week! Our crew was the best and we look forward to coming back soon!
B.L.
June 2014

This was my 7th time on World's End and it was the BEST week! The ship was in perfect shape. Better than ever before. Thank you for taking such good care of sea, World's End and especially us! See you next time!
All the best to you all,

Dick, Isabelle, Shanti, Tinex
                                                                                                         2013
March 2013

Comfort, cleanliness, service, fun, expertise, all described with the word phenomenal. "This crew made the trip everything that it was. Renee was an excellent chef and worked diligently to accommodate all of our requests and tastes."  J. W.  
BVI Family Charter,

                                                                                                          2012
---

Summer 2012
Great job!! It was a wonderful trip!!! Beautiful boat, great captain, amazing chef and the first mate was wonderful, too!!!
We had a great week of resting, reading and looking at wonderful beaches. Food was excellent, the boat was pristine and the captain was good at navigating smooth waters.
Thank you,                                                                                                      
YACHT PHOTOS