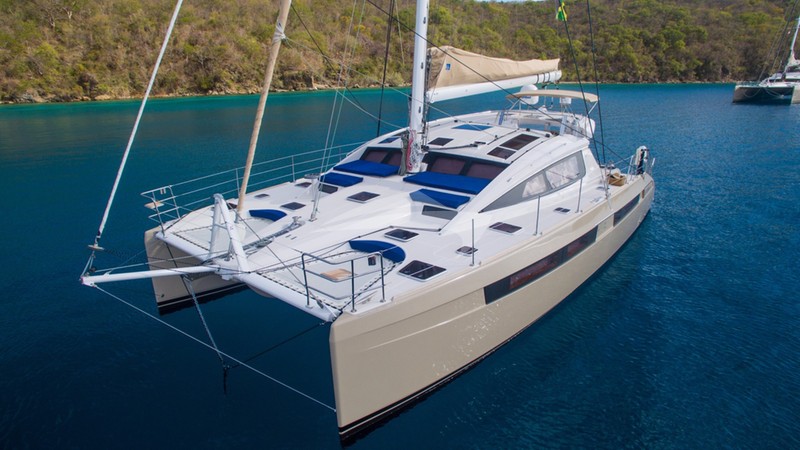 Specs Features Diving Crew Profile Menu Layout Photos Video Testimonials Similar Yachts Inquire NEW Charter Search »
YACHT INTRODUCTION
Privilege catamarans are known for their quality, sophisticated and luxurious high-end designs and comfort. XENIA 50 was launched in 2015 and is beautifully decorated and outfitted to the highest standards. She offers three guest cabins each with a queen size berth, private bath with electric fresh water flush toilets, stall shower and vanity. There is plenty of lounge space in the cockpit, salon and top deck. Come sailing with XENIA 50 and enjoy the best of yachting.

SPECIFICATIONS
Length 49ft 10in (15.2m)
Beam 25ft 11in (7.9m)
Draft 5ft 3in (1.6m)
Sleeps 6 Guests
Cabins 3
Crew Captain Peter Lech & Chef
Year Built 2015 / Refit 2015
Cruising Speed 8kts
Max Speed Not available Stabilisers None
Engines 2 x Yanmar 75Hp diesels

Builder Privilege Yard
Designer Not know
Flag Jamaica
VAT Registered No
US Duty Paid No
APPROXIMATE WEEKLY RATE
High USD $21,000 | Low USD $17,100
FEATURES & AMENITIES
DVD library, DVD player master cabin, Indoor audio system, TV all cabins, Wi-Fi, 12ft / 3.70m 40hp RIB, Beach games, Board games, Inflatable floating island, Kayaks multiple, Kneeboard, Paddleboard, Paddleboards multiple, Skurfer, Swimming noodles, Tube - towable, Wakeboard, Water skis - adult, BBQ, Coffee machine, Deck shower, Fishing gear - light, Ice maker, Special diets, Swim platform, Water maker
ACCOMMODATIONS
Sleeps 6 In 3 Cabins
Privilege catamarans are known for their quality, sophisticated and luxurious high-end designs and comfort. XENIA 50 was launched in 2015 and is beautifully decorated and outfitted to the highest standards. She offers three guest cabins each with a queen size berth, private bath with electric fresh water flush toilets, stall shower and vanity. There is plenty of lounge space in the cockpit, salon and top deck. Come sailing with XENIA 50 and enjoy the best of yachting.

DIVING EQUIPMENT
Not Insured, Snorkelling gear, Underwater scooter
YACHT CREW
Captain: Peter Lech
With Peter and Jade as accompaniment on your XENIA 50 experience, your sojourn will be decidely nothing less than world class. What sets Peter and Jade apart is that—in addition to being highly-skilled crew—they are both also extremely talented gourmet chefs. Having spent years creating culinary delights for the rich and famous (including Hollywood starlets and American presidents) they proffer the true epitome of lavish gourmet dining.
Peter applies his classic French training to local exotic ingredients and, as a certified Sommelier, pairs them with the best wines from around the world. Jade's influences stem from her Asian-Pacific upbringing, with emphasis on fresh and healthy meals brimming with delectable originality and sumptuous flavors. With Jade and Peter, your dining is guaranteed to be exquisite—with the very best of gourmet cuisines expertly prepared to ensure every bite is tailored to perfection and catered to the highest possible standard. With superb service and a personalized menu, the mouth-watering cuisine aboard XENIA 50 is an adventure in and of itself.
Peter's ease at the helm and 14 years of management experience ensure only the very smoothest of vessel operations. He literally cut his teeth on his family's Morgan 27 and Morgan 40 on the tempestuous waters of the Great Lakes. Racing several evenings a week and three-day cross-lake marathons are still commonplace in the Lech family, with them consistently placing top of their class and best overall. Sailing is in the Lech blood.
Jade's extensive sailing grounds span the Pacific Coast from Vancouver Island to Costa Rica, the Atlantic shores of New England and the Eastern Caribbean. She has hands-on experience with virtually any kind of sailing vessel—from tuna fishing boats and tall ships to luxury catamarans.
Peter and Jade look forward to welcoming you aboard XENIA 50.
YACHT MENU
I am very flexible with my plates and can easily omit or exchange proteins, gluten and dairy products with out compromise.
All sauces and dressings are made on board with the freshest ingredients.
Breakfast: 
Fresh squeezed orange juice, selection of Coffee, Decaf and Teas served daily.
 Crepes, marcapone & ricotta and rum macerated strawberries
 Smoked salmon hash, lemon dill emulsion, caribbean avocado 
Micro waffles, Chantilly, warm berries
Braised short rib sandwich, caramelized dijon onions cherry tomatoes, roquefort melt
 Angus beef sliders, aged gouda, breadfruit frîtes
House specialty Sushi platter, with our without raw fish
 Quiche lorraine provençale, rocket salad
Hors doeuvres:
Fennel grapefruit  blue crab salad 
Fresh Catch Ceviche, avocado, butter lettuce nachos 
 Chorizo, fried plantain and house pickled cucumbers
3 courses, paired with  fine wines from around the world followed with  a selection of  herb teas specialty coffees and digestifs.
Starters
   Avocado cucumber soup, parm crisp
   Strawberry spinach salad, poppyseed vinaigrette, caramelized pecans
   Caribbean conch chowder, smoked tomatoes
Duck Magret,  black currant reduction, apple pain perdue
 Wahoo  mushroom roulade, saffron carrot puree, beluga lentils
 Jamaican jerk pork tenderloin, plantain medallions, orange thyme jus
Fillet minion, mushroom merlot jus, pearl onions, ausperge spears
 Dessert
 French Crepe stack, nutella, grand marnier and creme anglaise
Flourless chocolate cake, black currant glaze, candied ginger
Key lime custard, cookie crumble, marshmallow whip
-Bonne Appetit!!
YACHT LAYOUT
YACHT TESTIMONIALS
July 2017
"Carol - Huston, Texas 
The Best sailing trip ever! Not a single disappointment along the way, rather Jade and Peter out did themselves time and again with their amazing sailing , food and customer service. We will be back! 
xoxo Carol"

"Sandy & Cathy - La grange Georgia

Fabulous sailing and each meal a culinary experience! Jade and peter were the perfect host to a beautiful vessel. they anticipated our every wish and were truly a great team. We enjoyed every minute. we will partner again! 
xoxo the winslows"

June 2017
Mascioli Albuquerque & Family - Brazil
Thank you Jade and Peter
We had a wonderfull Time and made fantastic memories. The food was incredible and you were very sweet with the kids. We are sad to leave but hopeful to come back. 

isabella , 8 yrs old 
Thank you Jade and Peter
I really liked your food because it is different. i really liked jade and Peter because they are fun an nice. I really liked it is a sail boat because we can sail in it. I had fun doing this time with you =) I really liked the place we went because they were beautiful and nice. i liked that when we were visiting the islands because thy were very interesting. Jade thank you for taking us to see the turtles. Jade think you as well for taking us to Snorkel on our last day.. I liked it because we saw lots of fishes and coral. Peter thank you for putting all the films we wanted Tobago cays because i saw 8 turtles 15 sting rays. i like to be there because the beach there had a lot of shells and rocks. so thank you so much!! you were very well doing your work.Peter you were a very good Captain for our boat. In Bequi i really liked that i saw a water snake. Jade i liked that you played with me. Jade i liked you because sh is fun and i liked peter because he was a very nice captain =)
June 2016
From Rich and Vicki;
"Everything was wonderful, awesome food and AMAZING SERVICE, thank you both for our perfect VACATION!"

From Sally and John 
What a pleasure meeting Peter and Jade Everything was beyond amazing and wonderful!

From Stephen and Arjiel:
Difficult to put into words how wonderful sailing with Peter and Jade was. We were treated like Kings and Queens, Princesses and Presidents, to the point of feeling guilty. Both exceptional chefs! Xenia 50 & Crew deserve each other! 


June 2016
Thanks Jade and Peter for a fabulous vacation! The Boat is amazing and Exceded our expectations crew were top notch fun and full of knowledge! Food was Fantastic and we were pampered the whole week! This is a trip we will never forget and we thank you for helping make this trip a great family vacation!
Christine, Adrian Kyle & Ryan
June 2016
Jade and Peter, Awesome boat... Check! Awesome weather...Check! Awesome food... Check! Awesome scenery...check! Awesome service...check! GREATEST HOSTS ON THE PLANET ...DOUBLE CHECK!!
Thank you for a fantastic week, one that we will never forget. looking forward to being back with y'all soon! 
Cheers!! Kellie, Drew, Adam  and Ray
March 2016

What an amazing week. Peter and Jade went above and beyond for my three children and me. Thank you for such a memorable adventure. The trip of a lifetime! ❤️ the Taylors
New Year 2015/16
We had a wonderful time. Meals were excellent, drinks were fun and creative. Peter and Jade were superb hosts and leaders. We WILL be coming back!
PS we also loved the high tech boat!
The Graass fami


 June 2015
Once again, thank you very much for the fantastic trip. We wish we had more time.

 



This trip was truly the gem of the fam trip. Nobody was expecting such a beautiful boat, a friendly crew and a superb chef. Personally, the cold soup of avocado and cucumber was my favorite meal in the entire week!

 



The feedback from everybody was spectacular. They were very picky checking how clean Xenia was. Also, highlighted the quality of the amenities, the orchids in the bathroom, the customer service, all snorkel equipments new and the detail of the final and amazing gifts.

 



Once again, many thank you for the amazing day!

Tania
 May 2015
Hi Pete & Jade,

Thank you again for lunch - which was absolutely outstanding!




 May 2015
I just wanted to say THANK YOU for a terrific lunch on Friday. It's was over the top delicious with a wonderful presentation. Loved the wine too :-)

You're awesome!

Sue


 May 2015
Thank you both for an excellent lunch, I thoroughly enjoyed it especially the lobster starter.

Have a great summer.

All the best,
Liz
 May 2015
Hi Jade & Peter

I just wanted to thank you both so much for inviting me for lunch on Saturday. It was absolutely delicious and I was blown away by the flavours of a well-balanced meal. The chicken with preserved lemon was incredible as was the raddish and fennel salad. It was all beautifully presented and the clean plates of all guests said it all!

 



Thank you for making me feel so welcome.

Kind regards
Trudi K
 May 2015
Dear Jade and Pete

Thank you so much for the hospitality on Xenia last weekend. Susan and I enjoyed lunch very much.
Looking at the image below, seems others did as well.


VIDEO
YACHT PHOTOS