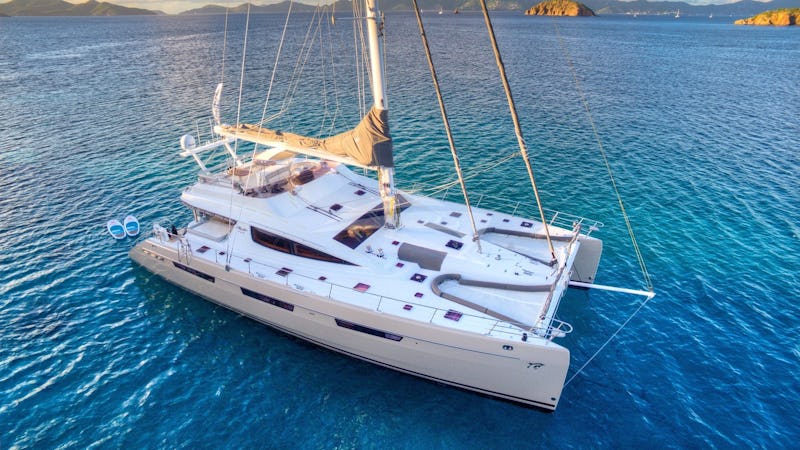 Specs Features Diving Crew Profile Menu Layout Photos Video Testimonials Similar Yachts Inquire NEW Charter Search »
YACHT INTRODUCTION
The XENIA 74 luxury charter catamaran combines both luxury and comfort for a wonderful sailing adventure. Accommodating up to 8 guests in 4 contemporary and well appointed lavishly furnished cabins, this deluxe catamaran has one king master cabin, (makes an extraordinary honeymoon suite) and three equal queen cabins.
Offering first class comfort and plenty of fun and breathtaking 360-degree views, set an upscale tone of understated elegance. 
There is an abundance of external living space on board: located above the main cockpit, the teak stairs will take you to the generous fly bridge with a second al-fresco dining area, complimented by further seating and sunbathing space. The higher bridge deck provides quieter and comfortable sailing. 
The spacious master cabin is truly spectacular, occupying the entire forward section of the yacht. The large, deluxe bathroom has dual sinks and a Jacuzzi tub. The spacious bedroom has a romantic, king size bed and lovely settee, perfect for relaxing with a glass of wine and a good book. Opening hatches over the bed allow guests to enjoy cooling trade wind breezes.
XENIA 74 has three additional equal queen guest cabins, beautifully furnished with fine linens and designer toiletries. Each of the four cabins feature Hydro massaging showers and air-conditioning 24 hours a day.
SPECIFICATIONS
Length 74ft 2in (22.6m)
Beam 36ft 1in (11m)
Draft 8ft 2in (2.5m)
Sleeps 8 Guests
Cabins 4
Crew Captain Tony Trappe, Chef and 2 crew
Year Built 2010 / Refit 2015
Cruising Speed 11kts
Max Speed 14kts
Stabilisers None
Engines 2 x 320Hp Turbo diesels

Builder Privilege Yard
Designer Not know
Flag Jamaica
VAT Registered No
US Duty Paid No
APPROXIMATE WEEKLY RATE
High USD $60,000 | Low USD $39,600
FEATURES & AMENITIES
Bluray player all cabins, Indoor audio system, Satellite phone, Satellite TV, TV all cabins, TV saloon, Wi-Fi, 14ft/4.3m RIB 40hp, Assorted water toys, Beach games, Floating mats, Inflatable floating island, Kayak, Kneeboard, Paddleboards multiple, Tube - towable, Wakeboard, Water skis - adult, BBQ, Coffee machine, Deck shower, Fishing gear - light, Hammocks, Ice maker, Jacuzzi in master cabin, Special diets, Swim platform, Water maker
ACCOMMODATIONS
Sleeps 8 In 4 Cabins
DIVING EQUIPMENT
Insured, Seabobs multiple, Snorkelling gear, Underwater still camera, Underwater video,
Diving in the Virgin Islands Included with 3 dives per week/Max 4 divers
RENDEZVOUS ONLY in all other locations.
YACHT CREW
Captain: Tony Trappe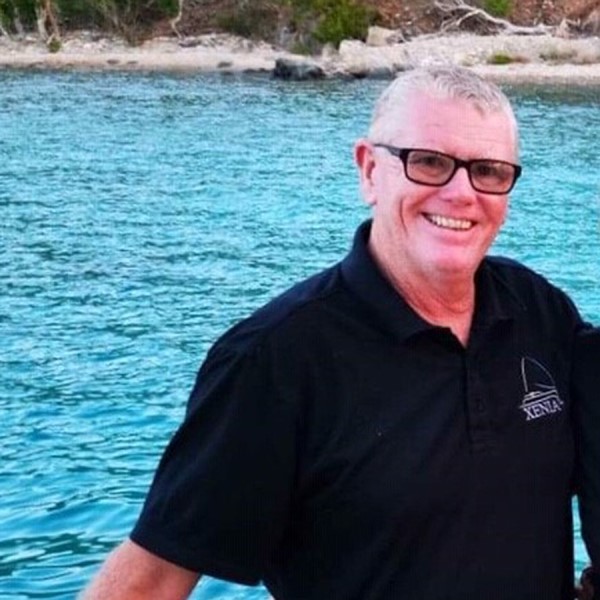 garage. He went on to captain his first yacht at 16, delivering a boat along the south coast of England. Tony is now RYA Ocean Yacht master and BVI Boat Master 100 Ton License Grade 1 with over 40,000 sea miles.
In 1981 he was awarded a BSc (Safety and Hygiene) from the Engineering Department of Aston University which started a career as a Sales Engineer. This took him onto oil rigs, down coal mines, into sweet factories and every kind of industry in the UK. A career change led him into a rewarding time as a teacher where within three years he had a Masters Degree in Primary Education and employment as an Advisory Teacher. He went on to run a project for Greenwich Education Authority in London providing services to the 300 schools throughout Greenwich.
Tony continued his interest in sailing and when his thoughts turned to travelling he sought out and purchased his yacht Roxane in Spain. He lived on her whilst teaching in London where he met Kate (the lucky chap!).
Chef: Kate Purdy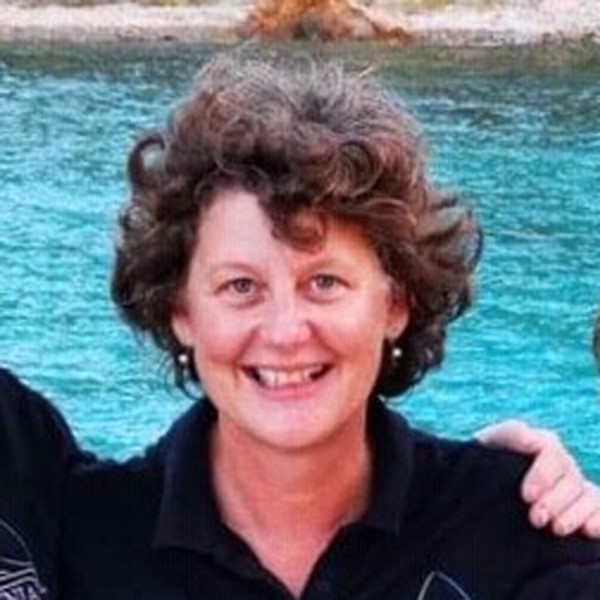 Kate was born in Malta and spent her childhood in Northern Ireland, the UK and Hong Kong. As soon as she could, she left home and carried on travelling, spending several years working in the summers and travelling in the winters. Eventually after buying a house, she settled in London and took up sailing. Deciding that a boat would be much more interesting than a house, she bought a Dutch barge instead and lived on it in a marina in the centre of London. Being paired with Tony and winning in a dinghy race one day led to the start of their relationship which was celebrated with the winning prize of a lottery ticket on the first ever National Lottery. They won 10 pounds - and have been laughing about life together ever since.
Kate has been in the food preparation industry since 1984 and for several years was the manager of a small food retail chain throughout the railway stations of London. She has worked as a chef on yachts and in villas since 1999 and has loved pretty much every moment. She has attended a culinary course in France and has a food certificate from her early days in the food industry in London. Kate's close involvement in life in France has enabled her to learn firsthand the delights and rewards of delicious French cuisine. She has expanded her culinary skill and knowledge throughout her life. Kate has recently contributed to a recipe book with other top chefs from the island and appeared on the local TV show "Gourmet Galley with Chef Lisa". In addition to her chef and management duties at Golden Pavilion, Kate has also provided chef services for other prestigious villas and establishments, notably the Governor of the British Virgin Islands and the owners of Amway at Peter Island Resort.
Kate and Tony enjoy an adventurous and busy life together and embrace hard work with vitality and enthusiasm. Charming, fun and great company, they are complete all-round hospitality winners. They work well together under pressure and routinely handle all that the hospitality and sailing world may demand of them and have fun on the way.
Deckhand: Nico Janse Van Rensburg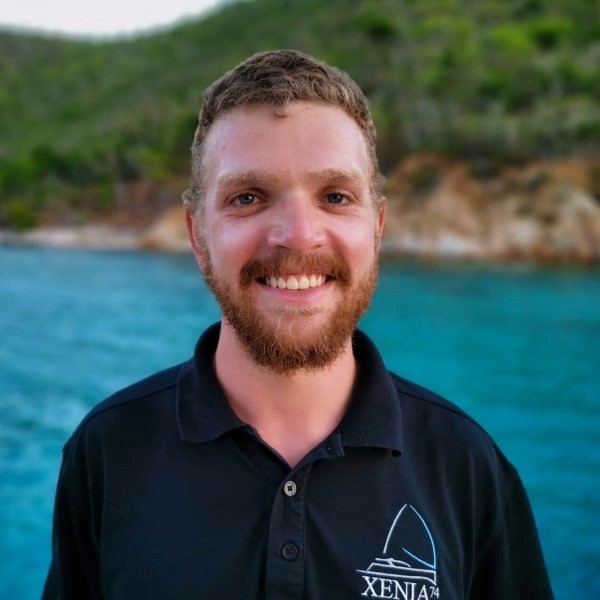 Born and raised in the southern tip of Africa, I spent many a holiday on safari with my family where my love for the outdoors has grown deeper with every trip. But even in these early days the attraction of water was strong, and I ended up pursuing that as an open water swimmer. After school the oceans started calling and I soon realised where my true passion lay. I started my journey of yacht training and diving courses. I worked for a time on The Sustainable Seas Trust vessel, Boaz. This enabled me to accumulate not only invaluable experience but also notch up some sea miles. Following this an opportunity opened up for me working for a fleet of large charter catamarans in the fascinating country of Turkey. Today, learning not only yachtsmanship but the skills required in the hospitality industry.
I am a now a qualified RYA Offshore skipper and also an enthusiastic PADI Dive Master. Enjoying every moment above and below the waves I am now starting a new adventure with Xenia 74 and living my dream in the Caribbean. I cannot wait to share the wonders of the BVI and the reefs with our guests.
Deckhand: Katie O'Connel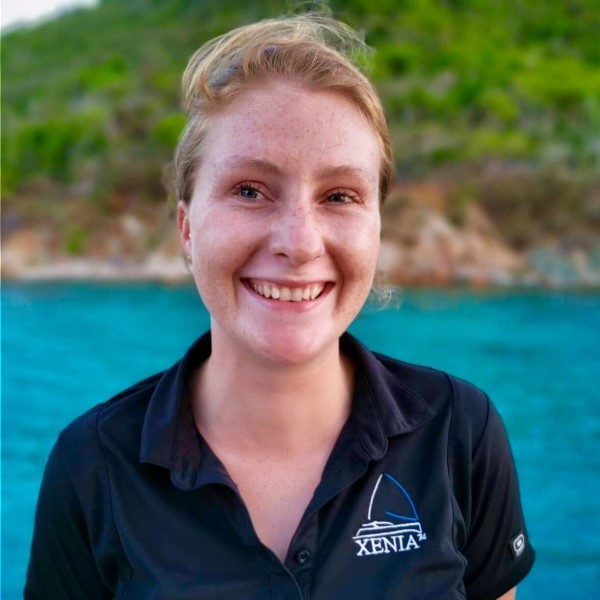 Hailing from New Zealand, where beautiful beaches are plentiful, Katie has always had a love for the ocean. Growing up, her uncle and aunt who worked on crewed yachts for many years filled her head with stories of sailing the Caribbean, where the water is crystal clear and there is always a Shaggy song playing somewhere. She was enticed. Before running off to become a sailor she completed a Bachelor of Communications (at her mother's request!). Six months later Katie was on a one-way flight to the Virgin Islands where she stepped off the plane and onto Xenia 74.
On board, you can typically spot her with a wine bottle or cocktail shaker in hand (she makes an amazing painkiller!) or trying to create intricate napkin folds for the dinner table. When she isn't on the boat you will find her at a beach bar sipping on a Bushwhacker or more likely patting a dog somewhere. She can't wait to welcome you aboard with a glass of champagne!
YACHT MENU
Breakfast
Tarragon Herbed Breakfast Tart with Gruyere, Mushrooms, and Sunny Side Up Eggs
Scandinavian Cured Salmon with a Three Herbed Cream Cheese and Toasted Bagels
Classic Eggs Benedict with Canadian Bacon, Toasted English Muffins, and Hollandaise Sauce
*All Breakfasts Include Fruit Platters, Freshly Baked Pastries, and a Selection of Cereals and Yogurts*
Lunch
Cider Marinated New York Strip Steaks, Grilled and Served with a Fresh Spinach Salad, Tangy Green Apples, and Imported Gorgonzola Cheese with a Maple Based Vinaigrette
Sesame Seared Ahi Grade Tuna Fillets Served upon a Bed of Seaweed Salad Accompanied by a Sweet and Spicy Wasabi Ponzu Sauce and Coconut Pistachio Basmati Rice
Pad Thai: A Fusion Version of a Classic Thai Dish with Cilantro Lime Sautéed Shrimp Tossed in with Peppers, Shallots, Rice Noodles and a Sweet Soy Sauce
Spicy Tuna Tartar on Wasabi Rice Crackers
Smoked Salmon Cucumber Rolls
Mediterranean Pizza with a Garlic Hummus Base, Olives, Roasted Red Peppers, Artichokes, and Feta Cheese
A Trio of Bruschetta: Tomato Basil, Balsamic Mushrooms, and Olive Tapenade
Entrees
Asian Influenced Grilled Mahi-Mahi with a Green Chili Coconut Sauce Accompanied by Rice Pilaf and Spicy Ginger Soy Seared Green Beans
Sizzling Grouper Fillets with Spring Onions and Ginger Shards Atop a Bed of Oven Roasted Asparagus and White Rice
Chicken Cordon Bleu with a Crunchy Garlic Thyme Crust Accompanied with Wild Rice and Balsamic Roasted Cherry Tomatoes and Peas
Vanilla Crème Brulee
Chocolate Fondant with a Whipped Topping and Homemade Carmel Sauce
Homemade Chocolate Truffles with Vanilla Chocolate Martinis
Brie Smothered in Raspberries and Baked in a Flaky Pastry Topped with Brown Sugar and Served with Apple Slices 
YACHT LAYOUT
YACHT TESTIMONIALS
August 2019
The Yacht was first class. Very clean and organized. Cabins were all very nice size especially the master. Cockpit and dining area were spacious and provided us all the shade we needed as there was a lot of sun! We loved the underwater scooters and just snorkeled every chance we had at each place we docked. The boys also enjoyed water skiing, wakeboarding and tubing and some of the areas they found were smooth as glass.

Kate followed the Pref sheets to a "T". She knew what every of us liked (and disliked) and was perfect each meal. We told Kate she needs to publish her cookbook as each meal was Gourmet, colorful and so tasty. FIVE star all the way!

We were very lucky to get Tony, Kate, Nic and Katie and all were perfect in their roles and they worked so hard to make sure we were comfortable and had all we needed always. We really enjoyed everyone. Could have stayed for another week! We determined the pace and they asked us each day what WE wanted. We just went ashore a few times as we just loved the boat and the water but the places we went too were very picturesque.

We loved it and would recommend this to anyone. We are very well traveled and this was by far our best vacation.
Scott T.



June 2019
The ABSOLUTELY BEST CATAMARAN CHARTER EXPERIENCE IN THE CARIBBEAN. ​​We were four couples celebrating important wedding anniversaries and wanted the best. The Xenia 74 boat, accommodations, crew, meal service and sailing experiences EXCEEDED all expectations as we spent the week recently sailing among the British Virgin Islands.​​
The Xenia 74 is 74.5 feet long catamaran with a handsome and magnificent master bedroom and three other bedrooms all with top notch out fittings and superb air conditioning.

Captain Tony with 20 years of experience provided smooth sailing and excellent access to snorkeling, scuba and beach combing sites.

Chef Kate in our unanimous opinion is the BEST in the Caribbean. From elegant omelets and fresh made croissants in the morning to wonderful salads for lunch and perfectly cooked to preferences fish, chicken, lamb chops and steak at dinner we were blown away by her preparations. Did we mention the fluffy pancakes, the decedent French Toast or what she does with balsamic glacé? Desserts were also superb. Her chocolate raspberry cake has to be the best in the Western Hemisphere.

We did stop one day for an on shore lunch at Cooper Island for local lunch and ice cream. Go a bit before noon to get your orders in and proper choice of tables before hoards arrive.

We brought along a case of our favorite wines which were amply fortified by the Xenia 74 inventory of American and French wines.There is an extensive variety and supply of various liquors on board .Additional crew members Katie and Nick provided superb support and added tremendously to our wonderful experience.

This was a marvelous once in a lifetime wish made perfect by this handsome boat and superb crew.
Booking on any lesser boat would be a shame and missed opportunity for perfection.
We should have booked for two weeks!
Best regards,
David B
NYC

March 2019
LOVED EVERY MINUTE! Decadent Crazy Fun.  Thank you Tony for taking great care of us!  Events to remember - Tony's dancing, music, all of Kate's meals!!! Beautiful presentation and delicious! Thank You Kate for cooking ALL vegan for Ken and Car. We loved it! Tony, Kate, Katie and Nic all have a place to stay if you come down San Diego way!

Steve, Jen, Scott, Sophie, Mick, Joanne, Kennedy, Carley
March 2019
All made this a spectacular trip. From the guidance and flexibility of Captain Tony to the attention to cuisine and flavors at every meal, to Nic's ability to allow us to experience all things and keep our ship tip top, to the beautiful table settings and sparkling eyes and personality of the adorable Katie, this crew was the best we could have imagined.Debbie, Beth, Ann, Julie, Buck, Tom and Dave
New Years 2018/19
We had an absolute blast on the trip. The Xenia 74 is an awesome boat, huge master suite, great other bedrooms and really nice outdoor space. The crew was amazing. Kate is a fabulous chef and we marveled how she could accomplish so much in a tiny kitchen. She kept us well fed with delicious breakfasts, lunch, snacks and dinner. Adam was a great first mate, friendly and outgoing, great with my kids and generally fun to be around. Katie was a great stewardess, always there with a drink or anything we need and super friendly and outgoing. I can't imagine having a better captain than Tony. Clearly he has been doing this a very long time, he knew everything about the islands and where to go and not to go. He is very adventurous and fun which was a great fit for my family and even took the kids on several treasure hunts through the islands and even had them bury some treasure of our own for others to find. I would recommend the boat and crew to any of your clients and will definitely send some of my friends your way who are now interested in the trip and tell them to book the Xenia 74.
Thanks for getting everything set up so seamlessly for us. Sign me up for the newsletter for sure.Happy New Year,Josh

October 2018

This vacation ranks up there with one of the best vacations we have taken. Many times we said to each other that this couldn't be real, it was too good to be true. Each day was relaxing and stress free – just as we wanted. 
We can't rave enough about the captain and crew. Adam was the perfect scuba guide, showing us all the awesome underwater sites and keeping us safe. Katie kept us well hydrated and made sure we were having fun. We knew we were very spoiled when she delivered drinks and appetizers to us while we floated off the back of the boat on the inflatable raft. Kate worked her food magic on us. We still can't believe the meals she was able to produce from a boat galley. It was like fine dining in a 5 star restaurant every day! And all the while, Captain Tony made sure our travels were safe and enjoyable. His knowledge of the islands and local landmarks were very appreciated.

The meals were fantastic! Kate definitely paid very close attention to our sheets and our expectations were exceeded. The yacht was very clean and well maintained. Cabins were great. There was plenty of shade and sunny lounging areas. We also enjoyed listening to our music over the sound system.

Most liked – large lounging area in front. Least liked, maybe the many steps in the master bedroom as they are kind of treacherous in the dark. But honestly, I almost feel guilty even mentioning that because we really loved everything about that yacht. Pace and itinerary were perfect for our group. We described what we were looking for and Captain Tony and mother nature delivered! He was able to take us to out of the way quiet spots, which was just what we were looking for. And, he also found beautiful, breathtaking spots to anchor at night. 
-Carol C.
October 2018
The diving and snorkeling was great. Tony knows a lot about the various islands which helped us make decisions and try new things in different islands. Beware the circle of death! (the island float 😀). Kate's meals were all amazing! WE all gained at least 5 Pounds! Best crew and vacation ever. 
Carol, Kurt, Julie and Mike

July 2018

My husband and I,along with friends, had the great pleasure of sailing with Tony and Kate the week of June 29th through July 7th on the beautiful Xenia 74.  We had never been to the BVI, so the entire trip was a new adventure for us. The ship and the crew combined to make this a once-in-a-lifetime,never-to-be forgotten experience.
Thank you for providing us the best Captain in the Caribbean, Tony. Tony's masterful command,not just of the ship, but of the entire experience, was comforting, reassuring and perfect for first-timers. He made everyone feel at home and even joined us as we played games on the aft deck at night. He is funny, but in command; truly a sincere and gracious host and a very capable Captain.
For us though, the real star of the trip, was Kate and her cooking. Oh my goodness, Kate created a Michelin-starred restaurant on our boat. Each meal was not only beautifully and tastefully prepared, but creative and delicious without being pretentious or overthought. She is a remarkable chef and along with Tony, they make the perfect couple to manage the boat and its guests.
The rest of the staff was very hospitable and warm as they delivered outstanding service to all onboard. Katie and Kerry took care of our every need – sometimes before we even asked.They were super customer-focused and fun to be with. In fact when we returned home, my husband and I often remarked how much we missed Katie asking us, asshe did multiple times throughout the day, "What can I get you to drink, eat,etc." They all made us feel special and welcome on the beautiful cruise.
The relaxation, fun,food, and friendships of this voyage will stay with us long after our return home. Thank you for providing such a comfortable, clean, well-equipped yacht for our journey. And huge thanks to Tony, Kate, Katie and Kerry for giving someTexas landlubbers the cruise of a lifetime.
 Donna 
 May 2018
"Tony, Kate, Kerry and Su were all very professional, friendly and knowledgeable.  They made everyone feel so comfortable.  They each possessed a lot of knowledge about the Virgin Islands from the history, to the landscape and geography as well as about the waters the creatures within. The attention they gave to us was perfect - we didn't want for anything.  We couldn't have asked for a better crew for our first charter and for the Xenia.- a match made in heaven."
November 2017 Thanksgiving
After a long day of travel, we are back home in San Francisco.My recommendation to you, Patty, is to recommend Xenia with your highest praises. Xenia 74 should be first choice for your charterers. The boat itself was clearly the finest in the Caribbean. And, while the boat and location are enough to make a very memorable trip, it was the crew that took the trip to extraordinary levels. I have no experience with other crews but I cannot imagine a better crew than Bernie, Matt, Angie, and Dessi.
 Thanks for everything,
Kenny

March 2016
This charter was far and away above our expectations. Gareth and Christine were absolutely fantastic in every way. Gareth was a great captain and made us feel safe and comfortable at all times. Christine created a culinary experience that is impossible to put into words (mostly because my mouth was always full!). The yacht was clean and felt like it was brand new. I highly recommend the Xenia 74 to anyone.

New Years 2015/16
Gareth, Kristine, Susie & Julienne,

Thank you all so much for an absolutely wonderful week. The food was AMAZING and the hospitality so welcoming. Thank you for putting up with our antics, our very large appetites and late night dance parties. This has been the best way to ring in the New Year & we are all leaving feeling rejuvenated and maybe just a few pounds heavier:) Thank you for everything!

Happiest of New Years! Ken, Matthew, Max, Bo, Julia, Walker Cynthia and Lauren.

December 2015
To Gareth, Kristine and Julienne,
Thank you all for a fantastic week! Every minute was a perfect and exactly what we needed.We are going home with bi smiles, well rested and huge tummies.
Best of luck to all of you, happy holidays and hope to see you again soon.
Paul, Jan & Jerrianne
October 2015
Gareth & Kristine,
Where do we begin! This was our dream two years ago & we actually experienced it. You both made it fabulous! Words can't describe the awesome experience we had! Keep up the good work and we also hope to see you again on board!
Barbara and Brad
Gareth & Kristine,
Really, there are no words to describe how amazing this vacation was. One of our very best ones ever! You made us feel like friends, not just guests & crew. In that spirit we INSIST that you visit us in California so we can wine & dine you and take you fishing on our boat! There is a yellowfin Tuna or Dorado with your name on it!
We can't wait to come back in March/April with the family and make even more incredible memories.
Kent & Lisa
 February 2015
Being boaters and loving the water, we dreamed of a Caribbean adventure in the British Virgin Islands to celebrate our beloved husband and fathers 70th Birthday. Our dreams came true on the sleek, elegant, relaxed and secure Xenia catamaran.
The Yacht, salon and staterooms far exceeded our expectations and were more like you would find on a boutique cruise ship, linens and amenities superior. the lustrous teak wood throughoutt glowed with a honey hue, rich and warm,
as were the crew.
Gareth the perfect host and admirable and steadfast captain, keeping us in calm and silky azure waters and picturesque beaches and ports, no cruise ships in sight.
Kristine, the consummate hostess and chef, created epicurean delights from scratch with just the right fusion of sweet and savory, perfect medley of nutrition and flavor. The table was set elegantly each night with an array of colors and designs.
We expected a great trip but they both went above and beyond even taking underwater pictures of the family with colorful sea life making our experience a Magical Trip of a Lifetime.
Thank you, Champ, Peggy Sue, Casey, Christine, Gary, Juliet, and Emily
 New Year 2014/15
Me and my family are one day back from the best family vacation of my life and want to thank you for your help in arranging a fantastic trip and connecting me & my family with Gareth and Kristine. Having never chartered a boat before, I wasn't sure what to expect but what I do know is that Xenia is a tremendous yacht and much more importantly, Gareth and Kristine are tremendous. They are true professionals who struck an incredible balance of knowledgable boat captains, safety marshals, incredible chef (Kristine in particular) sailing instructors, friendly yet firm when needed with kids, and generally very conscientious about all of our needs from drinks, to scuba, to water skiing, etc. We all would want them to join us in any game or event as they were so fun and interesting to be with. While always flexible, they also always had a good plan in place with several options depending upon our prevailing desires and energy level. Additionally, I had a personal goal of learning some sailing details and Gareth would continue to ask me to participate and show me aspects of sailing this beautiful boat when I'm sure it would have been easier to do it all himself. 

While I haven't chartered before, I am also in the service business and I know they delivered tremendous, world class service and as such I hope I have the opportunity to work again with you and your company and will hope to have the good fortune of seeing Gareth & Kristine again in the future. 

Many thanks,
Topher Callahan

 Christmas 2014
We are out of words to express what a wonderful charter you put us in. First Gareth and Kristine are extremely fun and professional. Never before have we had 17 exquisite meals in a row. What an accomplishment!
The boat has a beautiful teak interior and is kept in mint condition.
Activities were numerous and fun for both generations in our family.
Each of us has voted for their individual preference:
Flexibility in schedule (Vanessa)
The anchoring locations (Maria)
The views (Ana)
The sailing part and helping with the sails and anchor (Nick)
The Soggy Dollar (Olivier)
Water skiing and hiking in Salt Point (Helena)
Kit surfing and the Bitter End (Phil)
Seeing the entire family so very happy (Jose)
We could go and on but we don't want Gareth to get too much of a big head, ha.
Thanks for creating these memorable moments for all of us
We wish you the very best
From all of us
The Cortes family

 December 2014
We loved everything about Xenia: The boat design, the comfortable cabins, the sailing, the lovely beaches, and above all, Garreth & Kristine attention and friendliness. Every moment was perfect, the food was wonderful, words cannot describe this magical week. 
We will be there again next May and it is our intention to repeat the cruise on December 2015.
This was the best of our eight catamaran trips.
Best Regards,
Fernando, Marcia, Antonio, Irma, Marcio, Claudia, Luiz & Lucia.

 JANUARY 2014
Gareth and Kristine,
Each time we come back to the BVIs we think, how could this trip top the last one. Well you succeeded. The food stood out as the best EVER! The sailing on perfect winds was the best ever! Because everything was seen to by you guys we were truly able to relax, play games, and enjoy our family vacation. It is so difficult to disembark, but know that a little piece of each of us will remain with you. 
Thank you for helping me make this our best trip yet. Hopefully we will see you again soon. Until then, our prayers and best wishes for safe travels and a wonderful life
Your friends,
The Texas C's. 

 JANUARY 2014
Kristine and Gareth,
Our deep and sincere thanks for creating a spectacular memory of such a beautiful place. From Normal Island, Peter Island, New Years with you, and Anegada, it was all spectacular. 
The food, your skills and sailors and hosts, and all you did for us were much appreciated. 
Thanks, may fair winds always bless your way
Larry

 NOVEMBER 2013
Gareth and Kristine,
I found myself wondering how I could make all this wonderful adventure continue! You both are consummate professionals with great poise and style to boot. Karen and I will remember your great care an attention for many years to come! It is rare to not have any complaints about a vacation…everything was perfection. Kristine, your culinary creations could stand with the best restaurants and your attention to individual preferences was superb. Gareth, it was very clear early on our voyage that you love sailing and are an expert in all aspects of seamanship. You guys are a great team and we felt like royalty under your care. We love you guys
Bill and Karen
(and what a cute couple you are!)
30/11/13

 NOVEMBER 2013
Gareth and Kristine,
Thank you so much for an amazing trip! Gareth's love of sailing was wonderful to see and made this a true "sailing" adventure. Kristine's contribution to the trip was unbelievable- the meals coming from the galley-everyone- was beyond wonderful! Especially considering she had to deal with two children (that eat nothing), a vegetarian, and a gluten free in the group- truly an amazing feat! 
Thanks both of you have made this wedding trip for my son the best we have ever had.
Ric and Sue

 Wedding charter
NOTE: Guest comments from last boat Gareth and Kristin were on by the name of BLISS.

Thank you so much for such an amazing trip!!!It was so much better than we could ever have hoped for, and not just because it was Marc and Mel's wedding, but in large part because of your expertise in matching each group with the right boat and crew. All the yachts were spectacular and everyone really praised their crews all week. However, I need to put in a special plug for Gareth and Kristine on Bliss.

Ric and I have done several charters in the past, from bareboating to crewed and NONE came close to this trip. From the moment we stepped on board all our expectations were surpassed.

Though Bliss is a gorgeous and extremely comfortable catamaran, my biggest praise for the success of the trip goes to the crew themselves.

Gareth takes great pride in Bliss and keeps her in pristine condition. He really went out of his way to make everyone feel safe especially while trying new activities….my young grandchildren and a close friend learned to snorkel on this trip and he was always right alongside with the dingy to ease their fears. His love of sailing and knowledge of the area made for a great trip. We routinely sailed more than the other boats in our group and he brought us to a few different spots he knew we would enjoy when the itinerary with the others allowed. One night we moored at Monkey Point….we were the only ones there, the stars were spectacular and snorkeling was the best of the trip.

Poor Kristine had her hands full with our group (2 children that eat nothing, 1 vegetarian, and 1 no flour and sugar).Somehow she came up with the most amazing meals that fit our restrictions and that EVERYONE loved, even the kids ate better than I have ever seen. Ric was particularly impressed with all the desserts and sweet extras she made… like greeting us with fresh chocolate chip cookies when we came back from a swim. Kristine is truly a top notch chef and her meals were better than most high end restaurants. I really wanted to take her home with me.

But most of all EVERYTHING they did for us they did so willingly and with a smile….like it was no problem at all. They were both great with the kids and us oldies too.They just made us all feel special and pampered all week. Gareth and Kristine are an exceptional team and are a great asset to Bliss.


 NOVEMBER 2013
Dearest Gareth and Kristine
Thank you is an understatement. You both treated me like royalty and were so patient and kind looking after the non sailor and at time non swimmer. I will have to go to the tailor to add inches to my waistband the food sun, wind, and laughter will be remembered always. Thank you both ever so much and I thank the yacht, she is a lovely ship and she kept us safe and sound. 
Happy sailing, love you all
Colleen 

 NOVEMBER 2013

Kristine and Gareth
Thank you for your tireless efforts, perfect route, perfect food, perfect dives, perfect snorkeling, and perfect chef. 
Please take care of our heart, it will be with you….
Certainly we will return and we will never forget this wonderful trip
Best Wishes, Love, Be happy and Take Care
Sergio 

 NOVEMBER 2013
Kristine and Gareth
Thank you for the wonderful trip. Everything was perfect! The itinerary, the food, the activities, and especially the attention and care we received. We will see you next year
Marci S.

  JULY 2013
Gareth and Kristine
Thank you for an awesome week! Both of you went out of your way to take special care of us. The children will never forget the tubing, cooking, snorkeling, kayaking, and detailed attention they received. We wouldn't think of chartering a boat again without you. Great Lobster!!!!!
See you next time
Anna and Jose
VIDEO
YACHT PHOTOS