Yacht Charter Details
Westport Yacht Charters
Charter This Yacht
101 ft / 30.8 m
│
5 CREW
│
FROM $49,000
│
8 GUESTS
101ft (30.8m)

21ft 0in (6.4m)

5ft 11in (1.8m)

2010

Hargrave

Hargrave

8

Captain Paul Hannum

2019

15kts (28kph)

None

United States

2x Caterpillar diesel at 1675hp each

No

Yes
The boat  received a complete interior refit in 2013 and more updates in 2018. Accommodation is for eight guests in four cabins consisting of a main-deck master suite with a king size bed, a full-beam VIP suite, again with a king size bed, and two twins convertible to queen size doubles. All cabins have entertainment systems including flat screen televisions and all have full en-suite bathroom facilities.

Captain: Paul Hannum
Having grown up in Maryland, Captain Paul spent much of his childhood exploring her coast and waterways. Paul is a hard worker, detailed oriented and trustworthy, his main concern is the safety of your group and of course making sure you have a great voyage.He has sail the US East Coast & ICW – New England to Florida Keys; Near Bahamas, Abacos, Bimini & Exumas; Erie, Oswego & Welland Canals; US & Canadian Great Lakes.
Captain Paul is an accomplished sport fishing tournament angler, so the chances of you catching fish for dinner is very good!
Stewardess: Francis Romero
Stewardess - Francis Romero
Francis Romero calls Miami home but originally hails from beautiful Venezuela. With a strong background in hospitality and events planning, Francis' attention to detail, passion for life & taking care of others makes her the ideal person to ensure those aboard CynderElla have an exceptional experience. Her joyful attitude makes everyone feel welcome and her towel & napkin art will make you smile.
Chef: Patrick Wilson
Chef Patrick was born and raised in Central Missouri. At the age of 15 he took his first job in the culinary industry. He worked in a commercial bakery producing artisan breads for restaurants and grocery stores in his community. He attended Chicago's Le Cordon Bleu program at The Cooking and Hospitality Institute of Chicago (CHIC). At the age of 19 Patrick took a job at one of Chicago's most respected Michelin Star rated restaurants called NAHA where he spent 4 years working under local celebrity Chef Carrie Nahabedian. In 2014 Chef Patrick picked up and moved to St. John in the US Virgin Islands. It was here that he became the Chef de Cuisine at one of St. John's best-known restaurants La Tapa, in Cruz Bay. At La Tapa Patrick learned to utilize local island produce and incorporate traditional Caribbean flavors into his style of cooking. It is from Chef Patrick's extensive travels throughout Europe and South/Central America that he has developed his unique style of cooking. Chef Patrick is always excited to share his talents, because for him there is no greater joy than bringing people together around a table to enjoy each other and great food (with a couple of drinks of course).
Stewardess: Bailey Fleming
Bailey Fleming was born and raised in South Central Illinois where she grew up on a large lake boating most of the summer with her family. At the age of fourteen, she was actively sailing in various destinations including the Virgin Islands & Caribbean and has since achieved multiple Mariner Certifications. She is an avid traveler and always keen on new adventures. Bailey's vibrant and outgoing personality will make you feel right at home and her signature cocktails are sure to keep the party going.
Mate: Jack Hannum
Living in Maryland just outside of Annapolis, Jack grew up boating and fishing on the Chesapeake Bay and out of Ocean City, Maryland aboard everything from kayaks & center consoles to large tournament fishing boats & motoryachts. His enthusiastic outgoing personality and attention to detail ensures a wonderful time for all onboard. Along with yachting, he has worked on private & charter sport fishing yachts and enjoys various water sports. Jack has a strong passion for sport fishing, which he enjoys sharing with guests.
CYNDERELLA Testimonials
Doug H.
The CynderElla has it all…a tremendous crew,fabulous food, beautiful accommodations, and water toys for everyone!  Captain Paul and his crew made us feel rightat home and safe at all times aboard the comfortable, well-designed yacht.  They were always professional.  They listened to what we wanted to experienceand made it happen.  The Seabobs were somuch fun and the elliptical style stand up paddle boards were amazing. We hadnever seen such a thing and judging by the looks we received from everyone thatsaw us, they hadn't either. It was a wonderful vacation for our whole family.
Jack & Meryl A.
A truly first-class yacht, the CynderEllaexceeds our expectations in every way. That's why we come back every year. The food could challenge any five-star restaurant.  We are overwhelmed with Captain Paul'shospitality.  He knows all the bestplaces to visit, anticipates all our needs, and makes each trip a uniqueexperience that we will never forget. Tyler, Jack and Ashley also ensure that the boat is in tiptop shape atall times. 
Harvey and Shari G.  
We have chartered the CynderElla twice.  They have been some of the best and mostrelaxing weeks we've ever enjoyed on vacation. The crew treats you like you ownthe yacht and the accommodations are the best we've experienced on any yachtwe've been on. There is nothing quite like enjoying a sunset on the water.
Rick Z.
Being aboard the CynderElla in the Abacos wasthe perfect way to spend a week.  Theyacht is spacious and meticulous, while still being comfortable.  Captain Paul and mates, Tyler and Jack, madeus the priority.  Their attentiveness andefforts to meet our needs was above and beyond our expectations.  Our fishing trips aboard the 30-foot GradyWhite "Reel Prince" will always be memorable. Fresh fish tacos are the best!
Carl N.
 I couldn't plan a more perfectgetaway.  From the moment we boarded, wecould tell this was going to be one of the best vacations we have had.  Captain Paul runs an amazing yacht.  He's friendly, attentive, andaccommodating.  He was focused on safetywhile still making sure we had all the fun and thrills we were after.  The food is unsurpassed.   All of our dietary requests were not onlymet, but Captain Paul and Ashley amazed us at each meal.  Also, what better way to work off all thosemeals than using the elliptical and weights onboard!  They have thought of everything you need forall the comforts of home.
Bob K.
 Ourcharter onboard the CynderElla was exceptional. The Captain and crew's attention to detail was unrivaled.  Captain Paul showed us some of the mostmagnificent places the Caribbean has to offer. While the crew, Ashley and Tyler kept everything inside and outsideimmaculate.  It was the perfect place tounwind.  We especially loved the fishingon the brand new 30-foot, Grady White Center Console.
Dana G.
 Captain Paul and his crewaboard the CynderElla made it a simply, fantastic experience in every way.  It was a fun, one-of-a-kind, trip of alifetime!  #besttripever
Arnie P.
 Every day onboard theCynderElla was a different adventure.  Nomatter what we wanted to do Captain Paul and his crew found a way to make ithappen, all while keeping the boat in pristine shape and serving us meals tothe highest standards.  We are lookingforward to our next trip!
Elliot S.
 Spending a week aboard theCynderElla in the Abacos was magical! Nothing can compare to the seemingly endless things to do…from CaptainPaul and his crew knowing exactly the right fishing spots, to every water toy imaginable(Seabobs, Wave Runner, kayaks, water skis, paddleboards), or just lounging inthe hot tub.  They made sure we had allof the food and drinks we liked on board and everything was cooked toperfection.  It was an amazing week thatfar surpassed any other vacation we have taken
Games console, Satellite TV, Wi-Fi, 29ft/9.1m Grady White 600hp, 14ft/4.3m Nautica 60hp, Assorted water toys, Beach games, Free weights, Inflatable floating island, Paddleboards multiple, Tube - towable, Wave runner, BBQ, Exercise equipment, Light fishing gear, Jacuzzi on deck
Not Insured, Brownies third lung, Diving by arrangement, Seabobs multiple, Snorkelling gear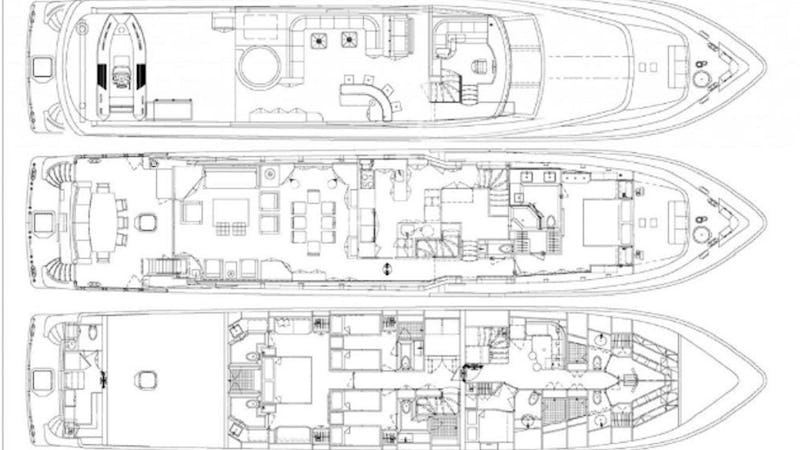 We have identified 3 similar yachts. Would you like to inquire on them as well?
Available in 2 areas
Guests 8
110ft 3in / 33.6m
From $49,000
Available in 2 areas
Guests 8
100ft 1in / 30.5m
From $49,000
Available in 2 areas
Guests 8
105ft 0in / 32m
From $49,000