Yacht Charter Details
Westport Yacht Charters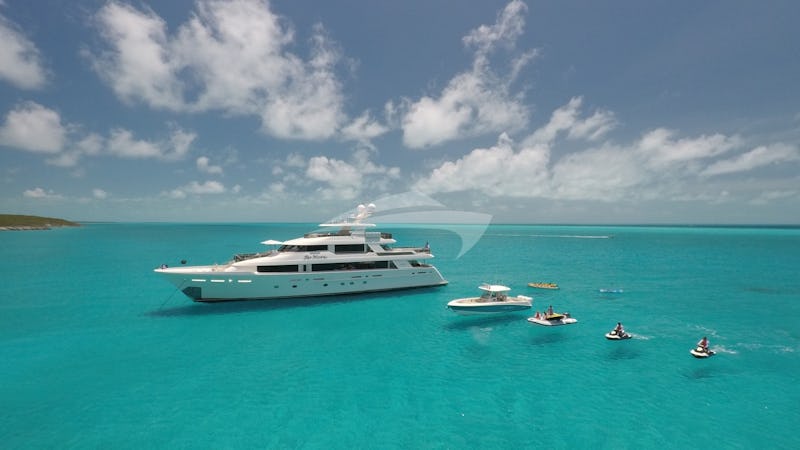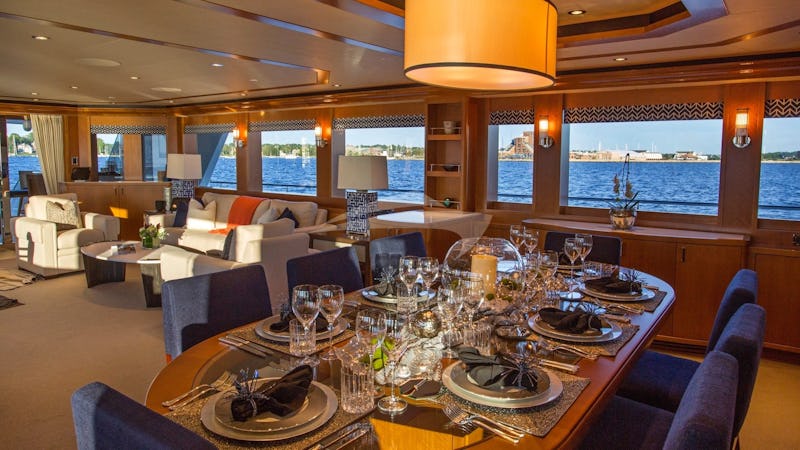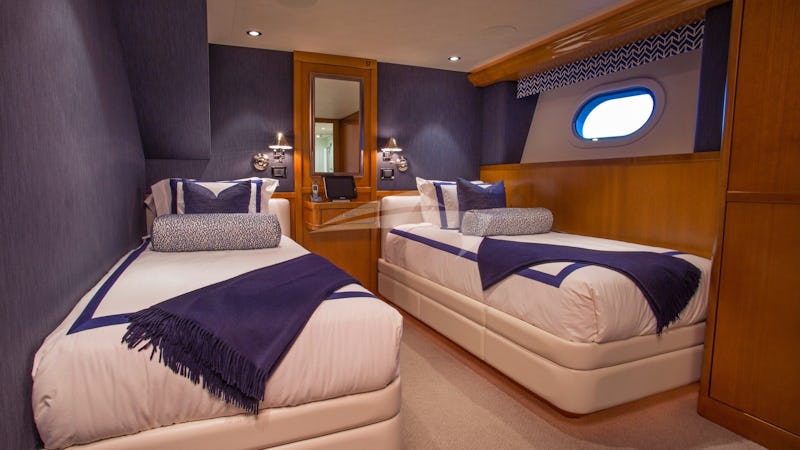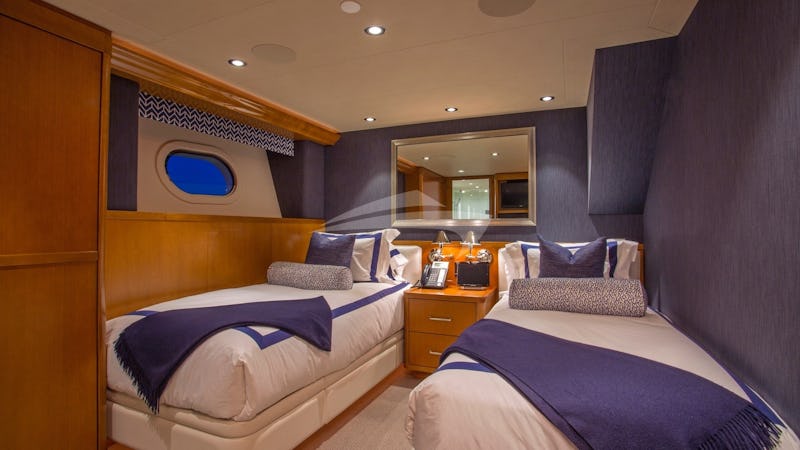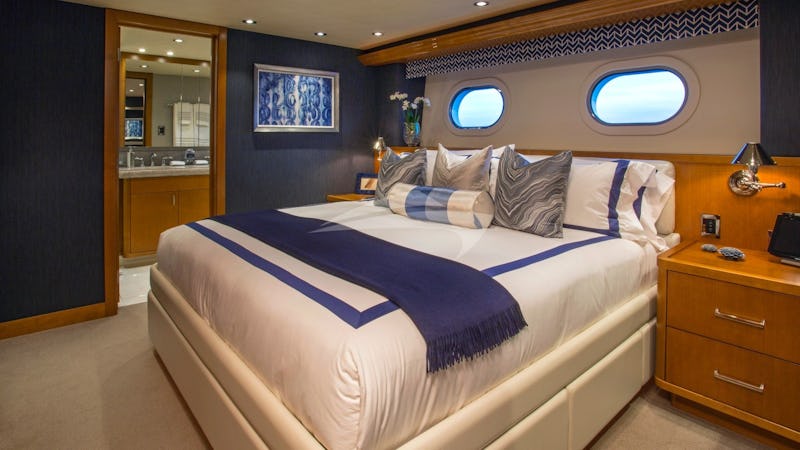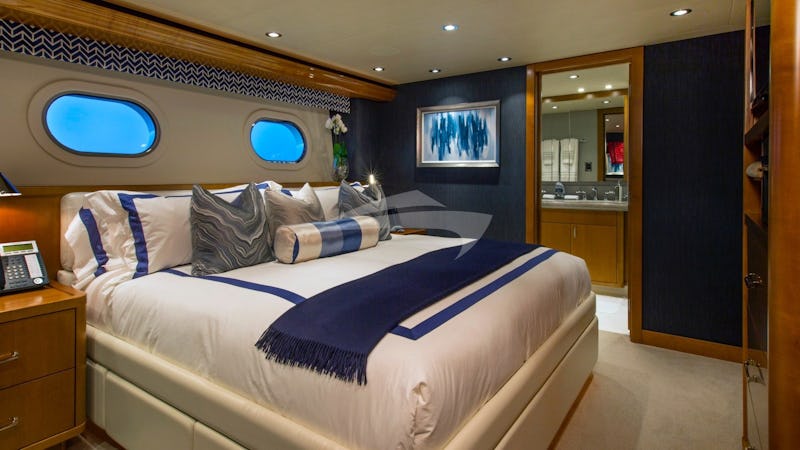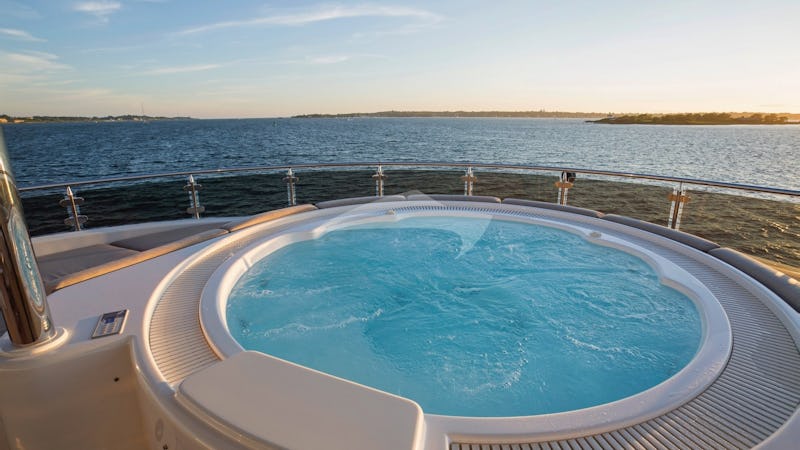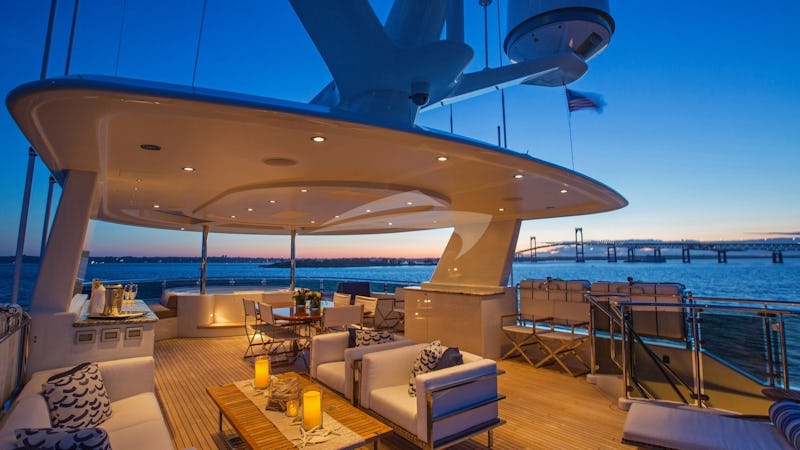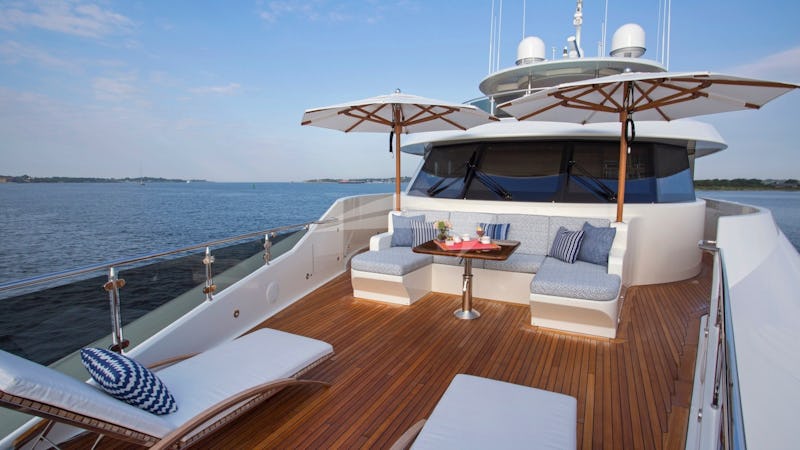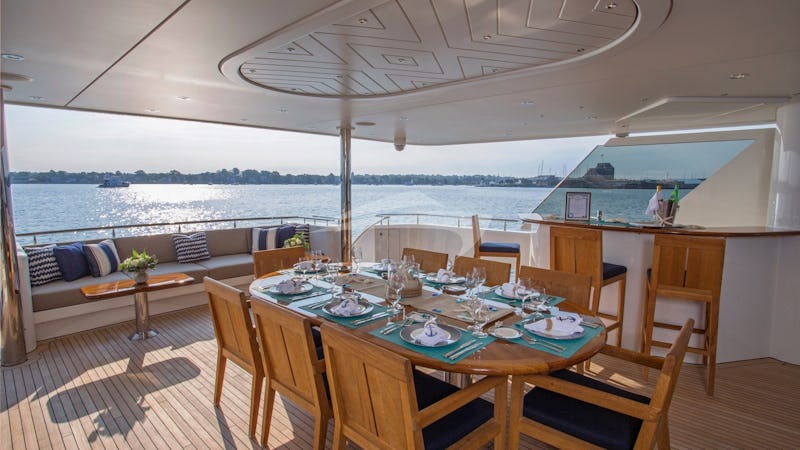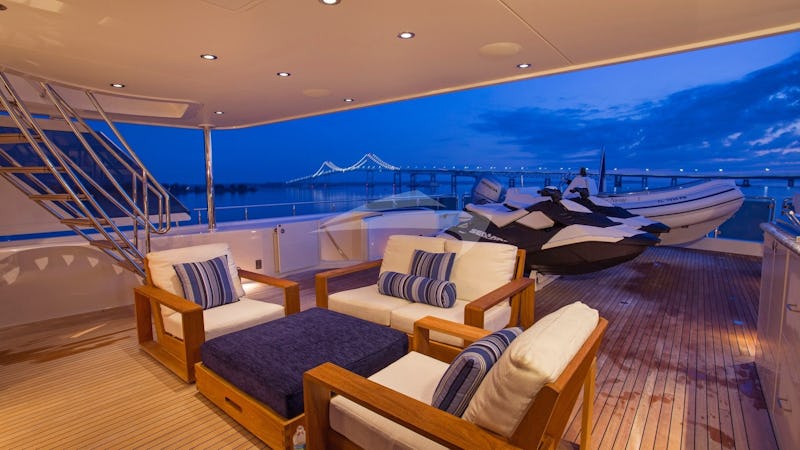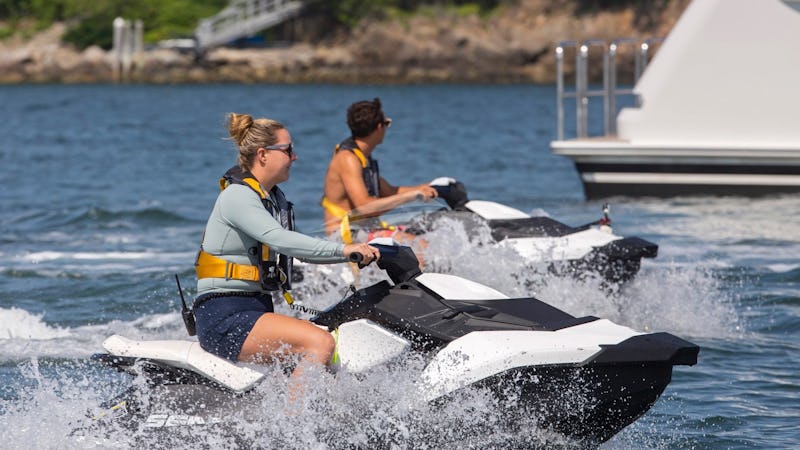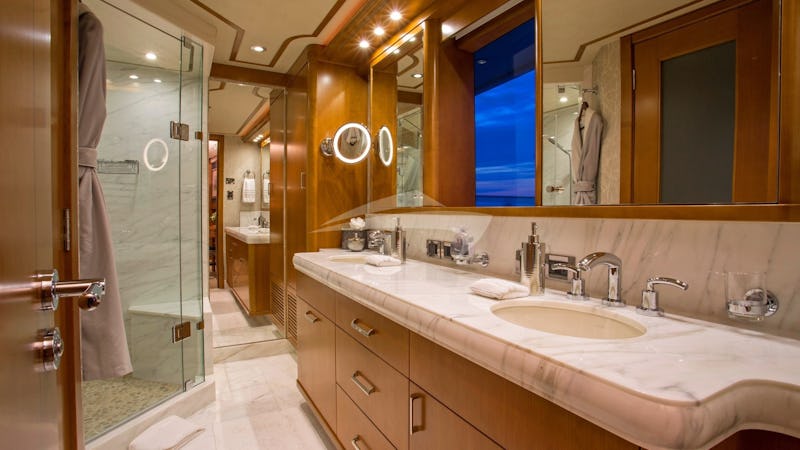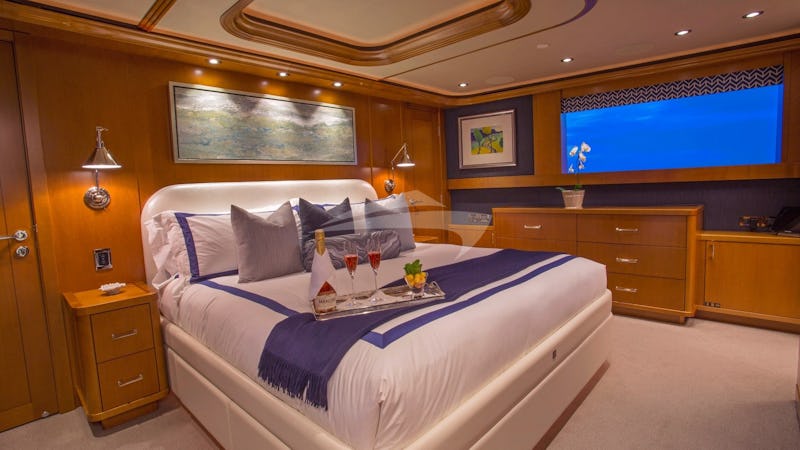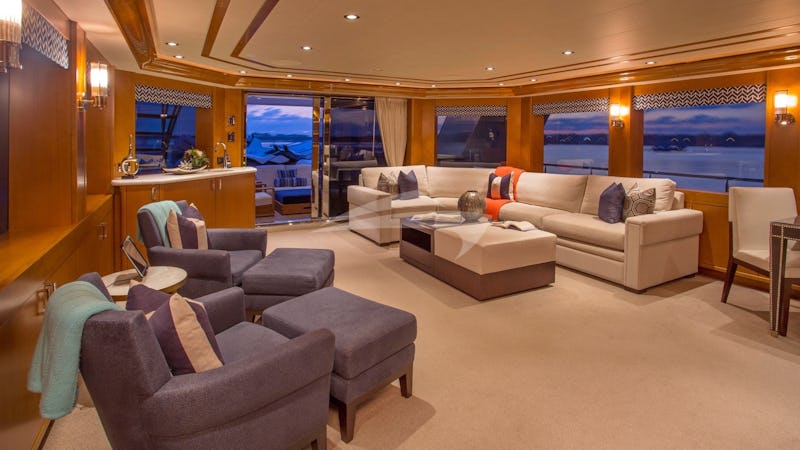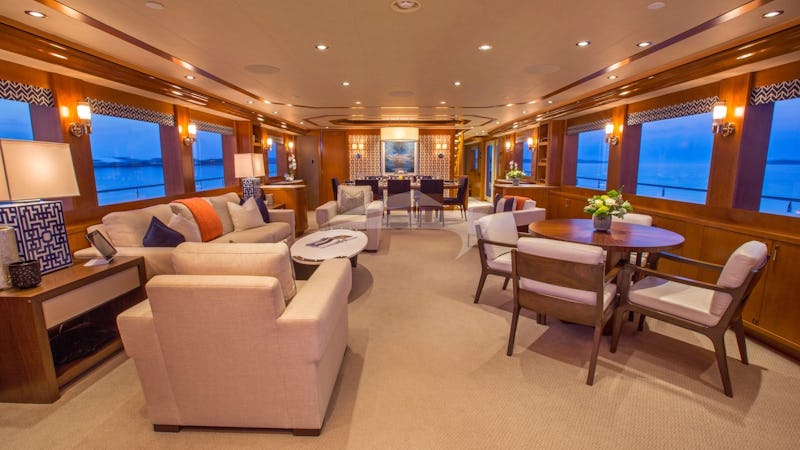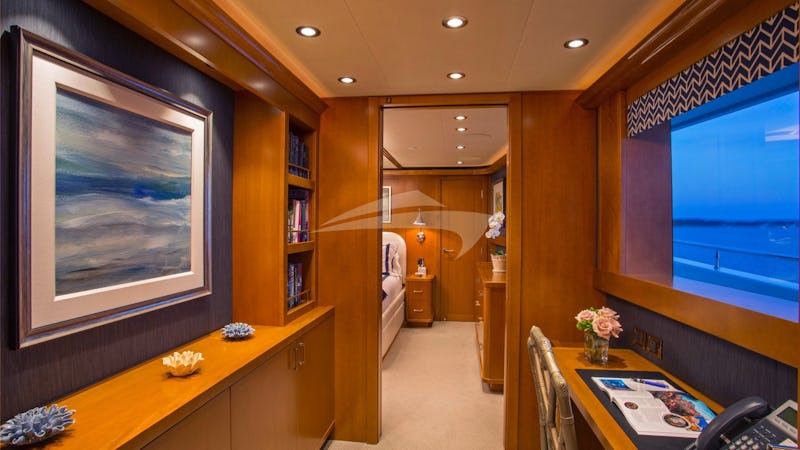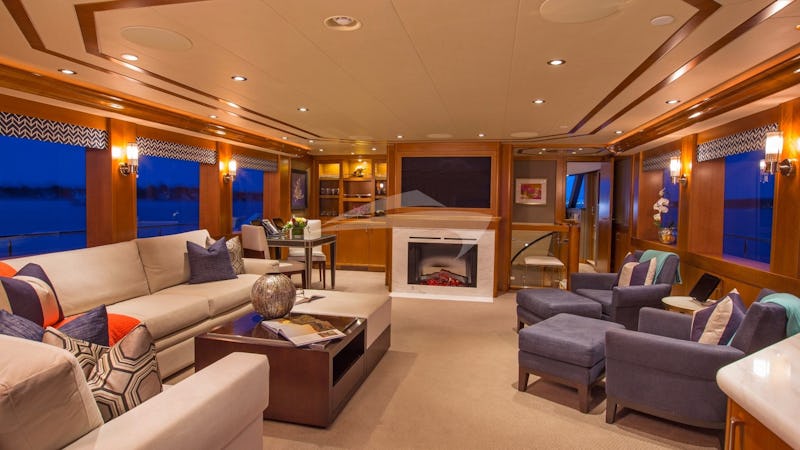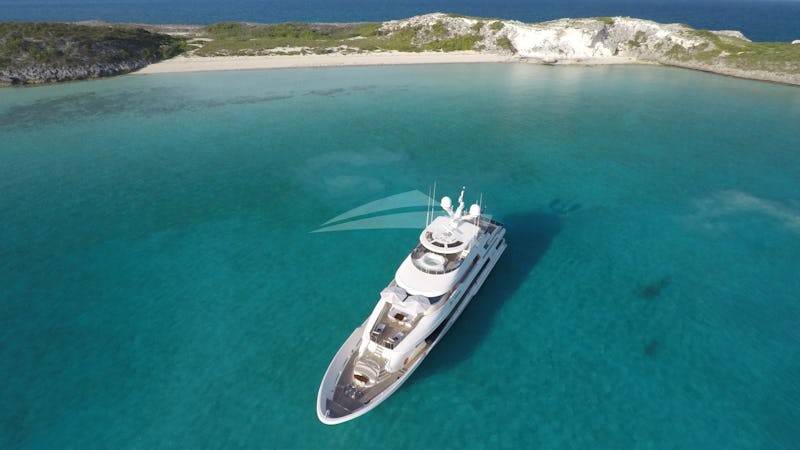 Charter This Yacht
129 ft / 39.6 m
│
7 CREW
│
FROM $125,000
│
10 GUESTS
129ft (39.6m)

25ft 11in (7.9m)

6ft 7in (2m)

2014

Westport

Westport

10

Captain Jason Bacon

2017

13kts (24kph)

At anchor (0 speed)

Marshall Islands

2 x MTU/DDC 12V 4000 (2895 HP each)

No

Yes
Master Stateroom:Main Deck, forward: Centerline king bed facing aft with two night stands, dresser, vanity with mirror, safe, and his-and her-walk-in closets. The ensuite features a private head and bidet locker, a spacious shower, and twin sinks.Entertainment center with 42" Blu-ray TV, DVD/CD, iPod dock, and surround sound. There is a study adjacent to the Master Stateroom.
VIP Stateroom(1): Midships, lower deck to port: Centerline king bed with two night stands,dresser, safe, and closet. The en-suite features a head and bidet, twin sinksand a shower. The entertainment center has a 32" Blu-ray TV, DVD/CD, iPod dock,and surround sound.
VIP Stateroom(2): Midships, lower deck to starboard: Centerline king bed with two nightstands, dresser, safe, and closet. The en-suite features a head and bidet, twinsinks and a shower. The entertainment center has a 32" Blu-ray TV, DVD/CD, iPoddock, and surround sound.
Twin Guest Stateroom (1):Midships, lower deck to port: Two single beds with night stand, dresser, and closet.The ensuite features a head, sink and a shower. The entertainment center has a26" Blu-ray TV, DVD/CD, iPod dock, and surround sound.
Twin Guest Stateroom (2):Midships, lower deck to starboard: two single beds with night stand, dresser,and closet. The ensuite features a head, sink and a shower. The entertainmentcenter has a 26" Blu-ray TV, DVD/CD, iPod dock, and surround sound.
One of the twin guest staterooms has the option to convert to a 4th King.
Captain: Jason Bacon
Previous Yachts: M/Y SMERALDA (253ft) Dubai and Worldwide itinerary, M/Y ONE OFF (201ft), M/Y One More Toy (157ft)
Jason started his life on the water at the age of 5 racing small sailing dinghies. After racing for a number of years he taught these skills at the Olympic sailing school in Wales. At the school, he passed his Master of Yachts unlimited and with such credentials was able to join the Americas Cup Yacht, Stars & Stripes. With a passion for travel working on super yachts seemed a natural progression. Since then he has worked on multiple yachts and has 17 years of experience in the industry. As a captain, he oversees every aspect of the yacht's operations ensuring safety at all times and a comfortable cruising experience. He is adept at crew relations, continually maintaining a strong team environment to create the most memorable and service-oriented experience for the guests. Hobbies include: Free diving, wake boarding, sailing and kayaking
Chief Engineer: Josh Proctor
Previous Yachts: M/Y Rhino, M/Y Mia Elise, M/Y Exit Strategy
Josh grew up in Sarasota Florida where he developed a passion for boating at an early age. He began sailing dinghies as soon as he could, joining the Opti national team at eleven and continuing to race and coach before his beginning his yachting career. Josh is an avid fisherman and also enjoys traveling, diving, spearfishing, and other watersports. From repairing and maintaining his own boats and a fleet of coach boats, he developed an interest in all things mechanical which led him to pursue engineering. He has been in the yachting industry for 8 years in a variety of engineering roles earning his Y4 license with the MCA in 2019. Hobbies: Sailing, Fishing, Diving
1st Mate: Lindsey Semino
Previous Yachts: M/V Aqua Cat, M/Y Vista Blue
Lindsey was born and raised in Arizona. She previously worked as a trainer Jockey for a horse track but her love for the water convinced her to make a change into the maritime industry. She has been in the maritime industry ever since, 13 years now and counting. She gained much experience as a dockhand at a marina and from working at a boat & jet ski rental company. From there she decided to take her career further and worked onboard a dive boat while obtaining her captains license. With her passion of the ocean and determination to make every guest have a blast onboard, you are guaranteed to have a trip to remember onboard M/Y Far Niente!
Hobbies: Diving, kite surfing, wakeboarding, horseback riding, and traveling.
Chief Stewardess: Mary Joubert
Previous Yachts: M/Y Australis
Born in Savannah, Georgia and raised under moss draped live oaks of one of the southeast USA's low country gems- an island called Isle of Hope, Mary was influenced from an early age by the beauty of the ocean and its intra-coastal waterways. The vast marshes that give way to fertile estuaries became the playground of her childhood and there wasn't often a summer day that didn't involve launching any vessel available to explore the neighboring uninhabited islands. Convinced that the assurance of working outdoors was the chief criteria for furthering her education, Mary obtained a science degree in Biology and after university was employed by the International Riding Academy of Hilton Head, South Carolina, where one of her clients asked if she might be interested in a "change of scenery?" And a change it was, spending winter seasons in Asia or the Caribbean and summers in the Mediterranean. Mary now divides her time and work between the Equestrian and Yachting industries. She just recently finished a period of traveling sub- Saharan Africa working in a number of the continent's most popular horseback safaris. Her passion for conservation on land and sea is one that she enjoys sharing with guests and hopes to meet your every whim and desire where experiencing your pristine surroundings are concerned. Hobbies: Diving, paddle boarding, fishing and she soon hopes to graduate from wake- boarding to Kite boarding.
2nd Stewardess: Danielle Acierno
Previous Yachts: S/Y Knickerbocker, M/Y Mimi, and M/Y Eccentric
Danielle grew up on the south shore of Long Island, NY where she spent summers boating, crabbing and clamming on the Great South Bay. While attending Stony Brook University pursuing her degree in English, she began working at Sailors Haven Marina on Fire Island. It is there that she fell in love with the boating industry and knew that working in and around boats is where she belonged. She spent the next six years working at different marinas from Fire Island to Montauk. Upon graduating college Danielle spent a year traveling through Latin and South America. She spent six months teaching English as a Second Language in Costa Rica and had the privilege of traveling to Nicaragua, Panama, Peru and Bolivia. Her zest for travel and her prior boating experience made joining the yachting industry a perfect fit. Danielle joined the yachting industry in 2018 and has gained experience on both motor and sailing yachts. Her easy-going attitude combined with her passion for service will put you at ease and ensure you have a wonderful experience!
Hobbies: Reading, water-sports, Yoga, running & traveling.
Chef (Rotation): Massimo Sica Sussini
Born in Florence, Italy Chef Massimo grew up around traditional Italian cuisine, this allowed him to learn baking and pastry skills at a very young age. In 1989 at the age of 15 he began his career in the restaurant industry. Since then he has held positions in several of the world's top restaurants, working most recently for Sheikh Mohammad bin Salman at the Royal Palace of Saudi Arabia.
Massimo is no stranger to working on yachts, he has held the position of Head Chef on the 295ft Super Yacht Lauren L, the 247ft Boadicea and the 237ft Legend, catering to past Presidents, Royal family and several of the most prominent names in Hollywood & Corporate America.
As a culinary trained Chef with over 29 years of experience Chef Massimo is able to custom design menus taking into consideration the dietary requirements and specific tastes and needs of his guests.
Everything in his galley is carefully made from the most basic of ingredients making all pastry and bakery, ice-creams and fresh pasta in house. Even the nightly turn down Chocolates don't escape his artisan hand with newly invented fillings formulated for each and every charter.
Chef (Rotation): Giovanni Bruno
Previous Yachts: M/Y Baraka 58m ,M/Y Suerte72m,M/Y Stella Maris 72 m
Giovanni is from Mondovì small town in the middle of Piedmont Italy.
He has maintained a passion for food since young age of 16 at which point he began his 5 years worth of schooling to become a culinary trained Chef.
He worked in both 5 star hotels and Michelin awarded restaurants before joining the yachting industry as Head Chef on some of the worlds grandest yachts.
With now 9 years in the yachting industry, he has catered to VIP's of many different nationalities and is able to satisfy the palate of all on board with a huge repertoire of delicious recipes and a variety of world cuisines. With a Strong knowledge of Mediterranean, Middle East and Asian cuisine plus the skills for intricate pastry and specialist breads, there's no requests that shall go unanswered.
Hobbies: Diving, Fishing, and reading
Bluray player all cabins, Cell phone, DVD library, Indoor audio system, iPod dock, Media movie server, Outdoor audio system, Printer, Satellite TV, Streaming online media, TV all cabins, TV master cabin, TV outdoor, TV saloon, Wi-Fi, 35ft/10.7m Boston Whaler 350hp, 17ft/5.2m AB 115hp, Assorted water toys, Beach games, Board games, Floating mats, Free weights, Inflatable floating island, Kayaks multiple, Kneeboard, Mono ski, Paddleboards multiple, Tube - towable, Wakeboard, Water skis - adult, Water skis - child, Water slide, BBQ, Beach umbrella, Coffee machine, Exercise equipment, Fishing gear - heavy, Fishing gear - light, Gym, Ice maker, Jacuzzi on deck, Special diets, Sun loungers, Swim platform, Water maker
Not Insured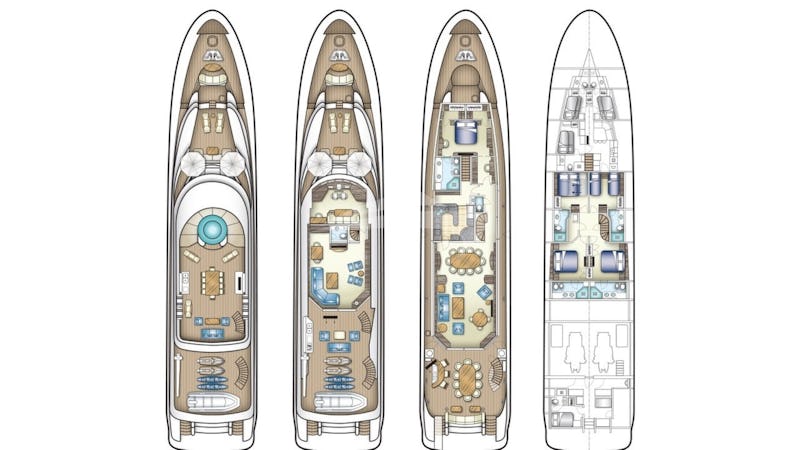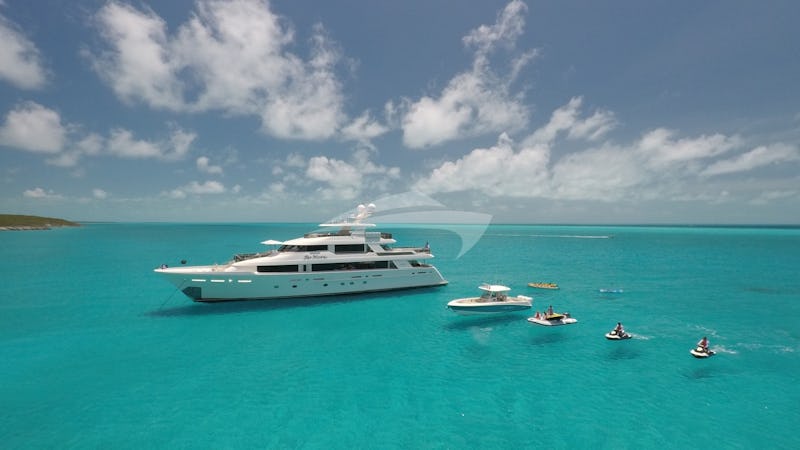 We have identified 3 similar yachts. Would you like to inquire on them as well?
Available in 2 areas
Guests 12
138ft 1in / 42.1m
From $120,000
Available in 2 areas
Guests 10
150ft 11in / 46m
From $120,000
Available in 1 area
Guests 12
142ft 1in / 43.3m
From $109,000