Yacht Charter Details
Westport Yacht Charters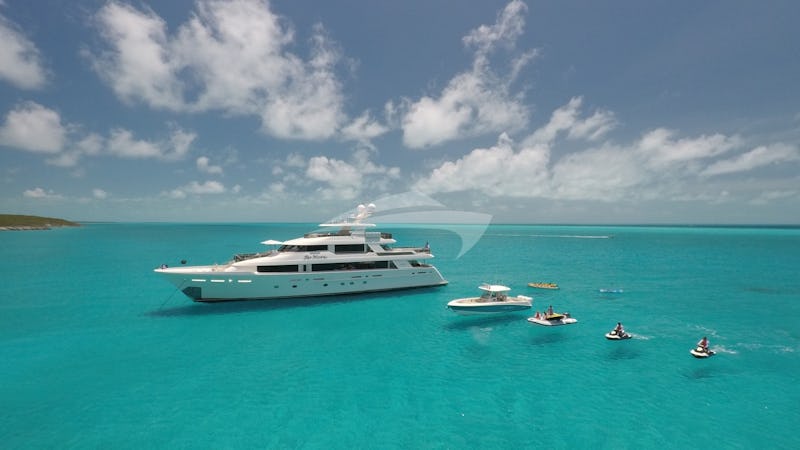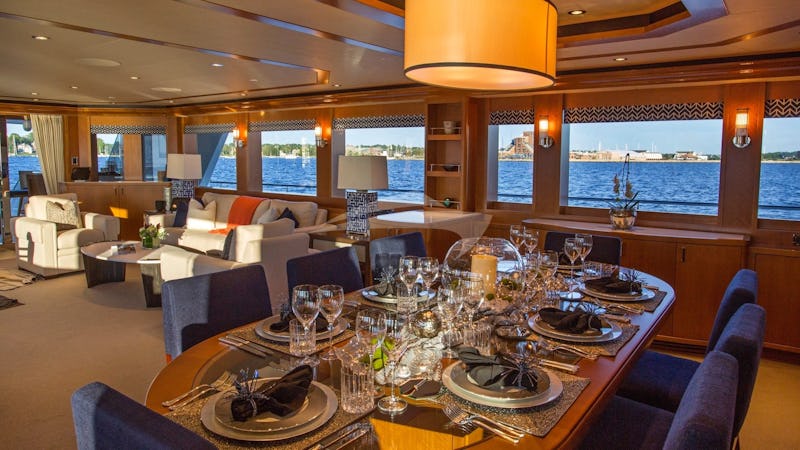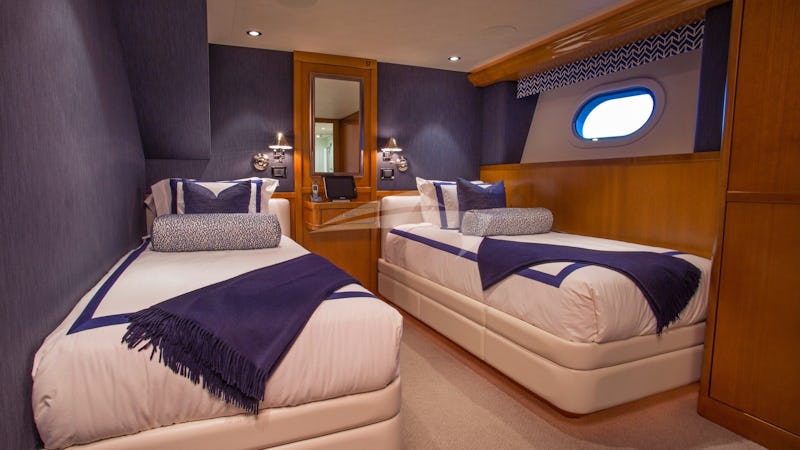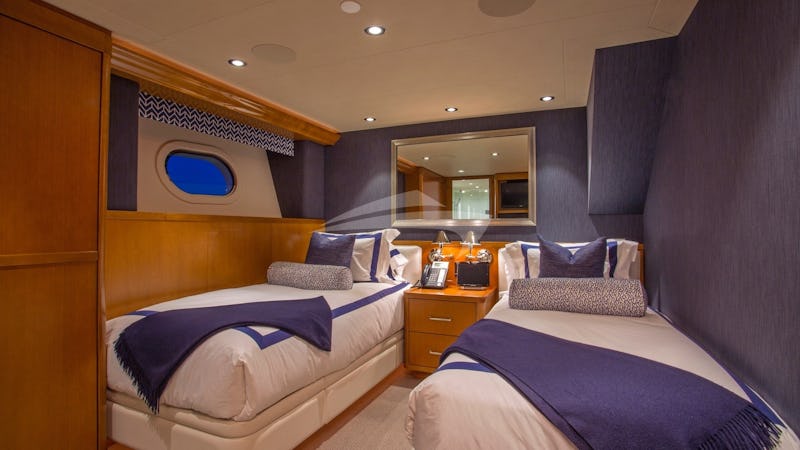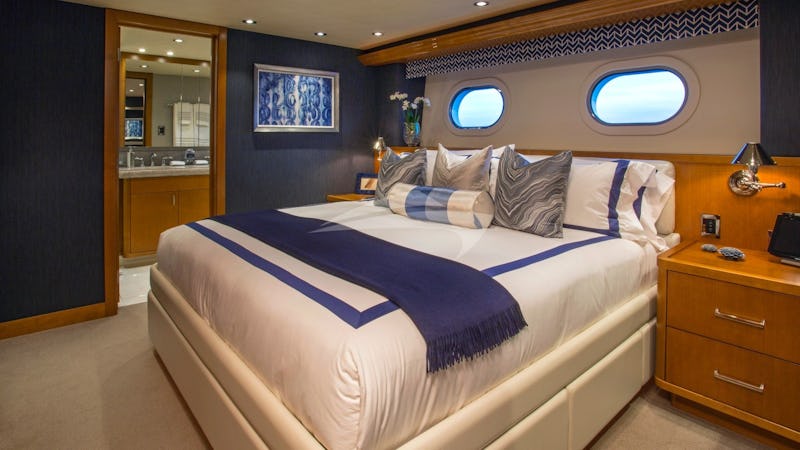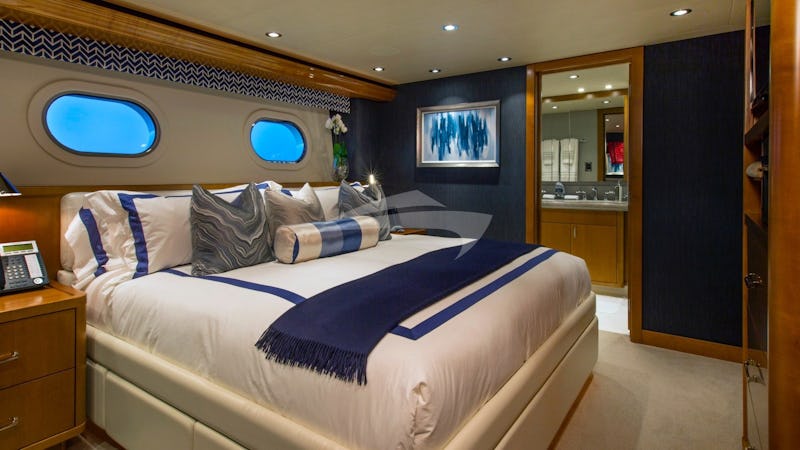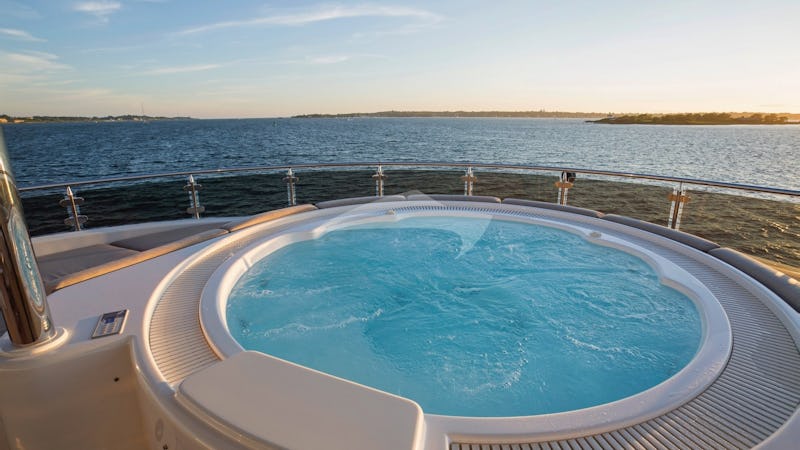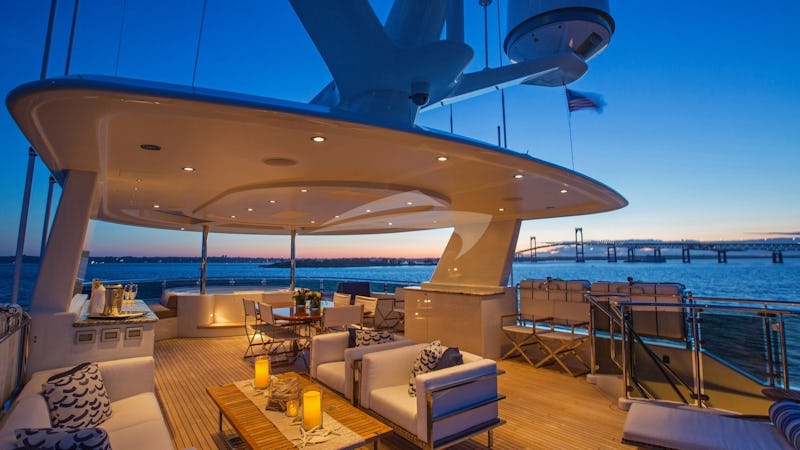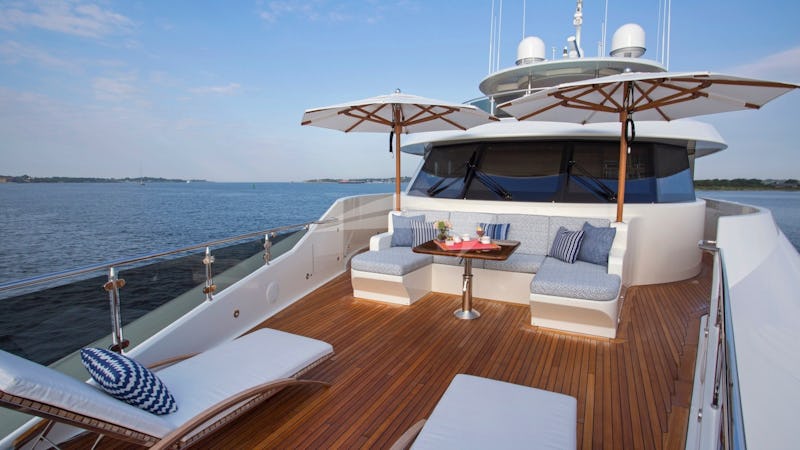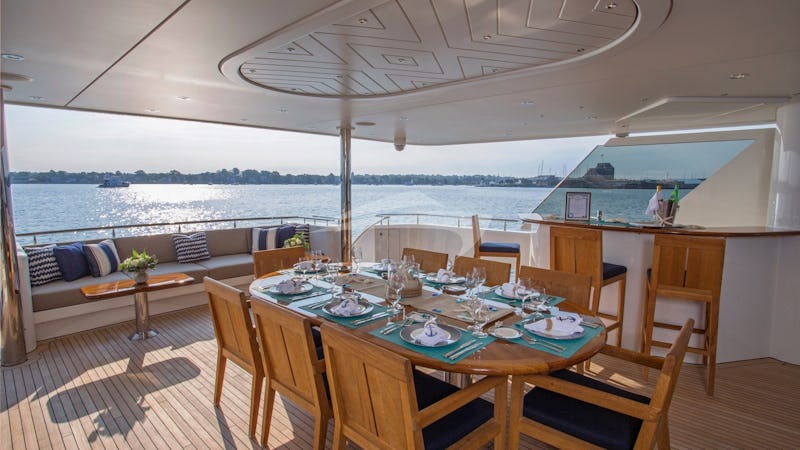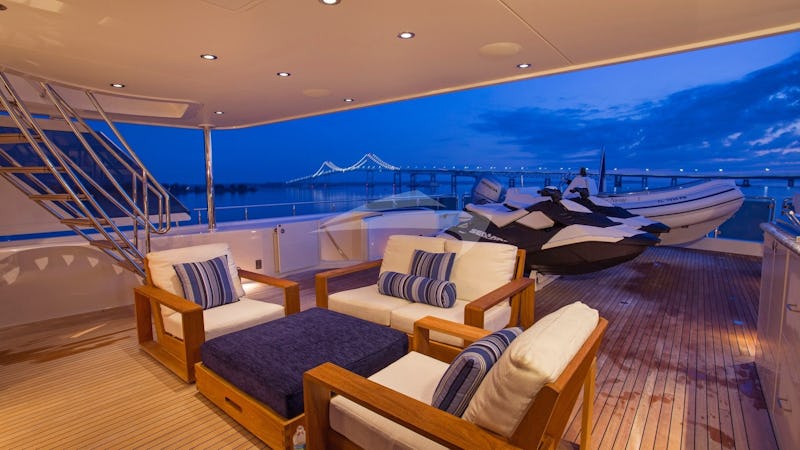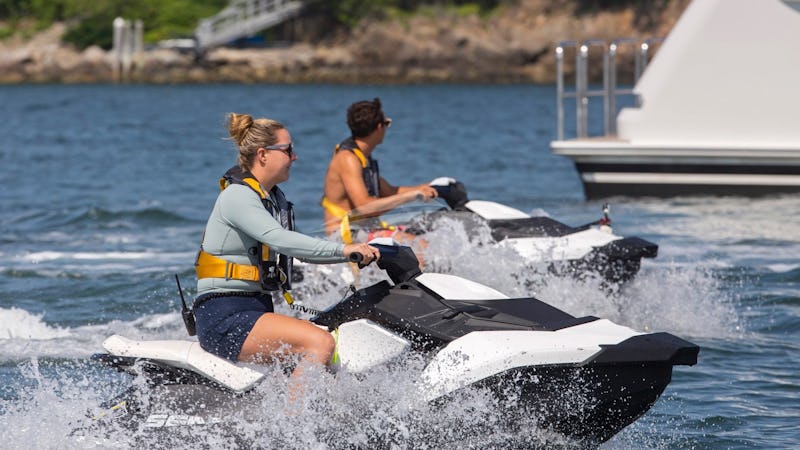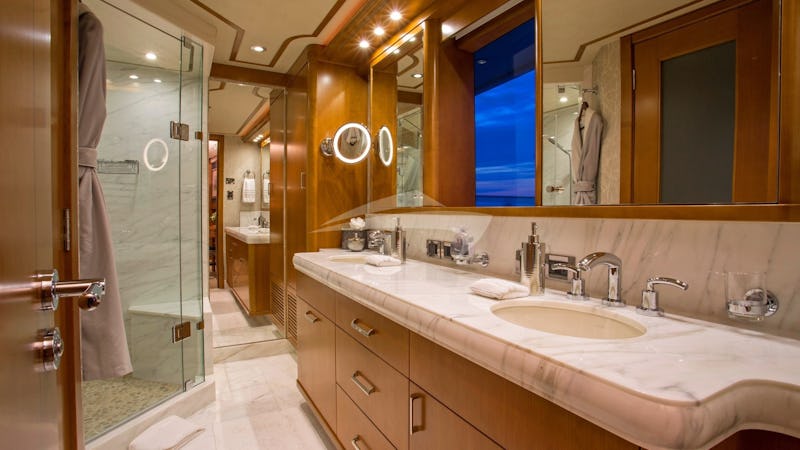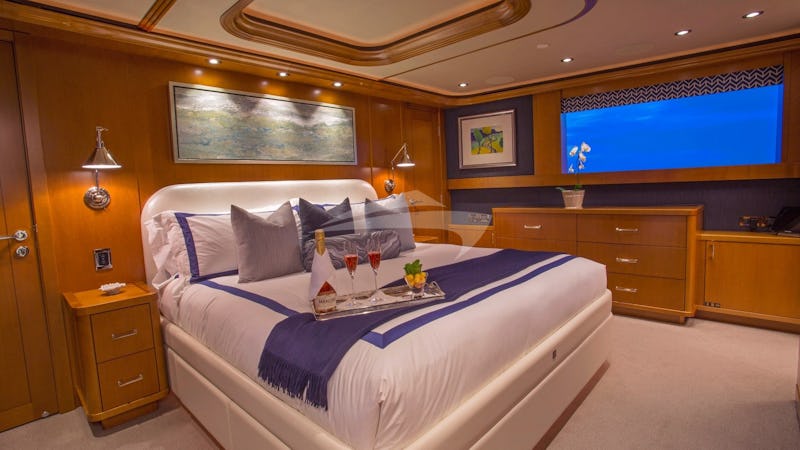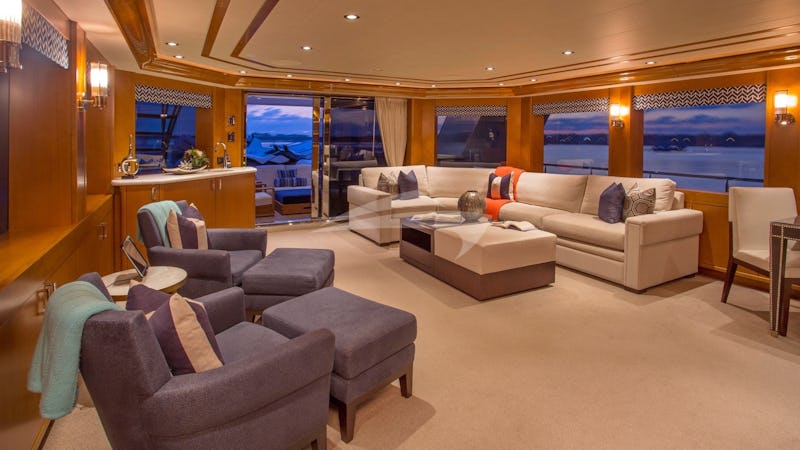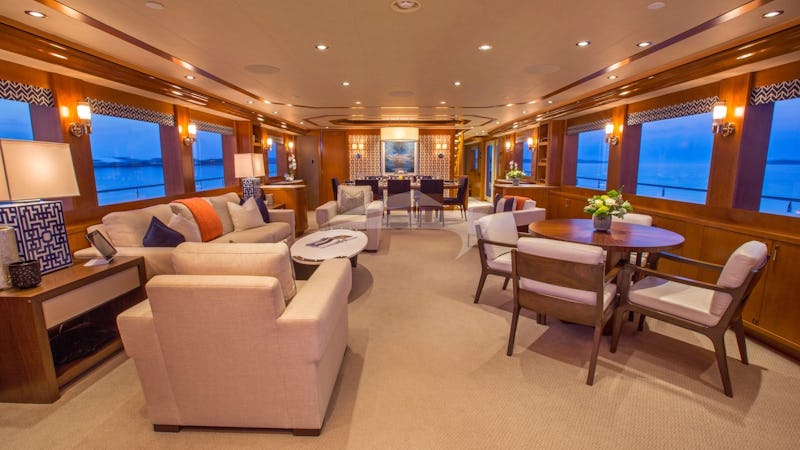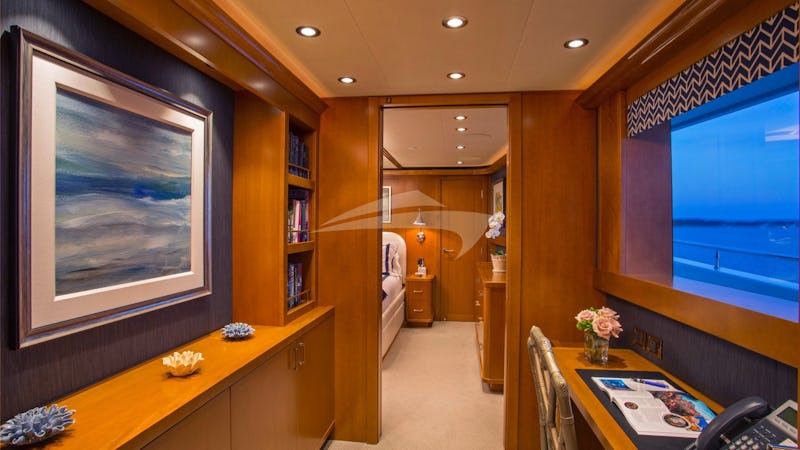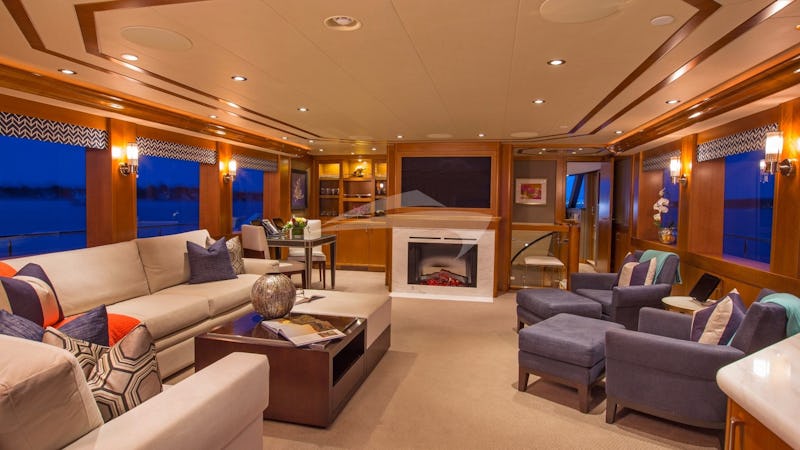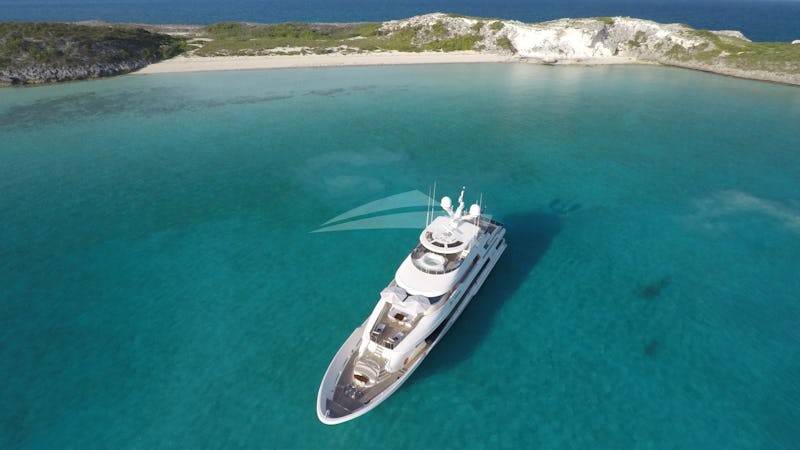 Charter This Yacht
129 ft / 39.6 m
│
7 CREW
│
FROM $135,000
│
10 GUESTS
129ft (39.6m)

25ft 11in (7.9m)

6ft 7in (2m)

2014

Westport

Westport

10

Captain Jason Bacon

2017

13kts (24kph)

At anchor (0 speed)

Marshall Islands

2 x MTU/DDC 12V 4000 (2895 HP each)

No

Yes
Master Stateroom:Main Deck, forward: Centerline king bed facing aft with two night stands, dresser, vanity with mirror, safe, and his-and her-walk-in closets. The ensuite features a private head and bidet locker, a spacious shower, and twin sinks.Entertainment center with 42" Blu-ray TV, DVD/CD, iPod dock, and surround sound. There is a study adjacent to the Master Stateroom.
VIP Stateroom(1): Midships, lower deck to port: Centerline king bed with two night stands,dresser, safe, and closet. The en-suite features a head and bidet, twin sinksand a shower. The entertainment center has a 32" Blu-ray TV, DVD/CD, iPod dock,and surround sound.
VIP Stateroom(2): Midships, lower deck to starboard: Centerline king bed with two nightstands, dresser, safe, and closet. The en-suite features a head and bidet, twinsinks and a shower. The entertainment center has a 32" Blu-ray TV, DVD/CD, iPoddock, and surround sound.
Twin Guest Stateroom (1):Midships, lower deck to port: Two single beds with night stand, dresser, and closet.The ensuite features a head, sink and a shower. The entertainment center has a26" Blu-ray TV, DVD/CD, iPod dock, and surround sound.
Twin Guest Stateroom (2):Midships, lower deck to starboard: two single beds with night stand, dresser,and closet. The ensuite features a head, sink and a shower. The entertainmentcenter has a 26" Blu-ray TV, DVD/CD, iPod dock, and surround sound.
One of the twin guest staterooms has the option to convert to a 4th King.
Captain: Jason Bacon
Previous Yachts: M/Y SMERALDA (253ft) Dubai and Worldwide itinerary, M/Y ONE OFF (201ft), M/Y One More Toy (157ft)
Jason started his life on the water at the age of 5 racing small sailing dinghies. After racing for a number of years he taught these skills at the Olympic sailing school in Wales. At the school, he passed his Master of Yachts unlimited and with such credentials was able to join the Americas Cup Yacht, Stars & Stripes. With a passion for travel working on super yachts seemed a natural progression. Since then he has worked on multiple yachts and has 17 years of experience in the industry. As a captain, he oversees every aspect of the yacht's operations ensuring safety at all times and a comfortable cruising experience. He is adept at crew relations, continually maintaining a strong team environment to create the most memorable and service-oriented experience for the guests. Hobbies include: Free diving, wake boarding, sailing and kayaking
Chief Engineer (Rotation): Jordan Jones
Previous Yachts: Fountainhead (288'), El Rey (115'), Moon Goddess (115')
Jordan was born in Tampico, Mexico but now is settled in Cabo San Lucas where he calls home, and he loves to spend time traveling around the Baja California peninsula.
He spent four years in a Merchant Marine School, after he graduated in 2015 he started his internship onboard commercial boats for one year while traveling around the Pacific side of Mexico and South America. After that he got his engineering ticket and moved into the yachting industry in 2017.
Hobbies: working out, chess and reading.
Captain (Rotation): Peter Martin
Previous Yachts: Arioso (130'), Lady J (142'), Unforgettable (100'), Mystic (150')
Born and raised in Johannesburg, Peter spent his vacations on the Cape, where he found his love for the ocean. After finishing high school, Peter decided to try his hand in the service industry and began working in fine-dining restaurants. After spending his early hospitality years overseeing the operations of various restaurants and nightclubs, he decided to venture into ownership with his childhood friend, and they found themselves opening a Portuguese restaurant called 'Cescos'. After 4 years of growing his business, Pete decided to explore his ever-growing interest in the yachting industry and moved to South Florida. After 3 years working his way up, Peter proceeded to Captain several successful charter boats, such as 'Arioso', 'Unforgettable', 'Lady J' and 'Mystic'. He holds his MCA Master 3000 and has been running motor yachts for the last 14 years, traveling extensively along the East Coast of the US, Bahamas, Caribbean and Mediterranean. He is extremely competent, enthusiastic, and loves utilizing his hospitality background and hidden talents on charter. When Pete is not onboard, he can be found scratching beats on his DJ decks, cycling through South Florida or facetiming his pet Frenchie, Dave. Pete has a vast knowledge of yachting and chartering and is more than eager to create a safe and memorable vacation for all onboard M/Y FAR NIENTE.
Hobbies: Surfing, fishing and SCUBA diving
Chief Engineer (rotation): Marco Tostado
Previous Yachts: Fountainhead (288'), El Rey (115'), Moon Goddess (115')
Marco was Born in Tampico, Mexico. But settled in Mazatlan Mexico. Well known as a quaint fishing town with great seafood, he lives there with his family. After four years spent at Merchant Marine School he graduated in 2015. After a one year internship on large vessels traveling around the Pacific side of Mexico and South America and the Pacific Ocean Marco was given the opportunity to work as engineering Officer on the 930ft Carnival Horizon. After 4 years in the cruise industry it was an easy sidestep into yachting and natural progression.
Hobbies: Working Out, Chess and Reading.
First Mate: Lindsay Semino
Previous Yachts: M/V Aqua Cat, M/Y Vista Blue.
Lindsey was born and raised in Arizona. She previously worked as a trainer Jockey for a horse track but her love for the water convinced her to make a change into the maritime industry. She has been in the maritime industry ever since, 13 years now and counting. She gained extensive experience as a dockhand at a marina and from working at a boat & jet ski rental company. From there she decided to take her career further and worked onboard a dive boat while obtaining her Captain's license. With her passion of the ocean and determination to ensure every guest has a blast onboard, you are guaranteed to have a trip to remember onboard M/Y Far Niente!
Hobbies: Diving, kite surfing, wakeboarding, horseback riding, and traveling
Chef (Rotation): Paul Citatello
Previous Yachts: M/Y Eclipse (538ft) Worldwide Itinerary, M/Y Luna (377ft), M/Y Ebony Shine (249ft) M/Y Yalla (252ft)
Paul is originally from the cosmopolitan city of Cape Town, South Africa. Being from Cape Town gave him tremendous love and respect for the ocean. He worked in top Restaurants and Hotels in South Africa, Australia and London for 10 years, then joined the Yachting industry in order to fulfil his wanderlust and passion for travel. Paul loves exploring local markets, sourcing the freshest local ingredients to showcase his culinary knowledge. He has 16 year's experience in the industry and is looking forward to welcoming you onboard Far Niente.
Hobbies: Surfing, Golf, Tennis & Hiking.
Chef (Rotation): Rico Haring
Previous Yachts: Mimi la Sardine (34m), Tatii (42m), Elysium I (34m), Tender To (27m), Good Year (30m), Lady Sharon Gale (33m)
Born in South Africa, Rico moved to Switzerland when he was 5 years old, where he lived for 15 years. Shortly after receiving his diploma from the culinary institute Lausanne, he decided it was time to expand and start his career as a qualified chef. Rico followed his passion for food around the world, working in many European countries as well as
Brazil, Tokyo and Australia to name just a few. He was driven by this untameable hunger and constant need to discover new flavours and spices within different cultures. Once Rico discovered the yachting industry, there was no looking back, he eventually found himself working on mega yachts in the Caribbean. He has resided on the Caribbean Island of St-Martin for 12 years, where he is happily married. Rico is happy to share his knowledge and passion for the culinary arts with his guests should they wish to ask for him it not only about being a chef and preparing meals, it's way more than that. It's a lifestyle, taking the best of what Mother Earth provides him with, in all its beauty, adding his knowledge, passion heart and soul and creating exceptional cuisine.
Hobbies: Creating Jewellery, Diving, Surfing, Kiteboarding, Wakeboarding, Hiking
Ask Rico "what is your profession?" He will say: "I am a food artist".
Chief Stewardess: Marlena Drandic
Previous Yachts: MY G3, MY Lionshare, MY Nero, MY DynaR, MY Rahil
Marlena was born and raised in Croatia. After finishing nursing highschool she got a degree in Physiotherapy and started working as a Physioterapist in a rehabilitation and thalassotherapy clinic for patients with different physical disabilities. In the meantime she got a degree as a lecturer in physiotherapy and she played guitar and sang in a local band. She enjoyed her jobs a lot, but always felt like something was missing, and then she got into yachting. Now, after 10 years in the yachting industry Marlena is loving the fact she can combine her passion for travel, fine dining and luxury hospitality with her work. Her bartending and barista exerience, the fact she speaks various languages, her outgoing personality and organising skills make her great in her chief stewardess role.
Hobbies: yoga, music, reading, hiking, dancing.
2nd Stewardess: Gorana Sabic
Previous Yachts: G3(44m), LionShare(39m), Nero(90m)
Gorana was born in Sinj, town in Dalmatia. After finishing school to become a Dental tehnician, she went on to study Business Economics where she got her Bachelor degree. Shortly after, she pursued her love for traveling, discovered yachting and has been there for 8 years now. She has a bubbly, friendly personality which makes her a great addition to the Far Niente crew.
Hobbies: traveling, reading, hiking, working out
Deck Stewardess: Lauren Kendrick
Previous Yachts: Huntress (112')
Lauren was born and raised in Durban, South Africa. Living in a coastal city with a father who has a love for all things aquatic, Lauren grew up in the water and was highly involved in Life Saving, surfing, swimming and stand-up paddle boarding. Lauren received a Bachelor's degree in Biological Science and later a Master's degree in Special Needs education and went on to become a high school biology teacher for 15 years. After 5 years teaching in Abu Dhabi and missing water terribly, Lauren was itching to get back onto a yacht having spent much time on her father's hand-built 60 ft sailing yacht as a child. Lauren's greatest love is to be physically active and most of her hobbies are centred around health and wellness. She has a passion for travel, food and people and so her position as Deck/Stew makes her a great fit on Far Niente.
Hobbies: Surfing, cycling, working-out, exploring, music, health & wellness
Bluray player all cabins, Cell phone, DVD library, Indoor audio system, iPod dock, Media movie server, Outdoor audio system, Printer, Satellite TV, Streaming online media, TV all cabins, TV master cabin, TV outdoor, TV saloon, Wi-Fi, eFoil by Lift, Electric Hydrofoil Board (Caribbean only), 35' twin 300 Yamaha engines center console tender (Caribbean), 2022 38' Boston Whaler Outrage with quad 350hp Merc engines with Seakeeper stabilizer (Bahamas), Assorted water toys, Beach games, Board games, Floating mats, Free weights, Inflatable floating island, Kayaks multiple, Kneeboard, Mono ski, Paddleboards multiple, Tube - towable, Wakeboard, Water skis - adult, Water skis - child, Water slide, BBQ, Beach umbrella, Coffee machine, Exercise equipment, Big game fishing gear, Light fishing gear, Gym, Ice maker, Jacuzzi on deck, Special diets, Sun loungers, Swim platform, Water maker
Not Insured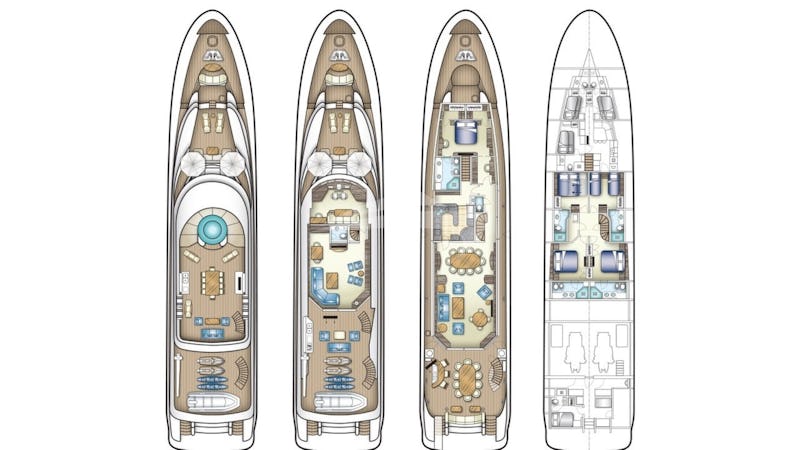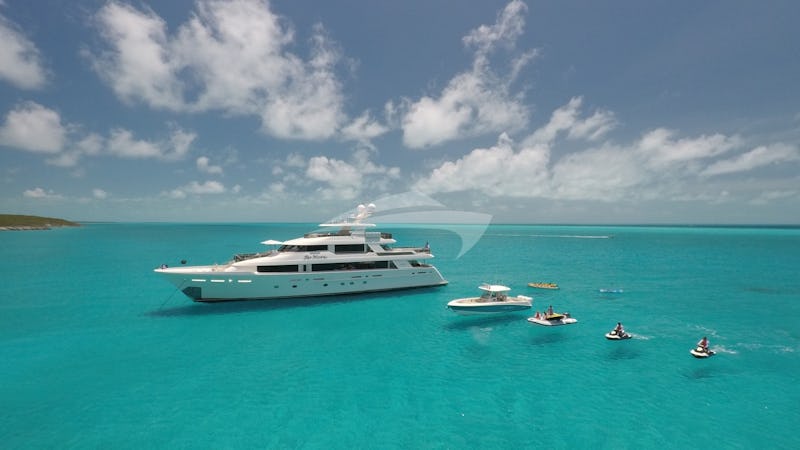 We have identified 3 similar yachts. Would you like to inquire on them as well?
Available in 1 area
Guests 10
126ft 8in / 38.6m
From $140,000
Available in 1 area
Guests 10
131ft 3in / 40m
From $140,000
Available in 2 areas
Guests 10
150ft 11in / 46m
From $130,000