Yacht Charter Details
Westport Yacht Charters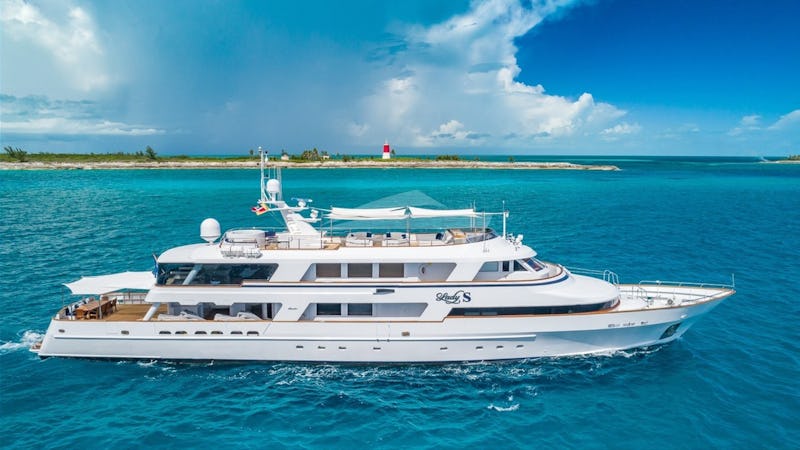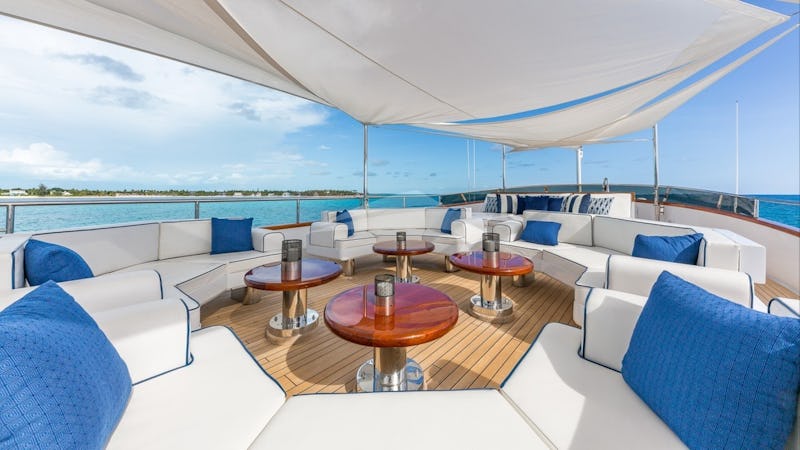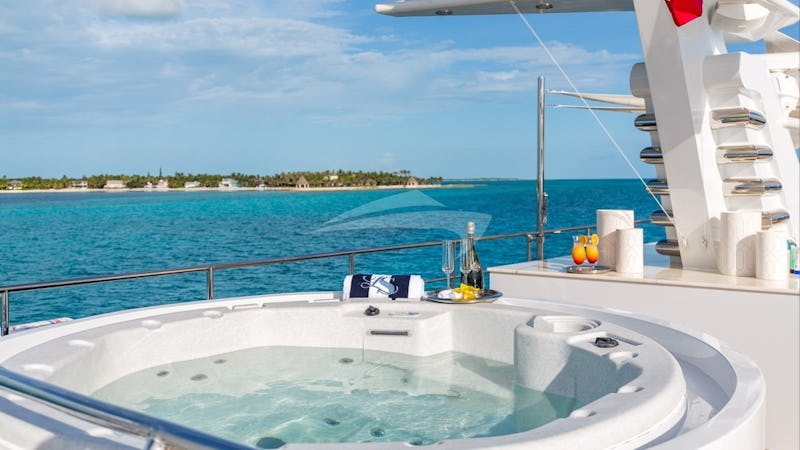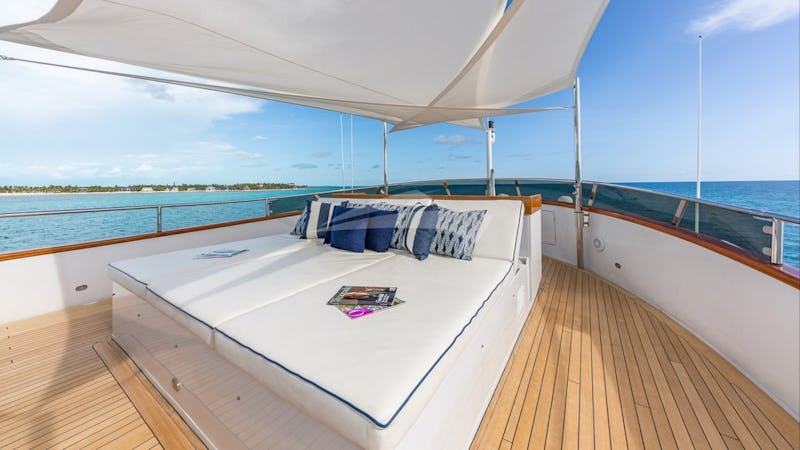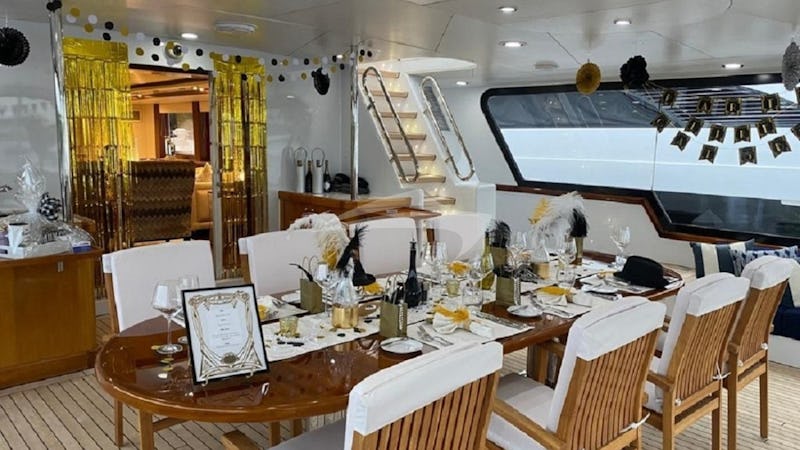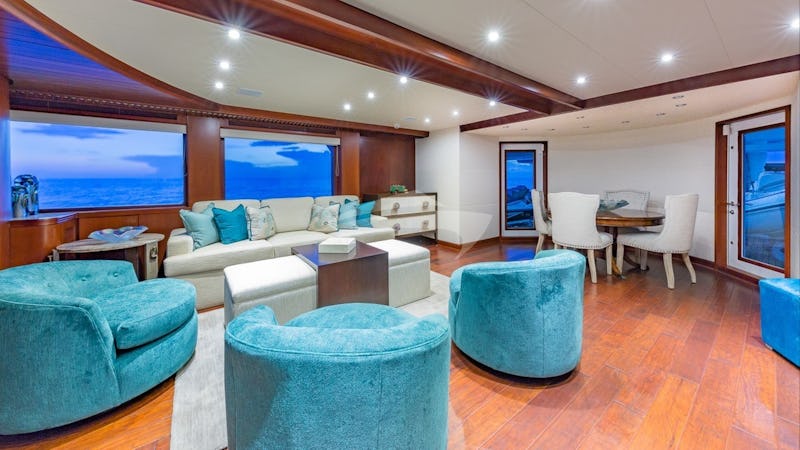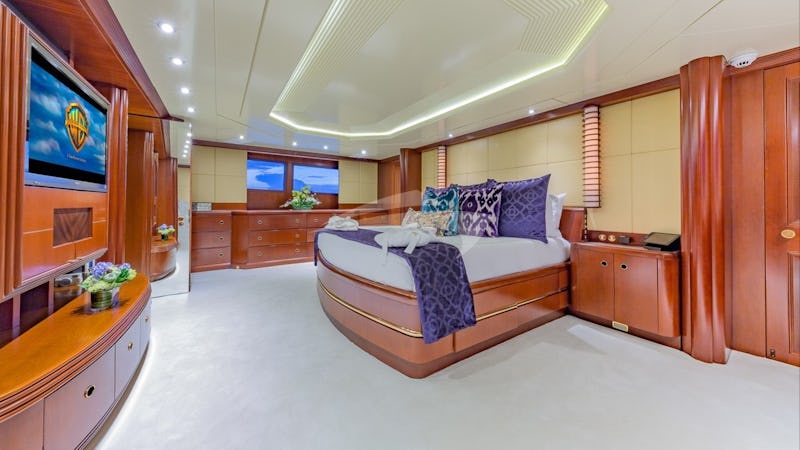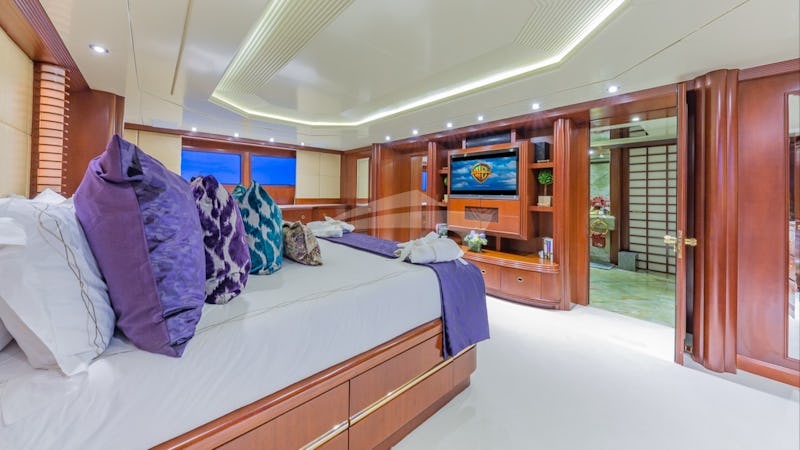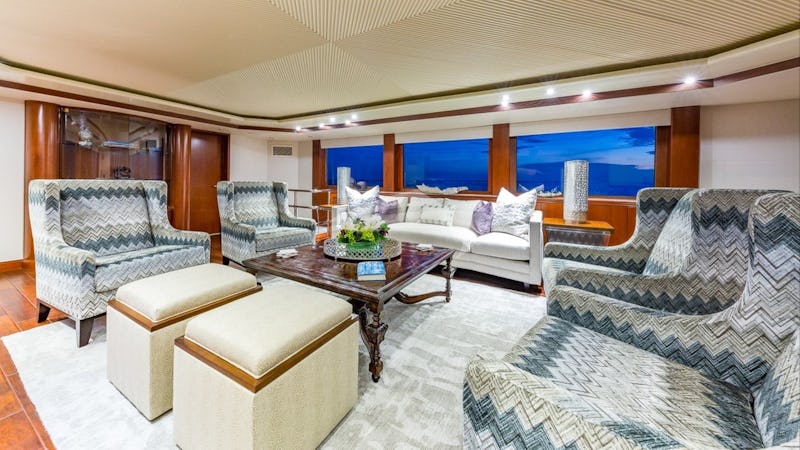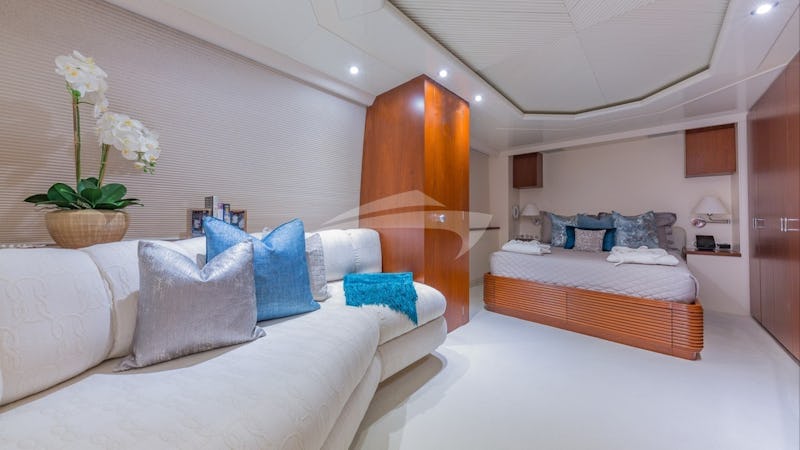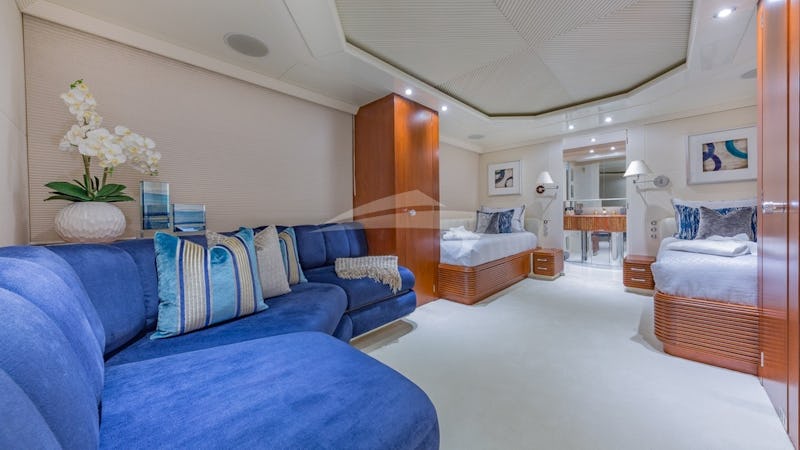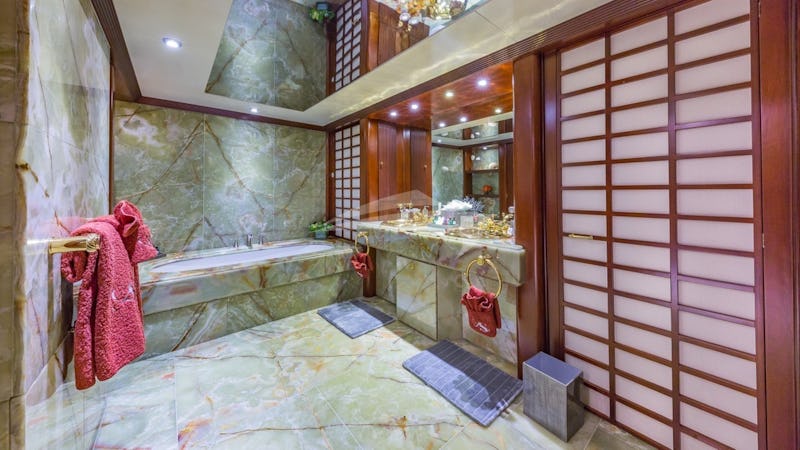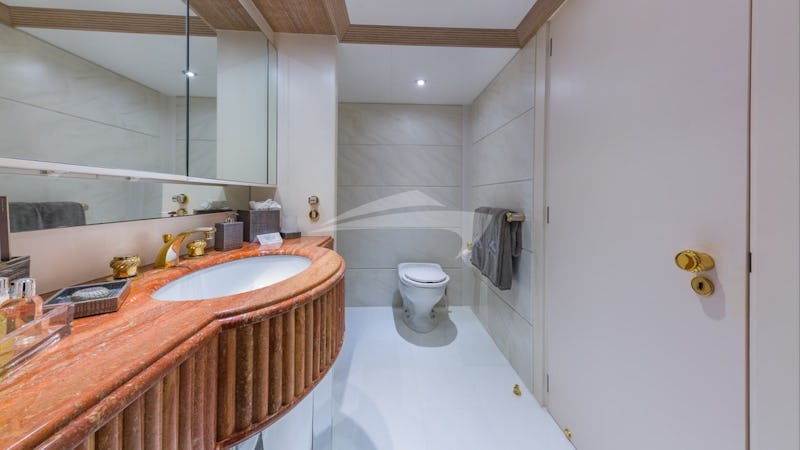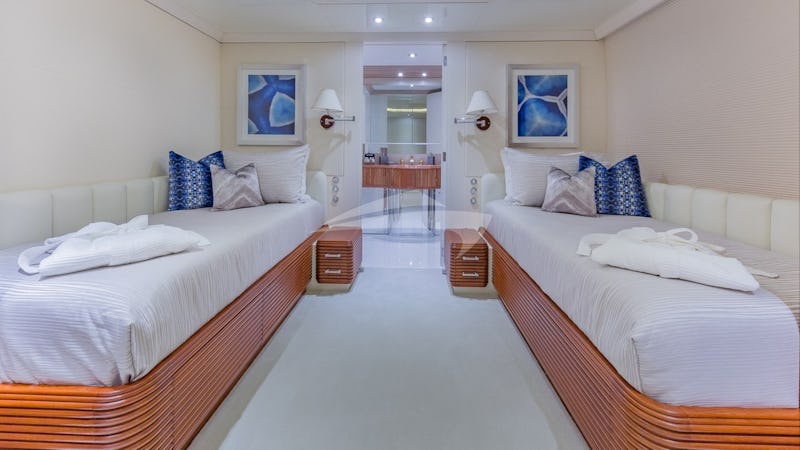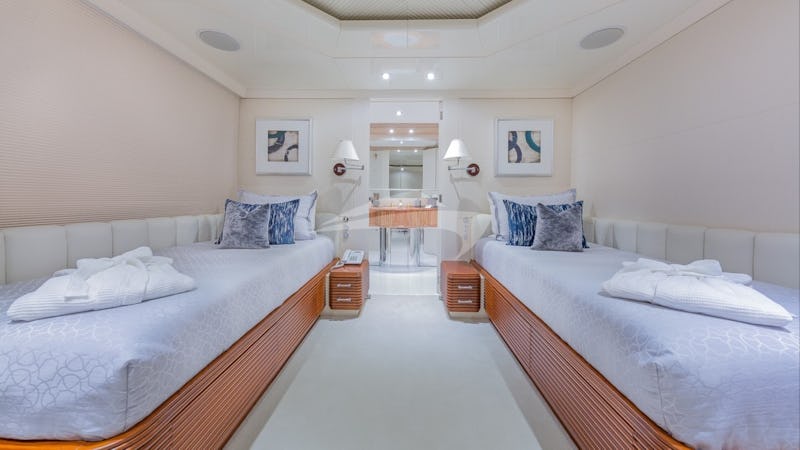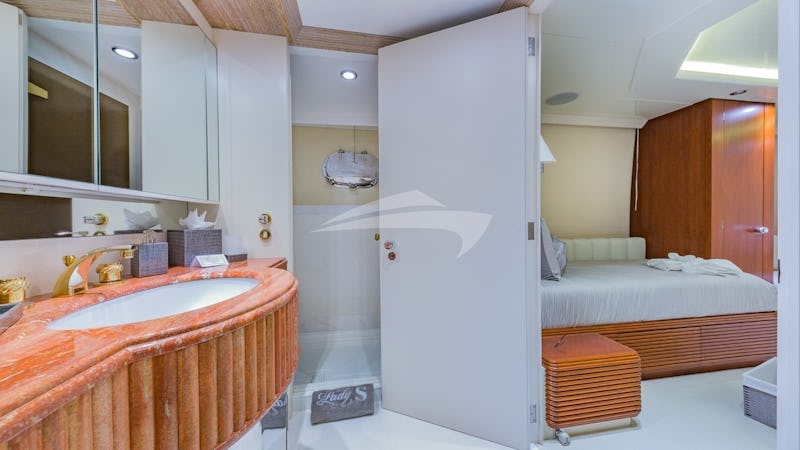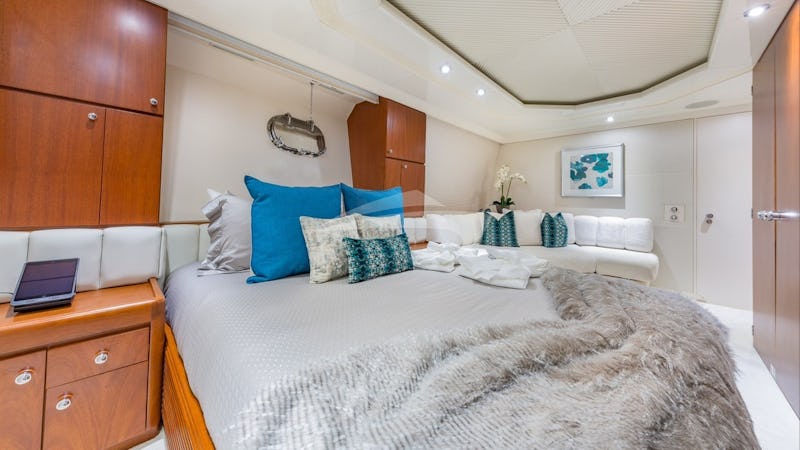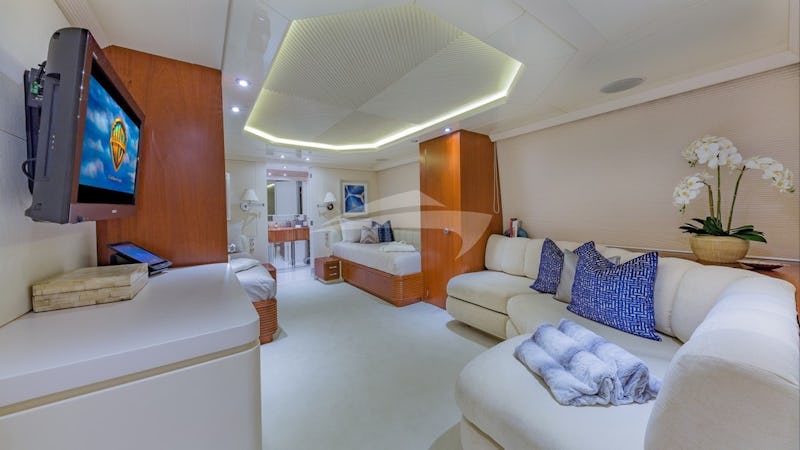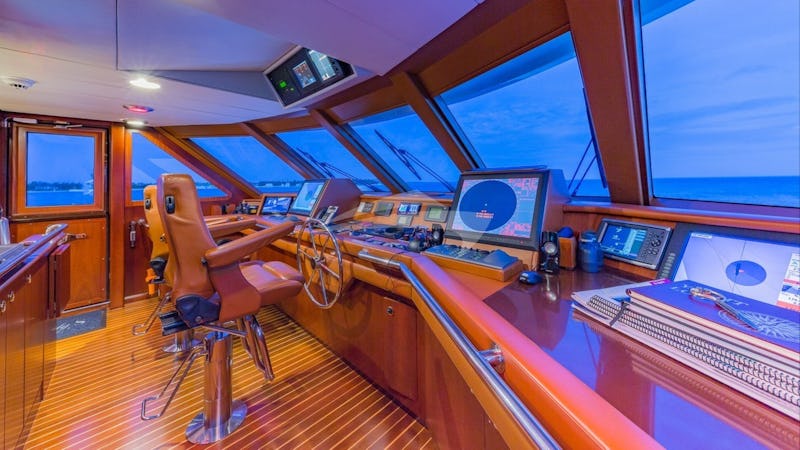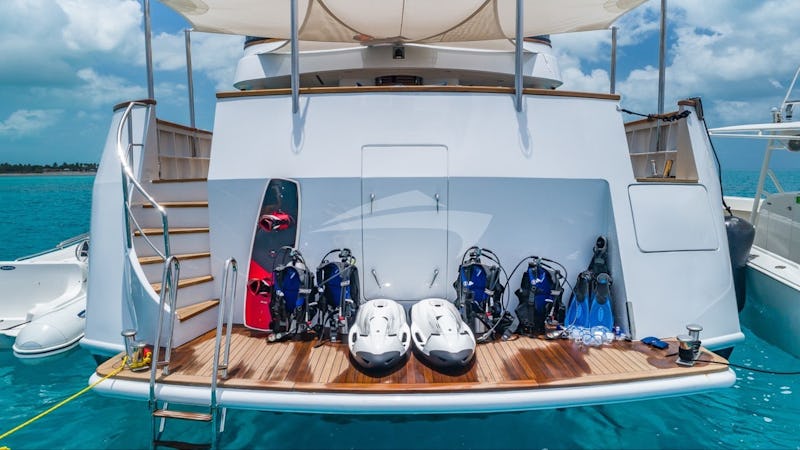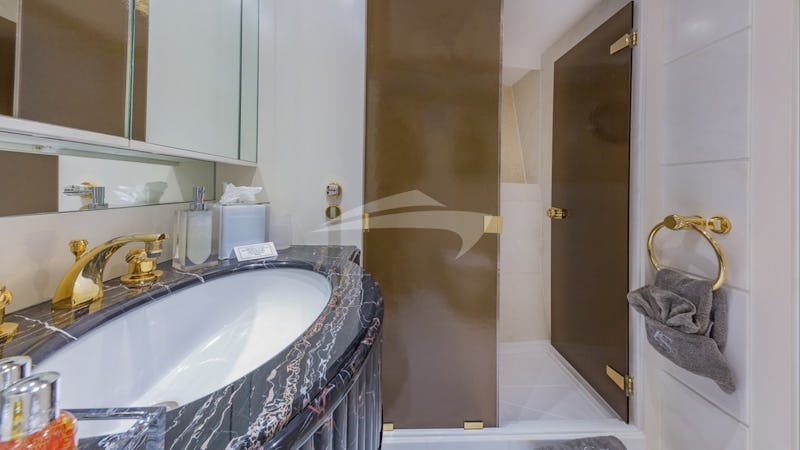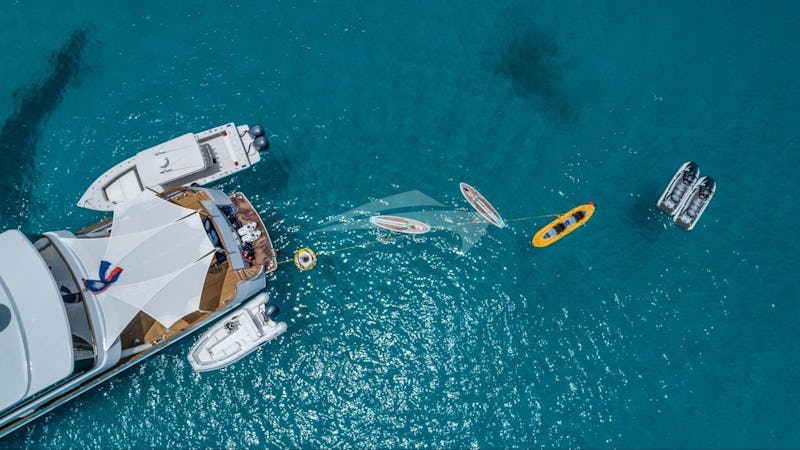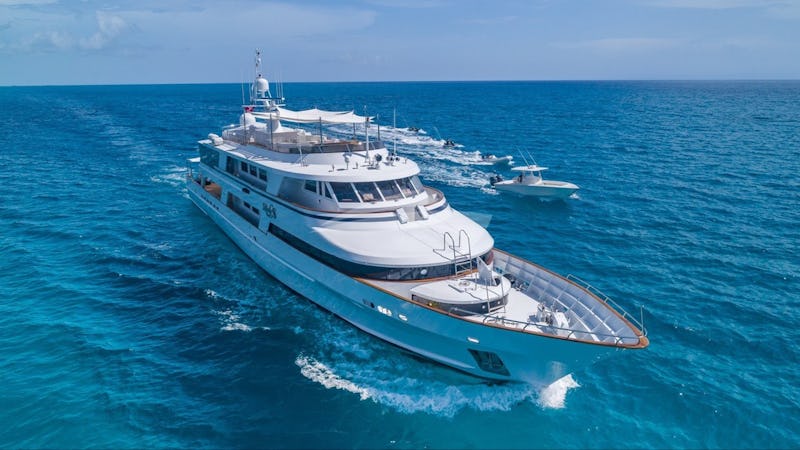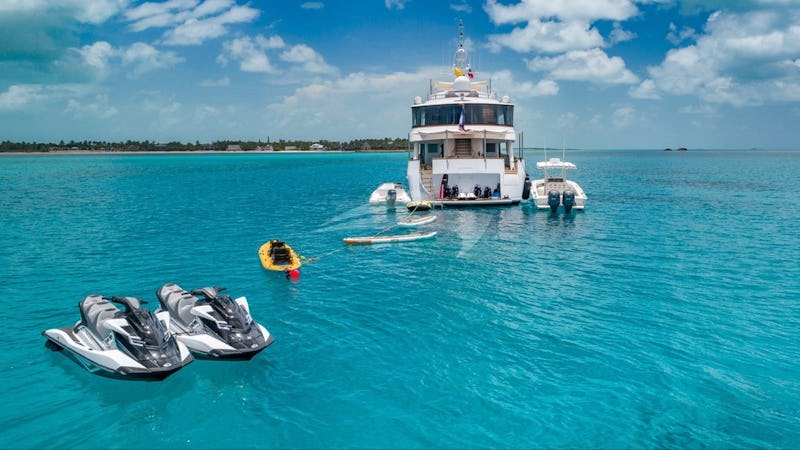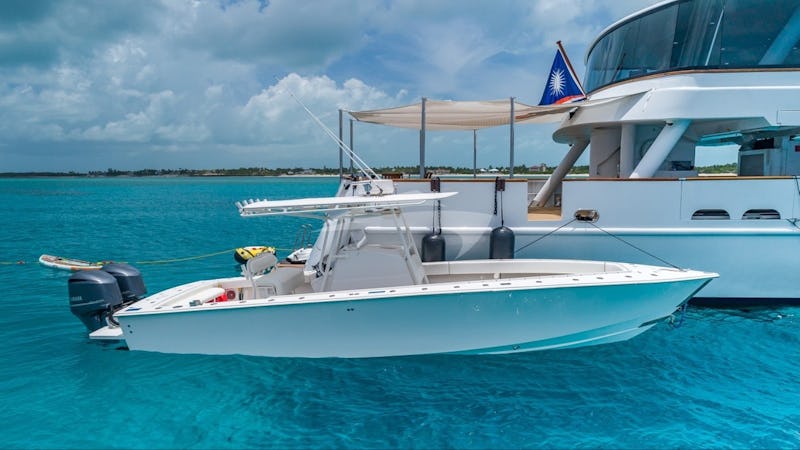 Charter This Yacht
150 ft / 46 m
│
8 CREW
│
FROM $120,000
│
10 GUESTS
150ft (46m)

25ft 11in (7.9m)

9ft 2in (2.79m)

1989

Benetti

Fratelli Benetti / Tom Fexas

10

Captain Shaun Falconer

2019

14kts (26kph)

Stabilisers

Marshall Islands

2 x Caterpillar 3512B 1937HP 1145KW

No

Yes
ON DECK MASTER STATEROOM: Forward. Upon entering, there is a library with settee and 45" TV. The master stateroom is full beam with walk-around king-size bed facing forward. There is a walk-in closet to port and entrance to the en-suite bathroom on the starboard side. Luxurious bathtub, with separate stall shower, his-and-hers sinks. Private head locker with toilet and bidet. Entertainment system featuring 43" Sony Smart TV with individual satellite receiver. Large windows create abundant natural light in the Master Stateroom. 
LOWER DECK GUEST STATEROOMS:
AFT TO STARBOARD: Situated midship: Twin beds with bed side lamps, side tables and a generous sofa lounge area. En-suite features stall shower, sink, and head. Entertainment system featuring 37" Sony Smart TV with individual satellite receiver.
FORWARD TO PORT: VIP Stateroom with walkaround queen-size bed, bed side lamps, side tables and a generous sofa lounge area. Entertainment system features 37" Sony Smart TV with individual satellite receiver. En-suite features a stall shower, sink, and head.
FORWARD TO STARBOARD: VIP Stateroom with walkaround queen-size bed, bed side lamps, side tables and a generous sofa lounge area. Entertainment system features 37" Sony Smart TV with individual satellite receiver. En-suite features a stall shower, sink, and head.
All staterooms include individual satellite receivers, individual climate control, port holes allowing natural light (with blackout for evenings), robes, hairdryers, laundry hampers, and luxurious Molton Brown bath products.
Bed sizes and bedding:
Port VIP: 80" x 60" – Feather 
Port Twin: Bed sizes: 77" x 33" – Feather 
Captain: Shaun Falconer
Shaun has been a professional mariner since 2010. He has sailed around the world on various vessels with a focus on remote expedition cruising areas. With an education from the University of Johannesburg, Shaun is qualified as a practicing attorney and holds degrees in economics and international tax. His education has assisted Shaun in navigating the legislative and regulatory aspects of yachting with ease providing for safe and efficient running of vessels in line with what is required by flag and port states. Shaun is from South Africa and has strong family values. He takes pride in teaching and mentoring his crew to progress their careers in a professional and responsible manner. Sharing his knowledge and love for the ocean, Shaun always places the safety of the Vessel, crew and guests as paramount while providing a service that allows clients to create memorable moments.
1st Mate: Grayson Mcmullen (28)
Grayson grew up on the sunny coast of Durban in South Africa, and in the greatest garden of lions and leopards of the Kruger National Park. Grayson studied Sports Management and Development before he decided to take a leap and finished his Standards of Training, Certification and Watchkeeping (STCW) certificates to join the yachting industry. Not only does Grayson's interests lay with the ocean but he used to be a professional cricket player, he did provincial deep-sea angling, and loves shooting, sports, fishing and movies…. Grayson is a happy, helpful and patient person. His biggest challenge in life has been having to duck everywhere he goes (6ft4) and one day when he grows up he would like to drive a F1, be retired and win the lottery. Even though Grayson is always ready for a good laugh it's important for him to run a successful charter program for the owner, guests, captain and crew.
Chief Engineer: Richardo Anderson (29)
Rich was born on one of the most beautiful islands in the Caribbean, Jamaica. At the age of 22 Rich successfully completed and graduated with honours a four year Bachelors Degree in Maritime Heat Engineering at the Caribbean Maritime University. He further went on to receiving his Certificate for Competency (for engineering). For the last 6 years Rich has been in the yachting industry, enjoying travelling, meeting new people and experiencing different cultures. He is a very friendly person and has a wonderful laugh. Rich is mature and sensible and the most important thing for him is to have a clean/drama free work environment where personal growth is encouraged. It is also important for him to fulfil his role as chief engineer to ensure that all machinery and equipment is operational and safety is maintained for everyone onboard, so that guests remain relaxed and comfortable while enjoying all the amenities LADY S has to offer.
Deckhand & Dive Instructor: Garrett Mcquiston (23)
Garrett was born in a 'middle of nowhere' farming community in Northern Michigan, USA. After high school, Garrett studied engineering at the University of Michigan where he was also a member of the Michigan sailing team (he would love to run a teen sailing / diving adventure summer camp one day). Once finished with University he spent a year in Michigan working to become a PADI scuba instructor. Even though Garrett seems like the ordinary deckhand with hobbies such as diving, fishing and sailing you would never say that he was an All-state wrestler and has a strange likening for mustard on anything. Garrett has a good sense of humour (up to interpretation) and is hard working, that's why it's so important for him to have a close, fun, but also hardworking crew.
Chief Stewardess: Samantha Capper (31)
Sam grew up in Johannesburg, South Africa. After completing high school Sam studied Law at the university of Pretoria, but soon found out that she wanted to explore what the rest of the world had to offer. Sam is a happy, bubbly person with a fantastic sense of humour and thirst for adventure. Sam strives to live a balanced life, so while she is training for her first full marathon, she still finds the time to appreciate a good glass of wine with her family and friends. Sam's yachting career has allowed her to have travelled through the South African, French, Italian and Spanish winelands where she learnt to appreciate some of the finest wines around the world. Sam is a hard worker and thrives in an excellent team environment that Lady S is so proud to have onboard.
2nd Stewardess: Sarah Shore (27)
Sarah is from Nashville, TN. She graduated from the College of Charleston with a degree in marine biology, and while there she participated in several oceanographic research cruises aboard the R/V Savannah. Sarah loves giving guided wildlife tours and has a broad range of natural history knowledge about both aquatic and terrestrial wildlife. After her experiences on the research vessel, she decided she wanted to become a crew member on a boat and spend more time at sea. Sarah is a bookworm and has read an extensive list of literature and science fiction classics. She's a champ at Star Wars trivia and keeps up with cutting-edge dank memes on Reddit. Her other hobbies include sailing and diving.
Deck & Steward: Matthew Patrick Burgess (30)
Matt is the live wire on the boat that keeps the crew moral high. He grew up on the dusty streets of Durban South Africa. After school Matt studied BCom Marketing and Business Administration and then majored in Economics. He also has a big passion for sports and played WOB Rugby for eight years. Something funny about Matt as he would describe it would be his charming whit, the twinkle in his eye, his cheeky smile and don't forget about the devilish sense of humour. He is also convinced that people like Jennifer Anniston, Stephen Hawking and Obama would be attracted to his type of personality…typical Matt, always making sure everyone has a good laugh and a smile on their faces. Even though a light, happy and positive morale is important for Matt he also emphasises the importance of teamwork, respect, cleanliness and honesty onboard the boat, and of course good food.
Chef: Justin Remo
Justin Remo
Justin is originally from Allentown Pennsylvania. Before joining the industry in November 2005, he worked in fine dining establishments for more than 10 years. He holds a bachelor's degree in Hotel Restaurant Management from the Pennsylvania State University where he graduated in 2001 and Professional Chef certifications from the Culinary Institute of America and American Culinary Federation. Justin has also trained in professional kitchens at award winning restaurants, clubs, ranches and resorts, in places such as Philadelphia, NYC, Sonoma County California, Montana and St. Kitts W.I., and also held an Executive Chef position for The Cliffs in upstate South Carolina.
In his free time, Justin enjoys tennis, biking, outdoor activities, live music, sporting events and spending time with friends and family.
Cell phone, Indoor audio system, Media movie server, Outdoor audio system, Printer, Satellite phone, Satellite radio, Satellite TV, Streaming online media, TV all cabins, TV outdoor, TV saloon, Wi-Fi, 34' Intrepid Nomad SE 2020 with twin 350hp Mercury engines, comfortable seating and a hard top to provide shade, a depthsounder, plotter, electric head and ample storage, ideal for fishing., Assorted water toys, Kayaks multiple, Paddleboards multiple, Surf board, Wakeboard, Wave runners multiple, BBQ, Beach umbrella, Coffee machine, Fishing gear - heavy, Fishing gear - light, Ice maker, Jacuzzi on deck, Special diets, Sun cushions, Swim platform, Water maker
Insured, Compressors, Crew can instruct, Crew certified, Diving if certified, Seabobs multiple, Snorkelling gear, Wetsuits, 1 Compressor, 12 Tanks, 12 BCs, 12 Regulators, Instructor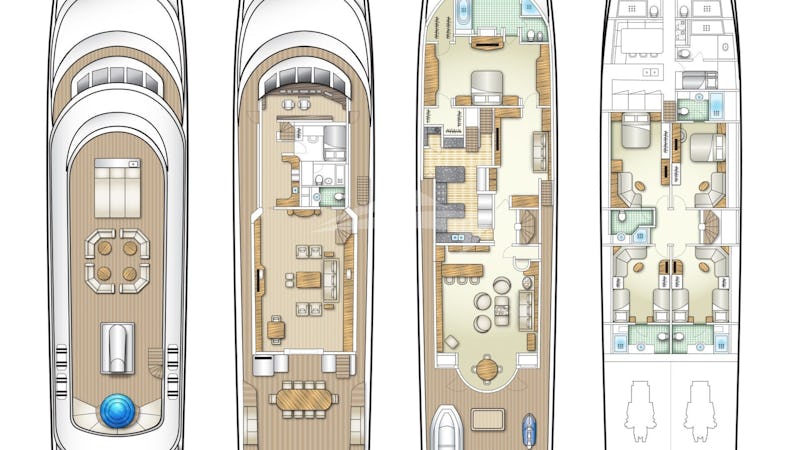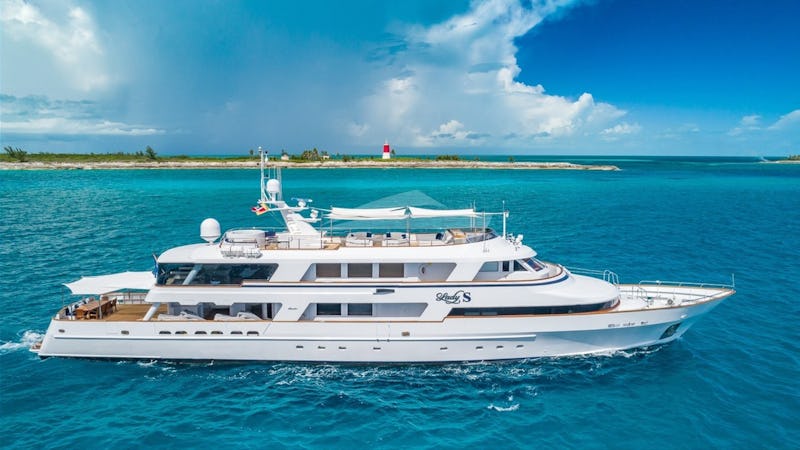 We have identified 3 similar yachts. Would you like to inquire on them as well?
Available in 1 area
Guests 12
142ft 1in / 43.3m
From $119,000
Available in 1 area
Guests 10
140ft 1in / 42.7m
From $125,000
Available in 2 areas
Guests 10
129ft 11in / 39.6m
From $125,000