Yacht Charter Details
Westport Yacht Charters
Charter This Yacht
138 ft / 42.1 m
│
8 CREW
│
FROM $130,000
│
12 GUESTS
138ft (42.1m)

27ft 11in (8.5m)

7ft 7in (2.31m)

2004

Richmond Yachts

Setzer Design Group

12

Captain Scott Gaffga

2018

12kts (22kph)

At anchor (0 speed)

Jamaica

2 x 2250 HP Caterpillar 3512B Engines

No

Yes
Captain: Scott Gaffga
Scott began his career on the ocean as a young teenager, working on fishing boats in the Florida Keys. Yachting became a natural progression as he entered adulthood. At the time he was one of the industry's youngest captains to take the helm. From there he dedicated himself to one Owner through 3 boats, 2 new of them new-builds. Building one of the most successful charter programs in the Bahamas. Scott has been navigating the islands for 15 years and loves to show guests its hidden gems. His favorite pastime in the Bahamas is free-diving and spearfishing. When not traveling with TCB you'll find Scott living the ultimate dad life with his wife and two young children.
Rotational Captain: Nathaniel Tanner
Born and raised in Newport RI, Nate began sailing at an early age. He spent most of his life on the water. Nate began his yachting career racing on 12 meter America's Cup yachts, before moving onto motor yachts. He is a 'hands-on' captain with worldwide cruising and charter experience through New England, the Caribbean, and the Mediterranean. The Bahamas are his favorite cruising grounds. Nate's knowledge, expertise, and professionalism paired with his kind personality will guide and serve your guests through the turquoise waters to create the utmost memorable experience aboard TCB. During his free time, you may find him diving, spearfishing, and cycling near his home in West Palm Beach.
Engineer: Jake Cooke
Jake was born and raised in Bristol, England, the son of an engineer. He followed his father's footsteps into engineering. Jake completed a three-year technical apprenticeship with the U.K. Ministry of Defense. His wanderlust brought him to the world of yachting, where he could marry his skills with the desire to see the world. He is a fun energetic part of a great team. During his off-time, he enjoys staying active by playing football (soccer), golf, spearfishing, and offshore fishing. P.S he also makes a great cup of tea!
Mate: Brenden Tillman
Brenden is a native Floridian, born and raised in Stuart. Well known for unique waterways and diverse fisheries, the small town has shaped him into the yachtsman he is today. He grew up building wooden skiffs with his father and pursuing local game fish, which developed into a true passion for boating and all activities on the water. His early career, as a sportfish mate, was spent in the Bahamas chasing pelagics, as well as spearfishing its many out-island reefs. Brenden is proud to be aboard M/Y TCB and make sure guests experience a safe and unforgettable adventure. Even in his free time, he can be found wherever the fish are biting.
Chef: Alex Flannery
Like so many chefs, Alex began his career in the back of the house. He scrubbed pots and pitched in with prep work in several restaurants as he finished high school and went to college, all the while searching for a suitable career. Over time, in kitchen after kitchen, he watched the magic that builds all culinary obsessions – simple ingredients combined with trusted techniques that result in something delicious. He was hooked and decided to make the kitchen his home.
Since then, he's worked with many accomplished chefs in renowned restaurants across the United States. He cut his teeth preparing the artistically crafted masterpieces served in the Henry Waugh Dessert Room at the storied Bern's Steak House in Tampa, FL. From there he went to Chicago, New York, Philadelphia, and beyond. Le Bernardin is on the list, as is Park City, Utah's Stein Eriksen Lodge, where he learned to work with chocolate under the tutelage of Executive Pastry Chef Raymond Lammers.
In recent years he's led the line, rather than just working behind it. At Union Trust Steakhouse in Philadelphia, he managed a team of pastry cooks and oversaw everything from ordering to menu planning. At the Refinery in Tampa, he played a crucial role in developing components for the playful and oft-changing menu centered on local ingredients and novel preparations. He has since traveled outside the kitchen and into the private chef world where he caters to the elite in various locations around the world.
Deckhand: Austin Tapp
Austin was born and raised in the backwoods of Central Florida. Developing a passion for the outdoors from a young age, Austin eventually moved to sunny South Florida. Austin enjoys capturing his adventures on camera and believes there is never a shortage of beautiful scenery when you're on a yacht! His goal is to one day get on NatGeo and share his passions with the world. For now, Austin looks forward to capturing the amazing memories you will have during your trip!
Chief Stewardess: Brittany Favors
Brittany was born and raised in the beautiful seaside town of Stuart, Florida. With a love for the outdoors as an avid scuba diver, Brittany left her job as an Emergency Room Technician and has begun her career in yachting. For most of her life, she has been on and around the water with her family, taking advantage of Stuart's breathtaking scenery. She also enjoys coaching lacrosse in her free time as well as practicing photography with friends. Brittany is looking forward to this new venture and is excited to travel and bring new positivity to her life while creating unforgettable memories onboard M/Y TCB.
Second Stewardess: Aimee Cameron
Aimee joins the TCB team from beautiful Prince Edward Island, Canada. At age 18, she attended the University of Prince Edward Island where she achieved her degree in science. Having grown up on an island, Aimee has an innate love for the sea. Traveling across Canada as a young athlete exposed Aimee to the thrill of exploring new places and meeting new people. She continued to fuel her natural wanderlust by backpacking throughout New Zealand and exploring France and Spain. Many years in the service and hospitality industries imparted a love of fine wines. Combined with a delicious bite to eat, Aimee believes that yachting was the perfect avenue to combine her eclectic set of talents. Aimee is always looking to learn something new. A strong fitness and nutrition enthusiast, she leads a healthy and active lifestyle. Aimee takes great care to ensure that her guests enjoy their time aboard TCB.
Third Stewardess: Kaliana Conroy
Kaliana was born and raised in the small town of Stuart, Florida. Kaliana's passion for the earth, the ocean- specifically. Kaliana left her job as an estate manager to pursue her yachting career. She was raised riding horses, fishing, and playing sports. In her spare time, she enjoys going to the beach, practicing yoga, traveling, and spending time with friends and family. Kaliana is excited to see what the future holds in her new journey of yachting and cannot wait to see what the rest of the world has to offer.
Cinema, Outdoor audio system, TV outdoor, Wi-Fi, 18ft/5.5m RIB, 38ft Scout with 4 x 350hp coming June 2020, Assorted water toys, Board games, Jet pack, Jet skis multiple, Kayak, Paddleboards multiple, Skurfer, Tube - towable, Wakeboard, Water skis - adult, Water skis - child, Water trampoline, Wave runners multiple, Beach club, Deck shower, Fishing gear - heavy, Jacuzzi in master cabin, Jacuzzi on deck, Swim platform
Not Insured, Seabobs multiple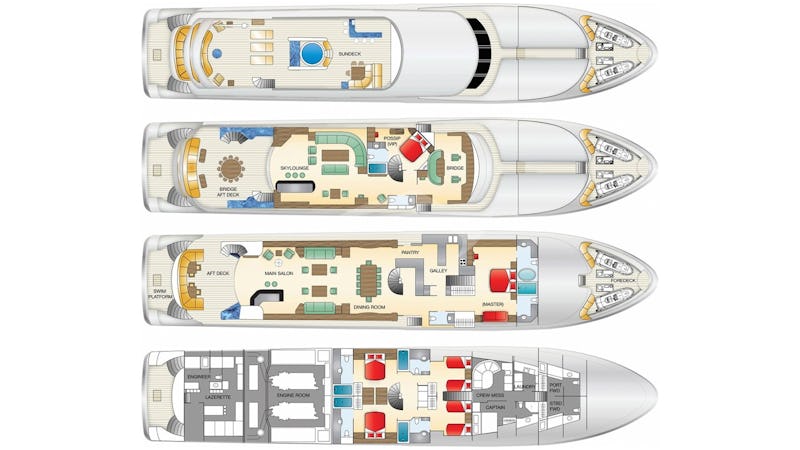 We have identified 3 similar yachts. Would you like to inquire on them as well?
Available in 1 area
Guests 10
150ft 11in / 46m
From $130,000
Available in 2 areas
Guests 10
129ft 11in / 39.6m
From $125,000
Available in 2 areas
Guests 10
130ft 3in / 39.7m
From $125,000